It's Tuesday – It's takeaway day and time for some XFL goodies for you……………………
Making Tight Ends Great Again
There is a Donald that everyone in America can get behind, and his surname certainly isn't Trump. Of course I'm talking about the Dallas Renegades tight end Doanld Parham who has exploded into life since the return of Landry Jones. A match-up nightmare at 6 feet, 8 inches tall, with an impressive turn of foot for a big man, he has become the big play receiver in the Dallas offence. His Saturday stat line of 5 catches for 101 yards was punctuated with 2 touchdowns including a 66 yarder where he sprinted away from the trailing defence. Parham spent time on the Redskins practice squad last season and if he carries on with this fine form surely an NFL team will come calling.
insidethestar.com
---
The True #1 Receiver
It was expected coming into the season that the Houston Roughnecks would be fielding the most productive wide receiver of the league. That expectation was on Sammie Coates, who has spent several seasons on NFL squads. He picked up just a single catch for 11 yards in the game against Tampa to take his season tally to 4 receptions for 45 yards through 3 games. Luckily the alleged #3 wide receiver on the depth chart, Cam Phillips has more touchdowns than Coates does catches so far on the season. He has 7 touchdowns from his 20 receptions and also leads the league in receiving yardage in what has been a great start to the campaign. Come on Houston, sort out the depth chart!
usatoday.com
---
The Masked Defender
Michael confessed his love for the XFL threads on our most recent podcast, but I'm not sure he was referring to the "hidden extra" that seems to becoming a tradition for his Seattle Dragons defenders. Whenever a defender takes away the ball from the offence, either as an interception or a fumble recovery he celebrates by putting on a ski mask. It's a slightly bizarre tradition and we will see how long it lasts but it's certainly novel if nothing else. I'm sure the defence would prefer to leave the masks off and tighten up after conceding nearly 400 yards of offence again this weekend.
pro player insiders
---
A Few Firsts
With the league still in its infancy we are still seeing some things for the first time. This weekend saw the 1st kickoff return for a touchdown. The new rules have seen plenty of return opportunities but it took a little trickery for the Battlehawks to break the first return touchdown of the season. We also saw the 1st attempted onside kick, and the first successful 3 point after touchdown play. As teams become more comfortable with the rules expect the coaches and their deployment of strategy to become more important.
total pro sports
---
Changing Of The Guardians
Remember when New York took their home opener? Remember when things seemed rosy, Matt McGloin looked like a veteran leader and the team looked cohesive? Well 2 weeks have passed and all of those things seem like distant memories. McGloin who was under the spotlight in this one didn't last a half of play before being injured. They actually ended the game on their 3rd QB (who ironically looked the best). There were penalties galore including several for unnecessary roughness, resulting in a benching for their centre. On the road against St Louis in their home opener was always going to be a tough assignment and New York didn't help themselves. They need to get back to winning ways – quickly!
usatoday.com
---
We Know Nothing
A condensed 10 game season means that jumping to quick conclusions is an automatic reaction, as week 3 proved, we are still learning a lot each week. Tampa might be winless but have improved week to week and with some stability at QB would not be far away. The previous undefeated Cardale Jones was awful as he tossed 4 picks on route to the defenders 1st defeat against a previous winless LA team. Credit to coach Moss not just for the win but for also not flinching in his gatorade shower! Dallas continue to improve and have won 2 on the road in back to back weeks. The Dome will be a huge advantage for the battlehawks as St Louis welcomed back football in a big way. Not even a month in – is the league actually starting to take shape?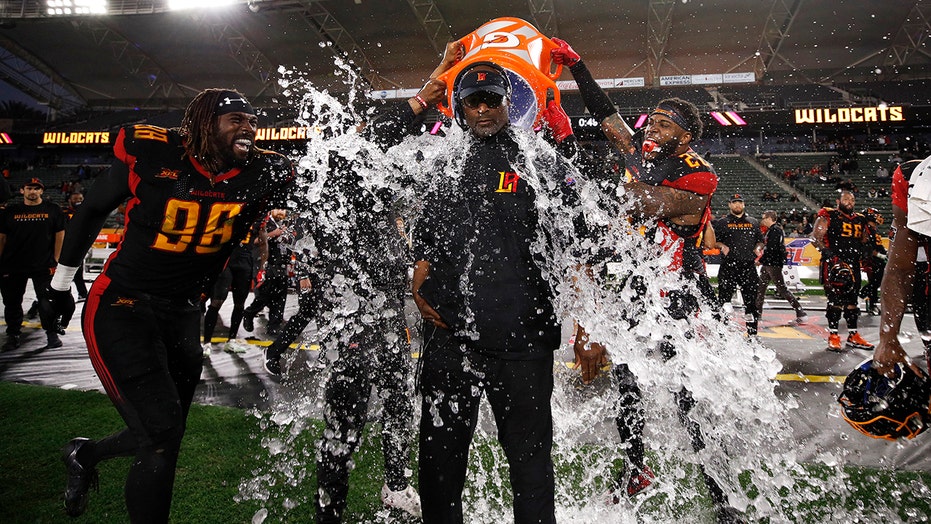 fox news
---