By Ste Tough (@SteTough)
This article breaks down the Chiefs, for a full match preview, click here.
On 4th January 2013, Clark Hunt, the CEO and part-owner of the Kansas City Chiefs had a private plane waiting on the tarmac in Philadelphia. He was waiting on news that everyone already knew. The Eagles weren't extending 13-year coach Andy Reid beyond his current contract and 2012 would be his last season with the birds.
Less than 24 hours later, he was named the new Head Coach of the Chiefs and a new era had begun in the Sunflower State.
Andy Reid is one of the best coaches in the history of the game. During his 13 seasons in Philadelphia, he took them to the playoffs 9 times and won 10 playoff games in that span. During that time, Kansas City had 3 post-season appearances and no wins under 5 separate Head Coaches. In the regular season, Reid had a .583 winning average in Philadelphia, so far in Kansas City he has a .711 average. Reid is the Captain at the helm who makes everything tick. He has transformed the Chiefs from an average AFC franchise who never looked like seriously challenging for the Superbowl, to a dynasty who could legitimately be in the conversation for the next decade. Finally in 2019, Reid got his hands on the Vince Lombardi, the prize that had eluded him for so long. He had been to 5 Championship games and 1 Superbowl before finally lifting the coveted trophy in Superbowl LIV.
---
Key Player – Offence
Andy Reid isn't the only change that has come in Kansas City. The dawn of a new era needed a poster-boy, someone who could be the face of the franchise for the next decade. By 2017 the Chiefs had their Head Coach in Reid, they had just promoted Brett Veach to General Manager, a really exciting young prospect who had followed Reid's career path through Philadelphia to Kansas City. Now they just needed the QB…
Enter Patrick Lavon Mahomes II.
When the Chiefs selected Mahomes 10th overall in the first round of the 2017 NFL Draft, they probably weren't aware of just how high Mahomes' ceiling could be. What he has done in the NFL since coming into the league has been nothing short of sensational and Andy Reid and the Chiefs are going to benefit greatly in the years to come by being able to build a team around a player with as much natural ability as he has.
In 2020, he finished the year with 4,740 passing yards with a 66% completion rate, 38 TDs and only 6 INTs. He also had 2 rushing TDs. Intriguingly he has already beaten Brady and the Tampa Bay Buccaneers once this season, with a 27-24 victory in week 12 throwing for 462 yards and three TDs. Mahomes is the key man for Kansas City on offence and sure, that's an obvious call, but he's just so talented. He makes everything look so easy and rarely does he look off the pace or flustered by pressure. In week 12 when these two teams met in the regular season, Mahomes was blitzed 9 times from 53 drop-backs. Of those 9 blitz attempts, Mahomes went 6/9, 106 yards and 2 TDs. The kid is just insane.
If he gets hot and gets his chemistry with Hill & Kelce rolling early, the Chiefs will win the game, I guarantee it. More no-look passes please Pat…
---
Key Player – Defence
Tyrann Mathieu, the 'Honey-Badger' himself, is crucial to the defensive play of the Chiefs. The two-time Pro-bowler plays as a safety but is so versatile that he can adopt a hybrid style of play that can see him cover deep in passing plays yet also go after the QB in blitz packages that Defensive Coordinator Steve Spagnuolo employs. He had a career-high 6 INTs this year as well as one in the Divisional Round against Cleveland in their 22-17 victory.
Mathieu will be coming up against Bruce Arians, the coach at Arizona where he was drafted into the NFL way back in 2013. Arians gave him his start in the NFL and allowed him to establish himself as a solid NFL-calibre safety in his rookie season, despite a torrid knee injury in December 2013 when he tore both his LCL and ACL on a punt return play vs St Louis.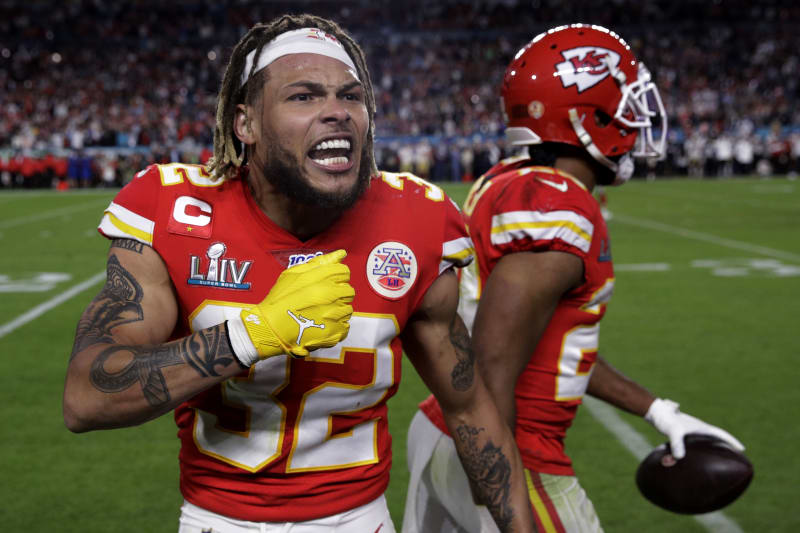 Mathieu is terrific in single coverage and his versatility gives Spagnuolo options to send him at Brady too, if necessary. However with the receiving options that the Buccaneers have with the likes of Mike Evans, Chris Godwin and Rob Gronkowski, I wouldn't be surprised if he spends a high portion of the game in the secondary tracking the deep balls that Brady loves so much.
Can the Chiefs win it all again? Absolutely they can. I would edge them as the favourite by a whisker, and would even expect them to be back here next year and in further years to come. What is incredible about this team is their retention. After winning the Superbowl in 2019, the Chiefs retained 19 of their 22 offensive and defensive starters. They have their QB1, TE1 and WR1 all tied down to long term contracts and even their HC and GM are both locked in for the next 5 seasons at least. Continuity and culture wins championships. Kansas City is not going anywhere anytime soon…
Head over to NFL Shop Europe for the latest deals! Use code FULL10 on selected items at checkout