Another tasty week of action has come to pass, but what are the takeaways from week 7 in the NFL? The Full10Yards crew serve up their thoughts below!
---
The rich get richer
Is there a hotter offence in the NFL right now than the Tampa Bay Buccaneers?
After a couple of weeks of acclimatisation to his new surroundings, it was to be expected that Tom Brady would have the Bucs in playoff and divisional contention. Rob Gronkowski has shaken off his retirement dust. Leonard Fournette and Ronald Jones are playing with chips on their shoulders. Scotty Miller is turning into Julian Edelman 2.0, and Chris Godwin and Mike Evans are as dangerous as ever.
It almost feels as though adding Antonio Brown into the mix is unfair. Yes, he hasn't played in a while himself, and yes, there are off-field dramas but IF he can get it all together, can anyone stop this Tampa juggernaut?
---
Invisible shooter earns his 'Dime' bonus
NFL security teams are desperately reviewing tape of the Thursday Night Football match between the New York Giants and the Philadelphia Eagles to find evidence of a crime, after an invisible shooter was on target with his invisible bullet in front of a global television audience (well, anyone who wasn't watching the Trump/Biden televised debate that is).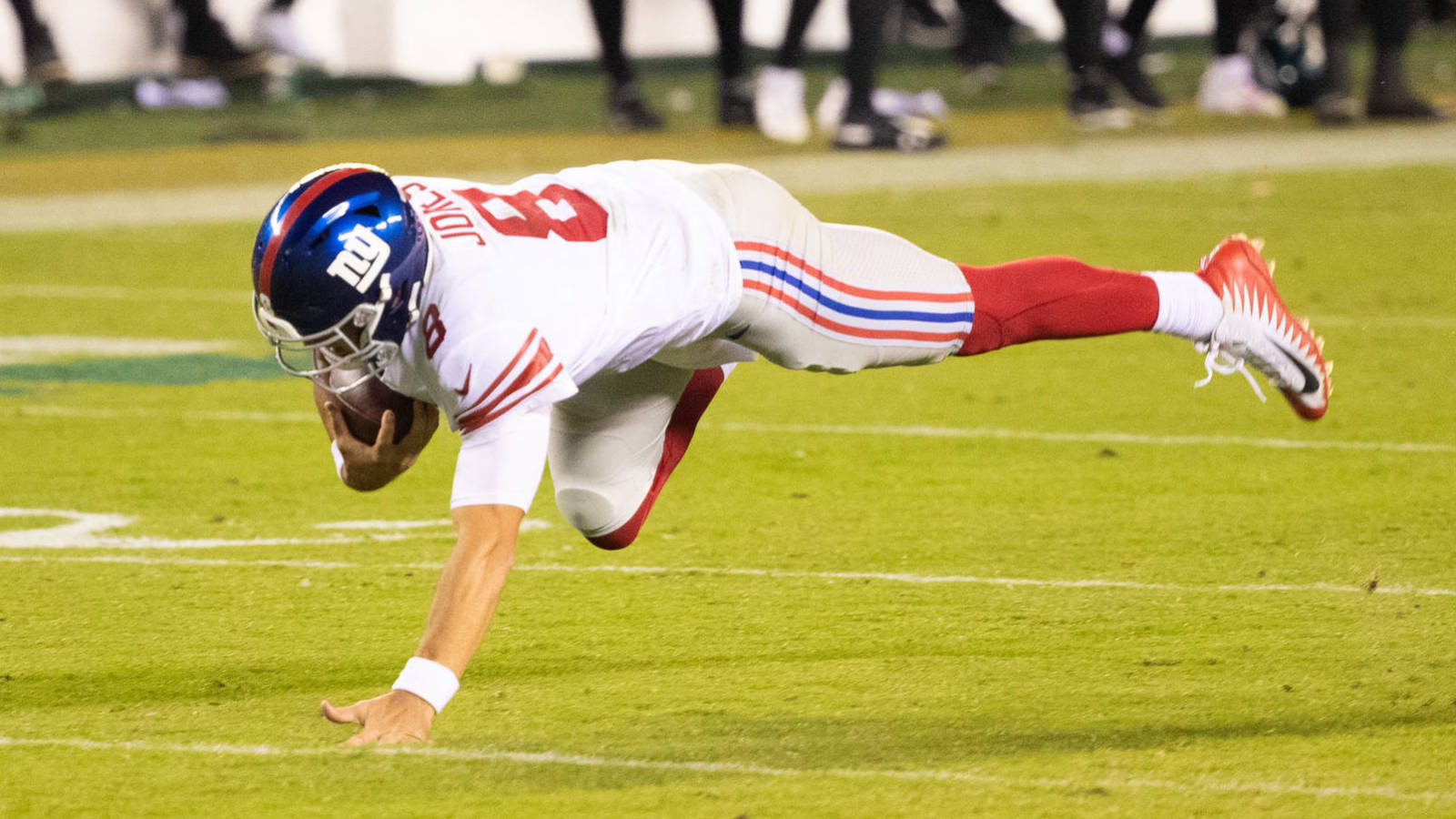 The victim, Daniel 'Danny Dimes' Jones, the Giants QB, was on his way to a spectacular 88-yard rushing touchdown when the invisible assassin struck. Jones, having already ran almost 70 yards, with the nearest Eagles defenders in the next state, was cruelly struck down as an invisible slug penetrating his right thigh. Danny Dimes stumbled forwards and was subsequently tackled at the 6-yard line, denied a spectacular touchdown.
In an age where we have a global pandemic to worry about, surely the NFL should have better security protocols in place to stop the infiltration of an invisible assassin into a near-empty stadium?
---
Short QBs are tall in stature
Wowzer. Anyone who has watched the SNF football game between the Seattle Seahawks and the Arizona Cardinals saw first hand two of the best starting quarterbacks duke it out in a battle for the ages.
Both signal callers lit up the scoreboard and the stats sheet.
While Russell Wilson and Kyler Murray may be the shortest starting QBs (both are under 5ft 11in), their stature in the game is that of the Jolly Green Giant. I am so sorry to use such a corny analogy. The Cardinals managed to get the W at home and present the Seahawks with their first loss of 2020, thanks in large part to a crucial overtime pick by rookie first round LB Isiah Simmons, who has been eased into his first season. Arizona kicker Zane Gonzales managed to get redemption for his first missed attempt earlier in the 5th period, but it was the intestinal fortitude of Kyler Murray, and his lightning feet and rocket arm, that did most of the damage. The Cardinals did not have the lead for over 69 minutes of this game but still came away with an impressive victory.
A special shout out to one of the losers of this game. Poor old DK Metcalf.
Firstly, he is man-marked by Patrick Peterson all game and is used as a decoy. Secondly, he makes the winning touchdown in overtime, only for it to be called back because fellow WR David Moore is caught holding. And thirdly, he delivers on one of the best hustle plays of this century, tracking down Cardinals safety Budda Baker who picked off a Wilson pass and was headed for a pick-six. Metcalf turned on the jets and became an instant defender, catching Baker before he reached the end zone, in a heroic display of teamwork.
The Cardinals, with goal to go, were held to a field goal, but it was all in vain as Kyler Murray worked his twinkle-toed magic in overtime to gain the win.
---
I thought Texas was famous for its football?
I don't know what colour Texas will swing on Election Day next week, but one thing is for certain: it sure isn't green…
There are seven game weeks now in the bag for the 2020 NFL season and the two teams from the Lone Star State have three wins from a combined 14 games.
I'm sure you're going to tell me that things like 'tough schedule' and 'new coaching staff' and 'injuries' have all played a part and of course, they've all had an impact. But look at San Francisco. They pretty much had to put a couple of fridge-freezers out there on the D-line in Week 4, and they're still 4-3.
Dallas first. They're just not it. Most had them as NFC contenders in the off-season and some even had them as Super Bowl winners (I'm not really sure how they figured that, given they haven't won the NFC since 1995). They had a good draft and looked like a good bet for the NFC East too. But somehow, in the worst division in the history of the NFL, they look the exact opposite of the best of the worst. They have the 31st worst points differential, only in front of the 0-7 Jets. They let too many starters walk and now they're paying the price.
Dak going down with a freak injury was obviously a low point, but when Andy Dalton took a nasty late hit against the Football Team last week, none of the Cowboys were up and in the face of the offender, Jon Bostic. An insight into that locker room. No-one is fighting. No-one seems pumped up. Does anyone care? They go to Philadelphia next week for their biggest rivalry game of the season. Usually it's the biggest event on the calendar. It has the coveted Sunday Night Football slot. Mike McCarthy needs to do something, or they're gonna get blown out.
Houston next. What is going on? Every week, they seem to provide more questions than answers. They finally parted ways with Bill O'Brien after starting the season 0-4. The spark many hoped that would provide was short-lived and now here they are, staring 1-6 in the face and the prospect of another disappointing season.
They spent $22m a season to pay Lamery Tunsil and give young stud Deshaun Watson more protection, yet he's been sacked a sixth-highest 22 times so far this season. They traded for David Johnson and he continues to struggle, putting up only 42 yards on the ground against the Packers as well as losing a fumble. They also brought Brandin Cooks to Houston and he has struggled to contribute, with only 2 TDs to his name so far.
They were 21-0 down at half-time against Green Bay on Sunday evening and looked completely devoid of confidence. They look like they lack identity. With leaders like JJ Watt and Randall Cobb in the dressing room, you'd think they would be able to rally to some better performances. While they have played Kansas City, Baltimore, Pittsburgh and Green Bay so far, their bye week could not come at a better time to give them a chance to regroup.
Their schedule gets a bit easier from here, but I think it's fairly comfortable to suggest the Texans won't be going to the play-offs this year.
---
Still not cooking on Gase
Adam Gase said last week that "all options are on the table". Last Sunday, Adam Gase's decided to surrender play-calling duties to OC Dowell Loggains.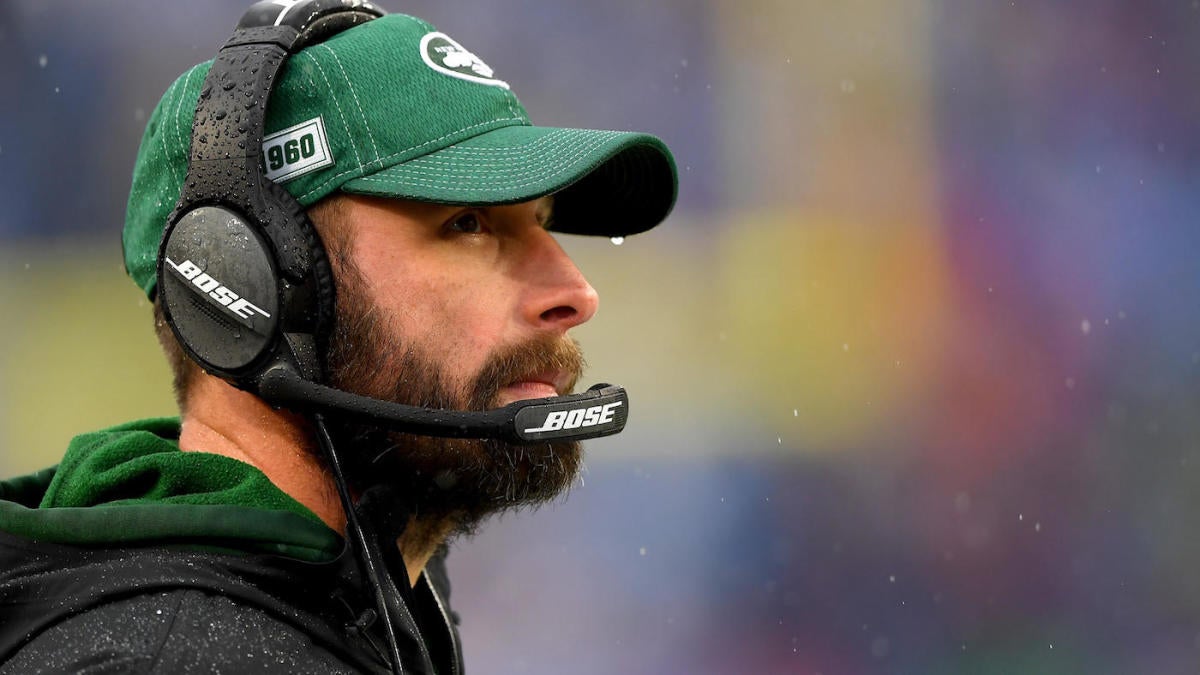 While things didn't improve all that much, there seemed to be a bit more energy and spirit within the camp. The defence limited the stuttering Bills offence to six FGs, shades of Denver and Brandon McManus last week! The Jets still had an awful second half on offence, but the Bills still allowed the Jets to have a shot at the win late on in this one.
However, the Jets continued to be grounded for the time being, and are now 0-7 for the first time since 1996. Maybe Gase needs to give up more than the play-calling duties for Gang Green to change their fortunes for the better.
---
Fully charged
Justin Herbert continues to make a name for himself, adding another good performance against the Jaguars to his already decent start to his NFL career. He completed 27-of-43 for a career-high 347 yards and three TDs, and led the team in rushing (nine carries for 66 yards) and slung the ball around to eight different targets. This meant that the Chargers broke a four-game losing streak, which may seem surprising considering how well Herbert has played under centre since coming in.
It remains to be seen if Herbert can keep this up throughout the rest of the season and into next year, considering that there have been many before that have flashed talent in their rookie season, only to hit a wall and fade away.
One thing he has going for him though is if you type in "Justin" into Google, he is the second name to appear on the list in between Bieber and Timberlake. That'll be music to his ears.
---
Old stomping grounds
Jimmy Garoppolo and Teddy Bridgewater visited their old digs this past Sunday with mixed fortunes.
'Jimmy G' walked in to New England and came out with a convincing victory against his previous employers in Bill Belichick, Robert Kraft and Co. Jimmy Garoppolo completed 20-of-25 passes for 277 yards and had a few short fields positions to work with as Cam and the Patriots capitulated. There would have been few people with bigger smiles come late Sunday night.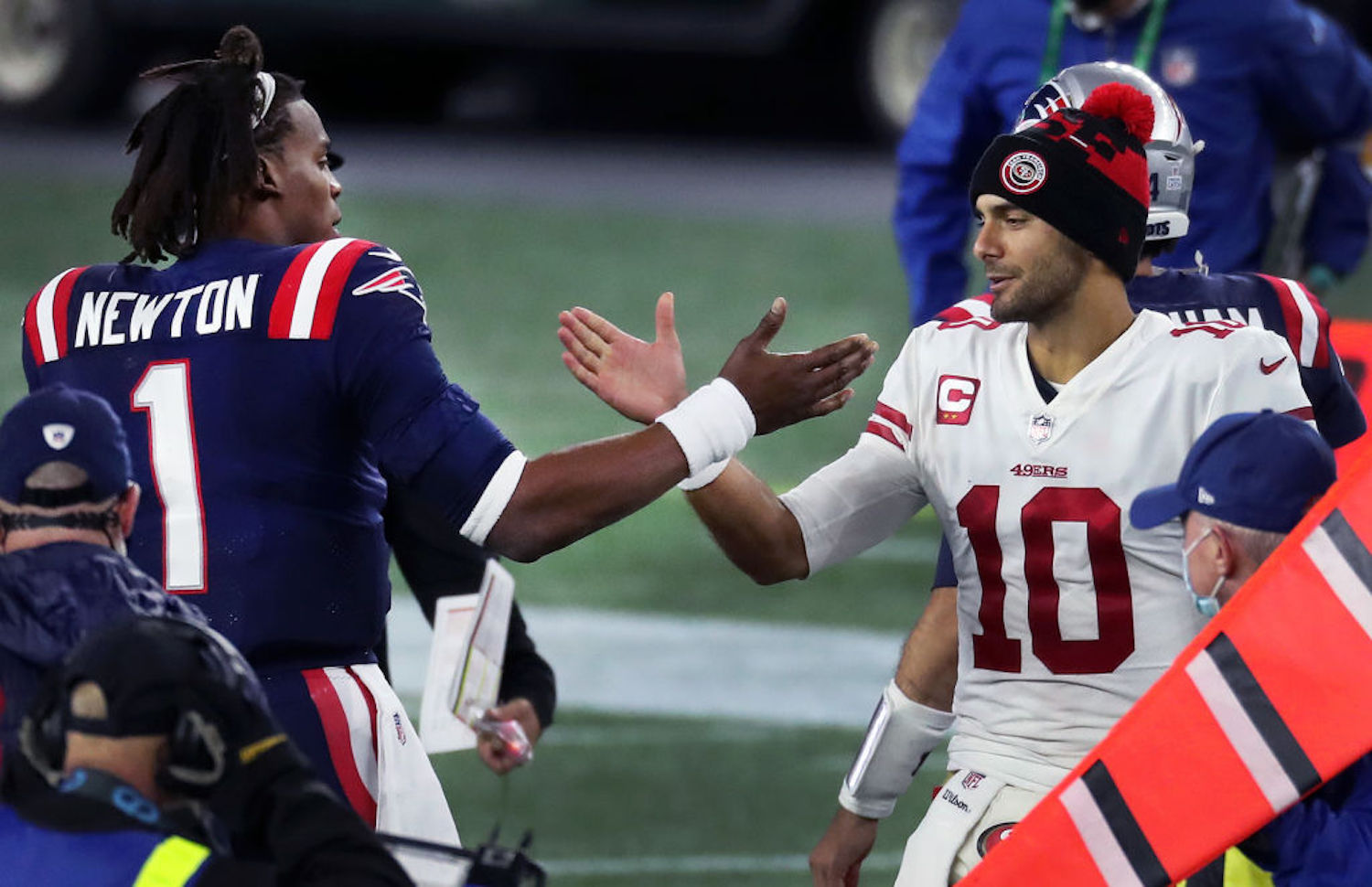 Teddy Bridgewater was not as fortunate to come away with the win as he revisited New Orleans.
The Panthers lost 27-24 but Bridgewater completed 23-of-28 for 254 yards, two touchdowns and a 128.3 passer rating, spreading the ball around and improvising when necessary to keep drives alive. The Panthers under Rhule and Bridgewater are probably performing above expectations at this point and while they aren't quite contenders yet, they are certainly not scrubs that are pushovers.
They'll play oon Thursday night against the Falcons in a game where they will probably be favourites, something you wouldn't have thought going into the season, and that's without run CMC.