BUCS DOWNED BY THEIR OWN MISTAKES
The general consensus is that the Chicago Bears could be the worst 4-1 team in years. They've bumbled along with Mitchell Trubisky and now Nick Foles under centre, they have a net points difference of just +5 and even in beating Tom Brady and the Tampa Bay Buccaneers 20-19 on TNF, Foles was pretty ragged for most of the first half.
But if we're going to focus on errors, I think the buck stops with the Bucs. They gave away 11 penalties and handed Chicago 109 free yards, contributing to their own downfall. Many of their infringements happened on first and second downs, killing drives before they got going.
Having blown a 13-0 lead in the final two minutes of the first half, one particular third-quarter drive – which netted -2 yards from six plays – summed up Tampa's troubles. Holding by tackle Tristan Wirfs made it 1st-and-20. An offensive pass interference call on Mike Evans moved the sticks back again to set up a 1st-and-30. More holding, by Donovan Smith this time, was at least nullified by the Bears' Khalil Mack being penalised for unnecessary roughness in sacking Brady. Then another flag for unnecessary roughness against centre Ryan Jensen (2nd-and-34). The Bucs eventually punted on 4th-and-27, but not before the Bears declined yet another holding penalty on a missed third down pass attempt. Understandably frustrated, Brady was seen giving his linemen a right earful as they left the field.
There was also a very peculiar moment with under a minute left when the Bears held solid on a 4th-and-6, with safety DeAndre Houston-Carson breaking up a pass. The Chicago sideline celebrated and the offence ran onto the field, ready for some victory-formation kneeling. But TB12 looked confused and held up four fingers, as though he was expecting another down. He admitted later he was preoccupied by how close the Bucs were to field goal range. If the GOAT himself loses track of what down it is, then you know it's not going to be your night…
---
TIME FOR THE GINGER PRINCE TO SHINE
It may not have been greeted with a huge amount of fanfare but one of the best off-season moves was Dallas bringing in Andy Dalton. It's the type of move that, although not massively praised, can ultimately have the most significant of impacts. You are always only one play away from your back-up quarterback becoming your starter. You hope it doesn't happen but unfortunately, it often does and, with Dak Prescott picking up a season-ending injury, it's Dalton time in Jerry World.
Dalton has always been described as "Mr Average" but, based on the NFC East this year, that may be more than adequate. He has stellar weapons to work with, which hasn't always been the case in the past. Yes, the offensive line isn't great, but Dalton is used to that after playing behind patchwork lines in Cincy. If nothing else, he gets an 11-game audition to be another team's starting quarterback next year. Best of luck to both Dallas quarterbacks for different reasons.
---
Can we not just let the Rams win the NFC East?
Don't say it too loudly, but the Rams are having a good season.
Let's skip over the fact they're paying Jared Goff and Aaron Donald approximately 91% of their cap space while also paying Brandin Cooks and Todd Gurley over $32m to not play for the Rams this season. Let's also skip over the fact they haven't had a first round draft pick since about 1994 because they continue to trade them all away. Really, the Rams are piecing together a good-looking campaign without turning too many heads.
They've quietly put together a 4-1 start to the season. They have scored an impressive 136 points in their five games and are averaging more than 400 yards per game on offence. Robert Woods and Cooper Kupp are giving Jared Goff dynamic passing options downfield, supported by TEs Tyler Higbee and Gerald Everett. The Rams' passing attack has produced eight TDs and 1,372 yards. They also lead the league in net yards gained per pass attempt with 8.3.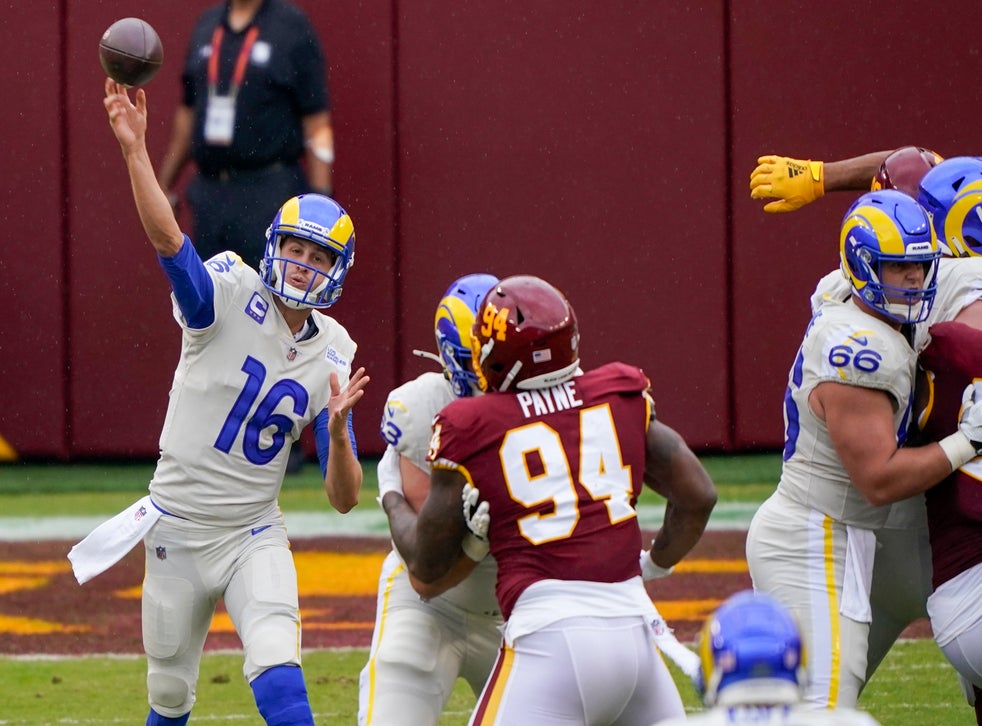 The run game complements their passing offence nicely and has given Head Coach Sean McVay a dual threat through the air and on the ground. The Rams' rushing attack is done by committee: Darrell Henderson and Malcolm Brown carry the majority of the load, and Cam Akers has also contributed more recently. As a team, they have accrued almost 700 yards rushing, which is sixth in the league. They have also only allowed 90 points against, which is third in the NFL among teams that have played all five of their initially scheduled games.
Now, yes, before you say it, I know their four wins have all come against each team in the NFC East. The NFC East is the worst division in football, with a combined record of 4-15-1, but can we not just let the Rams win that and be done with it? It seems like a fair compromise at this stage.
Yes, they also have Seattle in their actual division, the NFC West, and Russell Wilson has thrown approximately 83 touchdowns so far on his campaign for 2020 League MVP. But worry not, the Rams team is the real deal and if they can keep their key players healthy and their defence stays dominant, they'll be there come January. They now face trips to San Francisco and Miami, sandwiching a home game against Chicago. If they can win all of those, they will be 7-1 going into the Week 9 bye.
Sean McVay would have bitten your hand – and probably your whole arm – off if you'd offered that to him in August…
---
DK Metcalf scares teams to death
It is starting to become almost hilarious to imagine that teams opted out of drafting DK Metcalf because of a three-cone score and the notion that he couldn't run a diverse route tree. As the Seattle Seahawks proved again on Sunday night in their last-gasp victory over the Minnesota Vikings, when a player with the skills and athletic profile of Metcalf ends up in your hands, you don't need to ask him to vary what he does. You just tell him to go out and dominate. 
While I'm careful about comparing any human in history to Calvin Johnson, Metcalf's utter dominance on slants, drags and go routes makes him similarly impossible to stop. 
In the midst of Prime Time pressure, Metcalf combined beautifully with Russell Wilson for 93 yards and two touchdowns on six catches, including a score to put the 'Hawks up by one with less than 20 seconds on the clock.
The trust between the two continues to grow as well. Wilson threw his three final passes to the Ole Miss alum, with total confidence, so that Metcalf could make the necessary plays in the dying moments. The confidence in opposing cornerbacks, however, is at an all-time low. 
Like Megatron before him, DK Metcalf forces a rather stark choice for defensive backs: either you give him five-plus yards of cushion and let him eat for days on slants and drag routes, or you get up in his face and risk the easy deep ball. Just ask Cameron Dantzler. 
Don't expect this continued improvement into his second year to stop either. Metcalf has enough physical tools to more than cover for him as he gradually learns more about how to attack NFL defences. He is coming off the back of a rookie season with 900 receiving yards and seven touchdowns, after all.
I guess the big lesson for GMs and HCs around the league is simple: when a player is 6'4" and 230 pounds of raw muscle, and runs a 4.4 40, it's probably best to focus on what he can do rather than what he can't.   
---
Captain Comeback defies all odds
When Rams safety Jalen Ramsey made a rather nasty helmet-to-helmet hit on Washington's QB Kyle Allen, it gave rise to the biggest comeback in recent NFL history. With benched former starter Dwayne Haskins having supplied his employer a sick note, it was time for Alex Smith to take the field, almost 700 days since his gruesome double leg break.
Smith brought a smile to faces across the world, as he proved hard work, persistence and an unwavering positive attitude can move mountains. Alex managed a field goal on his second drive in two seasons, going 4 for 4. That unfortunately was it in terms of on-field highlights. With Aaron Donald on fire (four sacks on the day), Alex Smith and the Washington Football Team somehow managed to achieve -6 yards in the second half. Applause to Smith for taking the field. Now let's hope he can stay there and score some touchdowns.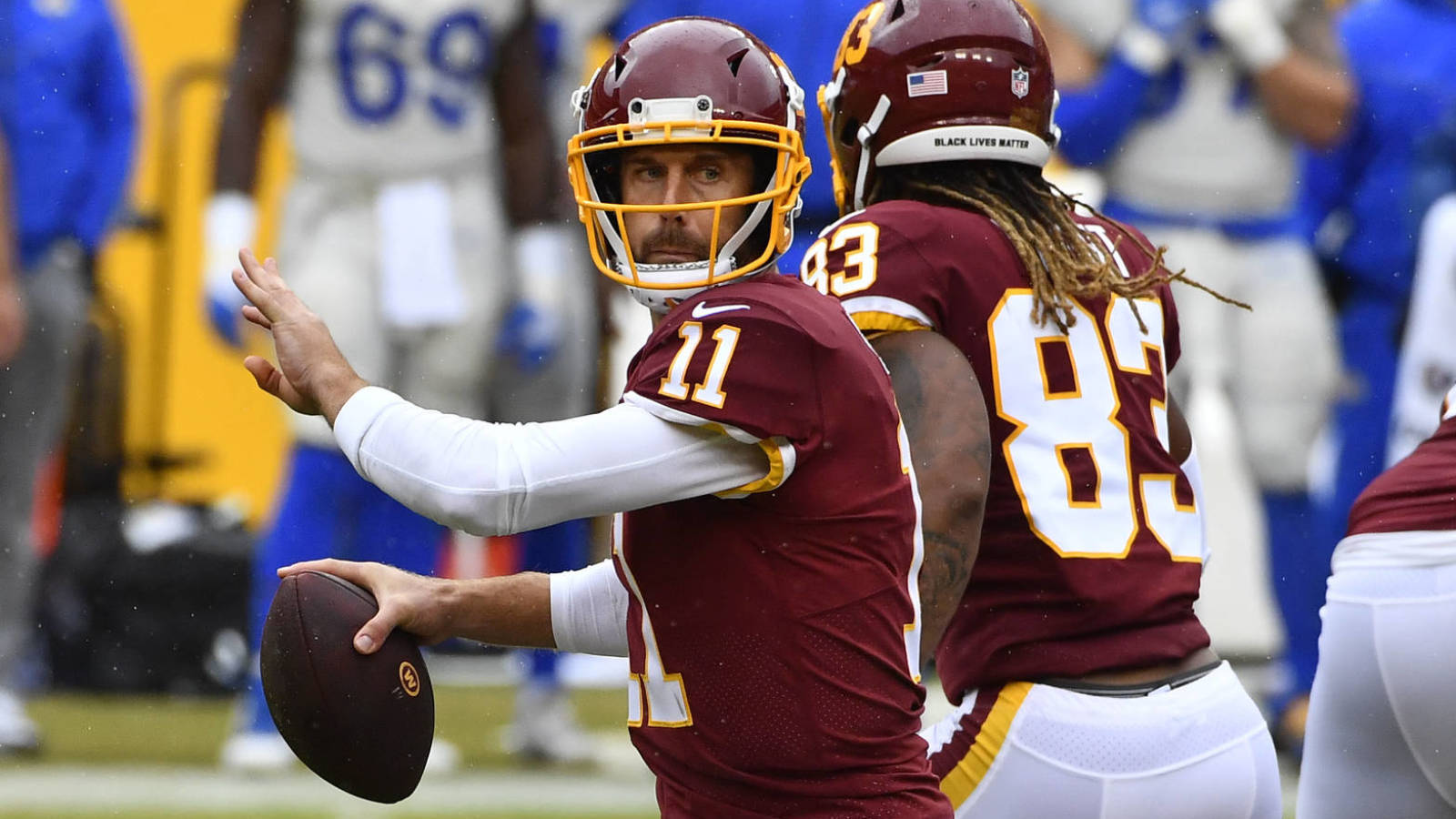 ---
Twitching some whiskers
The Carolina Panthers are riding a three-game winning streak, made that little bit more admirable by the fact their stud RB Christian McCaffrey has been out with injury for the victories. Nobody in Carolina is getting too excited, as the Week 5 win was against the lowly Atlanta Falcons, but you can only beat the teams in your schedule.
The team is full of unsung heroes wherever you look – QB Teddy Bridgewater is quietly impressing, RB Mike Davis is filling in admirably in RUN CMC's absence, both on the ground and in the air, and wideout Robby Anderson is showing that he is an absolute talent. Going from a 0-2 start to a division-topping 3-2 is making the Panthers' top brass look like they knew what they were doing when they hired Matt Rhule as HC. Can the Panthers outduel the Bucs for the NFC South? With Run CMC back soon, I would give a hearty "yes".
---
When you Gano, you Gano
With all the news stories coming out of the Cowboys/Giants game, it may be easy to overlook that a kicking record was achieved by our very own Graham Gano. The Scottish kicker was successful from 50+ yards three times in the same game – a first in franchise history.
Alas, the effort was in vain but for all the kicker troubles in Jacksonville and the Colts' Rodrigo Blankenship being the league's top points scorer to date, kickers do actually matter.
---
That's Mr Chief Gruden to you!
The Las Vegas Raiders subjected the Kansas City Chiefs to a surprising loss on Sunday.
This was a Chiefs team that were 12-1 against AFC West opponents with Mahomes at QB. Not only did they hand them the L, they did it in spectacular fashion, with the defence allowing just six points over a span of six KC drives when we're usually accustomed to 42 points.
The offence got their chance to peacock too, with Carr and company putting up 40 points of their own. The last time the Raiders did that was back in Oakland in 2001… the coach? Jon Gruden!
The Raiders improve to 3-2 on the season and go into their Week 6 bye sitting pretty.
---
Peeling Back the Steel Curtain
The Steelers took care of business at home to the Eagles in Week 5, meaning they improve to 4-0. Now, you might think for a team that has had so many superstars in the last decade or so, that there would be far more instances of a decent 100% start through four games.
You're wrong. This is the first time since the Steel Curtain and Terry Bradshaw back in the late 70s that the Steelers started with a 4-0 record.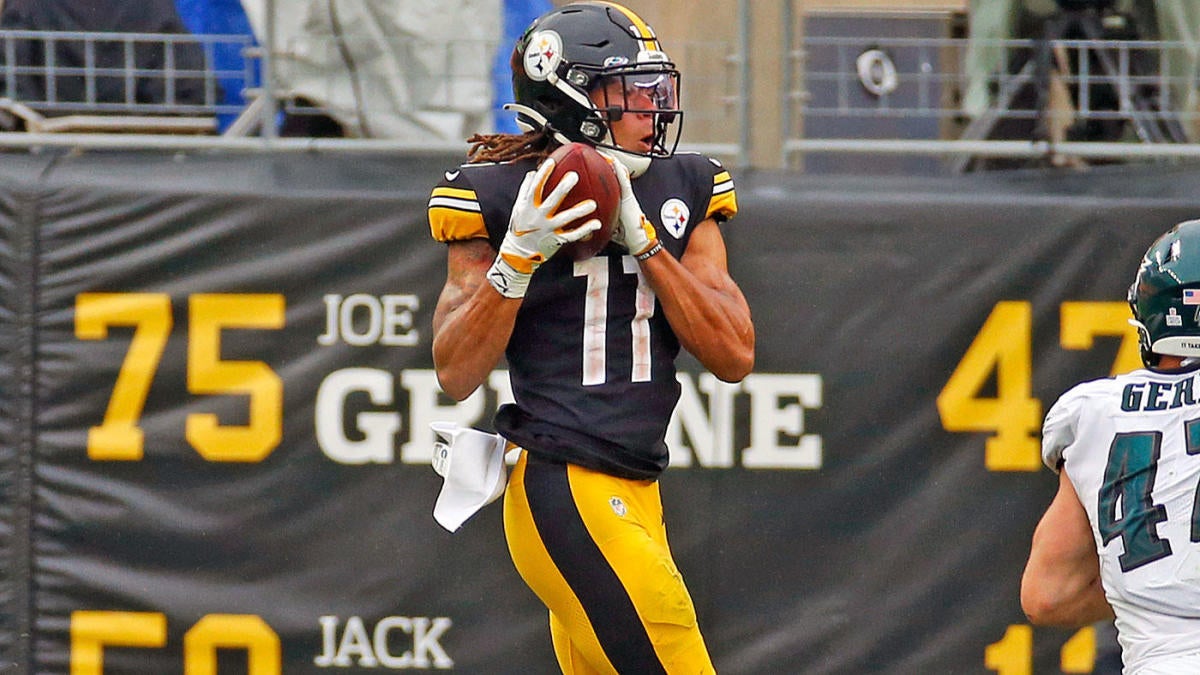 Chase Claypool was the star of the show with four TDs and he could be the next superstar WR in Pittsburgh. However, they'll need to continue playing as they are to secure a postseason berth in a division where the Baltimore Ravens will always be fancied, but the Cleveland Browns are showing promise too.
Perhaps the AFC North, which was once a brutally competitive division, is coming back to the fore?