The Jason Garrett and Mike McCarthy Play-calling Scale
Dallas were constantly ridiculed under Jason Garrett due to their lack of aggressiveness in a multitude of games under his tenure. Under Mike McCarty and Special Teams Coordinator John Fassel, the Cowboys seemed to have swung too far back the other way.
Some mindless decisions were made in the thrilling Cowboys Falcons game which resulted in two turnovers on downs, going for 2 with the Cowboys down 9.
The first turnover on downs was not a bad call; a throw by Chris Jones on a 4th and 4 from the Dallas 29 was a play that was there and should have been made. The other attempt however… 4th and 5 in the 4th Quarter with Dallas down 12, Darian Thompson took the snap and with all of the "heavies" in on the line for Atlanta, attempted to rush the ball through the crowd to no avail. Seemingly game over for Dallas.
The ensuing drive ended in a FG for the Falcons. On the next Cowboys drive gives us another instance of an eyebrow raising decision. Cowboys drive down the field in just under 3 minutes, with Dalton Schultz the backup TE (in because of Blake Jarwin's torn ACL in week 1) scoring, the Cowboys were down 9 with 4:57 left to play. A converted PAT makes it a 1 score game. But no, the decision was made to go for two, which ultimately failed, meaning the cowboys despite scoring, were still down by 2 scores.
The rest is history but you have to question the thought process behind these decisions. I struggle to believe it's analytics but more of an approach of "Let's do the opposite of what Jason Garrett would do and cross our fingers". Luckily, Atlanta were in a forgiving mood, but as a Dallas fan, I am not.
Whilst at one end you have Jason Garrett's playcalling and Mike McCarthy's on the other, can we please just sit somewhere in the middle??
---
EVERYONE HAS THE RUNS AGAINST THE BENGALS
So here's the skinny: after spending a whole heap of dough in the offseason on defensive talent like DJ Reader, Josh Bynes, Mackensie Alexander and Vonn Bell, the Bengals still can't stop the run. As in really can't stop the rock from being shoved unceremoniously down their collective gullet.
Last season, Cincinnati were dead last in the league, conceding an average of 148 yards per game on the ground, and were in the bottom four in 2018 and 2017. After the first two weeks of 2020, they're shipping even more – 185 yards a tilt – after losses to the Chargers and Browns and sit 30th; only Houston and Detroit have relinquished more so far.
Going back to Thursday night, Cincy got gashed by Cleveland's formidable RB duo of Nick Chubb and Kareem Hunt to the tune of 210 yards (plus another 5 yards from a Baker Mayfield scramble). Chubb did most of the damage, racking up 124 yards from 22 carries, and adding two TDs to his name. Hunt took over in the final quarter, and ended up with 86 yards and a score from just 10 runs (plus a receiving touchdown).
This wasn't a surprise to those of us who follow the Bengals. With both Geno Atkins and Mike Daniels ruled out, we knew the defensive line was gossimer-thin. The stand-ins proved they weren't up to the job and linebackers Josh Bynes and Germaine Pratt seemed to go missing too. As in missing tackles. A lot of tackles.
No wonder the Browns were able to drive 75 yards, to go 35-23 ahead, with just six rushing attempts, two of which were chunk plays of 26 and 33 yards. Meanwhile, the Bengals – behind for much of the encounter – were forced to throw 61 times (Joe Burrow's 37 completions was an NFL rookie record, but that's far from sustainable).
Credit to Cleveland for playing a shrewd game and emerging from the Battle of Ohio triumphant, but we could all see this coming. The Bengals have 10 days to get Atkins and Daniels back on the field, or DC Lou Anarumo needs a Plan B before they face the Eagles. Otherwise, Miles Sanders is gonna fill his boots.
---
SUNDAY BLOODY SUNDAY
Football is a full-on, full-contact sport played by armoured battering rams so getting hurt is an occupational hazard. But this Sunday, player after player went down injured.
Reading like a war memorial to the fallen at the Somme, the rollcall appearing on our screens as guys dropped out or were carted off seemed endless. Vikings LB Anthony Barr (shoulder). Dolphins CB Byron Jones (groin). Packers WR Davante Adams (hamstring). Rams RB Cam Akers (ribs). Colts safety Malik Hooker (Achilles) and WR Parris Campbell (knee). Broncos WR Courtland Sutton (leg). Jets WR Breshad Perriman (ankle). Giants WR Sterling Shepard (toe). Hell, even Chargers QB Tyrod Taylor suffered a pregame chest injury that forced him out of the game with the Chiefs. It was just that kind of day.
Some could have a serious impact on their team's fortunes. The Broncos' exciting young QB Drew Lock exited their visit to Pittsburgh with a shoulder injury but they can't afford to be without him for any length of time. Similarly, the Panthers aren't half the team without RB Christian McCaffrey, who suffered a fourth-quarter ankle injury in their loss to the Buccaneers. He's due an MRI on Monday so we'll know more soon. Arguably the most impactful injury was the ACL tear sustained by Giants star running back Saquon Barkley. He's done for the year, and New York look well and truly cooked.
But the award for most banged-up roster surely goes to San Francisco. Already missing Richard Sherman, George Kittle, Dee Ford and Deebo Samuel, the 49ers' routine win over the Jets could prove costly. QB Jimmy Garoppolo hobbled through the first half but didn't return with a high ankle sprain. DE Nick Bosa was carted off the field with a possible ACL tear and just a few plays later, defensive lineman Solomon Thomas was also wheeled away with a knee injury. As if that weren't enough, running back Raheem Mostert was also ruled out at halftime with an MCL sprain and Tevin Coleman also injured his knee.
Injuries are part and parcel of the game but Sunday was off the charts. So why the carnage? At the Jets' MetLife Stadium, players complained about the new "sticky" turf during and after the game so that might be a reason why the Niners are in bits right now. But as for the sheer volume of injuries across the league, that could be a natural consequence of the COVID-affected offseason. Players have had to go from training camp to competitive action without OTAs, minicamps or preseason games to ease the transition. Interestingly, the same spike happened after the NFL lockout in 2011.
So we wish all the injured players well, hope to see most of them back in action soon, and pray to the footballing Gods that Sunday was an anomaly that won't be repeated.
---
THE PACKERS ARE THE REAL-DEAL. AGAIN.
Back in April, Green Bay had what many considered to be a relatively uninspiring draft. They traded up in the First round and spent their pick on Jordan Love, a potential long-term successor to Aaron Rodgers. Some predicted this might signal the beginning of the phasing out of Rodgers, just like they did with Favre back in the late noughties.
The Packers Front Office also didn't get Rodgers any WR help, despite the fact that they looked like they desperately needed it. Devante Adams put up 997 yards in 12 games last season and Lizard was the next closest to him, with only 447 yards across all 16 games – their need for help at the receiver position was glaringly obvious, especially in such a loaded draft at the position.
However, now all the dust has settled from the draft and the regular season has begun, Aaron Rodgers has gone back to doing exactly what he does best; being absolutely outstanding.
After two games the Packers are 2-0. They have scored 40+ points in both games. Rodgers has done this twice before, both times he won MVP. Also interesting to note the last two times a team opened their season in this fashion (New Orleans in 2009 & Denver in 2013) they went on to reach the Superbowl. Green Bay have outscored Minnesota & Detroit by a combined 30 points, with 192 receiving yards and 2 TDs for Devante Adams and 342 (234 rushing) all purpose yards and 4 TDs for Aaron Jones – including a 75 yard breakaway TD run vs Detroit.
Rodgers has thrown for 604 yards overall and has a passer rating of 119.4. Next up he takes Green Bay into the Superdome on SNF. The Packers are quickly becoming my favourite for the NFC. If they can beat New Orleans that will make a massive statement.
---
PLAY YOUR CARDS RIGHT
In a league full of 6 ft 8 inch monsters (Calais Campbell I am talking about you) it may be one of the smallest guys that is emerging early as a front runner for the MVP award. Kyler Murray standing at 5 ft 10 inches has embarrassed two consecutive NFC opponents, belittling an injury free 49ers defense in Week 1 before humbling the hot d-line of the Washington Football Team on Sunday. Murray now has 158 yards rushing and three ground scores to go with his 516 air yards. Perhaps the only mediocre part is the 2 TD 2 INT stat line. Murray looked like a remote controlled pinball against Washington on his two rushing TDs, with moves upon moves. Murray is a magician and his Cards are coming up aces. Bet on Arizona reaching the playoffs in 2020.
---
WHAT HAPPENS IN VEGAS……
We all know how the saying goes. The Saints will be hoping that there losing stays in Vegas after a bit of an upset to round out the week on Monday Night Football. Is the solution to the Saints problems however even more controversial? Is it time for a QB change?
Derek Carr outplayed Drew Brees on Monday night. Brees missed open targets, had too much air under many of his deep attempts along with tossing a baffling interception. What was once considered an explosive offence is all of a sudden living in the world of dinking and dunking. So much reliance is placed upon Alvin Kamara to pile up yards after the catch and its simply too much for 1 man to carry that much burden when so much is expected of the team.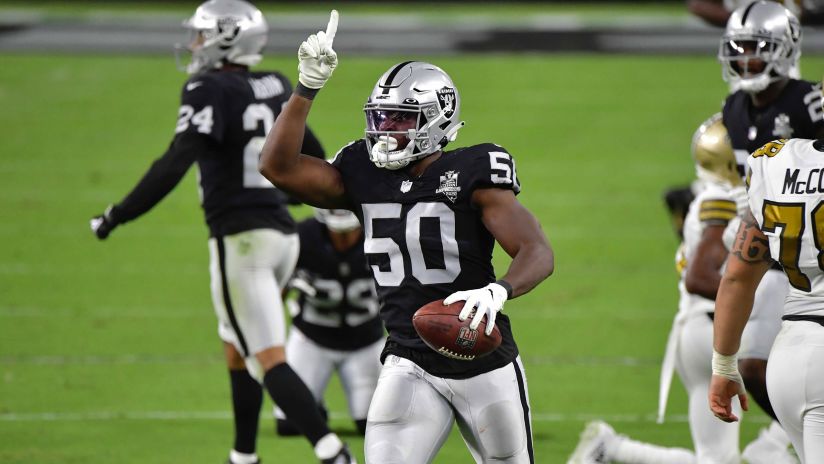 Michael Thomas is obviously a huge loss, as he would be to any other team, and the Saints need him back quickly. Things don't get any easier as the Packers are up next and based on what we have seen so far its not unfair to say on paper that looks like a complete QB mismatch. If I were Jameis Winston or Taysom Hill, I would be studying the playbook even harder this week.
---
Herb gave us a bit of spice
A seemingly bright future is ahead for Charger's fans who saw their first glimpse of their #6 overall 2020 draft pick.
Justin Herbert was a shock start in the Charger's vs Chiefs game in the late window with Tyrod aggravating a chest injury in warmups.
You have to wonder how much Thyme (yes, this is a herb and spice pun fest) the Quarterback out of Oregan-o had with the first team this week. To Cumin and perform as well as he did must put a lot of faith for the fans that he is the man to take this franchise forward. It looks as thought eh franchise could be in mint condition. He did put in a Costmary rookie mistake which he will learn from and will also learn from a borage of peppering he took with hits from a few of the KC defence.
Herbert stepped on to the field as if it was no big dill. He showed no fear, all of the composure and confidence to put it to the Kansas City Chiefs when other may have crumbled inside. The stage did not feel too big for him and became the 1st QB since Bobby Clutterbuck to have 1 rushing and 1 pass TD in the first half of their first start. If it wasn't for a questionable decision to punt in overtime, we could be talking about a Charger's victory rather than a defeat.
Anthony Lynn now has to make a decision on whether to keep Herbert in, or revert back to Tyrod Taylor for week 3. Don't forget it was Tyrod Taylor who was injured when a Cleveland Brown to allow Baker Mayfield his chance to announce himself onto the stage.
---
Rejoice in the entertainment
Despite all of the injuries and despite crowds either being non-existent or partial, we were treated to some absolute belting games in Week 2.
From Dallas's win at home with Zuerlein's onside kick looking as if it should belong on the greens of Winged Foot, to the chess match personified on Sunday Night Football, there were few games that did not provide entertainment or talking points.
It's great to have football back and with the fantastic news of the success rate in Covid 19 testing, it looks as if the season is looking likely to complete. A lot can change from week to week and it won't take much, but sign me up for another 15 weeks of regular season football.
Who's playing Thursday night? Oh…