By Kieran Patterson (@DCCYTFootball)
Every season there is one position valued above all others, a position that's scrutinized and picked apart more than any other…the quarterback.
With the position being so varied between teams, players styles and schemes I think it would be interesting to take a look at the top 10 signal callers in the league, break them down and see who is going to be exciting to watch going into the 2020 season.
---
Ryan Tannehill, Tennessee Titans
---
I know off the bat I'm going to get flack for this. I know it. Not only was the former number 8 overall pick a complete bust in Miami, he was also injury prone. Every season he played the full 16 games he threw double digit interceptions and struggled to help the Dolphins get anywhere.
So what changed in Tennessee?
Better coaching? More motivation? Better culture? Regardless of what changed at the Titans, it worked. In the 12 games he took the field (only started 10) he put up 2,742 passing yards, 22 touchdowns and 6 interceptions. He had 4 less touchdowns than Aaron Rodgers and Patrick Mahomes while only starting 10 games!
Behind a dynamic hardnosed offence that includes man mountain Derrick Henry and dynamic Wide Receivers like AJ Brown, Cory Davis and Adam Humphries this offence has all the power it needs to take them deep into the playoffs again. Possibly even a Superbowl appearance.
This isn't just me jumping onto a player who had a hot season, this is me telling you that the Titans are dangerous and can beat any team they face off against this year. Good luck stopping them.
---
Aaron Rodgers, Green Bay Packers
---
You might be asking why I have a future all of famer this far down this list. Well it's not only his lack of weapons but actually his recent productivity.
Last year Rodgers posted a respectable 4,002 passing yards, 26 touchdowns and 4 interceptions. Couple that with the fact that not only is he missing weapons he's not getting any younger. The Packers realized this and that's why they brought in Jordan Love.
Now my personal opinions on Rodgers aside he is in fact a future first ballot Hall of Famer and an all time great. But I think we see him start to wind his career down now. With little to no offensive weapons to help him move the ball I don't see Rodgers living up to any of the hype we see around him and the Packers every year.
Sure he's one of the best…but he can't win games alone anymore.
---
Jimmy Garoppolo, San Francisco 49er's
---
Now many people might call Patriots bias due to who drafted Jimmy Garoppolo and his history with the Patriots but if you're familiar with my work then you know that I know what I'm talking about (I'm pretty good at this whole football lark).
The 49er's are 19-5 with Jimmy G under center since he suited up in red and gold and 3-10 without him…now you tell me he's not a difference maker. People love to hate on Jimmy G but watching him play is sensational, his release is one of the fastest in the league, he can make throws downfield, he makes fast reads and isn't afraid to take a hit.
Last year Jimmy racked up 3,978 passing yards for 27 touchdowns and 13 interceptions. Oh no he's terrible despite having a stat line almost identical to Patrick Mahomes, Deshaun Watson and Aaron Rodgers. With just a few more interceptions. Yeah tell me he's bad again.
Despite coming up short in the Superbowl I think it would be foolish to not expect this even stronger 49er's team to not tear it up next year and make another run at the Superbowl behind this super-powered offense.
---
Deshaun Watson, Houston Texans
---
After Deandre Hopkins was traded to the Arizona Cardinals in the off-season there was rumors that Deshaun Watson was looking from a way to escape Bill O'Brian too and the Patriots got mentioned…to say I was excited was an understatement.
Watson is unquestionably one of the most exciting signal callers in the league he's a great athlete with a really accurate arm and despite his O-Line failing to keep him upright most of the time he still manages to make plays and as long as he's on the field the Texans are still in the game. Watson has taken the Texans to playoffs for 2 of his 3 seasons, the exception being his rookie year.
Last year he had a great season but unfortunately fell to the eventual Superbowl champions the Kansas City Chiefs. He went into the playoffs with 3,852 passing yards, 26 touchdowns and 12 interceptions. He also tallied 413 ground yards taking 7 touchdowns in with his feet.
Despite losing Hopkins, Watson still has a strong defense and competent offensive pieces to aid him going into the 2020 season which will be crucial in helping the Texans to their 3 playoffs berth in as many years.
Hopefully Watson wears a visor this year so he doesn't nearly lose an eye while escaping the pocket.
---
Drew Brees, New Orleans Saints
---
When it was reported that Drew Brees has already signed a TV deal ahead of the 2020 season I think that was almost a confirmation that this was his last 2 years as a player.
Despite playing at a high level his whole career an MVP award has always alluded this man, not that he hasn't deserved it. The future hall of famer has one last shot at the MVP and he's in a great position to do it with the team around him.
With a pro-bowl supporting cast including players like Alvin Kamara, Micheal Thomas and Taysom Hill it's not hard to picture this Saints team making it back to the playoffs. Last season Brees unfortunately missed 5 games due to a thumb injury he picked up in week 2 against the rams. After back up Teddy Bridgewater came in and went 5-0 in his absence Brees returned and managed to finish with 2,079 passing yards, 27 Touchdowns and 4 interceptions.
Despite struggling against the Vikings in the playoffs in the past 3 years Brees has all the tools to finally make it to the big game and despite Tom Brady, Russell Wilson and Jimmy G all being in the NFC it's not smart money to bet against this man.
---
Russell Wilson, Seattle Seahawks
---
Now if I had to pick one quarterback to extend a play as long as possible until someone gets open, I'd pick Russell Wilson.
For pretty much his whole career Wilson had played behind one of the worst O-Lines in history, no matter what he's tried to make plays and subsequently pulled off some of the most jaw dropping plays in NFL history.
A true leader of men Wilson would earn a place on this list for almost every year he's been in the NFL. Last season the Seahawks signal caller threw for 4,110 yards, 31 touchdowns and 5 interceptions taking the Seahawks to the playoffs for the 7th time in Wilson's 8 year tenure with the Seahawks.
It seems a this point a guarantee that Wilson and the Seahawks will see post season action, with stiff competition now in the NFC how far can Wilson take his men?
Time will tell, but with this man as a signal caller the Seahawks won't go down without a fight.
---
Tom Brady, Tampa Bay Buccaneers
---
Tom Brady will be 43 years old when the NFL season kicks off this year. 43. Just let that sink in for a moment.
So after one of his worst seasons in 2019 Brady decided to leave for pastures new in Tampa Bay. Whether it was him butting heads with Bill Belichick or him feeling under appreciated by the team he spent the last 20 years of his life leading, Brady left the Patriots. He's walked into a great situation in Tampa. Mike Evans, Chris Godwin, OJ Howards, JF3 and oh…Rob Gronkowski are just a few reasons why Tampa Bay is looking to be the best team in the NFC this year.
At 43 Brady will 100% slow down, it's just nature but if that Tampa Bay pocket gives him 2-3 seconds every snap then no doubt they're dangerous. Now last year on a team plagued with injuries, young players making mistakes and an O-Line made out of paper Brady managed to throw for 4,057 yards, 24 touchdowns and 8 interceptions. Pretty good considering.
So now put him on a team with Gronk who's in the conversation for best tight end ever, Mike Evans a rough and ready wide receiver who can out muscle anyone covering and high points balls like a man twice his size, Chris Godwin who can take the top off a secondary and might be one of the fastest guys in the league and the little mentioned JF3 a Taysom Hill type player with 4.19 speed and agility to match. SCARY.
I think if this Tampa Bay team doesn't make the playoffs it will be the biggest shock the league has ever seen. They're almost a lock for the Superbowl and Brady vs Mahomes would be one of the most fun matchups ever. This Tampa Bay team is going to be fun to watch with the GOAT at the helm.
---
Josh Allen, Buffalo Bills
---
If it wasn't for Lamar Jackson winning the MVP then Josh Allen would've been number 2 instead of here. Josh Allen is my favorite quarterback in the league and that's coming from a Patriots fan. He's got a bazooka for an arm, he's athletic and he's tough.
Josh Allen has come into a long snakebitten franchise and completely changed the energy. In his Rookie season he played in 12 games throwing for 2,074 yards for 10 touchdowns and 12 interceptions. He also added a further 631 rushing yards and 8 rushing touchdowns. Oh and he hurdled over Anthony Barr against the Vikings. That was pretty great.
In his sophomore season he really improved starting in all 16 games putting up 3,089 passing yards, 20 touchdowns and 9 interceptions while adding 510 rushing yards and 10 touchdowns.
Between his huge frame and cannon arm he really does look like a movie quarterback in every sense of the word. He came into the league with so much potential and only last year did he scratch the surface in terms of what he's really capable of. The Bills unfortunately dropped out of the playoffs early another one and done situation.
Look for them to make a deep run this year taking on the likes of the Ravens, Titans and Chiefs along the way. If they can beat a team like the Chiefs in the playoffs I'd say they'd be a safe bet to win the big game come February.
---
Lamar Jackson, Baltimore Ravens
---
Honestly the number 2 on this list was hotly contested for a whole host of reasons but reigning MVP Lamar Jackson just edged it.
Showing massive improvements in his passing game during his sophomore season Jackson was one of the most electric playmakers in the league. With a mix of great throws and ridiculous speed and agility on the ground Jackson was a true duel threat.
The year he was drafted I was on record saying he might be one of the best quarterbacks we've seen in a long time and 100% the best quarterback in his class. Not only did he stick to his guns when teams wanted him to work out as receiver he showed true improvement in his passing game taking his completion percentage from 58.2% in his rookie season to 66.1% in his sophomore year.
In his first season as a starter (starting all 16 games) he put up 3,127 passing yards, 36 touchdowns and 6 interceptions plus his staggering 1,206 rushing yards and 7 rushing touchdowns there's a reason why he won MVP. While he does look like he struggles in the playoffs it clear that Jackson is a true duel threat and more than a handful for any NFL defense.
Expect the Ravens to appear in the playoffs again this year as they finally try as Lamar finally tries to break the one and done showings of his first 2 years.
He is on the cover of Madden though…but then again Patrick Mahomes may have ended the Madden curse for good
---
Patrick Mahomes, Kansas City Chiefs
---
Former MVP and reigning Superbowl champion, Patrick Mahomes might be the best quarterback in the league right now.
The former 2017 first round pick sat his full rookie season, which is something I actually recommend for most quarterbacks coming into the league.
Fresh from blinding stat lines at Texas Tech one of which was throwing for 734 yards in a game (819 combined yards) against Oklahoma. It was clear Mahomes had talent and the Chiefs coaching staff realized sitting him behind a veteran like Alex Smith was a great idea.
It paid off.
In his first season as a starter Mahomes threw for 5,097 yards, 50 touchdowns and 12 interceptions on the road to an MVP award and AFC championship game. In his first year as a starter…that's crazy. His stats saw a slight drop in 2019 where he threw for 4,031 yards, 26 touchdowns and 5 interceptions. He did go on to win the Superbowl though so I'm sure he's not too upset.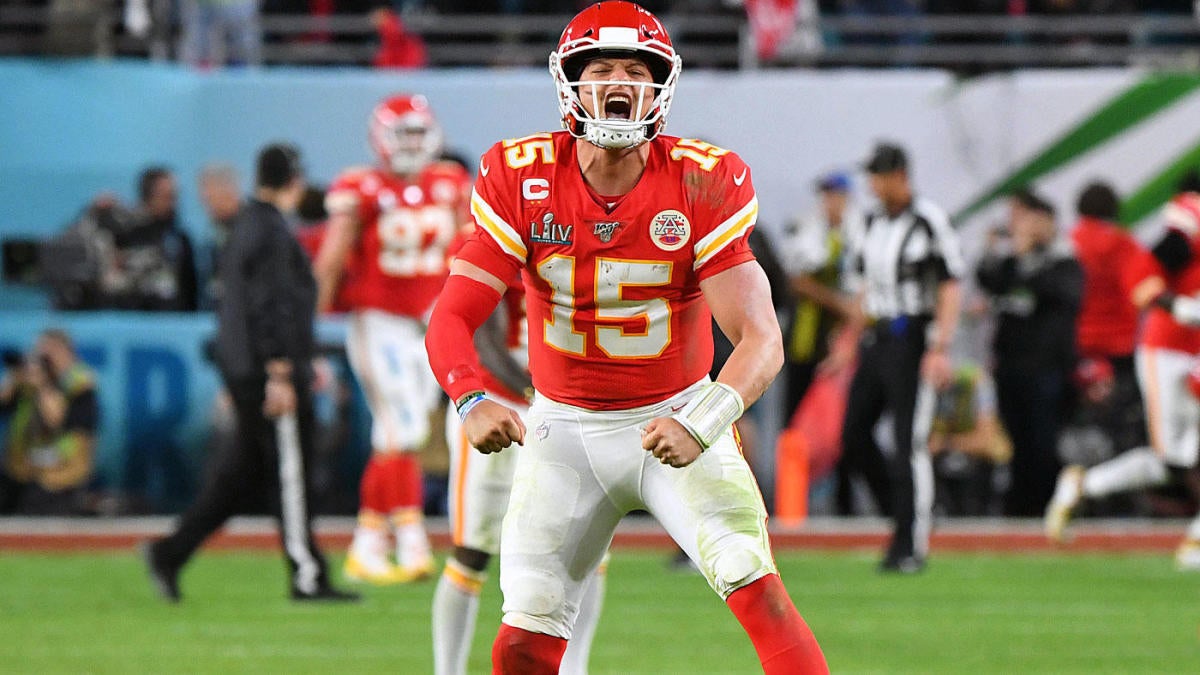 Mahomes looks to be the best quarterback in the league for years to come, he's got a cannon for an arm, great feet and awareness which allow him to extend plays and he understands football. If you could pick the best quarterback in the league at this exact moment, it's Mahomes.
I can't wait to see how the rest of his career plays out. Honestly I feel like it's a given that the Chiefs at least appear in the AFC Championship game behind one of the best offences the NFL has ever seen, appearing to have broke the Madden curse with a Superbowl win and Superbowl MVP award to boot.