It's a shame this game doesn't really have a lot riding on it considering that coming into the season, both teams were expected to be in the Wild Card race.
After the Raiders' loss at home against the Colts, thus giving Indianapolis the tiebreaker between the two, Derek Carr and co. are definitely on the outside looking in, especially after the Ravens' last-second FG win over the Browns.
The 7-6 Raiders are now 1.5 games back from a play-off spot, which is not where you want to be with three games to go.
The signs had been there for the Raiders though with an unconvincing win over the Jets sandwiched between two below-par performances in defeats against the Colts and the Falcons.
They have an opportunity to get back on track here though against a Chargers team that just continue to fill the NFL Xmas blooper DVD. Another circus act of a scene went down prior to the first half against the Falcons on special teams.
You almost expect it every game at this point and you have to wonder how hot Anthony Lynn's seat is in Los Angeles.
This game seems to be set up for a high-scoring game, with both defences not being the most resistant coupled with two teams with decent weapons on offence.
Josh Jacobs perturbed fantasy owners in Week 14 with a pedestrian display, coupled with a questionable instagram story. His ankle has been bothering him for a few weeks now and it remains to be seen how many opportunities he'll get on a short week.
Consequently, Derek Carr has had to throw the ball a bit more and Darren Waller WENT OFF against the Jets (who doesn't?), supplementing that with another fine performance against the Colts, despite not finding the end zone. Their first round rookie Henry Ruggs will be missing in this one though, as he hits the COVID-19 list so expect to hear Agholor's name a lot more, who himself is having a great season of redemption. Carr will hope for more support from slot WR Hunter Renfrow, who fumbled in last week's loss and Zay Jones, who seems to pop up from time to time.
For the visitors, Justin Herbert's hype has simmered down a touch and his scorching pace was never going to be sustainable. The rookie could be having a bit of a burnout but is still performing to a decent standard in his rookie year. Despite his 3-9 record as a starter, he has 25 TDs to his name and 10 INTs, passing for 3,467 yards (just outside the top 10 despite Week 1 where he wasn't the starter).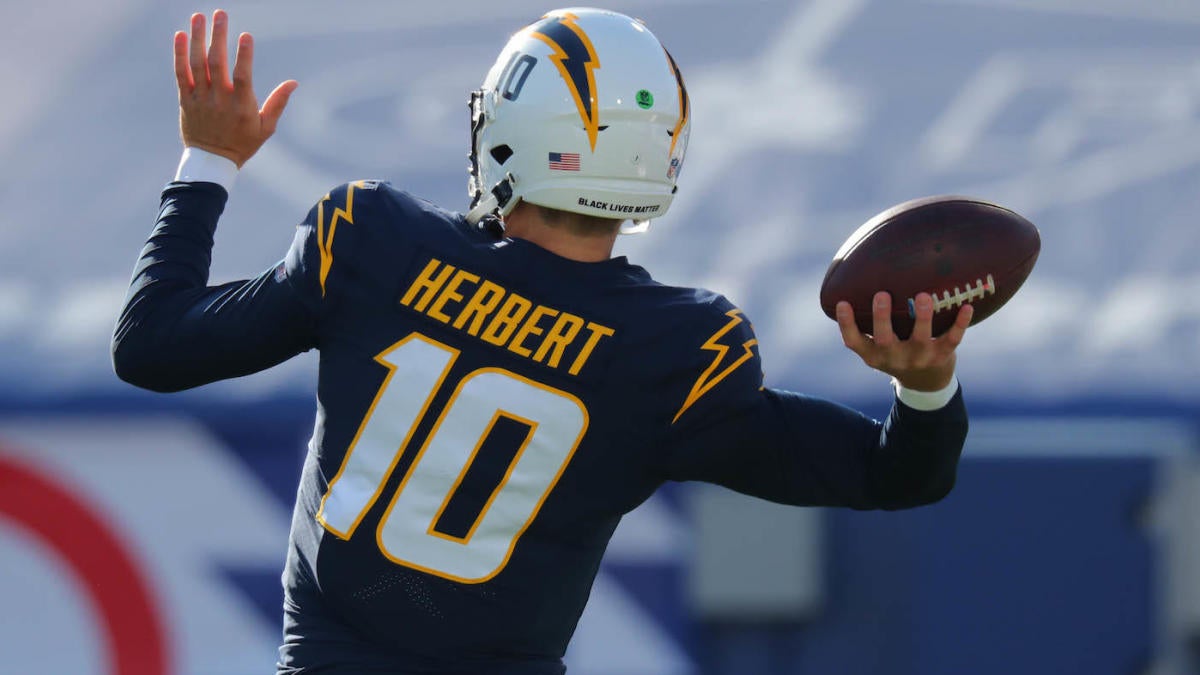 He faces a Raiders defence with just 33 sacks on the season (ties 2nd worst) and just don't get pressure on opposing QBs. So expect Herbert to have time to find his favourite target Keenan Allen, who is smashing 2020 with 99 receptions (2nd to Diggs with 100), 975 yards and 8TDs which is tied for his career high from his rookie season.
Mike Williams left the game against the Falcons due to a back injury and has been limited in practice so expect Hunter Henry and Keenan Allen to possibly see a slight uptick in downfield targets. There could also be more playing time for Jalen Guyton if Williams sits this one out.
Austin Ekeler should continue to get his usual workload and it's been nice to see that Kalen Ballage has been rewarded for his recent efforts by getting a decent amount of playing time.
Writer's Pick – Tim Monk (@Tim_MonkF10Y)
The Raiders took the reverse fixture over a month ago and I expect a similar scoreline, but with the way the Raiders are playing and their performances over the past few weeks, I'll take the Chargers as 3.5-point underdogs. This is probably not a wise decision considering the circus act at Head Coach and the lack of confidence in the kicking game.
I do give the edge to the Chargers' run defence, which should be able to restrict a nicked-up Josh Jacobs.
It's also probably not wise to take over 53 points considering the points that have been left on the field for the Chargers but I don't think the defences will be able to put up much resistance.
Final Score Prediction: Chargers 28-24 Raiders