Welcome in to the Full10Yards Takeaways from an action-packed Week 14. As well as these tasty morsels, don't forget to seek out our weekly recap pod, available on Twitter/YouTube/Facebook and a range of podcast outlets every Monday. OK, let's get cracking…
The Hurt locker is open as the door slams shut on Wentz
Eagles Head Coach Doug Pederson was reluctant to bench the 'franchise' QB Carson Wentz, but he finally took the plunge in Week 13, before officially benching him for the start of Week 14. The replacement – rookie Jalen Hurts – made a good impression against the Packers a week ago, and he topped that on Sunday with a historic full debut. Hurts ran for more than 100 yards on his debut and, more importantly, led Philly to their first win in five, and their first 20+ points performance in over a month.
Hurts was exciting, unpredictable and inspiring, the antonym of Wentz, who has been static, easy to read and underwhelming. Coach Pederson has already announced Hurts will get his second career start on the road in Arizona.
Wentz has been let down by his offensive line, leading to 50 sacks, but his annoying habit of trying to be a hero on every other snap was making Eagles fans want to throw snowballs at Carson instead of Santa Claus. With three games left, and that pesky tied game on their record, it is still somehow feasible that Philadelphia can still come out of the NFC (L)East as winners.
Kyler v Jalen will be a fascinating battle of two small but elusive QBs who will be determined to give their fans an early Christmas present. Unlike Carson Wentz, who has already provided 50 'sacks' of coal to the fans.
---
Nick was no saint as he was chased by a young stud
When Washington selected Chase Young at #2 overall in the 2020 NFL Draft, there were incredibly high expectations.
Young made an immediate positive impression in a surprise Week 1 victory against the Eagles. The fast start was soon slowed down with a niggling injury and a team in free-fall with a 2-7 record. Four games later and Washington are 6-7, in sole possession of the NFC (L)East lead and Chase Young is leading all rookie pass rushers with 5.5 sacks.
'The Predator' had his best game so far against the 49ers, and his fumble recovery touchdown can be credited as the moment the Washington defence turned their pressure into a diamond-encrusted play. Down 6-7 with under a minute left in the half, the Washington defensive line pressured Nick Mullens and jarred the pigskin loose. Young picked up the ball and ran just about as smoothly up the left sideline as any edge rusher ever has.
From that point, Washington took the lead, and did not relinquish that position until the end of the game.
Despite the fact Washington started Dwayne Haskins, a quarterback who is actually worse than Carson Wentz, for the entire second half (due to a non-serious Alex Smith leg injury) they managed to get the W. Haskins did nothing in his first appearance since October, and it was a second defensive touchdown from another impressive Washington rookie, DB Kamren Curl, that gave the burgundy and gold the breathing room to hold on. Young had a monster game, and what makes the performance truly scary is the fact he is still only 21 years of age.
---
A marvelous Monday night
Many non-fans will question the stupidity of staying up until the early hours of the morning to watch an NFL game, especially on a 'school night'. For those who did just that this week, what a treat we were served up: 89 points, fourth quarter lead changes, rushing touchdown history and a rivalry that maybe, just maybe, is about to become a real battle moving forward.
Let's leave the specifics to one side momentarily and look at the big picture. The Ravens needed to win this game; they did. The Browns needed to prove that they belong with the playoff-calibre teams in the AFC; they did.
It was a quite remarkable game that saw both teams lose their best players for periods of the game due to injury. The teams combined for nine rushing touchdowns, tying an NFL record for rushing scores in a game. Baker Mayfield was immense for the Browns. Lamar Jackson was incredible for the Ravens. I could wax lyrical for paragraph after paragraph.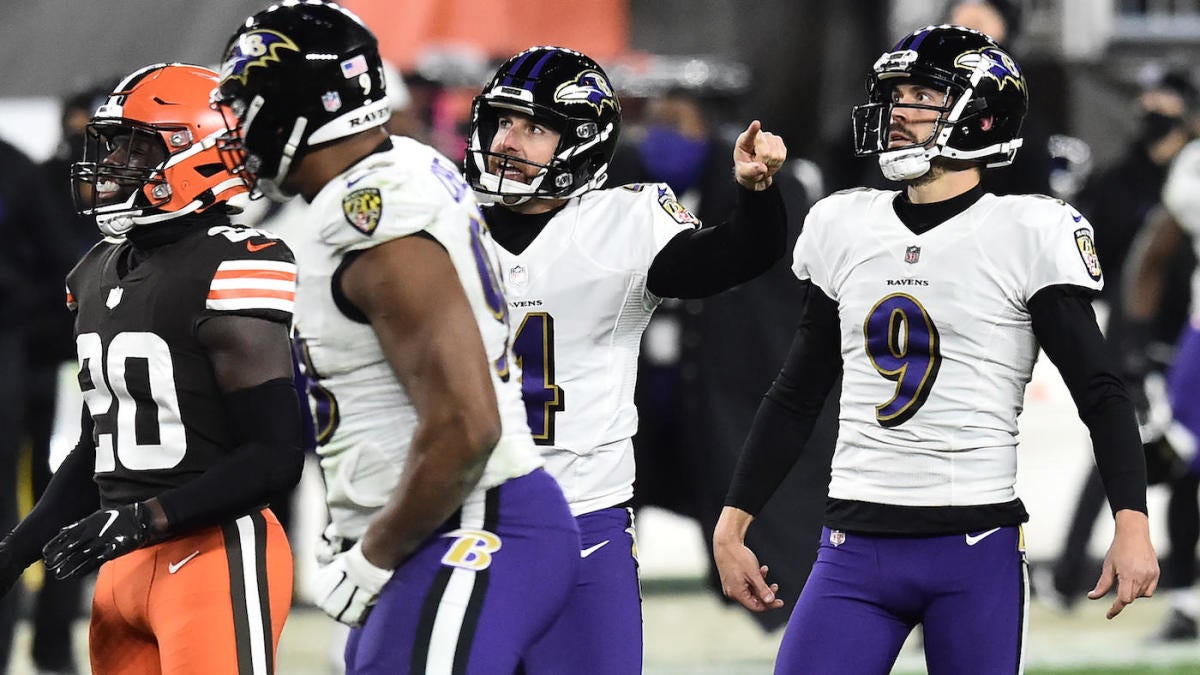 Of course, there were things both teams would want to clean up. Cody Parkey picked a bad night to have his worst outing of the season, leaving four points on the field. The Browns defence couldn't stop the run. The Ravens secondary was lit up in the second half. Hollywood Brown had a case of the Diontae Johnson's for most of the night.
Forget all of that though. This game had skill, drama, passion and, for the first time in a long time, it felt like a rivalry. Nick Chubb and Kareem Hunt will terrify anyone in January. The Ravens are accepting who they are, and are better than anyone at executing that game plan. And that's just the next few weeks to look forward to. How about Mayfield vs Jackson twice a year for the next decade? Sign me up.
---
You've gotta hand to 'em
Once upon a time (2015), when he was still a Giant, Odell Beckham Jr made a spectacular back-arching, one-handed catch that we still go on about to this day. On Sunday, there were not one, not two, but three similar catches – one on offence, two defensive – but will we still be talking about any of them in five years' time?
Head over to NFL Shop Europe for the latest deals! Use code FULL10 on selected items at checkout
Kicking us off, AJ Brown's touchdown on the Titan's opening drive was the first of our eye-catching trio, as his amazing reception set Tennessee on their way to a comfortable 31-10 win over Jacksonville. A flea-flicker between Ryan Tannehill and Derrick Henry allowed the Titans receiver to steal a yard on Jags corner Sidney Jones but he still had plenty to do when Tannehill's 37-yard pass came in. Behind him, Brown's left arm seemed to lock with Jones' right, leaving AJ with only his right hand free to pluck the ball out of the air from over his shoulder, which somehow he did. His 10th TD of the campaign was undoubtedly the best of his two-year career.
But it's not just receivers who make one-handed grabs: defensive backs do too. Miami's Xavien Howard and the Colts' Kenny Moore made their own submissions for the one-handed interception-of-the-year award (should such an accolade ever be handed out).
Cornerback is a notoriously difficult position to play but Howard is making it look like child's play at the moment. Sunday's pick was his ninth of the season and maintains a staggering five-game streak with at least one takeaway – both comfortably the best in the NFL.
His latest effort – which gave Patrick Mahomes his third interception of the day and set up a late, but ultimately fruitless, Dolphins comeback in a 33-27 loss – was one of the plays of the season. Tyreek Hill looked to be getting himself on the end of a 24-yard peach from Mahomes early in the fourth quarter but Howard, a former Pro Bowler, had other ideas. He won the contested catch, snaffling it away from Hill's yellow gloves with his right hand before pulling it into his body for the interception. The pick created a 14-point swing in Miami's favour as, instead of conceding a touchdown, they duly marched down the field and scored one themselves.
Just hours later, Kenny Moore did his best to outdo Howard in Indy's 44-27 win over the Las Vegas Raiders. Moore had already been beaten by Foster Moreau for a TD and fellow tight end Darren Waller had also racked up a big play against him so at 17-14, when he was covering Waller in the end zone, he wasn't going to be beaten again.
Derek Carr threw the ball to the back corner but the 5'9" CB, a step inside Waller (who stands at 6'6"), leapt like a salmon and, fully outstretched, snared the single-handed catch with his right hand. Moore's second interception in as many weeks swung the game in the Colt's favour, and helped to ensure they went on to secure a convincing win.
---
Triple whammy
I've always been in awe of the best kickers in rugby union – Dan Carter, Jonny Wilkinson, Neil Jenkins, Ronan O'Gara – and their ability to slot it through the uprights, no matter how acute the angle. And then you watch NFL kickers, who always operate from the middle of the field, dead in line with the posts. They shouldn't really miss, should they, unless they're kicking from 60 yards away in a howling gale? And if they do, they shouldn't miss many, right?
Obviously, there are a couple of key differences from rugby. In football, the snapper and the holder provide additional opportunities for error. And then there's the fact that the kick is contested, so there's a line of massive blokes trying to block your kick or, worse still, rushing straight at you.
Use code FULL10 at checkout and get 10% off selected items.
But still, as the role becomes increasingly more specialist and technical, a kicker now has one job: kick the ball through the posts. No other distractions. Nothing else to master. But of course, nowhere to hide after a miss. And certainly not after three in one game… like Dan Bailey of Minnesota and the New York Jets' Sergio Castillo both managed on Sunday.
Having pulled a point-after wide left, Bailey went on to fluff three FGs – from 36, 54 and 46 yards – in the Vikes' 26-14 loss to Tampa Bay. The FGs were all pushed right and the 54-yarder in particular was nowhere near the posts. Yep, it sounds bad and it is: it's actually the first time a kicker has missed three FGs and a PAT in 55 years.
All this just a day after his Head Coach Mike Zimmer had publicly backed him, after he missed a FG and two PATs the previous week. Bailey's record this year now sits at 12 out of 17 FGs for a career-low 70.6% and he's also missed four extra points. He didn't lose the Vikings the game on Sunday but he certainly didn't help.
Even though his foot gave the Jets an early 3-0 lead against Seattle from 45 yards out, Gang Green's Sergio Castillo then tried to outdo Bailey with three misses in the second quarter. Again, the shanked kicks from 37 (right), 41 (left) and 43 yards (left again) weren't solely responsible for the 40-3 loss, but they did mean his team never got a foothold in the game.
Castillo became the first New York kicker in a decade to miss three FGs, and the first in half a century to miss three in one quarter. The journeyman, who's popped up everywhere from the Canadian league to the fledgling XFL, came in when Sam Ficken suffered a groin injury. But don't be too surprised to see Ficken back in the starting line-up, with Adam Gase keeping schtum when asked if he'd be looking for a new kicker against the Rams next week. "That's hard for me to answer right now," he said. "When we go through our personnel meetings, I'm sure we'll discuss that."
Good luck with that, Sergio.
---
The butt has got your back
Many of you will remember the famous Thanksgiving play where Mark Sanchez butt-fumbled the ball against the Patriots. Eight years on, Trayveon Williams gave us Butt Fumble 2.0 or what I like to call the "back fumble".
It took a couple of seconds of the ball resting motionless on the floor before Aldon Smith scooped it up and ran a decent length of the field to give the Cowboys a rare highlight on defence.
The Bengals fumbled on their first three possessions including the first from Giovanni Bernard, who historically coughs it up less than a well-behaved feline.
It must feel like groundhog day for the Bengals who are racking up the losses and lack of production on offence. They go on to face the wounded Steelers in Week 15.
---
King Henry IV x CC
There are just some things that go well together: Butter on toast, Christmas dinner and turkey, Derrick Henry and December.
Henry racked up yet another 200+ yard rushing game, his fourth since 2018. The rest of the NFL running backs in the same timeframe have the same amount.
Derrick Henry has now surpassed 1,000 rush yards against the Jaguars in his 10 games played against them.
He is now just a paltry 8 yards away from his rushing total from the whole of 2019, when he won the rushing title. With three games left against Detroit, Green Bay and Houston, who says no to 2,000?
More importantly though for Henry, he and the Titans are still atop of the AFC south looking to host a play-off game in January.
---
Raiders in-Carr-cerated to no play-off football?
One huge matchup in the AFC Wild Card race was the one in Vegas between the Raiders and the visiting Colts.
Josh Jacobs looked limited in his return and maybe he was metaphorical in his cryptic tweet about not playing today. With Jacobs being ineffective, Derek Carr was unable to shoulder the load as he and the Raiders limped to a huge loss against Wild Card rivals Philip Rivers and the Colts.
This is the third time the Raiders have conceded 40-plus points this season, which even Dallas and the New York Jets are giggling at.
The pick-six, while not Carr's fault, sealed the deal for the away team and now the Raiders are staring down the barrel of putting their feet up in January.
The offence at times has looked like a well-oiled machine but the last few weeks have seen Carr and crew break down on the side of the road. At 7-6, you would have to think that they'll need to win out to stand a chance of getting in but the head-to-head record against the Colts could mean that it's an insurmountable task.
The ripple effect could be huge as Derek Carr has a contract that is dispensable come next off-season and it will be interesting to see how it all plays out.