With Week 12 stretching itself out all of the way to the debacle that was Wednesday Night Football, it's getting hard to keep up with where we are in the season. Every team has five games to play (except Carolina and Tampa with Week 13 byes) so the games are of even more importance. A few shockers last week, a coach firing, a wide receiver playing quarterback, a homeless team…. just another week in the NFL really. Let's see what's on tap for Week 13.
---
We will be giving away a t-shirt of your team's choice to the competition winner at season-end, along with a weekly prize to any entrant who manages to predict the outcome of all games correctly in any given week. If we get over 100 entrants, we will give away a jersey instead of a t-shirt as the overall prize, so get involved and sign up your mates.
---
---
Sunday Early Games
---
Cincinnati Bengals @ Miami Dolphins – Spread / MIA-11.5
The return of Ryan Fitzpatrick saw a return to winning ways for the Miami Dolphins last weekend. With Tua Tagovailoa still nursing a thumb injury, all signs point towards another start for the veteran signal caller. The defence continues to be the strength of the team however, limiting the Jets to under 200 yards passing in another excellent display. The defence will be licking their lips in anticipation to face the Brandon Allen-led Bengals attack. To be fair to the Bengals, they played the Giants close last weekend and have been competitive in many of the games they have been involved in this season. All eyes will be on the final month of the season however, as Zac Taylor tries to hang on to his job after managing just four wins across his two seasons in charge so far. The spread seems very generous towards Miami and, although I can see them winning the game, I will go with the Bengals and the points for my spread selection.
Shaun's Spread Pick – CIN
---
Detroit Lions @ Chicago Bears – Spread / CHI -3.0
Long gone are those happy memories of a Bears team sitting pretty at 5-1. Winless since that point, they will look to right the ship at home to a Lions side, playing for the first time since the decision to move on from Matt Patricia. Mitch Trubisky looks like the man under center again for this one and his audition to retake the starting role certainly needs a shot in the arm after a dismal primetime showing last week. Even the defence went missing in action and signs are ominous when the Head Coach starts publically calling out the effort of those in his squad. As for Detroit, they have taken the early decision to part ways with their HC and join the Falcons and Texans in the search for a new leader. On the field, D'Andre Swift and Kenny Golladay are both looking unlikely to be back, although Tre Flowers is making progress towards a return to action. An impossible game to pick with zero trust in both sides so I will side with the points.
Shaun's Spread Pick – DET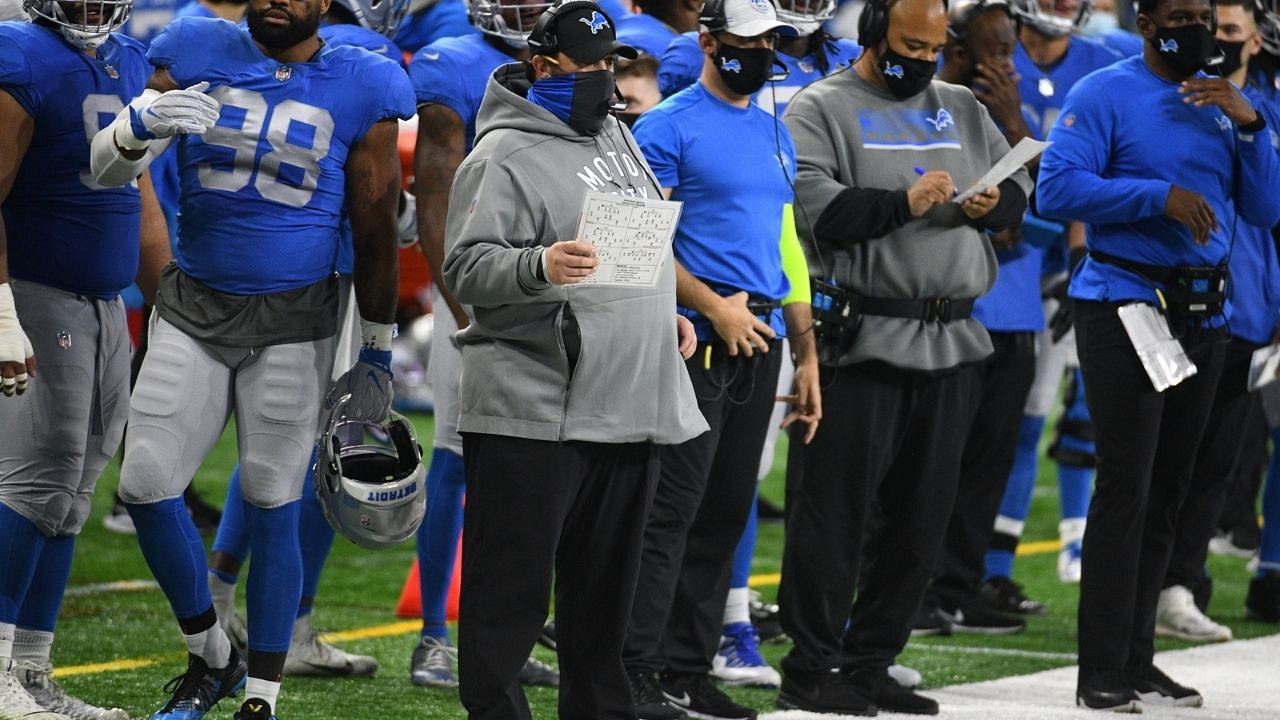 ---
Indianapolis Colts @ Houston Texans – Spread / HOU+3.5
The Texans have started to perform much better of late but will all of a sudden be depleted in the receiving room. Will Fuller is gone for the remainder of the campaign thanks to a PED violation and Kenny Stills has been released. With two of the three top options down, pressure will move to Brandin Cooks to carry the weight of expectations. David Johnson has been designated to return from IR but it is unlikely that he will be back this weekend so expect to see more of namesake Duke. The Colts were run all over by Derrick Henry as their depleted D-line couldn't stop the Titans' run game. Pressure is all of a sudden on to get back on top of the division as the packed Wild Card race looks like a tricky path to navigate. Sack leader Denico Autry has been activated from the COVID list and DeForest Buckner could join him, assuming no positive tests between now and Sunday. Offensively, Jonathon Taylor will be back having also been activated following his stint on the COVID list. Assuming the Colts D is back up to full strength, I will take them here.
Shaun's Spread Pick – IND
---
Cleveland Browns @ Tennessee Titans – Spread / TEN-5.5
Preview here.
Shaun's Spread Pick – TEN
Head over to NFL Shop Europe for the latest deals! Use code FULL10 on selected items at checkout
---
Jacksonville Jaguars @ Minnesota Vikings – Spread / MIN-10.0
The Vikings staged a great comeback against the Panthers last weekend to keep their faint play-off ambitions alive. Justin Jefferson continues to stake his claim for Offensive Rookie of the Year after another fine showing and he will get his partner in crime, Adam Thielen, back this week. Kirk Cousins has quietly put together a nice month of football and coupled with a ground game that is clicking, the Vikings are one of the hotter teams in the league. Dalvin Cook has been limited in practice and questions are cropping up regarding his health so that will be something to keep an eye on. As for the Jags, they are sticking with Mike Glennon at quarterback. He performed to a reasonable level against the Browns last weekend, another game that the Jags were close to forcing an upset. They just seemingly can not get over the line despite still getting great production out of undrafted rookie star James Robinson. He torched the Browns last weekend and if the Jags want to hang around in this one, then you feel more of the same is required.
Shaun's Spread Pick – MIN
---
Las Vegas Raiders @ New York Jets – Spread / NYJ+9.0
Many were crowning the Raiders as a sure-fire play-off team before they squared off with the Falcons last weekend. They has performed admirably against the Chiefs a week ago but then suffered the heaviest defeat of any team in the NFL, in a game they were expected to win. Derek Carr got nothing going and all of a sudden, the Raiders are on the outside looking in. They, of course, get the dream match this weekend to bounce back in the shape of the still-winless New York Jets. Sam Darnold returned last weekend and despite some early promise, it was more of the same from the men in green. The next three weeks see the Seahawks, Rams and Browns on the schedule so an 0-16 season certainly begins to look more and more of a possibility. From a neutral perspective, the only thing I am enjoying in this awful season is the fact that old man Frank Gore is still churning out yards. Do not underestimate what a huge game this is for the Raiders as a surprising loss here would almost certainly derail their season. Another loss for the Jets and they very likely join the infamy of the Lions and Browns with 0-16 records. Give me the points on the spread.
Shaun's Spread Pick – NYJ
---
New Orleans Saints @ Atlanta Falcons – Spread / ATL+3.0
I don't think that you can read too much into the Saints performance last weekend. The defence did what it should have done and the offence got the job done, pulling away after the life was sucked from the Broncos defence. The one takeaway for me though is that Taysom Hill will get found out against a better side. His numbers were woeful on a day when the Saints had the opportunity to be aggressive and try things out in the passing game. They will need that element to work in January and they may well need it to work this week against an improving Falcons side. As described above, they walloped the Raiders and have been good since the departure of Dan Quinn. Raheem Morris is making an excellent pitch for the full-time gig and will be especially encouraged by the defensive side of the ball. They forced turnovers last weekend, scored points and complimented the offence for a change. Julio Jones hasn't been practicing, nor has Todd Gurley, and Calvin Ridley has been limited so they will be short-handed this weekend but I still expect a strong showing and particularly with the points, so I'll pick them for the win.
Shaun's Spread Pick – ATL
---
Sunday Late Games
New York Giants @ Seattle Seahawks – Spread / SEA-10.0
The Giants find themselves in the divisional lead after 12 weeks despite having just four wins this season. The problems are obvious for all to see though in terms of a tough match against the Seahawks, and the fact that Colt McCoy is likely behind center, with Daniel Jones nursing a hamstring strain. The defence has been the more consistent side of the ball but will obviously have their hands full this weekend against the high-powered Seattle offence. DK Metcalf put up another huge game on Monday Night Football and with top backs Chris Carson and Carlos Hyde both returning to the line-up, the Seahawks are getting healthy at the right time. Maybe more encouragingly, the defence has suddenly began to look competent. The pass rush that was non-existent a few weeks back has sprung to life and the leaky secondary has been sured up following the return of Jamal Adams. Despite a few weeks of ups and down Seattle, are on top of the NFC West and I expect they will be there to stay, certainly for one more week anyway.
Shaun's Spread Pick – SEA
---
Los Angeles Rams @ Arizona Cardinals – Spread / ARI+3.0
Preview here.
Shaun's Spread Pick – LAR
---
New England Patriots @ Los Angeles Chargers – Spread / LAC+1.0
You would be excused for looking at the stats of last weekend's game and wondering how the Patriots managed to pull out a victory. That's the benefit of great coaching and finding a way, by any means necessary, to get the job done. Only two receivers managed positive yardage as Cam Newton posted just 84 passing yards. The ground game was held to just 3.7 yards per carry but did produce a couple of rushing touchdowns, both going to James White. The Chargers, on the other hand, endured another mind-boggling coaching display of their own. The decision to quarterback-sneak Justin Herbert, in an attempt to lose the game by 3 points instead of 10, is one of the more baffling things I have seen in 11 years of NFL viewing. We have reached the point that stringing losses together will be better for LA as it will likely bring an end to the Anthony Lynn era and hopefully an offensive-minded coach can come in and really get the best out of Herbert and his talented supporting cast.
Shaun's Spread Pick – NE
---
Philadelphia Eagles @ Green Bay Packers – Spread / GB-8.5
Our Deep Dive this week focused on the many issues facing the Eagles, so go and check that out here. In a nutshell, the issues are plentiful. Poor QB play, poor offensive line play, questionable play calling… the list goes on. The reality is despite all of this, the division is still very much to play for. I simply can not see anything other than another defeat here though. The Packers took care of business against the Bears last weekend with another efficient display from Aaron Rodgers. Another touchdown for Davante Adams and a nice balanced ground attack provided by Jamal Williams and Aaron Jones saw the offence score 41 points. The defence played well also, rebounding from the overtime loss to the Colts in the previous week. A win here all but guarantees a home play-off game for the Packers.
Shaun's Spread Pick – GB
Use code FULL10 at checkout and get 10% off selected items.
---
---
---
Denver Broncos @ Kansas City Chiefs – Sky Game (SNF) – Spread / KC-14.0
Preview here.
Shaun's Spread Pick – KC
---
Washington Football Team @ Pittsburgh Steelers – Possible Sky Game (Monday 10pm UK) – Spread / PIT-8.5
Preview here.
Shaun's Spread Pick – WAS
---
Buffalo Bills @ San Francisco 49ers – Sky Game (MNF – 1:15am Tuesday UK) – Spread / SF-1.0
Preview here.
Shaun's Spread Pick – SF
---
Dallas Cowboys @ Baltimore Ravens – Possible Sky Game (1:05am Wednesday UK) – Spread / BAL-7.0
Preview here.
Shaun's Spread Pick – DAL
---
Every week, we will be playing alongside you in our pick 'em league. All of our staff are in the pick 'em league but here, we will share the picks of our regular podcast crew. Our selections for the week are as follows (all selections are money line and not against the spread):
---
Be sure to check out the live-streamed Full 10 Yards NFL podcast for all of the reaction on Monday Night. Catch the chat on YouTube, Facebook and Twitter.
Check out the latest deals over at Fanatics UK