Every week we bring you takeaway Tuesday! Your delicious written treat for you to tuck your teeth into to reflect on the week that was. We start this week in Foxborough and Tampa…….
---
New England 1, Tom Brady 0
Out with the old, in with the new. The QB might be different, the results are still the same. Of all QBs available, very few could have gone into Foxboro' and play as if they have no regard for what preceded them at the position in that franchise.
Cam Newton looked like he had been at the Patriots for 20 years in his exemplary display against a potentially tricky opponent who admittedly had retooled a fair bit. Cam Newton looked like MVP Cam Newton as he scampered for 75 yards on the ground on 15 carries (both franchise records) including 2 scores.
Newton was only asked to throw the ball 19 times in this low scoring affair and only mustered 155yards passing, but when you have the skillset he does and the brilliant minds of Josh McDaniels and the rest of the coaching team in New England, that's all you need. A pretty big question mark answered straight out the gate in New England, to the delight of Patriots fans.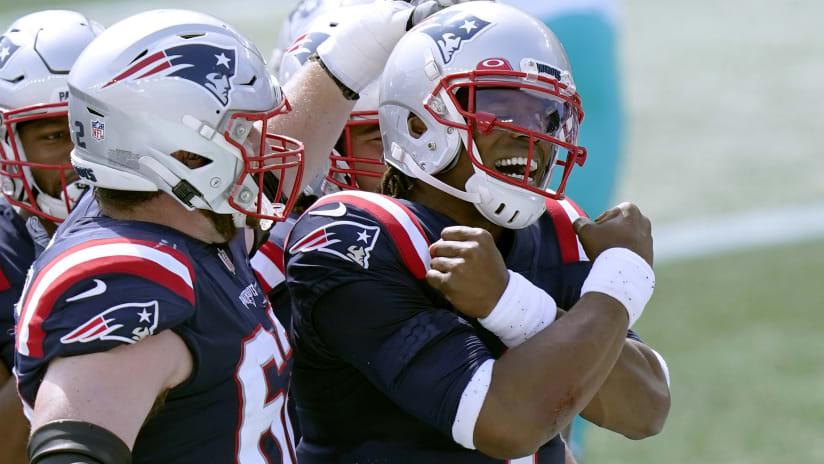 Even more so when they tuned in to the Buccaneers game and watched their hero crash and burn in NOLA. A clean cut Tom Brady, looking as fresh as a daisy struggled to connect with his team mates in the passing game outside of their opening drive which saw the trademark Brady sneak into the endzone. Brady ended up with 2 interceptions including a pick six on the opening drive of the second half, effectively ending the contest and also ended up on his backside 3 times, something he only experienced less than 1.8 times on average in his 2 decades in New England.
You'd expect a bounce back statement from a QB who has 6 Super Bowl rings to his name as they face the Panthers at home next week. After week 1 though, advantage New England and Bill Belichick.
---
Rookie Running Back Report Card
This 2020 set of rookies were heralded as a deep Running Back class and they all got off to a decent start on the stat sheet. Clyde Edwards-Helaire more than introduced himself to the NFL on the season curtain raiser with a touchdown and 138 yards on the ground.
In the Sunday slate, JK Dobbins (Ravens), DeAndre Swift (Lions) and Zack Moss (Bills) all found the endzone in their first games with their new teams. Colts Jonathan Taylor saw Marlon Mack go down with an injury which could lead to him seeing the ball a lot more and almost had 100 total yards in their loss to the Jags.
It's wasn't all rosy though for the young'uns. Swift will have nightmares about his drop late in the Lions game which would have seen them take a lead with only a few ticks left on the clock. Moss despite the touchdown, only post a measly 1.2 yards per carry on 9 attempts.
The rookies are still going to be finding their feet as we progress through the first few weeks of the season, but it's a good start from the current crop of the 2020 class.
---
You don't get bored of Jamaal Adams
For those not watching the Patriots/Dolphins on Sky Sports or RedZone, we were treated to a masterclass from new Seattle Seahawks Safety Jamaal Adams.
He ended up with 12 tackles, 1 sack, 2 tackles for a loss and two QB hits and that's probably not even doing him justice. He took a swipe at Jets DC Gregg Williams saying that he isn't bored and you'd expect not with a statline like that. Any drive Atlanta had you could put your bottom dollar on Adams making a play whether it be open field tackles out in the flat on Todd Gurley or impeccably timing blitzes to force Matt Ryan into at the very least, a rushed decision.
With Seattle going on a tough road trip in week 1 and coming away with the victory in comfortable fashion, it's fair to assume the steep price the Seahawks paid for Adams in the offseason is looking like a shrewd investment.
He'll be needed even more so under the Sunday Night lights against with a fascinating matchup against Cam Newton and the Patriots.
---
The viewer's NFL experience
Just the 2 games this week where fans were allowed to spectate in the NFL, but from a viewing perspective, it wasn't really noticeable. Say what you like about fabricated noise on either the broadcast or in the stadiums, but as a viewer, it felt "normal". Yes you could probably hear the brutality of hits that little bit more and each broadcast loved showing cardboard cutouts of themselves, but as a product and as a fan, if you are a stay at home viewer anyway it felt as if nothing had changed.
The majority of coaches/players/officials probably feel a bit differently with Bill Belichick comparing it to "practice" or a "scrimmage against the Titans" and New Orleans Saints DE Cam Jordan poking their divisional rivals comparing it to a game in Tampa Bay.
What felt even more normal were the teething problems viewers had on Gamepass, with Redzone not being available until the second halves of the 6pm games. Just shows you that everything can be different and everything can be the same.
---
Jags claw their way to an opening week W
A lot of experts had the Jacksonville Jaguars as cellar dwellers, with a tough schedule and a team lacking superstars facing an uphill battle. The problem with that assumption is that Gardner Minshew eats assumptions for breakfast, before kicking Covid-19 in the balls.
The Jaguars made a spectacular start to the 2020 season with a home win against a much favoured Colts team, a road team complete with QB Philip Rivers and a fit T.Y Hilton. Minshew looked magnificent, opting to dink and dunk for short chain moving connections, and rookie running back James Robinson had a surprising impact on his debut. His 62 yards is the second best undrafted Week 1 rookie debut in NFL history (behind Philip Lindsay's 71 yards in 2018).
The Jaguars will not whimper in 2020, they will claw for every yard, and the replica Minshew moustaches have likely already sold out in Florida.
---
If you're unhappy and you know it clap your hands
Dallas were supposed to finally have the stabilizers removed and this offence was supposed to fly but the Cowboys underwhelmed on primetime in Southern California. Yes, the offensive line had continuity issues and players missing, but the Mike McCarthy era was supposed to breath fresh new life in to the franchise, exorcising the ghosts of it's predecessor in Jason Garrett. The ghost may be still haunting them though, as a big set of playcalls late in the 4th quarter saw McCarthy opt to roll the dice on 3rd and 6 and then 4th and 3 when the opportunity to tie the game was there for the taking.
Whether or not McCarthy went for it purely because "Garrett's way" would have been to kick a field goal or the modern day analytics suggest you go for it there, it was as poorly executed as the last few seasons has shown in those clutch situations. You can argue that the dubious offensive pass interference call and the timeout given to McVay with the play clock clearly down to zero giving the Rams a probably 4 point swing could have seen the Cowboys snatch victory from the jaws of defeat (yes there was a roughing the passer call not given against the Cowboys), but this was a deflating defeat yet again in a one score game for the Cowboys who are now 1-8 in one score games in their last 9 matches going back to the start of last season.
No rounds of applause thus far in the Mike McCarthy era in Big D.
---
The Predator provides plenty of pass rush
Down 17-0 to the Philadelphia Eagles, late in the first half of their home debut, the Washington Football team looked like they were heading for a season of ugliness, and calls for Alex Smith to come of the bench were on the lips of burgundy and gold fans. Then Dwayne Haskins, second year QB found free-agent TE Logan Thomas for a late second quarter score, and the comeback was on.
The second half was Washington's best in the last decade, as they overcame the deficit, and won by 10, and with a bit more late aggression, could have won by 17. The tale of the tape was the Washington pass rush, 8 sacks of Carson Wentz, forcing the Eagles QB to throw two picks too.
Leading the pack was rookie DE Chase Young, 1.5 sacks, 1FF and a day spent looking like he has been rushing the passer in the NFL for years. Be warned – the Predator is out there and he is hungry for blood.
Or maybe the bigger takeaway from that game was………..
---
Carson Wentz was bad, like worst he's ever been bad…
Most will have noticed that Wentz didn't have his best game on Sunday as the Eagles fell 27-17 to the Washington Football Team in Landover. This was a surprise loss to most, especially as Philadelphia had a 6 game winning streak against a Washington team that had undergone major, wholesale changes both on and off the field during the off-season.
Whilst Wentz wasn't the only factor in the Eagles' surprise loss, the blame has got to lie at his door. This is Year 5 for the NDSU alumni and a divisional game against a team that went 3-13 last year should be a 'banker' so to speak. Wentz has won this game multiple times previously, even last season he came back from a poor start to rally the team to a 32-27 victory.
He started the game really well, he was even looking like his 2017 MVP calibre self until the INT that set the wheels in the motion for the Washington comeback. Wentz finished the game 24/42 270 Yards passing with 2 TDs and 2 INTs. However if you take away the 182 Yards and 2 TDs he had before his first INT it makes for pretty grim reading. He was also sacked a career high 8 times, previously his highest was 6 times vs Kansas City in Wk 2 of 2017.
At least 3 of the sacks from this game can easily be placed on Carson's shoulders too. A theme that seems to be emerging with him is that he is extremely reluctant to identify the situations when he needs to get rid of the ball and when he needs to keep hold of it.
Wentz has to perform better next week when Sean McVay's Rams visit the Linc, or an 0-2 start could get real ugly real quick.
---
OBJ EXPERIMENT IS HURTING THE BROWNS
The Browns have huge issues on defence, with no linebackers or secondary on display Sunday, it was like taking candy from a baby for Lamar Jackson and co as they handed the Browns their second consecutive opening day drubbing. And whilst that is concerning, its almost expected. The same however can not be said from the offence.
This is billed to be the teams strength and with new offensive line help, this is supposed to be the year that Landry, Chubb, Hooper and co excel. Baker Mayfield needs to accept some of the blame here but is the bigger problem in Cleveland OBJ?
Moody, sulking and diva like are 3 terms that spring to mind and when he isn't involved early in the action the Browns seem to abandon any game plan that they may have had to try and appease him. The net result on Sunday was 3 catches on 10 targets. All this despite Kareem Hunt and Nick Chubb churning out 132 rushing yards on just 23 carries between them.
If a trade was on the table I'm pretty sure Andrew Berry would be very tempted to deal the receiver. Remember it was John Dorsey that brought him to Cleveland and the new front office has already removed a number of his legacies from the roster.
The Browns continue to look like a collection of superstars as opposed to a team. A short turn around for Thursday Night Football with the Bengals all of a sudden looks like a very important few days for new head coach Kevin Stefanski
Living Up To The Hype
On the Full10Yards NFL podcast last week, I made a rather bold pre-season prediction that come the end of the regular season, the Arizona Cardinals outside-linebacker Chandler Jones would lead the league in sacks.
Now having had a chance to watch the Cardinals pull off what some were saying was a "surprise" victory over last year's NFC Champions and division rivals, the San Francisco 49ers, I'm pleased to say my prediction is well and truly on.
Not only did the team come together for an opening weekend three sacks, but the whole defence played excellently throughout, holding the explosive offense of Kyle Shanahan to just 2-of-11 on the crucial third downs. Even with the potentially confusing route combinations that you often get when you play the 49ers, the new-look linebacker core stayed mostly intact under the pressure apart from a small miscommunication that allowed the 49ers' second touchdown.
Hasson Reddick, Jordan Hicks, De'Vondre Campbell, and excellent rookie, Isiah Simmons, all have the ability to play coverage and stop the run to a high standard which will inevitably lead to more sacks upfront as Chandler Jones is allowed to hunt and do what he does best. That being said, the back-end of the unit also looked like a serious contender for most improved
during the win. The mix of veteran leadership from Patrick Peterson and Dre Kirkpatrick kept in line a young core of Budda Baker and Byron Murphy, who made two superb pass-breaks ups at the death to ice the
game.
Overall the win was an excellent test-drive for Vance Joseph's new-look defence. How about Jones as sack leader and the Cards becoming a top-five overall defence this year? You heard it here first.