We are entering that point where the games become even more serious, the point of the season where teams are battling for playoff spots. Yes, ladies and gents, we are into the back half of the season. Time to begin sorting out the contenders from the pretenders. Let's go, Week number 9!
---
We will be giving away a t-shirt of your team's choice to the competition winner at season-end, along with a weekly prize to any entrant who manages to predict the outcome of all games correctly in any given week. If we get over 100 entrants, we will give away a jersey instead of a t-shirt as the overall prize, so get involved and sign up your mates.
---
---
Sunday Early Games
Houston Texans @ Jacksonville Jaguars – Spread / Jags +7
We begin with a game between two sides desperate for the season to end. Both the Jags and Texans sit with 1-6 records with only draft position left to play for. This is a repeat of the Week 5 game, which provided the Texans with their only win of the season. Both are coming into this one following byes in Week 8 so they should be fresh, rested and ready to rumble. For the Jags, we will see Jake Luton playing quarterback, as Gardner Minshew takes time to heal his injured hand. Luton was the ninth QB selected in the draft this year and gets the nod ahead of Mike Glennon. The Texans will still have Will Fuller on the roster after the expected trade away to the Packers never got over the line. It was the Brandin Cooks show, however, when these sides met earlier in the year with Cooks going off for 161 yards on eight receptions with a touchdown. It's difficult to get excited by this one from a neutral perspective, but I'll take the Texans to sweep the series.
Spread pick – Texans
---
New York Giants @ Washington Football Team – Spread / Washington -2.5
The Giants travel to the nation's capital to take on the "Football Team" at Fedex Field. Thankfully, the capital has seen a fair share of drama and excitement off the field this week because the game doesn't jump of the page and shout "excitement". The Giants, to their credit, played the Bucs close on Monday Night Football but the continuing issue of Dan Jones turnovers reappeared once again. Maybe the Giants lean more on Alfred Morris against his former team? (I forgot he even existed before Monday). Washington are coming in off their bye and with coach Rivera having completed his cancer treatment. The "Football Team" defence held the Cowboys to just two points last time out and were a failed two-point conversion away from winning this battle just three weeks ago. Antonio Gibson had a career day last time out and Terry McLaurin is still an excellent receiving threat. I'll side with Washington at home to reverse their fortunes and get the win this time out.
Spread pick – Washington
---
Baltimore Ravens @ Indianapolis Colts – Spread / Colts +1.5
Now this is a better-looking game. The Colts and their swarming defence welcome the Ravens in what is a really intriguing match-up. It will be a good gauge of where both of these sides are with both entering the day with 5-2 records. The Colts, winners of two straight, have found success with a dynamic mixture of running backs and a short passing game from Philip Rivers. Backed up by a speedy defence that has been stellar against the run, all of a sudden, they are in divisional contention in the AFC South. The Ravens lost the big one against Pittsburgh last weekend and have questions to answer. Can Lamar Jackson get back to what made him so dynamic last year? Can Mark Andrews return to being a dominant receiving tight end? Will Marquise Brown be treated like a "soulja"? (slang for dominant receiver, apparently) The Colts seemingly stack up quite well against them when you ask those questions so I will give them the slight edge at home.
Spread pick – Colts
---
Detroit Lions @ Minnesota Vikings – Spread / Vikings -4
All eyes on the COVID list as Matt Stafford might not be able to go for the Lions in this one. Regardless of if he does or not, Kenny Golladay is definitely out which always limits what the Lions do offensively. Defensively linebacker Jarrad Davis has also been placed on the COVID list. A big let-down last week as the Lions managed to do what the always do; win a few games, sucking people in to believing that the turnaround is happening, only to then fall flat. The Vikings will be buoyed after a huge surprise victory over the Packers last weekend. That was fueled by a return to the line up for Dalvin Cook who went off to the tune of four touchdowns. Cook actually managed more yards rushing than Kirk Cousins managed to throw for. That should be the formula for the Vikes moving forward as Cook is by far their best player on the roster.
Spread pick – Vikings
---
Chicago Bears @ Tennessee Titans – Spread / Tennessee – 6.5
This is all of a sudden a really big game for both of these franchises. The Bears have lost two straight games to slip from a dominant 5-1 position. The Titans are also on a two-game skid having begun the campaign 5-0. It's a strength vs strength match with the Titans' offence pitting its wits against the Bears' defence. Ryan Tannehill continues to play efficiently but will want more out of AJ Brown, who was held to just 24 yards from four catches last weekend against the Bengals. Derrick Henry is on pace to repeat his rushing title of a year ago. The Bears played the Saints to overtime last week to continue their trend of playing close games. Roquan Smith quarterbacks an excellent defensive unit and seemingly appears all over the field making plays. Allen Robinson could be in for a big day to capitalise on the soft Titans coverage that we have seen on display so far this season.
Spread pick – Bears
---
Carolina Panthers @ Kansas City Chiefs – Spread / Chiefs -10.5
The Chiefs comfortably dispatched the Jets a week ago and will likely get another home win here. The Chiefs did nothing on the ground last week but a five-touchdown day from Patrick Mahomes highlights the multitude of ways the Chiefs can beat anyone. Mecole Hardman, Tyreek Hill and Travis Kelce all exceeded 96 yards and all found the end zone. This team is scarily loaded offensively. The Panthers welcome back Christian McCaffery for the first time since Week 2. He completed his first full padded practice on Wednesday and, by all accounts, came out of that unscathed. It will be interesting to see how he is used upon his return as Mike Davis has filled in admirably. That said, the offence has only averaged 20 points over the past four-week stretch and the Panthers have dropped three games in a row.
Spread pick – Chiefs
---
Denver Broncos @ Atlanta Falcons – Spread / Atlanta -4
The Falcons leaned heavily on the run in their victory against Carolina in Week 8. Brian Hill and Todd Gurley combined for 29 carries on the evening in a change to the usual Falcons approach. All of the damage that did go through the air was aimed the way of Julio Jones who rolled back the clock with a seven-reception, 137-yard outing. Whisper it quietly, the Falcons have actually won two out of three heading into this one. The Broncos should be bouncing into this one after a miraculous fourth quarter performance against the Chargers. Drew Lock found three touchdown passes in the fourth quarter to lead the team to a one-point victory in the divisional match last time out. We know the Falcons defence is leaky so with all of the weapons at his disposal, Lock could have himself another nice outing here.
Spread pick – Broncos
---
Seattle Seahawks @ Buffalo Bills – Sky Game. Spread / Buffalo +3
We have an intriguing clash here as Seattle travel from West to East to battle a stuttering Josh Allen and the Bills.
Despite sitting at 6-2 and setting the world on fire early in the season, a lot of questions are being asked of this Bills team and Josh Allen. Their wins against the Jets (twice), Dolphins, Raiders and the Patriots last week are being judged by some as putting them in a false position, due to the strength of opposition. They've lost to the Chiefs and Titans, but their recent performances saw them stumble over the line in the second of their Jets match-ups and a Cam Newton fumble in Week 8 helped the W fall in their lap.
The Bills offence has not put up more than 25 points in their last four games, which is not the most conducive to winning games. Nor is turning the ball over in all but one game this season, or having a defence that isn't pulling up any trees, especially on rush defence.
One shining light bursting through is rookie running back Zack Moss, who found the end zone twice on the ground last week against the Patriots, adding to his receiving TD scored in Week 1. He saw an increased workload and season highs in carries and rush yards in difficult conditions last week and could see a decent statline against the visitors' defence this Sunday.
With the Bills getting the pass game going, Stefon Diggs continues to thrive in his new surroundings and has already amassed 695 yards and 3 TDs with the Bills, and has caught at least six balls all but in one game so far. Look for him to amass big totals against a Seahawks defence that is worst in the league in terms of pass yards per game given up.
As for Seattle, they will be determined to keep their necks in front in the NFC West after their recent OT loss to Arizona. The RB room once again is anyone's guess. Chris Carson should be OK to play in this one but Carlos Hyde will be out. Expect to see Week 8 breakout performer Deejay Dallas get some more action, after his 58 scrimmage yards and two TDs against the 49ers on 23 total touches.
But let's not make any bones about it, this offence runs through current MVP clubhouse leader Russell Wilson. Mr Unlimited has completed 71.5% of his passes thus far in 2020, with 26 TDs and six INTs, and the 'Hawks are the top points scorers in the NFL through Week 8. Assisting him with those statlines is arguably one of the best tandems at WR in the NFL, Tyler Lockett and DK Metcalf.
Metcalf, a.k.a. "Little Tiger" according to Wilson after their golfing vacations, recently commented that due to his selection in the second round of the 2020 NFL Draft, when many projected him to go in the first. He said that if he had gone in the first 32 picks, it would have meant he "probably would have taken this opportunity for granted".
The opposing defences and DCs have a "pick your poison" choice to make when facing Seattle, with Lockett and Metcalf each going off in the last two weeks with the other took a back seat. Add in a sprinkle of Dissly/Hollister and Olsen at TE and you have a very solid, efficient and effective offence.
Buffalo tend to be better defending the pass rather than the run and conditions in Buffalo this weekend should be clear so it will be interesting to see the gameplan for Seattle.
Writer's Pick (Tim Monk)
It should be a high-scoring game in perfect football conditions with Seattle likely to come out on top by a TD. Expect Seattle to establish the run game a bit more to open up the passing game and expect Buffalo to perform a bit better than they have done in recent weeks against a porous Seahawks defence. I expect Seattle to cover the 3 points on the handicap betting and the over 55 points.
Sunday Late Games
Las Vegas Raiders @ Los Angeles Chargers – Spread / Even
The Raiders hit the road for the second week in a row, hoping for another away day victory. They literally ground out the result at Cleveland last weekend with Josh Jacobs registering his first 100-yard outing of the season. The passing game was held in check, although the weather was a huge factor on the day. The last six weeks have seen the Raiders alternate wins and losses, so consistency is what's required moving forwards. The Chargers are getting consistently good performances from Justin Herbert but haven't been able to convert enough of them into wins. Troymaine Pope emerged as another member of the crowded backfield committee last weekend. He, Justin Jackson and Joshua Kelley all averaged over 4.5 yards per carry. The defence, however, needs to step up after giving up an average of 31.5 points a game over the past month.
Spread pick – Chargers
---
Pittsburgh Steelers @ Dallas Cowboys – Spread / Dallas +14
So after one week of Ben DeNucci, the Cowboys are now deciding between Cooper Rush or Garrett Gilbert to be their fourth starting quarterback of the season. Since losing Dak, the Cowboys have managed to put up 10, 3 and 9 points respectively. Enter the league's number 1 ranked defence and only undefeated side, the Steelers. After big back-to-back wins against the Titans and Ravens the only thing that can surely beat the Steelers here is complacency and themselves. With Mike Tomlin in charge though, that's very unlikely. The defence is bound to have its way with whichever debutant gets the nod for Dallas, and Big Ben and co. will be looking forward to playing the league's leakiest defence. Assuming you have them at your disposal, play the Steelers in your survivor leagues.
Spread pick – Steelers
---
---
Miami Dolphins @ Arizona Cardinals – Sky Game. Spread / Cardinals -4.5
This mid-season match-up sees the 5-2 Cardinals coming off a bye week to welcome the 4-3 Miami Dolphins to State Farm Stadium. Both teams boast better than .500 records, are riding three-game winning streaks and have young, exciting quarterbacks so everything points to it being an intriguing contest worth staying up for.
Two seasons ago, the Cardinals were in the doldrums, finishing 3-13 with a struggling rookie QB (Josh Rosen) and an out-of-his depth head coach (Steve Wilks). They were duly replaced by Kliff Kingsbury and Kyler Murray, All-Pro receiver DeAndre Hopkins also arrived and hey presto, they went from the worst record in the league to a legitimate contender in no time. Hot on their heels, the Miami revival is now in full swing after last year's fire sale. Following in the Cardinals' footsteps, they too have invested in a highly regarded HC in Brian Flores and a franchise signal-caller, Tua Tagovailoa. Having finished bottom of the AFC East in 2019 with a 5-11 record, things are already looking up in South Florida.
Miami made a solid 3-3 start with Ryan Fitzpatrick pulling the strings, then eased into the Tua era last week, seeing off the LA Rams with an unexpected 28-17 victory (thereby helping this week's foes in the process). It was a baptism of fire for the young QB, who got unceremoniously sacked by Aaron Donald and coughed up the ball on his first NFL snap.
His figures for the rest of the game didn't exactly set the world on fire either (12-of-22, 93 yards, 1 TD) but the record books will show that his debut was a winning one, despite Miami being massively outgained in total yards (471–145). Yet, for all the hullabaloo surrounding Tua's debut, the win wasn't down to him or his anaemic offence; it was more about the four turnovers in the first half, the defensive and special teams touchdowns, and the Rams' inability to turn possession into points.
As for Arizona, they have one of the most explosive offences in the NFL. Former No.1 pick Kyler Murray comes into the game fully rested after a stellar performance against the Seahawks in Week 7 (360 yards, 3 TDs, 1 INT). The 37-34 overtime win handed their divisional rivals their first loss, which could yet prove crucial in the ultra-competitive NFC West.
Murray has thrown for 1,847 yards and 13 TDs, while WR DeAndre Hopkins (704 yards, 3 TDs) leads the league in receptions, receiving yards and average yards per game. He's the lynchpin of the Cards' attack so if they stop him connecting with with his pocket-sized QB, Miami have a chance.
However, Miami's run defence is more worrisome, and with Arizona's 5.2 yards per carry and 160 rushing yards per game (both second in the NFL), this could be where the game is won, or more likely lost. The Cardinals' impressive ground game – they led the league in rushing yards and rushing touchdowns through seven weeks – could be decisive.
Running back Kenyan Drake (one of only nine players with 500+ rushing yards so far) is out injured, leaving Chase Edmonds to pick up the mantle of RB1. That said, Kyler is technically the Cardinals' top available rusher, averaging more than 60 yards and a TD per game. He's currently ahead of the likes of Joe Mixon and Alvin Kamara in rushing yardage so Miami will ignore him at their peril.
Writer's Pick (Sean Tyler)
Both defences are decent enough to keep the score down, with Miami conceding the fewest points per game in the NFL and the fewest passing TDs, while the Cardinals have allowed the fewest rushing scores. However, Tua is only playing his second NFL game so there's a good chance he may still be finding his feet.
The Dolphins have exceeded expectations so far in 2020 (well, mine anyway) and are firmly in the race for the AFC East, a couple of wins ahead of the misfiring Patriots. However, they leant heavily on their defence and special teams last week and I suspect they won't get so lucky in the desert against 4.5-point favourites Arizona. Kyler Murray leads a far more potent attack than Jared Goff so I expect the Cardinals to come away with the W this Sunday.
Prediction: Dolphins 20–23 Cardinals / Spread Pick – Dolphins
---
Sunday Night Football – Sky Sports
New Orleans Saints @ Tampa Bay Buccaneers. Spread / Bucs -4.5
Only the Bills and Seahawks match-up this week features more combined wins than our Sunday Night Football game between the New Orleans Saints (5-2) and the Tampa Brady Buccaneers (6-2).
As we head into the second half of the season, where we start to separate the wheat from the chaff, this is a tough test for both teams. We know the combined age of the two starting quarterbacks requires an abacus, a ZX-81 and a Casio watch with a built-in button-controlled calculator (and yes kids, I did have one of those in the 1980s) to work out.
This is likely the last season in many people's lives that we can say we are watching the number one and number two all-time passing touchdown leaders duel against each other (yes, I know they could meet up again in the playoffs). Tom Brady currently sits on top of the mountain with 561, with Drew Brees just one TD toss behind (560).
If Brady and Brees both retire at the end of 2020, a duo from the likes of Aaron Rodgers, Ben Roethlisberger or Philip Rivers will need to play on for an additional 6-8 seasons to repeat this feat.
The Saints are on a four-game winning streak, but the last three triumphs have all been by three points, so hardly convincing. Saying that, the offence has been without its top WRs for a while, and we are still unsure if the NFL's all-time single season receptions record holder, Michael Thomas, will be suiting up on Sunday night.
New Orleans have achieved their five wins in the main due to the will of RB Alvin Kamara. Kamara leads his team in rushing yards (431) and receiving yards (556) and has an impressive 11 TDs. Latavius Murray is a more than adequate back-up, but he is a downhill runner and not a Swiss army knife.
Talking of Swiss army knives, the phenomenon that is Taysom Hill, a QB, RB, WR, TE, Gunner etc., had his first receiving TD of the season last week. Hill has only had 27 touches this season, and is possibly being held back from having a bigger impact on the offensive gameplay until the business end of the season.
In Tampa, the man who drinks (safely) from the same water fountain as Brad Pitt and Cliff Richard, is looking focused, following a slip-up against the Bears, and needed a turnover-plagued Daniel Jones to help him get a W against the lowly New York Giants. Tom Brady has a very realistic opportunity to reach his tenth Super Bowl. Nobody in the NFC is looking any better than the Buccaneers, with the AFC boasting more upper echelon competitors.
Joining Tom for the second time in his career will be WR Antonio Brown. Brown, who will wear #81, is a 'Marmite' character. He is starting his season on Sunday night, following a large suspension for essentially being a jackass. Can Antonio keep his mental health in check until February?
Mike Evans, the Bucs official number one receiver up to this point, has been a frustrating fantasy follow this season, with two 100+ yard games alongside three games with 10 or fewer. Alongside Evans' inconsistency is his 2019 running mate's injury jinx. Chris Godwin is dealing with a broken index finger and he may or may not play, so the reinstatement of Brown can't come any sooner.
Both teams have some quality defensive chess pieces, but nobody in the UK is swigging down the double espressos or cans of fizzy sugar, marketed as energy drinks, in the chilly darkness of Monday morning with expectations of a 15-12 festival of field goals.
Writer's Pick (Lawrence Vos)
The Saints won by 11 in their Week 1 divisional match-up, with Brady tossing three TDs and Brees two, but I can see a complete reversal half a season later. The Saints' WR situation is messy, and Alvin Kamara cannot do everything by himself for 60 minutes.
Tampa will look to Brady to spend a good portion of the game handing off to Ronald Jones and Leonard Fournette to wear down the clock and the Saints defensive front seven. Like a wily old thoroughbred horse, Bucs TE Rob Gronkowski is warming up and starting to shine. Look for Gronk to score and Tampa Bay to win by seven.
Prediction: Buccaneers 31-24 Saints. Spread Pick – Bucs
---
Monday Night Foo

tball – Sky Sports & C5
New England Patriots @ New York Jets. Spread / Jets -7
For different reasons, Monday Night Football features two teams having terrible seasons by their own standards, as the usually play-off bound New England Patriots face off with the winless New York Jets.
Cam Newton's last-ditch, game-ending fumble against the Buffalo Bills last week confirmed the Patriots struggles in 2020 further, as they fell behind the Miami Dolphins in the division for the first time in over a decade.
Now at 2-5, cracks have started to form in the usually faultless Patriots, with rumours that reigning DPOY Stephon Gilmore might be traded before the deadline, and Head Coach Bill Belichick admitting in midweek that their deficit in cap space was due to the fact that they had "sold out and won three Super Bowls".
This team isn't yet out of the AFC play-off sweepstakes just yet however, and might be able to sneak into a Wild Card spot if they got to a 7-2 record in their remaining games, but that's a big "if".
Belichick confirmed after the loss last week that Newton would indeed be the starter going forwards despite the costly mistake, in a game that the QB actually managed his best passing day in three weeks, accounting for a 174 yards and a touchdown.
The stat-lines haven't been kind of recent though, and it came to a head in Week 7 when he managed just 98 yards and three picks against the San Francisco 49ers.
As for the rest of the team, the receiver room was given a slight boost on deadline day with the news that Dolphins slot receiver, Isiah Ford would join the team after the loss of both Julian Edelman and N'Keal Harry last week to injury.
As for the Jets, its fairly tough to know where to start. Their own trade deadline confirmed the narrative to those that needed it that the team is indeed just looking to start a fresh at the end of this season with the draft, and most likely Trevor Lawrence, barring something incredible happening like the Jets winning a couple games.
Linebacker Avery Williamson got the move of his dreams as he was signed by the 7-0 Pittsburgh Steelers for a 5th round pick as the Jets continue to increase their war chest.
Despite a 35-9 smashing by the Kansas City Chiefs last week, there was some signs of a future in the performance, with rookie tackle Makhi Becton continuing to improve against a fairly formidable pass rush.
Apart from that though, things continue to look fairly drab for the NFL's bottom-dwellers. The rest of the season brings just three games against teams that are less than .500, including the two against the Patriots.
That doesn't bode well for a team that ranks near last in almost every meaningful offensive category, including offensive efficiency, total yards per game, rushing yards per game and a bunch more.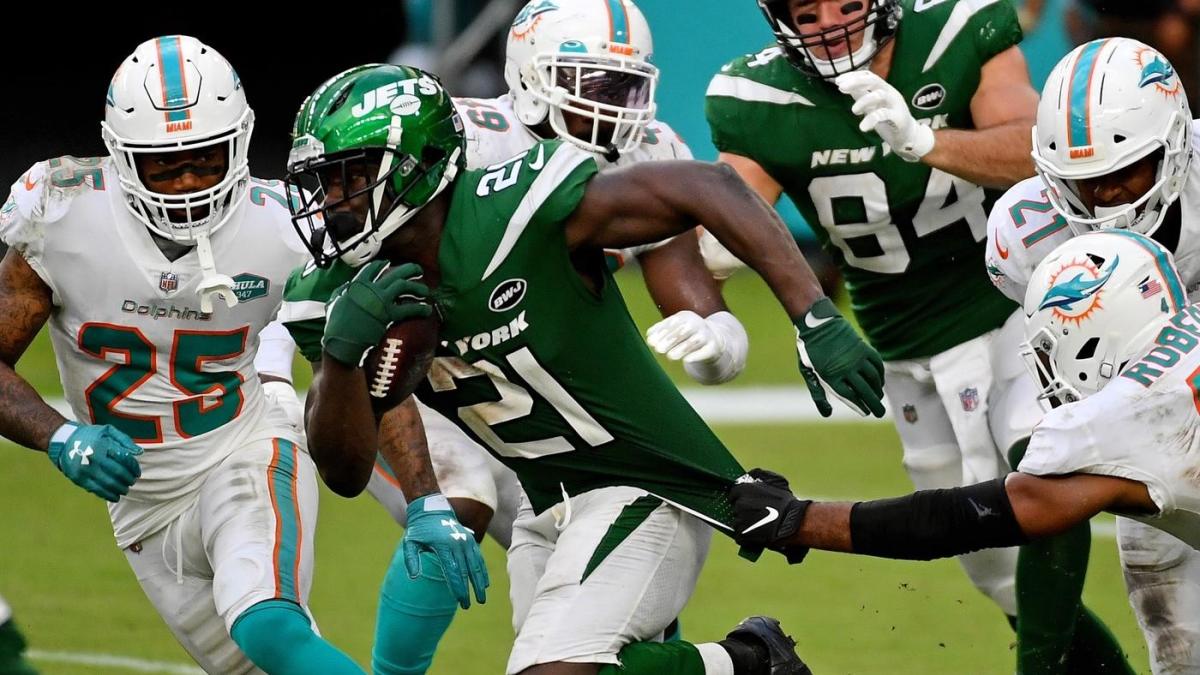 QB Sam Darnold, who despite the claim of his GM Joe Douglas, is definitely fighting for his job in New York, has managed over 200 yards just once in his last five games and has just two passing scores in that time as the Jets' season continues to fall apart.
Writer's Pick (Alex Lewis)
Overall, a mixture of the Patriots being surprisingly competitive against the AFC East's best team last week, and the generally miserable performances of the Jets means that despite Belichick's struggles without Tom Brady by his side, I still see a decent rebound victory for the Patriots at MetLife Stadium on Monday Night.
Cam Newton will still be the QB and, without his passing weapons, will likely have the football once again under his arm to for most of the night. I don't think this one will be much of a classic, but it will be a Patriots win.
Prediction Patriots 17-10 Jets. Spread pick – Jets
---
Byes – Browns, Bengals, Rams, Eagles
---
Every week, we will be playing alongside you in our pick 'em league. All of our staff are in the pick 'em league but here, we will share the picks of our regular podcast crew. Our selections for the week are as follows (all selections are money line and not against the spread):
Be sure to check out the live streamed Full 10 Yards NFL podcast for all of the reaction on Monday Night. Catch the chat on Youtube, Facebook and Twitter.