At the time of writing this week's preview, there is an encouraging lack of news in the NFL. COVID-19 has gone quiet heading into Week 6. The Titans are back on the field (and looking rather good) and, despite some isolated positives among individual players, we have not seen the collective spread that engulfed Weeks 4 and 5. Hopefully, that's a sign of things to come. Let's get into what Week 6 has to offer.
We will be giving away a t-shirt of your team's choice to the competition winner at season-end, along with a weekly prize to any entrant who manages to predict the outcome of all games correctly in any given week. If we get over 100 entrants, we will give away a jersey instead of a t-shirt as the overall prize, so get involved and sign up your mates.
---
Sunday Early Games
Due to a schedule reshuffle, there is no Thursday Night Football this week so we go straight to 6pm Sunday.
Houston Texans @ Tennessee Titans
As I mentioned in the intro, the Titans were back off their unexpected early bye week and looking mighty impressive in dismantling the Bills. Ryan Tannehill is playing at an elite level and, statistically, is outperforming Patrick Mahomes over the past 14 games. It's safe to say a new environment has done him the world of good. A man used to a new environment is the frequently traded Brandin Cooks. He had a stellar outing against the Jags as his chemistry with Deshaun Watson continues to grow. In the preseason, many would have predicted that this division would be a toss-up between these two teams. A win here for Tennessee and even in Week 6, it's hard to see a way back for Houston.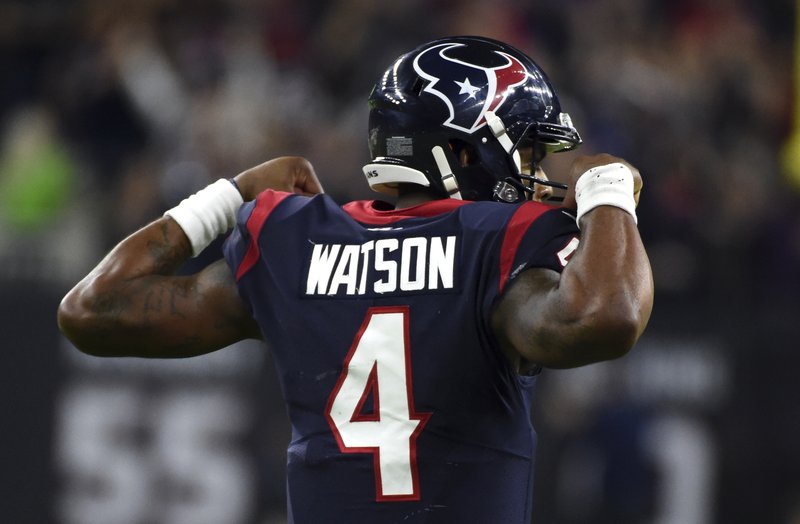 ---
Baltimore Ravens @ Philadelphia Eagles
The Ravens have been quietly underwhelming for a few weeks now. After being embarrassed by the Chiefs on Monday Night Football in Week 3, they have beaten the Football Team and the Bengals comfortably on the scoreboard but haven't pleased the eye. The obsession with turning Lamar Jackson into a pocket passer is holding back the offence and if he only rushes for 3 yards a game, as he did last week, then much more production is needed through the air. The Eagles got plenty of air production from Travis Fulgham last week and the surprise package will hope to make it three good weeks on the bounce. There are signs of life from the Eagles and although most will tip the Ravens here, I do think the game will be closer than you think.
---
Atlanta Falcons @ Minnesota Vikings
The Dan Quinn era is eventually over after what feels like years of disappointment in Atlanta. Coaches come and go but the Falcons will be hoping that Matt Ryan can pick up his play after a disappointing couple of weeks, culminating in an awful interception last week when threatening a comeback. Maybe the Falcons should go full rebuild and think about trying to move Julio Jones before the trade deadline? The Vikings pushed the Seahawks all the way on Sunday Night Football and were a 4th-and-1 away from winning the game. Dalvin Cook left that one with an injury and with the bye week next up, it may make sense for him to sit this one out. It's hard to believe that, despite the amount of talent on display here, these teams combine for a 1-9 record!
---
Cincinnati Bengals @ Indianapolis Colts
Both these teams had good defensive efforts in defeat last week. Unfortunately for both, their respective offences also spluttered. The Colts have struggled throughout the season with Jonathon Taylor off to a sluggish start in his rookie campaign and Phillip Rivers failing to build chemistry with his new weapons. Up until last week, Rivers had at least cut down his tendency to throw picks but when pressured last week, he looked flustered and ultimately turned the ball over twice. Joe Burrow, on the other hand, has shown flashes but needs help from those around him. AJ Green looks a complete shadow of his former self and is seemingly causing more harm than good. Joe Mixon is either red hot or ice cold, and the long-documented issues of their offensive line will seemingly spill into yet another off-season.
---
Detroit Lions @ Jacksonville Jaguars
A sack race game! The heat is being cranked up on both of these coaches to turn their teams' fortunes around. The Jags have spiraled since appearing in the AFC Championship game and quite honestly, the Lions have gone backwards since Matt Patricia arrived. Kenny Golladay should be 100% following the bye week, which is a huge plus for Lions as they look a different proposition with him in the line-up. More of a concern in the short to medium term is that two recent second-round picks at running back can't dislodge old man AP in the backfield. The Jags' shoddy defence is being exposed weekly, giving up over 30 points a contest since Week 1. that opening game remains their only win so far and the young offence has averaged less than 20 points a game over the last three weeks. Probably not a game to attract many neutrals.
---
Washington Football Team @ New York Giants
At least one NFC East team will find a win this weekend! Washington will role with Kyle Allen, at least to begin the contest, after Alex Smith's fairytale return a week ago. After managing a grand total of -6 yards in the second half last week, it's hard to imagine the offence looking any worse. Terry McLaurin will be licking his lips at the opportunity to attack the Giants secondary. It is the weak part of a defence that has actually performed admirably against the run, especially when it's often been playing from behind. And Daniel Jones hasn't tossed a touchdown since Week 1! Yes, losing Saquon Barkley is a blow but for an offence to look so anemic is unacceptable. At least Graham Gano can kick long field goals, I guess.
---
Denver Broncos @ New England Patriots
The game that should have been played a week ago ends up on the Week 6 slate. It does mean that the Patriots are likely to have Cam Newton available, following a period of isolation after testing positive for coronavirus. That will be music to all Patriots fans after having to watch a combination of Brian Hoyer and Jarett Stidham tossing multiple interceptions last time out. The quarterback on the other side of the field may also be back in time for this one. Drew Lock is back practicing after his shoulder injury, which is some welcome news for a change for Denver. Jerry Juedy found the end zone for the first time in his career in the Broncos' last outing and will be looking to remind people of his ability after the outpouring of praise for fellow rookies Henry Ruggs and CeeDee Lamb.
Cleveland Browns @ Pittsburgh Steelers – Preview coming Friday (SKY Game)
---
Sunday Late Games
New York Jets @ Miami Dolphins
The Dolphins were great in their Week 5 beat-down of the 49ers. Preston Williams stretched the field, Mike Gesicki had a huge play, Myles Gaskin continues to impress and Matt Breida was spotted. It was a team effort though, as the defence secured five sacks, two interceptions and two forced fumbles. This team continues to look well coached and when Ryan Fitzpatrick has an above average day, the team are fine. He may not need to play that well this week, however; they're up against the Jets after all. Fresh from releasing expensive mistake Lev Bell, the Jets head into Miami still searching for their first win. With Joe Flacco at quarterback and Frank Gore leading the backfield, there is zero reason for optimism that this is the week that they find it. Quite simply, double up on Jamison Crowder and you will stop the Jets. And oh yeah, they are poor defensively as well.
---
Green Bay Packers @ Tampa Bay Buccaneers – Preview coming Friday (SKY Game)
---
Sunday Night Football – LA Rams @ San Francisco 49ers
Monday Night Football – Kansas City Chiefs @ Buffalo Bills and Dallas Cowboys @ Arizona Cardinals
Previews for all of these games coming Friday
Byes – Saints, Raiders, Seahawks, Chargers
---
Every week, we will be playing alongside you in our pick 'em league. All of our staff are in the pick 'em league but here, we will share the picks of our regular podcast crew. Our selections for the week are as follows: