So does your team have all of its superstars still available to suit up after the week 2 massacre? A spate of injuries across the league had devastating and season lasting impacts on a number of franchises. Lets see who overcomes some adversity in week number 3.
We will be giving away a t-shirt of your teams choice to the competition winner at season end along with a weekly prize to any entrant who manages to predict the outcome of all games correctly in any given week. If we get over 100 entrants, we will give away a jersey instead of a t-shirt as the overall prize, so get involved and sign up your mates.
---
Thursday Night Football
Jacksonville Jaguars @ Miami Dolphins
A battle in Florida kicks us off in week number 3. The Miami Dolphins will look to get their first victory of the season on the road against the Jacksonville Jaguars.
The Jags have surprised everyone with their tenacity and offensive production through the opening 2 weeks. The assumed "tank for Trevor" hasn't registered with Gardner Minshew and dumping Leonard Fournette has been quickly forgotten thanks to the emergence of James Robinson as an undrafted free agent.
The Dolphins on the other hand find themselves in an 0-2 sized hole after back to back divisional losses. Fitzmagic is yet to fire and the presumptive backfield duo of Jordan Howard and Matt Brieda has seemingly been replaced before it got going. Howard has been limited to goal line carries and Myles Gaskin has handled the majority of backfield work.
Both teams will be looking for improved defensive efforts after both giving up 30 burgers last time out. That may prove difficult for the Dolphins with star free agency signing Byron Jones 1 of the slew of players going down in week 2. A short week isn't going to help matters and he is listed as doubtful for the game.
Thursday night football has its critics, and on paper this isn't what you would call a stellar matchup. The same could be said of last Thursday also however and that produced an entertaining contest so hopefully we get a repeat here. They are 2 of the UK's best supported teams so hopefully many of you will be up late watching.
---
Sunday Early Games
San Francisco 49ers @ New York Giants
The niners return to the scene of their injury horror show. Losing Nick Bosa and Soloman Thomas for the year will likely have the biggest impacts but the offensive losses of Jimmy G and backfield combo Raheem Mostert and Tevin Coleman will sting in its own right. Fortunately they get a matchup with the lowly Giants dealing with their own crushing injury blow with Saquon Barkley done for the year. It could be one of the uglier games of the weekend, but I expect the niners to find a way.
---
Washington Football Team @ Cleveland Browns
Strength vs strength as the imposing Washington D line takes on the challenge of the Browns O line that are performing lights out to start the year. The play of the line has contributed to Nick Chubb and Kareem Hunt averaging a ridiculous 6.6 yards per carry between them. Baker Mayfield had a bounceback in week 2 so the Browns will look for that to continue. Washington will continue to look for building blocks to build on each week and will be encouraged by what they saw from Antonio Gibson last week. Browns surely take this an go above .500 for the first time since 2014!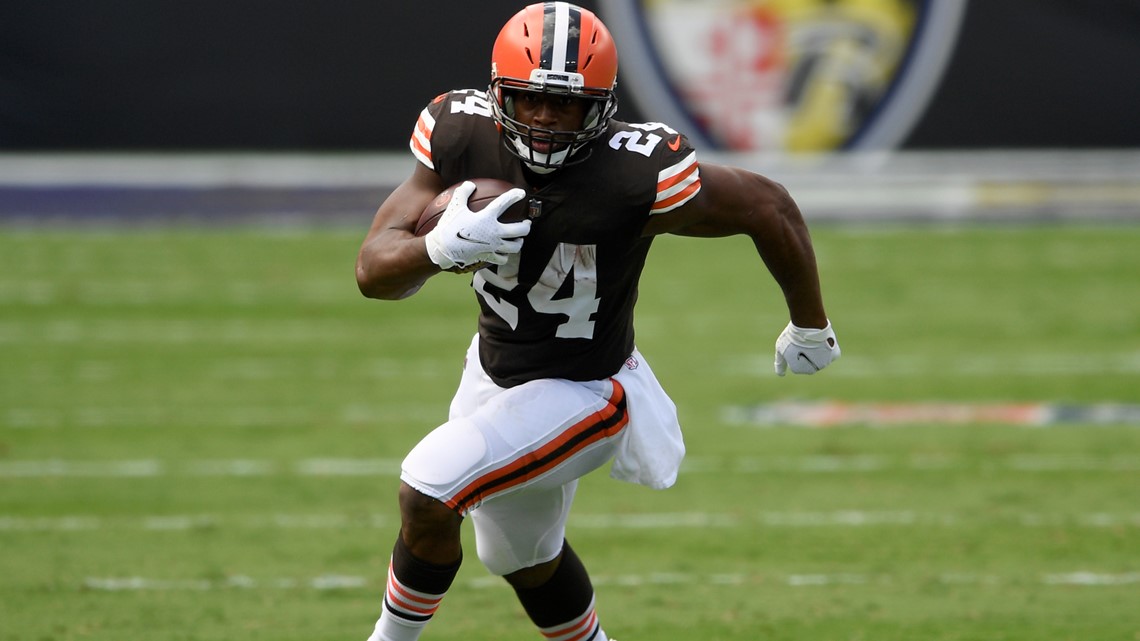 ---
Cincinnati Bengals @ Philadelphia Eagles
The Bengals have found a good one in Joe Burrow. He has looked cool, calm and confident despite playing behind a porous O line. He needs more from AJ Green who looks a shadow of his former self, and losing CJ Ouzamh will hurt as he was primed for a good campaign. As for Carson Wentz and the Eagles? Quite the opposite. Back to back games with multiple interceptions and back to back defeats. Dark clouds are gathering in Philly and the 2016 draft 2nd overall pick needs to silence the critics quickly. Miles Sanders could be in line for a big day as the Bengals still get gashed in the run game.
---
Las Vegas Raiders @ New England Patriots
A huge home opener for the Raiders knocking off the Saints on Monday night. Darren Waller was catching everything thrown his way, finishing with 12 grabs and Josh Jacobs channeled his inner "beast mode" to fight through would be tacklers with consistency. Cam Newton was great in defeat to Seattle and there is already talk of a contract extension which shows just how much of an impact he has had in the early going. A really intriguing match up here and certainly one that is tough to predict.
---
Houston Texans @ Pittsburgh Steelers
Boy the schedule makers were not kind to the Texans. Week 3 against the Steelers is the "easiest" one to date on paper at least. Its difficult to get a handle on where the Texans actually are after facing the 2 AFC favourites in the opening 2 weeks. David Johnson flashed in week 1, Brandin Cooks and Randall Cobb got more involved week 2. Its likely a team trying to build an identity after an off season of personnel moves. The Steelers squeaked by the Broncos despite facing Jeff Driskel for much of the way. The pass rush still appears to be the strength of the team but DeShaun Watson is by far the best QB they have faced to date so this is a bigger test.
---
Tennesse Titans @ Minnesota Vikings
Is it too early to stick a fork in the Vikings? Probably, but things need to change pretty quickly as the Packers are off and running away in the NFC North. The Vikings were horrible in week 2 so this is set up no doubt for a Kirk Cousins bounce back game. The Titans have quietly moved to 2-0 with yet more efficient play from quarterback Ryan Tannehill. Derrick Henry is off to his seemingly customary sluggish start to the season averaging around just 3.5 yards per carry. The Vikings gave up 150 on the ground last week so maybe this is the week he gets going.
---
Chicago Bears @ Atlanta Falcons
The Bears sit at an unimpressive 2-0, while the Falcons sit at an impressive 0-2. That is not a typo. The Bears have been pedestrian and have struggled to put away the Lions and Giants. In fact without a DeAndre Swift drop and some questionable game management by the Giants in the closing stages of either game the Bears could easily be 0-2. The Falcons on the other hand have racked up yards and points at will. The problem of course is there are 2 sides to a football team, and the defense stinks! It should be an easier task however to shut down the Bears anemic attack so I expect the Falcons to finally secure a W.
---
LA Rams @ Buffalo Bills – preview coming Friday
Sunday Late Games
Carolina Panthers @ LA Chargers
It will be strange to see Carolina without Run CMC in the backfield. After seemingly being in on every play and being such a pivotal piece of the offence its time for Teddy Bridgewater and the receivers to take over. DJ Moore and Robby Anderson both topped 100 yards last week so signs are encouraging. The problem for Carolina is that they get the Chargers D that just gave Patrick Mahomes and co all that they could handle. That unit looks great and surely Justin Herbert has got to be given the reigns to this team now after an encouraging debut. Were there mistakes? Sure, but he is a rookie, that will happen. His ceiling bursts out of Sofi Stadium, unfortunately Tyrod Taylors does not.
---
New York Jets @ Indianapolis Colts
The Colts ground out a week 2 win behind a ground game that saw Johnathon Taylor take over lead back duties. It was a shame to see Parris Campbell go down for the year but Zach Pascal, back up from the practice squad, and Michael Pittman will hope for expanded opportunities across from TY Hilton. The Jets couldn't muster up any competition against mostly San Francisco's back ups for the majority of the 2nd half last week. Its already looking like another lost season in New York. At least Frank Gore is getting a chance to chase down some more records.
---
Detroit Lions @ Arizona Cardinals
Can someone please explain to me how I convinced myself the Lions could be decent this year? It feels like a matter of time before Matt Patricia is shown the exit door. Getting Kenny Golladay back will help the offence but he can't play defensive back unfortunately. After giving up 42 to the Packers the sight of Kyler Murray and the Cardinals will be an unwelcomed one in the motor city. Kyler has looked great through 2 weeks and surely a 2-0 start beckons? If that does come to fruition that will be 12 losses in a row for Detroit.
---
Tampa Bay Buccaneers @ Denver Broncos
Another team I was high on a few weeks ago were the Denver Broncos. Injuries however to Von Miller in preseason and now Courtland Sutton and Drew Lock put a different perspective on this roster. They have pushed both the Titans and Steelers close though despite this and will fancy their chances against a Bucs team still obviously building chemistry. Leonard Fournette went over 100 yards rushing in week 2 but outside of Mike Evans no receiver caught more than 2 balls. It is going to take some time for things to come together in Tampa.
---
Dallas Cowboys @ Seattle Seahawks – preview coming Friday
---
Sunday and Monday Night Football – preview coming Friday
Byes – None
---
Every week, we will be playing alongside you in our pick 'em league. All of our staff are in the pick 'em league but here, we will share the picks of our regular podcast crew. Our selections for the week are as follows:
---