As always at the end of Week 1, we know nothing! Well, maybe we know some things? The Browns are still browning, the Jets have one of the NFL's worst head coaches and if you have a QB named Mahomes, Wilson or Jackson, then your team is in pretty good shape. A .500 record for me in pick 'em last week means an early hole is there to be dug out of, so let's see what Week 2 has in store.
We will be giving away a t-shirt of your teams choice to the competition winner at season end along with a weekly prize to any entrant who manages to predict the outcome of all games correctly in any given week. If we get over 100 entrants, we will give away a jersey instead of a t-shirt as the overall prize, so get involved and sign up your mates. With that being said, let's get into Week 1…
---
Thursday Night Football
"The Battle of Ohio" opens up the Week 2 slate as the Browns and Bengals go at it in front of 6,000 fans inside First Energy Stadium. Both teams are coming off opening day defeats but it's safe to say the Bengals will be feeling a little better about life after the respective performances of both sides.
The Bengals defence limited the Chargers and, minus a missed Randy Bullock field goal, that game would have gone to overtime. Joe Burrow showed glimpses of promise on debut, along with some expected rookie mistakes. He will look to make a statement in his first game of this interstate rivalry against a Browns team that come into this on the back of a hiding.
Baker Mayfield continues to look unimpressive, which has been the case since Week 17 of the 2018 season. Alarm bells will start to get louder if this Browns offence, loaded with individual talent, can't begin to put something resembling respectable football out on the field. The defence was gashed by the Ravens, but this is probably a better measuring stick of how good, or indeed bad, this team actually are.
Not a game that many neutrals will probably stay up until the early hours of the morning to watch but as a glutton-for-punishment Browns fan, I'll tune in to hopefully see the first win of the Kevin Stefanski era, although I don't think it will be very pretty.
---
Sunday Early Games
New York Giants @ Chicago Bears
Was the performance of Mitch Trubisky in the 4th quarter against the Lions a career saver? He certainly lit up the scoreboard after a lacklustre opening to the season so will look to build momentum. Allen Robinson made some nice catches in key moments and will look to feed on a Giants secondary that made JuJu Smith-Schuster look like Jerry Rice on MNF. As for the Giants, if Saquon doesn't get going, will they get going as a team? Yes, the Steelers' run D was dominant but for an offence built so heavily around the running back, they simply have to find ways to get production out of him.
LA Rams @ Philadelphia Eagles
A nice opening to the new stadium for the Rams leading into the dreaded cross-country commute for back-to-back games, starting with a trip to the Eagles. A massive shock to see the Eagles throw away a 17-point lead to the "Football Team" in Week 1 and Carson Wentz has many a doubter still to prove wrong. Keep a check on the injury status of Miles Sanders as this team looks different with him available. The bigger question though is can the beaten up offensive line handle Aaron Donald? I think we all know the answer to that one!
---
Atlanta Falcons @ Dallas Cowboys
Stop me when you have heard this before: "Matt Ryan throws for a ton of yards, but the Falcons lose". New season, same story as the wide receivers top 100 yards a piece but the Falcons couldn't keep the Seahawks off the scoreboard. Talking of receivers, CeeDee Lamb had himself a nice Dallas debut and hopefully having had a week to shake of some cobwebs, the Cowboys can find their groove in their home opener. Losing some pieces on both sides of the ball will not help the Dallas cause but in a big year for Dak Prescott, look for this to be yet another shootout involving the Falcons.
---
Carolina Panthers @ Tampa Bay Buccaneers
The Panthers came as advertised. Pieces to play with on offence, yet a defence in transition. Run CMC has already found the end zone and Teddy Bridgewater is seemingly building some chemistry with his new receivers but defensively, they were exposed by the Raiders. That sounds like an ideal opponent for Tom Brady's home debut. The Bucs always had a tough Week 1 assignment, but showed plenty of promise in defeat to the Saints. I think we are all expecting it to come good and it wouldn't be a big surprise to see a blow-out here.
San Francisco 49ers @ New York Jets
Is a Super Bowl hangover on the cards? Calm those fears a little, this was a Niners squad without much depth at receiver and a banged-up George Kittle for half of their Week 1 defeat. They will figure it out. The Jets on the other hand? The LeVeon Bell investment looks worse with each passing week and he will miss this one with injury so the legend that is Frank Gore likely gets the start. There are just way too many issues with this team to comprehend anything other than a San Francisco win.
---
Denver Broncos @ Pittsburgh Steelers
For all of the concerns I have with the Steelers on offence, boy is that defence good! In reality, that unit will keep Pittsburgh competitive in almost every game and if that is the case, assuming Big Ben can perform at an average level, they will no doubt be there or there about when January rolls around. The Broncos come in on the back of a tough home loss to the Titans, although it could have been a bigger margin had Stephen Gostowski brought his kicking boots with him. Hopefully, Courtland Sutton can get back in the line-up this week to support Melvin Gordon and co.
Jacksonville Jaguars @ Tennessee Titans
Staying with Gostkowski, it takes some balls to kick that game winner having missed four kicks during the game! Derrick Henry pounded the rock 31 times in the Monday night win so its pretty clear its back to gameplan A for the Titans although, with that said, Corey Davis put up over 100 yards receiving, maybe he finally comes good? As for the Jags, I gave them two wins before a ball was kicked so they are halfway there already. Who doesn't love a bit of Minshew Mania? All this talk of tanking for Trevor could possibly propel the moustache for an even better campaign, the Week 1 signs were certainly encouraging.
---
Detroit Lions @ Green Bay Packers
A real heartbreaker for the Lions in Week 1. To have the game wrapped up heading into the 4th, only to throw it away, then seemingly win it back before dropping it. Alas, that is what bad teams do and as much as I want to be high on the Lions, it's a case of "I'll believe it when I see it". The Packers, on the other hand, were impressive on offence with Devante Adams having a huge game. For all the talk of running the football, it was the aerial attack that got the job done against the Vikings so let's see if that continues to be the actual trend as opposed to the talked about one.
Buffalo Bills @ Miami Dolphins
A nice gentle opener for the Bills last week at home against the Jets but now the competition will go up a notch. Josh Allen continues to have the odd bad play mixed in with several decent ones and as long as the ratio stays that way, then the Bills will be more than happy. Stefon Diggs settled in straight away as did rookie Zach Moss so there is plenty for Bills fans to be encouraged by. Miami will be pleased enough with their defensive efforts in Foxborough but the blindingly obvious is that if Fitzmagic continues to turn the ball over, it will only be a matter of time before those calls for Tua become too loud to ignore.
---
Minnesota Vikings @ Indianapolis Colts – preview coming Friday
Sunday Late Games
Washington Football Team @ Arizona Cardinals
A statement win for the birds against a divisional foe in Week 1. How good is DeAndre Hopkins? A career day for the stud wideout who really seems to be a huge piece to what was already an impressive jigsaw puzzle. Kyler Murray is a sneaky MVP shout for a few people this year and if he continues in the same vein with both his passing and rushing, he will certainly enter the conversation. For a team that has gone through so much in an offseason, for the Football Team to knock of the Eagles is incredible. A 27-0 run to end the contest all will the head coach is taking cancer treatment at halftime! Regardless of what happens this week or beyond, the medium- to long-term future is bright in DC.
Kansas City Chiefs @ Los Angeles Chargers
Can anyone stop this Chiefs team? Talk about weapons all over the field, and then you add in CEH! The defending champs looked smooth out of the gate in Week 1 and Patrick Mahomes will be gunning to begin a dynasty with the bevy of talent around him. He gets a stiff test this week however against a Chargers team that are certainly stronger on the defensive side of the ball. Joey Bosa and company gave Joe Burrow a tough debut and they will cause problems for many a team. The same can't be said on offence though and if they are ever going to get fans to fill their new home, then they best hope Justin Herbert is the answer because Tyrod Taylor certainly is not.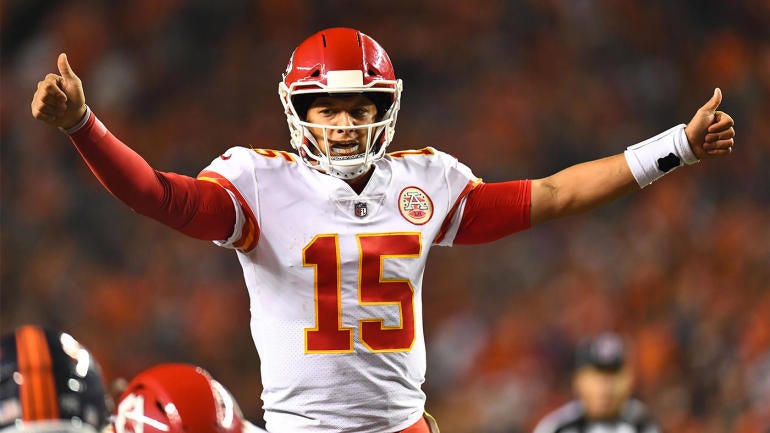 ---
Baltimore Ravens @ Houston Texans – preview coming Friday
Sunday and Monday Night Football – preview coming Friday
Byes – None
---
Every week, we will be playing alongside you in our pick 'em league. All of our staff are in the pick 'em league but here, we will share the picks of our regular podcast crew. Our selections for the week are as follows:
---