The Colts opened up Week 10 with a huge divisional win over the Titans on Thursday Night Football. Philip Rivers outplayed Ryan Tannehill and the Colts defence came up big, keeping the Titans off the board in the second half. That game has whet the appetite for another fun weekend of action so let's dive into what lies ahead.
---
We will be giving away a t-shirt of your team's choice to the competition winner at season-end, along with a weekly prize to any entrant who manages to predict the outcome of all games correctly in any given week. If we get over 100 entrants, we will give away a jersey instead of a t-shirt as the overall prize, so get involved and sign up your mates.
---
---
Sunday Early Games
---
Washington Football Team @ Detroit Lions – Spread / DET-4.5
Matt Stafford will be looking to bounce back from a poor showing against the Vikings in Week 9. This will be no easy test though, as Washington is sneakily good against the pass. The Football Team actually ranking first in terms of passing yardage allowed to quarterbacks. The Lions are also likely to be without Kenny Golladay for yet another game, which would be his fourth scratch of the season. D'Andre Swift continues to impress when actually given the football. He averaged 4.9 yards per carry last weekend and, with Washington allowing the Giants to rush for 166 yards last week, it should be the way to go. Young Washington playmakers Terry McLaurin and Antonio Gibson will be crucial if they are to win what will be Alex Smith's first start since coming back from the leg injury that nearly ended his career.
Shaun's Spread Pick – WAS
---
Houston Texans @ Cleveland Browns – Spread / CLE -3.5
The Browns are fresh off their bye week and it has allowed some of their crucial pieces to get healthy. Guard Wyatt Tyler, tight end Austin Hooper and running back Nick Chubb all return for Cleveland after missing multiple weeks. Baker Mayfield has been activated off the COVID list and should have a good day against a Texans defence that give up the highest QB rate against them. Defensively for Cleveland, Myles Garrett had his own injury scare before the bye week but he is also good to go. The Texans are a trap game for any side with Deshaun Watson at quarterback. His chemistry with Brandin Cooks and Will Fuller seemingly improves week to week, with Fuller on a league-leading touchdown streak. Duke Johnson should see most of the backfield work against his former side, as David Johnson has a concussion.
Shaun's Spread Pick – CLE
---
Tampa Bay Buccaneers @ Carolina Panthers – Sky Game. Spread / CAR+5.5
Tom Brady's Tampa Bay Buccaneers will look to rebound from their primetime loss to their big NFC South rivals, the New Orleans Saints, by beating the Carolina Panthers when they visit the Bank of America Stadium on Sunday.
TB12 uncharacteristically threw three costly interceptions, as the scalpel-sharp partnership of Sean Payton and Drew Brees once again dissected the Bucs defence. The 38-3 beating drops them out of the lead of the NFC South table.
They will hope for better luck this week when they face a far more underpowered Panthers team who, while fighting hard for first-year coach Matt Rule, have still fallen to a disappointing 3-6 record.
The Buccaneers will attempt to take advantage of a Panthers defence that rank 17th in yards allowed and 15th in yards per game with 25.1, as Brady continues to build rapport with a multitude of weapons; they include Antonio Brown, who started his first game for the team last week.
Despite the scoreline, the triplet of Brown, Chris Godwin and Mike Evans combined for more than 130 receiving yards, and will look to continue their upward form this weekend with Brady looking for some bounce-back in performance.
The Bucs defence will also be looking to improve on Week 9's attempts where they gave up 108 yards more total offence than they had averaged up until this point, in a season in which the group had seen a big improvement.
They may face some difficulty against a gritty Panthers offence that is marshalled by the magnetic Teddy Bridgewater . His efforts this season were put into rather visual terms last week against the Chiefs, when he dived through the air at considerable risk to himself to secure a big first down.
The wide receiver core has received a big boost for 2020 as free-agent signing Robby Anderson has racked up an impressive 741 receiving yards already, despite being part of a wide receiver corps that has managed just six touchdowns between them.
The brief return of Christian McCaffrey was explosive and glorious with 151 all-purpose yards and two touchdowns but he now faces more time on the sidelines with a suspected shoulder injury that required scans and assessment this week. The ball will now return to the arms of Mike Davis who had performed admirably in CMC's absence. He may get more luck this week against a Bucs defence that shed some yards to the double-pronged rushing attack of Latavius Murray and Alvin Kamara last week.
The Panthers ran the Chiefs close last week with a spirited and impressive performance but will need to continue that level of performance to keep down a revenge-driven Bucs team.
Writer's Pick – Alex Lewis
Overall, I think the Panthers have the ability and the passion to keep most games close in what was being considered a rebuild year. However, they may come unstuck this week as Bruce Arians will whip his team into a fury to try and undo the memory of the Saints loss.
I want to support the Panthers here, but I can see Brady getting back to his best and getting his close friend Gronk more involved than the one-target, two-yard game of last week. I can see a solid victory for the Buccaneers.
Prediction – Buccaneers 28 – 17 Panthers // Shaun's Spread Pick – TAM
---
Philadelphia Eagles @ New York Giants – Spread / NYG+3
This game was close when the sides met just a few weeks ago, with Boston Scott pulling in a game-winner in the final moments. Since then, it's been an improving injury picture for the Eagles. This week, fresh from a bye, they should welcome back Miles Sanders and Lane Johnson, and even Alshon Jeffery might make his season debut. Travis Fulgham has emerged as a genuine receiving threat in the absence of all others in Philly so it will be nice to see the pair together. The Giants have been opportunistic on defence with 15 takeaways on the season. They are decent from a pass rush perspective, ranking in the top 10. The problems for the 'G-Men' have been offensively. Dan Jones only has eight touchdowns against nine interceptions, although he does at least enter on the back of his season's best output. I'm sure everyone will be picking the Eagles but it will certainly be close yet again.
Shaun's Spread Pick – NYG
Head over to NFL Shop Europe for the latest deals! Use code FULL10 on selected items at checkout
---
Jacksonville Jaguars @ Green Bay Packers – Spread / GB-13.5
Jake Luton impressed on his debut for the Jags as they pushed the Texans close a week ago. The lanky signal-caller tossed for over 300 yards and ran in a score but ultimately, the Jags fell to a seventh straight loss. DJ Chark had a big game and James Robinson fell a yard short of the magic 100-yard rushing day. But yet again, the issues were defensive, as a further 27 points were shipped. Shoddy tackling and blown coverages have been an unwanted feature of the Jags' season. It's certainly not a good combination to enter Wisconsin against Aaron Rodgers and the Packers. Having put up 34 points in second gear against the 49ers, surely another routine victory is on the cards here? Davante Adams continues to look like the best receiver in football and Aaron Jones should be fully healthy after battling a niggling injury for the past three weeks.
Shaun's Spread Pick – GB
Sunday Late Games
LA Chargers @ Miami Dolphins – Spread / MIA-1
A massive road win for the Dolphins last week, as the Tua bounce continued with the dispatching of the Cardinals. Tua passed the eyeball test and, in DeVante Parker and Mike Gesicki, he has a couple of young playmakers to grow with. The run game has stalled in recent weeks so the switch to Tua opens up options for him to do work on the ground. He averaged 5 yards per carry in his seven attempts last week. The Chargers, of course, bring in their own impressive rookie quarterback in Justin Herbert. His season numbers would be impressive for a veteran signal caller, let alone a rookie. Keenan Allen continues to be his main beneficiary, registering another 100-yard day against the Raiders last weekend. You can guarantee that this will be a close encounter as all Chargers games are. It will be interesting to see how the Dolphins handle the burden of expectation as, all of a sudden, they are in the Wild Card race.
Shaun's Spread Pick – LAC
---
Denver Broncos @ Las Vegas Raiders – Spread / LV-4
For the Broncos, it was a second straight week with a big fourth-quarter performance that almost pulled victory from the jaws of defeat. The defence has given up at least 30 points in three straight games, leaving the offence to play catch up. Last week's effort was in vain as they had left themselves too much to do. Rookie receivers KJ Hamler and Jerry Jeudy give plenty of reasons for optimism as they have become the favourite weapons of Drew Lock in recent weeks. The Raiders are putting together a nice run and are still right in the Wild Card mix. Derek Carr was efficient last weekend with a couple of big plays sprinkled in. Booker and Jacobs combined for 133 yards on the ground at over 6.5 yards per carry. It's defensively where they are vulnerable and two close end-zone fades, which both fell just incomplete, would have turned last weekend's win into a loss. Another potentially close game here.
Shaun's Spread Pick – DEN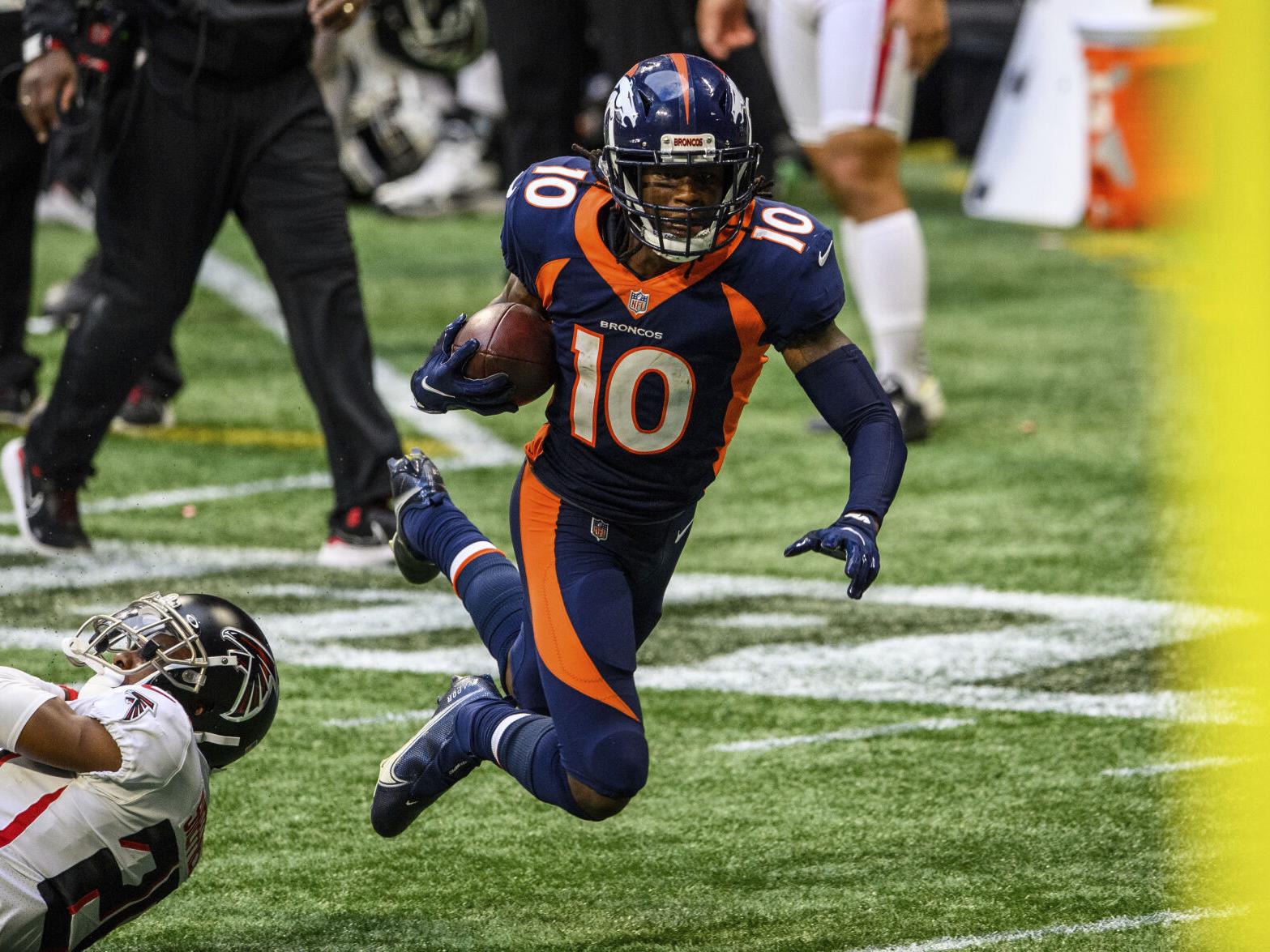 ---
Buffalo Bills @ Arizona Cardinals – Sky Game. Spread / ARI-2.5
The 5-3 Cardinals are at home this week, hosting Josh Allen and his 7-2 Buffalo Bills. Arizona will be looking to bounce back from another frustrating victory where Kliff Kingsbury's men couldn't quite get the game over the line against the impressive Miami Dolphins. Meanwhile, Buffalo is coming off the back of an impressive win against MVP contender Russell Wilson and the Seattle Seahawks.
The Cardinals are an intriguing team to watch. They lost on Sunday, yet Kyler Murray went 21-of-26, 283 passing yards, 106 rushing yards (career high) and 4 TDs. His passer rating for that game was also over 150, which is insane, especially as they went on to lose. He's clearly the franchise player the Cardinals hoped he would become and many across the league are now beginning to rank him above fellow first-round draft pick Lamar Jackson. He is on pace for 4,000 passing yards and 1,000 rushing yards this season, which would be an incredible achievement for a second-year starter.
Meanwhile, Josh Allen had a career game against Seattle, going 31-of-38, 415 yards and 3 TDs. The game against Seattle saw Allen begin to look far more like the MVP candidate of the earlier part of this season than he has recently. This moved his total up to 19 TDs (T-5th in NFL) on the season with 5 INTs and a 107.2 rating (8th in NFL). Stefon Diggs will be pleased to see Allen return to his previous heights as he looks to expand on his 813 receiving yards (1st in NFL). It's interesting to note that Diggs has 37 more targets than the next Buffalo receiver so this Bills offence clearly runs through the former Vikings wideout.
Defensively, the Bills are going to have their hands full with this Cardinals offence. Arizona leads the league in average yards per game (422.0) and they're averaging 162.9 rushing yards per game (2nd in NFL). This should have Buffalo Defensive Coordinator Leslie Frazier quivering, as his scheme is allowing an average of 4.6 YPC and 125.9 YPG (21st in NFL) on the ground. This is where Arizona could take advantage of holes in the Buffalo defence. However, one thing Buffalo is pretty good at is getting to the QB. They have 24 sacks (T-6th in NFL) and 55 QB hits as a unit. With someone as evasive as Murray, they're going to have to bring their A-game to stifle the young gunslinger.
A tough Buffalo offensive line faces this Arizona defence in Week 10 and you have to think that is where this Arizona team may come up short. Buffalo have only allowed seven sacks on the season. At not even a sack every game, that's a mighty impressive stat that Arizona is going to have to change if they want to stop this Buffalo offence. Arizona's secondary is evidently what is preventing the Cardinals from having a better record and winning a couple of games that they have let slip. Last week, they allowed rookie QB Tua Tagovailoa a rating of 122.9 as he went 20-of-28, 248 yards and a couple of TDs. With a much more accomplished Josh Allen coming to town this Sunday afternoon, the Cardinals' secondary has to play better if they want to prevent another disappointing collapse.
That said, the Arizona rush defence is no better than Buffalo's, allowing an average of 126.1 rushing YPG (22nd in NFL). If Buffalo can establish the run with Devin Singletary and Zack Moss, they may be able to build some momentum and rack the points up. However, this Arizona D isn't going to roll over lightly; for all their flaws, they are only allowing an average 22.5 points per game (8th in NFL). Their defence manages to hold out and is only allowing teams to score touchdowns on 50% of their trips to the red zone, which is the third best in the NFL.
Writer's Pick – Steve Tough
This game is a very exciting mid-season match-up. We have two young QBs who are both coming into this game extremely hot. They are backed up by two teams with winning records looking to prove themselves and increase their gap to .500 and book their place in the playoffs. This game has the potential to be a thriller.
Prediction – Bills 27 – 34 Cardinals // Shaun's Spread Pick – BUF
---
Seattle Seahawks @ LA Rams – Spread / LAR-1.5
The Seahawks will be licking their wounds after never being able to get to grips with the Bills last week. A four-turnover day for Russell Wilson is not what we have become accustomed to. He still made his share of plays however, as you would expect, and DK Metcalf continues to look like a beast on the field. The defence though? I'm running out of ways to describe just how bad it is. It will be the Rams who get their crack at it this week, fresh from their bye week. Jared Goff and company will be keen to bounce back from a defeat to Miami last time we saw them. The running back committee averages over 4.4 yards per carry, good for 8th best in the league. It will surely be the air game that gets the damage done though, with Robert Woods and Cooper Kupp primed for a big day. For as good as Seattle have been, should the Rams win this game, they will actually go above them in the standings.
Shaun's Spread Pick – LAR
Use code FULL10 at checkout and get 10% off selected items.
---
Cincinnati Bengals @ Pittsburgh Steelers – Spread / PIT-7
The Steelers remained perfect last weekend despite playing down to the level of their competition, the Cowboys. That is something that the Steelers have done historically but up until last weekend, we hadn't seen it in 2020. The defence, however, played well again, adding to their league-leading quarterback sacks and pressure numbers. COVID will be a potential big issue for Pittsburgh as Big Ben and others are awaiting clear tests before confirming their availability. The Bengals offensive line had its best outing of the season last time out and they will need to be on their game to allow Joe Burrow the time he will need to make an impact. His impressive campaign, despite issues on the offensive line, give the Bengals great hope for the future. Fresh off their bye, with Joe Mixon back and disrupted prep for the Steelers, I'm calling an upset. Who Dey!
Shaun's Spread Pick – CIN
---
San Francisco 49ers @ New Orleans Saints – Spread / NO-10
No team was more impressive in Week 9 than the New Orleans Saints. A beatdown of the heavily fancied Bucs has the Saints at the top of the NFC South and looking like the most rounded team in the NFC. Drew Brees has been playing very well over the past month following early season criticism. His favourite target, Michael Thomas, was back last week and although he didn't make a huge splash in the box score, the Saints are a much better team with him in there. Alvin Kamara will appreciate the help after carrying the bulk of the work over the past month. The 49ers secondary were torched last time out, giving up four touchdowns for Aaron Rodgers. The injury crisis has derailed the season with a back-up quarterback, back-up tight end and back-up receivers likely to be on the field plenty again this week. They may get Raheem Mostert and Deebo Samuel back, which will at least provide some welcome relief.
Shaun's Spread Pick – NO
---
Baltimore Ravens @ New England Patriots – Sky Game (SNF). Spread / NE+7
Lamar Jackson and the Ravens will travel to Foxborough for SNF and the current MVP will be hoping that New England's defence won't be calling out their plays. That's one explanation as to why the Baltimore offence somewhat stuttered through the first half of the season.
That being said, they were able to set a new NFL record last week against Indianapolis when they scored 20+ points for the 31st straight game, which coincides exactly with when Lamar Jackson took over the Ravens offence. They still lead the NFL in rushing yards per game at 170 yards and change.
They should be able to succeed once again with the run game as New England rank eighth-worst in rushing yards given up per game, and they could be boosted by the return of Mark Ingram as they look to improve on their 100% away record so far in the NFL.
You get two rushing QBs for the price of one on primetime this week as Cam Newton looks to improve on his recent performances. He has said that he is "tired of sucking".
The 3-5 New England Patriots snapped a four-game losing streak by just getting over the line against a winless Jets, scoring 30 points and totaling over 400 yards of offence for the first time since Week 3. That won't inspire much confidence in the fan base. Cam Newton scooted for 2 TDs on the ground in that one, as they overcame a 10-point deficit in the fourth quarter. It also marked the first game where the offence did not turn the ball over.
Establishing the rushing game will be important for the Patriots if they're to get anything from this game and the news that Ravens DE Calais Campbell is out with a calf problem will be music to their ears.
Star DB Marlon Humphrey has been cleared to return to the Ravens roster but considering the WR/pass-catching talent for the Patriots, he'll likely have a quiet game or, at the very least, come down to help stuff that New England running game.
Baltimore would like to get the passing game going in this one, with Marquise Brown hinting at discontent with their air attack. Mark Andrews has gone missing in the last few weeks, having a high of three receptions during the last three weeks and no TDs.
Writer's Pick – Tim Monk
It's hard to envisage the Patriots improving on the overall series record between the two teams (10-4) and this Patriots team is barely recognisable from the TB12-led one. The last few match-ups between these teams have produced a lot of points. New England's defence is nothing to be feared and Baltimore match up quite well on them. I expect Baltimore to cover the 7 points and the total points line of 43.5 is probably low enough to take the over but I wouldn't be backing it with confidence.
Prediction – Ravens 35-24 Patriots // Shaun's Spread Pick – BAL
---
Minnesota Vikings @ Chicago Bears – Sky Game (MNF). Spread / CHI+2.5
My last MNF preview, in late October, anticipated the Week 7 Bears v Rams clash. At the time, the Bears' offence wasn't firing on all cylinders but the defence certainly was, taking the team to a somewhat flattering 5-1. I also suggested that their next three opponents – the Rams, Saints and Titans – would tell us more about their true pedigree. Well, it did: they lost to all three and Chicago have now slipped to a more precarious 5-4.
In losing 24-17 to Tennessee last Sunday, they posted a pitiful 56 rushing yards and that's not an anomaly; they've averaged 2.8 yards per carry over the last few weeks. The offence was shut out for 45 minutes and only a couple of garbage-time TDs gave the score any air of respectability.
Despite logging only 39 yards and 0 TDs last week, David Montgomery is Chicago's best option on the ground but he suffered a concussion against the Titans and will have to clear the necessary protocols if he's to suit up on Monday. The lack of depth behind him leaves the Bears languishing dead last for rushing yards per game (82.3).
Meanwhile, WR Allen Robinson is actually sixth among his peers for receiving yardage and could take advantage of Minnesota's porous pass defence. He 'just' needs some solid play from Nick Foles. Or Mitchell Trubisky. Or anyone. To be fair, neither team's QB has been pulling up trees – Nick Foles' 1,746 yards leaves him 24th in the league, a couple of places below Cousins – but pundits are already talking about how the Bears are missing Trubisky. Yikes!
The Chicago defence is highly regarded yet stats-wise, they're only 9th best in the NFL, and now they get to face Dalvin Cook. The star running back looks set to be the first man to rush past the 1,000-yard mark this year and could give the Bears D a tough afternoon.
In complete contrast to Chicago, the Vikings (3-5) are finally on a roll after a 1-5 start. They are looking for their third straight win against divisional foes after dispatching the Packers and the Lions, scoring a season-high 34 points against the latter. The mini-revival has been fueled by the aforementioned Mr Cook, who's rushed for 476 yards and six TDs in his last two games alone. Against Green Bay, he set a career-high 226 total yards and the following week, he outdid that with another new personal best (252).
Cook leads the NFL in several rushing categories (858 yards, 12 TDs, 122 yards per game – just take your pick) so it should be no surprise that Minnesota have risen to third in the league in ground yards per game (160). He's also the only non-kicker in the top 10 points scorers across the league and, of course, he's sitting at #1, despite missing a game and a half through injury earlier in the campaign. Several 'on fire' emojis would not be out of place at this point.
In short, it's been eight years since a running back won MVP honours (Adrian Peterson in his 2,000-yard season in 2012) but Cook is now firmly in the picture. So forget Russell Wilson. Let. Dalvin. Cook.
The recent success on the ground has certainly taken the pressure off Kirk Cousins, enabling the underperforming quarterback to pull out of his early-season tailspin. As well as throwing three TD passes last week, he also avoided a turnover for the second straight game. After this one, Minnesota has a nice little run against the Cowboys, Panthers and Jaguars, all on home turf. If they take four Ws, they'll head into the home stretch with a winning record and post-season football in their sights. That didn't even sound feasible three weeks ago, let alone likely.
Writer's Pick – Sean Tyler
Historically, the Vikes always find a way to lose to the Bears. They've tasted defeat in their last four meetings and in 16 of the last 19 at Soldier Field. If there's any scenario the Bears would pick when their offence is broken – which, to be frank, it is – it would have to be [a] against the Vikings, [b] with Kirk Cousins under centre (he's 0-3 against the Bears with Minnesota) and [c] on Monday Night Football, when Cousins' record is a shocking 0-9. Cook seems to hit the buffers against Chicago too, averaging 28.7 yards per game in those three defeats. Basically, the Bears shut down the run and force Cousins to beat them through the air, which he has yet to do.
But unless there's some weird voodoo action going on that I don't know about, something has to give eventually so I'm calling it now. With Cook in the form of his life, the Vikings will break the curse and return home to Minneapolis with the spoils of war. Skol!
Prediction – Vikings 28 – 24 Bears // Shaun's Spread Pick – MIN
---
Byes – Cowboys, Chiefs, Falcons, Jets
---
Every week, we will be playing alongside you in our pick 'em league. All of our staff are in the pick 'em league but here, we will share the picks of our regular podcast crew. Our selections for the week are as follows (all selections are money line and not against the spread):
---
Be sure to check out the live-streamed Full 10 Yards NFL podcast for all of the reaction on Monday Night. Catch the chat on YouTube, Facebook and Twitter.
Check out the latest deals over at Fanatics UK