Every week, the Full 10 Yards NFL gang preview the games gracing our TV screens, giving you the lowdown on the big games each and every weekend. Make sure that you get involved in our "pick 'em" competition and check out our podcasts and other great articles too!
---
Sunday Early Sky Sports Game, 6.00pm
Pittsburgh Steelers @ Baltimore Ravens
This is easily the best game of Week 8, and it gets served up as the first Sky game on the Sunday slate. Two teams boasting fantastic records, and a division rivalry to boot, featuring two very different styles of quarterback, but both similar in exhibiting suffocating defences and beefy running games.
The Steelers have surprised some (maybe not Dave Damashek) by reaching the eighth game week undefeated (6-0) and while the Ravens (5-1) are only one game behind in the highly competitive AFC North, they could be first or third by the time this bruising encounter is settled.
As the only remaining undefeated team in the league, the Steelers have ridden a bit of luck with the schedule. In their first four games, they beat up two NFC (L)East opponents, an anaemic Broncos and a rotten Texans team. The last two victories have been far more impressive, a shellacking of the Browns and a squeaker against the Titans.
The Ravens have been unable to reproduce the fireworks of 2019 and the ground game that steamrolled opponents on the way to a 14-2 regular season record, but almost quietly, they are on a three-game win streak, their only blemish to date a loss to the reigning Super Bowl champion Chiefs.
On offence, Pittsburgh have been winning with a heavy dose of James Connor (pictured above) on the ground (451 yards – 10th in NFL) and some efficient pocket passing by Ben Roethlisberger. Big Ben has found five different touchdown targets, and the receiving corps is led by rookie sensation Chase Claypool (333 yards) and JuJu Smith-Schuster (32 catches). Both Diontae Johnson (two TDs last week) and James Washington are solid support acts.
For the Ravens, the formula has been Lamar Jackson in the air and Lamar Jackson on the ground. L-Jax leads the team in passing and rushing, sharing the most ground attempts with Mark Ingram (50) but gaining an eye-popping 6.9 yards per carry. The Ravens' supporting cast has been underwhelming to date: Ingram has been quiet, rookie JK Dobbins has failed to live up to his fantasy billing by a long margin and WRs Hollywood Brown and Willie Snead have mustered just two scores between them.
The Ravens' lone bright spark, aside from L-Jax, has been TE Mark Andrews who is almost averaging a TD catch a game (5), and 16 of his 20 catches have resulted in first downs. Maybe the addition of the long-forgotten Dez Bryant will be enough to light a fire under those who have been lukewarm up to this point.
Enough about offences. Everyone knows the stars of these two teams are the defences – hard-nosed, solid tacking units that execute their game plans to perfection and tend to avoid lapses in concentration.
The Steelers already boast 26 sacks and eight interceptions, thanks to studs TJ Watt (DPOY candidate) and Bud Dupree, along with lesser-known names such as CB Mike Hilton, who has already registered three sacks, a pick and a fumble recovery.
In Baltimore, who host Sunday's contest, leadership is coming from a rookie LB in the shape of Patrick Queen (pictured above), who leads the team in tackles, having settled in like a five-year veteran from Week 1. Not a standout on the stats sheet but an absolute game wrecker. 6'8″ DL Calais Campbell is seemingly batting down passes in every game, and remarkably leads the team in passes defended.
Is there a better starting CB pairing than Baltimore's Marlon Humphrey and Marcus Peters? Their performance against Chase Claypool and Diontae Johnson will be one of the major factors that determines who wins this divisional battle.
The loss of ILB Devin Bush for the Steelers was a big punch in the guts, so there will arguably be a little more freedom for Mark Andrews to find seams in the Pittsburgh D. This is also time for JK Dobbins to step up. Maybe he can write something special like his namesake JK Rowling and magic up a box office performance?
---
Writer's Pick – Lawrence Vos
Even though this rivalry only goes back to 1996, it is a fierce one that gives rise to warriors and epic encounters, where everyone leaves the field bruised, battered and bleeding. Names of legends past like Ray Lewis and Hines Ward come to mind when you think of a Steelers v Ravens encounter.
Pittsburgh lead the all-time series 28-24 but the Ravens have won the last three, including a Week 17 encounter last season when Lamar Jackson was (in hindsight) unwisely rested. Both teams have also met four times this century in the playoffs – with the Steelers leading the series 3-1.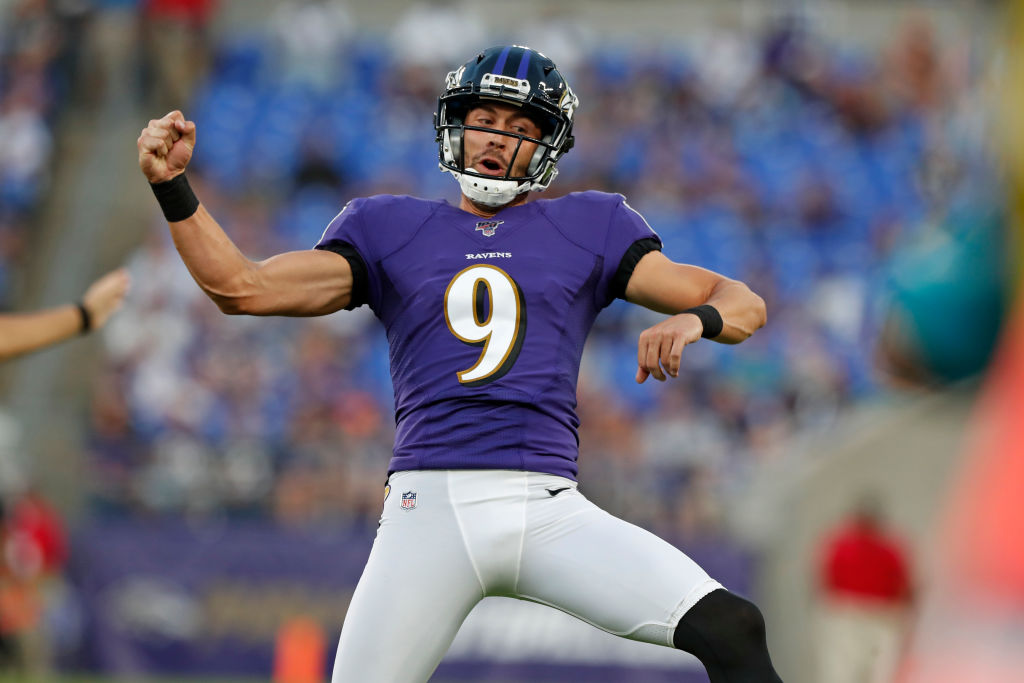 Don't expect a lot of scoring in the first half, as the kickers Justin Tucker (pictured) and Chris Boswell will be put to the test throughout the contest. I have the Ravens eeking out the win, courtesy of a late Big Ben turnover that Baltimore capitalise on.
Steelers 21 – 23 Ravens
Sunday Late Sky Sports Game, 9:25pm UK
San Francisco 49ers @ Seattle Seahawks
The hyper-competitive NFC West maintains its breath-taking pace on Sunday evening, as the division-leading 5-1 Seattle Seahawks play host to the 4-3, division straggling San Francisco 49ers. Last year's Week 17 match-up between the two teams ended in the now infamous tackle by Dre Greenlaw on Seahawks tight end Jacob Hollister to prevent a last-second touchdown and ensure that the 49ers walked away as division champions.
For the revenge-seeking Seahawks, they experienced a brutal overtime loss last weekend to another top NFC West contender, the Arizona Cardinals, who became the latest team who can say they shredded the porous 2020 Seahawks defence.
The team will be hopeful that the return of safety Jamal Adams, coming off a three-week injury absence, could make a dramatic difference to a defence struggling to stop both the run and the pass. In addition to allowing Kyler Murray to pass for 360 yards and three touchdowns, they also gave up 159 yards on the ground at a rate of 4.8 yards per carry.
The team has managed to drag its troubled defensive unit to an unbelievable 5-2 record, thanks in main part to the genius and ability of quarterback Russell Wilson. The former Wisconsin Badger has produced an MVP-level season up to this point, the only real blemishes coming last week when despite throwing for nearly 400 yards, he put three ugly interceptions on tape.
The offence will have to be running at full rpm on Sunday if they want to win this one, with the 49ers likely to put up some decent numbers on the Seahawks secondary. The Hawks, however, will need to wait till at least Saturday to know for sure whether they will have running backs Carlos Hyde and Chris Carson, both of which picked up injuries last week.
The 49ers, on the other hand, are running at full speed after last week's impressive dismantling of the New England Patriots, a victory so comprehensive that it seems to have pushed Bill Belichick into full rebuild mode with rumours that 2019 Defensive Player of the Year, Stephon Gilmore, is on the trade block.
Jimmy Garoppolo used the victory for his own personal revenge tour. His running game supporting his rather modest passing stat-line, as he showed off in front of the team who traded him away just three years ago. The rushing game was led last week by Jeff Wilson Jr. who recorded 112 yards on the ground and a hat-trick of touchdowns, but he also left the field injured last week as he stretched to score his final TD of the game
The slack should be taken up by offensive weapons like George Kittle, Brandon Aiyuk and Kyle Juszczyk to name a few but it's the 49ers defence who continue to put themselves in the argument for the best defence in the league, even in the absence of stud rookie defensive end, Nick Bosa.
They held former league MVP, Cam Newton, to a measly 98 yards with three touchdowns last week, and even forced Bill Belichick into a benching of Newton, who gave way to Jarrett Stidham mid-way through the second half.
They have now allowed just a 78.5 passer rating in their seven games, good enough for fourth in the league in that category, and also given up barely over 200 passing yards a game, a record which will be tested by Wilson on Sunday.
Middle linebacker Fred Warner is quickly becoming one of the best players at his position. He grabbed an interception last week and displayed throughout his ability to cover a receiver, Julian Edelman, a good test for trying to stop Tyler Lockett in Week 8.
Writer's Pick – Alex Lewis
Overall, I think the 49ers just about pull off a win. I can't see the Seahawks playing particularly badly, but against such a stifling defence like the one in San Francisco, it will take Russell Wilson's MVP best to come out with the win and move to 6-1.
The level of weapons on the 49ers offence is going to find holes in a troubled Seahawks defence, which might be plugged slightly by the possible return of Jamal Adams, but it still won't be enough to keep Kyle Shanahan's clever play design out of the end zone.
49ers 27 – 24 Seahawks
Sunday Night Football – Monday 1:20am UK
Dallas Cowboys @ Philadelphia Eagles
Divisional supremacy is the talk of this match-up, but not the kind that would see a team edge to 7-1 or 6-2. Instead, the two teams that will do battle on Sunday night have four wins between them, and both look more likely to lose than win. Two of the most injury-hit teams in the league do battle in a game that could go a long way to deciding the winner of the NFC East this year.
That said, Philadelphia comes into the game with the edge. After a last-gasp win versus New York Giants in Week 7, led by a Carson Wentz fourth quarter comeback – fast becoming his signature move – the Eagles look like they could be building a bit of momentum. Good performances against Pittsburgh and Baltimore led to them finally getting the W against a poor Giants side. While they hardly turned any head in doing so, 'Dallas week' is a different beast. Players will be fired up on both sides and I'm sure sparks will fly on Sunday night.
On the other hand, the Cowboys are in a miserable state. Dak is out for the season, Andy Dalton does not fill Dallas fans with any sort of confidence and they've lost about three whole offensive line's worth of starters. With the prospect of thrid-string QB Ben DiNucci having to lead the Cowboys on Sunday Night, there is little hope for a Cowboys offence that has one of the best receiving corps in the league.
To make matters worse, their bell-cow Ezekiel Elliot is having a down season by his standards. He only has 458 yards on the season and, in each of the last two games, has only had 12 carries. Cowboys fans would be used to Elliot putting up three-figure rushing yards in games, he has managed 1,300+ yards in every season aside from 2017 when he missed six games due to suspension. When Zeke struggles, Dallas struggles.
I expect the Eagles' defence to have a day against the Dallas offensive line. They have struggled against the pass-rush all season and with the rotational attack that Jim Schwartz likes to operate with, there will be sacks a-plenty. The Eagles are T-3rd for sacks this season, Brandon Graham will be looking to improve on his six so far whilst Josh Sweat should continue to impress. If they can get to DiNucci and force him to have to try and get the ball out quickly, that will force him to make mistakes and Philadelphia can hope to force turnovers.
Carson Wentz should continue to build on his momentum from last week and receivers such as Travis Fulgham and Greg Ward can benefit from that. With the return of first round pick Jalen Reagor and TE Dallas Goedert, Philadelphia is beginning to look a bit healthier in offensive weapons. With a Dallas defence that is allowing a QB rating of 106.7 (26th), Philadelphia should be able to rely on a passing game and add to the 16 TDs (T-28th) that Dallas has already given up this season.
---
Writer's Pick – Ste Tough
Stats, injures and records all go out the window for this one. It's Philadelphia vs Dallas. It's primetime. It's two teams looking to salvage what they can from a train wreck first half of the season. I think the Dallas secondary is just too weak and I expect Wentz to take advantage. While the Cowboys' pass rush could trouble the Eagles O-line, I don't think they'll have enough to win at The Linc.
Cowboys 13 – 31 Eagles
Monday Night Football, Tuesday 1.15am UK
Tampa Bay Buccaneers @ New York Giants
If there is any NFL franchise that could be described as having Tom Brady's number throughout his Hall of Fame career, it's the New York Giants. The 2020 version of Brady against the Giants looks a lot different than those past Super Bowls. Brady is in his first season with the Tampa Bay Buccaneers after leaving the Patriots this past offseason. The Giants are still rebuilding after Eli Manning's retirement. The visiting Bucs sit atop the NFC South heading into the game, while the Giants are at the bottom of the NFC East.
The Bucs are fresh from putting up 45 points on the Las Vegas Raiders last time out. Brady passed for 369 yards in that one as he continues to build an impressive chemistry with his new weapons. Scotty Miller has blown hot and cold on the season but put together his best game of the campaign, registering over 100 yards for the first time in his career. With Mike Evans, Chris Godwin and Antonio Brown now also on the depth chart, there is an argument to say this is the best receiver group Brady has ever had to work with.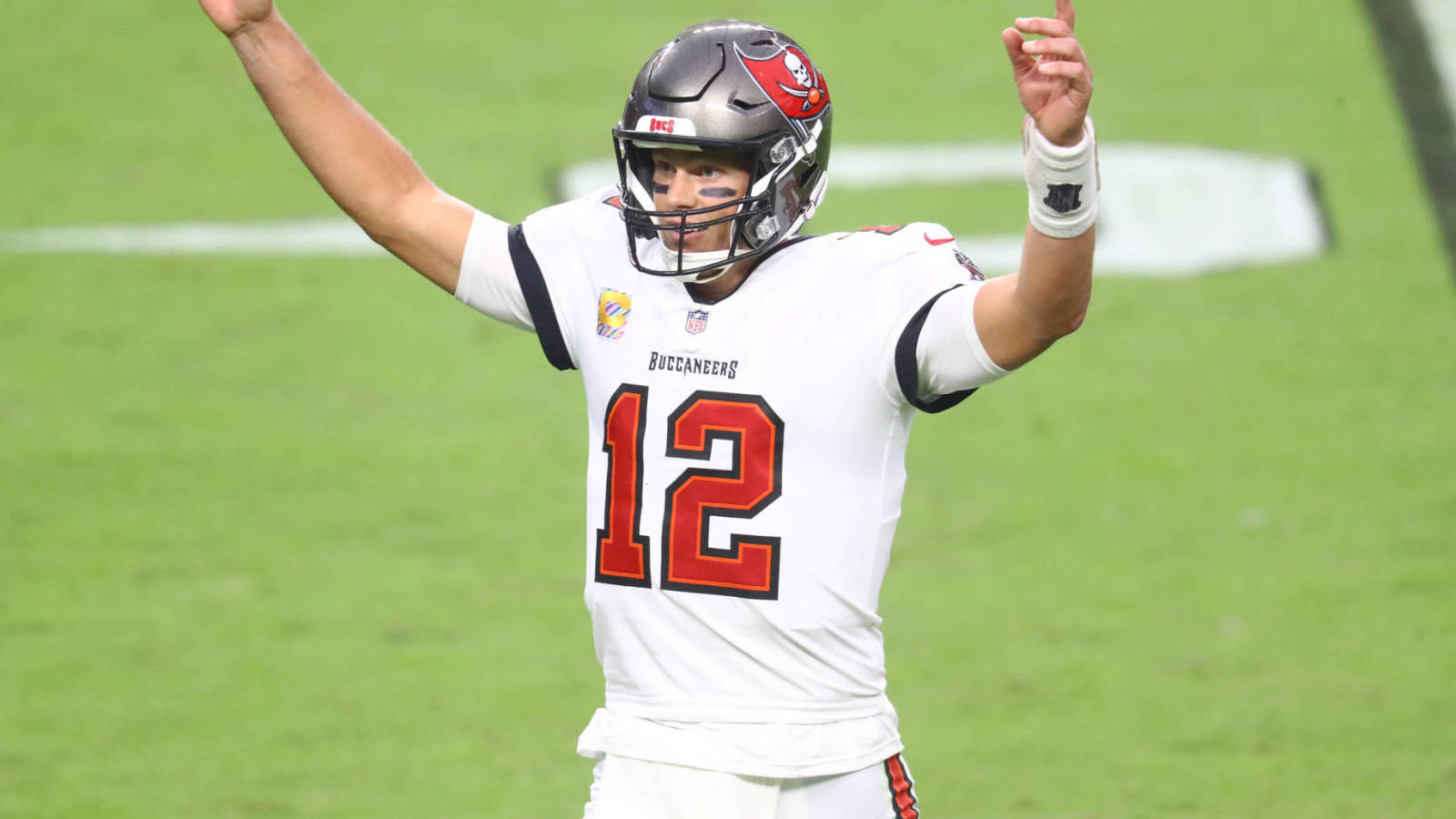 The backfield carries were split last week with the return from injury of Leonard Fournette. He has produced since his release from the Jags and teams with Ronald Jones to form a nice 1-2 punch. The tight end room comprises Gronk and Cameron Brate, and the offensive line has been playing at a high level. In a nutshell, the offence is good, and is getting better each week.
The real stars of this team however may well be the defence. They placed a franchise tag on 2019 NFL sack leader Shaquil Barrett and re-signed tackle Ndamukong Suh and linebacker Jason Pierre-Paul. The result: the Bucs have the No. 1 rushing defence, yielding an average 74.1 yards. They are second with 25 sacks and tied for third with 12 takeaways.
The emerging star of the group is linebacker Devin White. He was all over the field last week, recording three sacks in a dominant performance. Scarily for other teams though, he expressed in an interview this week that the Bucs only viewed that performance as average.
"Last week, (defensive coordinator) Todd Bowles said we played average. We played well enough to win, but we played average on defence," White said, reflecting on a 45-20 road win over the Raiders in which he had a career-best three sacks. "That's just another task that we've got to go out and prove to our coaching staff and ourselves that, Hey, we're going to hold ourselves to a standard. We've got to show up every time it's time to play."
The Giants come into this one off the back of a narrow divisional loss against the Eagles last Thursday night. It leaves the Giants with still just a solitary win on the season, which is seemingly creating more questions than answers in Joe Judge's first campaign.
The question regarding if Judge is the right hire will be debated later in the season. What is a more pressing question is if Daniel Jones is the answer behind centre. When he came into the lineup last year, he created a bit of a buzz following the drawn out removal of Eli Manning from the position. Yes there were turnovers, but Jones pushed the ball down the field and used his legs to create plays. This season he only has 1,410 yards through seven games. More worryingly, he only has five touchdowns against seven interceptions. He is averaging nearly 10 yards a carry on the ground but we all know about the running play he will now always be remembered for.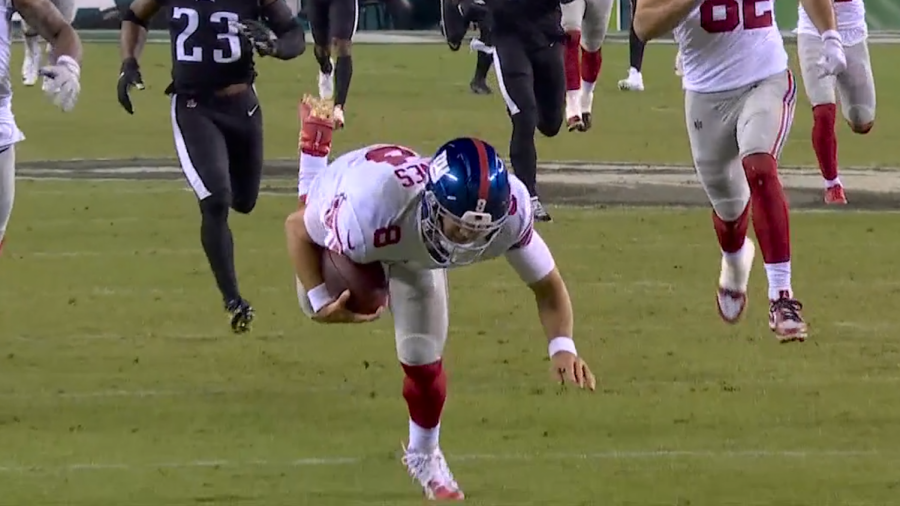 Devonta Freeman was brought in to replace Saquon Barkley following the injury sustained earlier in the season by the star player. Freeman has plodded along at 3.2 yards per carry and is essentially a non-factor through the air, catching just seven balls in five games. Evan Engram is also quickly becoming a forgotten man. The promising tight end has managed just 26 catches in seven games with a long of just 22 yards, and is yet to find the end zone so far this campaign.
Darius Slayton leads the wide receiver room but he has only been able to produce against inferior opposition. That doesn't bode well for this week and, with Sterling Sheppard seemingly always injured and Golden Tate on the back nine of his career, it is a group that is lacking punch. All of these skill player issues are potentially compounded further this week with O-line and COVID-19 issues. Will Hernandez was placed on the reserve list, so it may well be a patchwork line.
Defensively, the Giants have performed reasonably well, considering the lack of firepower on the other side of the ball. Blake Martinez is second in the NFL with 73 tackles on the season. The unit has managed 20 sacks in the passing game and have been stingy against the run. In fact their YPC average given up of just 3.7 is only bettered by five teams. Unfortunately for them, one of those teams is the Bucs.
---
Writers Pick – Shaun Blundell
For me, this is simple: the Bucs are far more talented than the Giants. These are two franchises headed in different directions. The Buccaneers are all in for a run at this season's Super Bowl, while the Giants are still forging a new identity and trying to do it this season without their star player in Barkley.
Brady has been on a tear the past month (NFC offensive player of the month winner) and I see no reason for that to change course here. The reconnection with Rob Gronkowski continues to blossom and there are just too many weapons to consider anything other than a blowout win for the Bucs.
Buccaneers 41 – 10 Giants
If you haven't done so, then please enter our listeners' league "Pick 'em" competition by visiting here or clicking on the logo. There is a chance to win a weekly prize, so it's never too late to join!