Every week, the Full 10 Yards NFL gang preview the games gracing our TV screens, giving you the lowdown on the big games each and every weekend. Make sure that you get involved in our "pick 'em" competition and check out our podcasts and other great articles too!
---
Sunday Early Sky Sports Game, 5.00pm
Pittsburgh Steelers @ Tennessee Titans
This Sunday will see two of the NFL's best teams face off, as the Pittsburgh Steelers travel down to Tennessee to face the Titans.
There isn't many ways to look at this match-up of two 5-0 franchise's that doesn't leave you thinking of a close score line, as the leagues premier rusher takes on one of the premier rush defences.
Derrick Henry has been in terrific form of late, and almost single-handedly led his Titans past the Houston Texans last week in a thrilling over-time win in which he rushed for 212 yards, including a 94-yard touchdown.
Quarterback Ryan Tannehill also performed remarkably with over 360-yards passing and four touchdowns, although both players performance will almost certainly take a hit following the news that stud left-tackle Taylor Lewan will be out for the year with a torn ACL.
Speaking of knee-injuries however, the Steelers vaunted defence also took a major setback in the form of an ACL tear for sophomore standout linebacker, Devin Bush, who has come on leaps and bounds since being drafted just 16 months ago.
As part of a ferocious unit, the Steelers rank second against the run, allowing just 66.2YPG, and even held Cleveland's Kareem Hunt to just 40 yards in the AFC North grudge match in Week 6.
For the Steelers, this is not the story of a lop sided defence. They have continued to produce a constant pass rush this season, with Bud Dupree and TJ Watt racking up 9.5 sacks between them.
On offence, the emergence of rookie wide-receiver Chase Claypool continues to impress with 74 yards on just four targets last week, as Mike Tomlin and the Pittsburgh front office continue to prove how well they draft receivers.
---
Writer
's Pick – Alex Lewis
Because of the major injuries on both sides of this game, its become a little harder to predict who will overcome the set-backs best. While Devin Bush plays a vital role in the heart of that Steelers defence, Derrick Henry's historically great running of the left side of the O-line has a lot to do with the now missing Taylor Lewan.
Overall I can only see this being close, but with Big Ben at quarterback and Mike Tomlin as Head-coach, I always trust in the Steelers to win these nip-and-tuck fixtures, so I'm picking the Steelers to beat the Titans by 21-17.
Sunday Late Sky Sports Game, 8:25pm UK
San Francisco 49ers @ New England Patriots
As has felt like the case since his arrival in the Bay, all eyes will be on Jimmy Garoppolo in this weekend's clash. Whilst the question marks from his skeptics will still be present, arguably more eye-catching will be the storyline between the 49ers QB and Bill Belichick.
As the dust settled on Garoppolo's trade saga to the Red and Gold back in October 2017, the rumours of Belichick's dissatisfaction with his heir-apparent to Brady being traded flooded out. Whilst this game certainly doesn't determine whether such a response was warranted or who won the trade, with both teams reaching a Superbowl since then, it certainly won't silence Garoppolo homecoming narratives.
In terms of the Garoppolo led visiting team, the 3-3 9ers are a difficult team to gauge. One week it is reminiscent of the form that took them to a 13-3 record in the previous season, and then the very next week Niner Faithful will be transported back to the previous 5 years. The analogy of night and day is rarely as accurate with any team as it has been with the 49ers team this season, although injury has played a decisive role in this.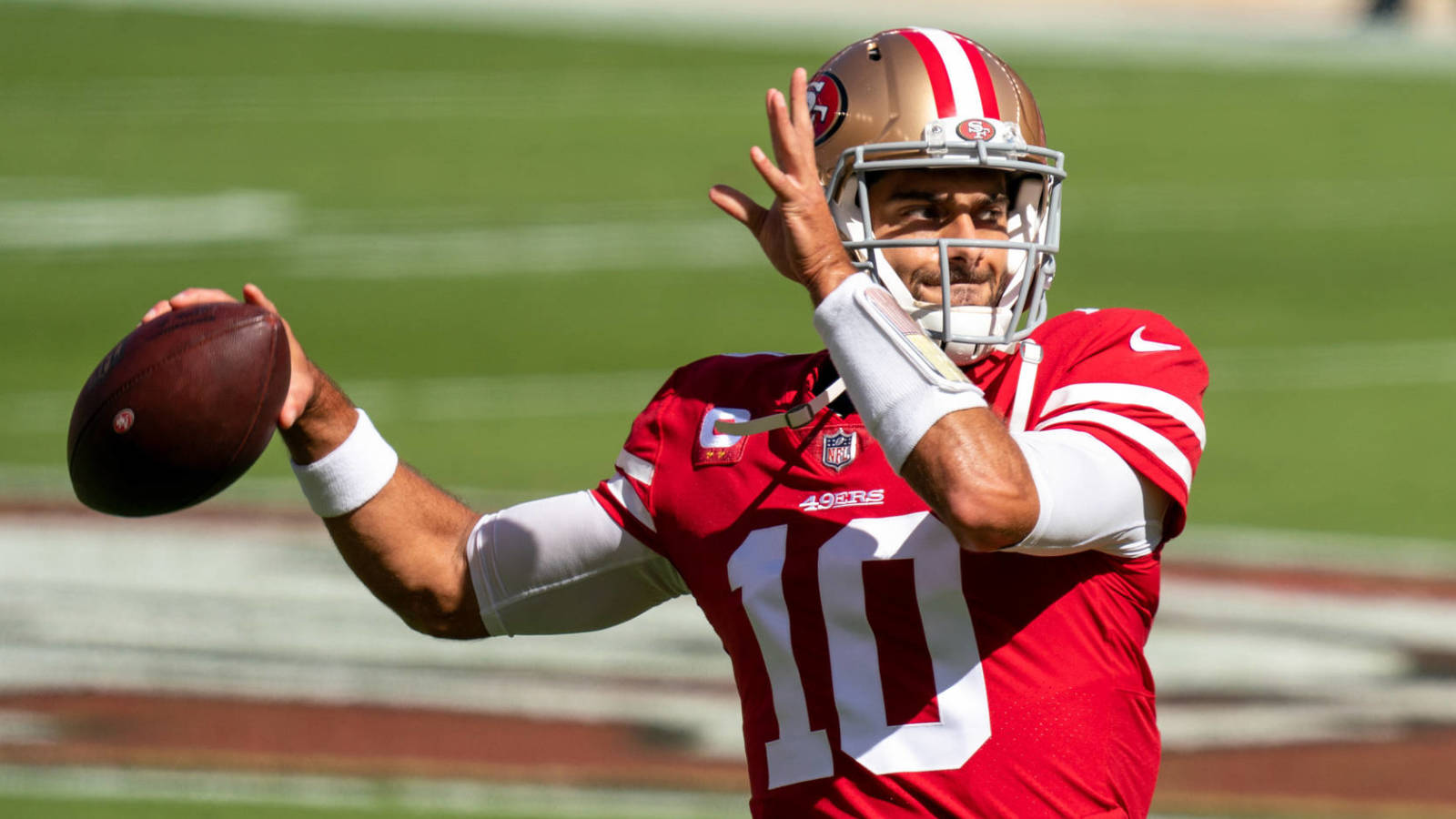 In the previous week's win over the LA Rams, we experienced 2019 form. As promised, Garopollo was key. Despite being benched in his first game back since injury, Jimmy G threw for 268 yards, with 3TDs and a passer rating of 124.3.
In large part, this passing success was thanks to the key receivers TE George Kittle and WR Deebo Samuel. In this instance Kittle resumed the role as the tip of the spear, gaining 15.6 yards per reception and a TD, whilst Samuel also got himself a TD and 11 yards per reception on the night.
Continuing with the analogies, however, the seesaw was in full effect in terms of rushing proficiency for the 49ers. Despite Shannahan's tricky scheming making his team one of the most effective at rushing in the NFL, ranking 10th overall this season, they could only muster 3.3 yards per carry on 37 carries against the Rams.
On the flip side of the coin, the focus for New England will be defense. Again in a return to 2019 form, the Pats passing defense looked dominant versus a not very prolific Denver Broncos team. The New England defense was able to hold QB Drew Lock to a measly passer rating of 34.9 as they picked him off twice. Another positive sign for Belichick was their ability to hold the Broncos to under 4 yards per carry when rushing.
The one constant, unfortunately for Pats fans, is in terms of offense. The promising performance displayed against the Miami Dolphins feels like a long time ago for the Cam Newton led offense.
Although the QB personally rushed well against the Broncos, not much else can be said of the offensive capabilities. Cam led the Pats in rushing with roughly 75 yards total, but aside from that, as a team the Pats merely rushed for 41 yards. And passing wise it isn't much more exciting. Whilst Cam can take solace in his completion rate of nearly 70%, the 2INTs and passer rating of 51.6 certainly won't inspire confidence.
---
Writers Pick – Richard O'Brien
Ultimately, the game will be decided by which 49ers team travels to New England. If the Dr Jekyll-esque 49ers play, then this could be a long game for the Pats. Alternatively, I can envision a scenario in which a 49ers team reminiscent of Mr Hyde makes an appearance and Garappolo is stifled.
Given I can truly see any outcome, I think the safest prediction therefore has to be a close 20-17 win for San Francisco. But if the Pats are to win, and I think chances are somewhat limited due to their inefficiency in the air, pressure has to be put on Garoppolo to win the game without his primary receivers.
Sunday Night Football – Monday 12:20am UK
Seattle Seahawks @ Arizona Cardinals
A reshuffling of the schedule sees the mouthwatering NFC West clash between the 4-2 Cardinals and rested bye-week rested 5-0 Seahawks.
These two teams are closely matched through history with Seattle having just the one win more in the all time series. The two teams split the spoils last season and this one is probably more important to the Cardinals than the Hawks.
Current clubhouse leader for the MVP race, Russell Wilson will look to cook some more and his 4th ranked pass offence in terms of yardage go up against a Cardinals defence better than average against the pass. Wilson has had his difficulties against this Cardinals team through the air and has not posted more than 250 passing yards twice in the 16 games he's played against them. That being said, the Cardinals have not won a home game vs SEA since Russell Wilson's first NFL start (Week 1, 2012).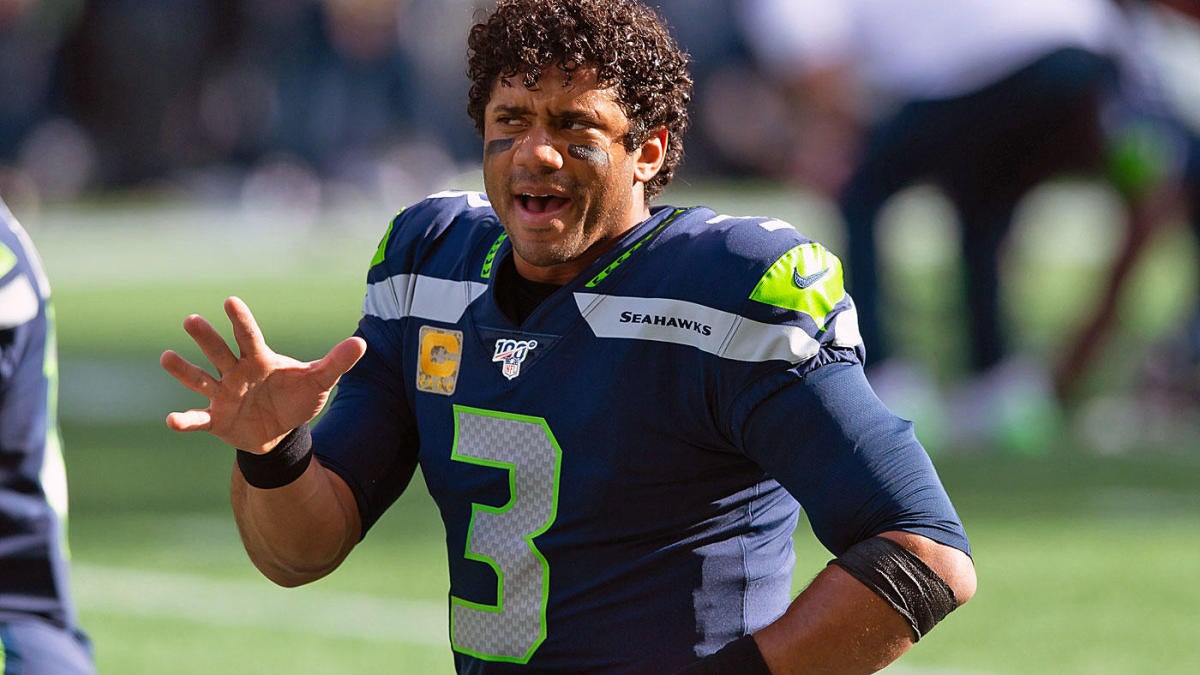 Favourite targets Tyler Lockett and DK Metcalf will look to continue their good seasons, combining for approximately 55% of Wilson's yardage thus far and 9 of his 19 TD throws. They'll look to become only the 2nd player in the Russell Wilson era to have a 100+yard receiving game against the Cardinals (Doug Baldwin shoutout).
To complement that, RB Chris Carson who has 6 total touchdowns this season has provided a potent outlet for Russ both on the ground and through the air. He has enjoyed good games against the Cardinals previously and will look to do so again.
They'll have to overcome a defence that is decimated to injury and the worst ranked team in terms of pass yards given up, and that's with a week off. It seems as though star acquisition Jamal Adams is unlikely to go in this one after missing the past few weeks with a groin injury and 1st round pick Jordyn Brooks is declared out.
Some could argue that this is the Seahawks stiffest test to date and it's hard to ascertain what has been achieved in their wins against Dallas, Atlanta, Miami and Minnesota, with the latter being slightly fortunate in that the Vikings went for the win and got their fingers burned despite giving the Seahawks all they could handle.
Their biggest win to date was at home vs New England when Cam failed from the 1 yards line so you could summise that we don't actually know how good Seattle are yet. 4 divisional games in the next 5 await and after Week 10's game vs the Rams, we will know whether the Seahawks have a legit shot at the all important #1 overall seed this year.
The Cardinals bounced back against a hapless Cowboys team, taking care of business from the outset and never looking back.
They padded their stats somewhat with some long plays from Kenyan Drake and Christian Kirk which they'll hope to repeat against a similarly porous defence but shouldn't be something they rely on.
They'll be glad to have gotten a convincing win under their belts after previous poor performances against Carolina and Detroit.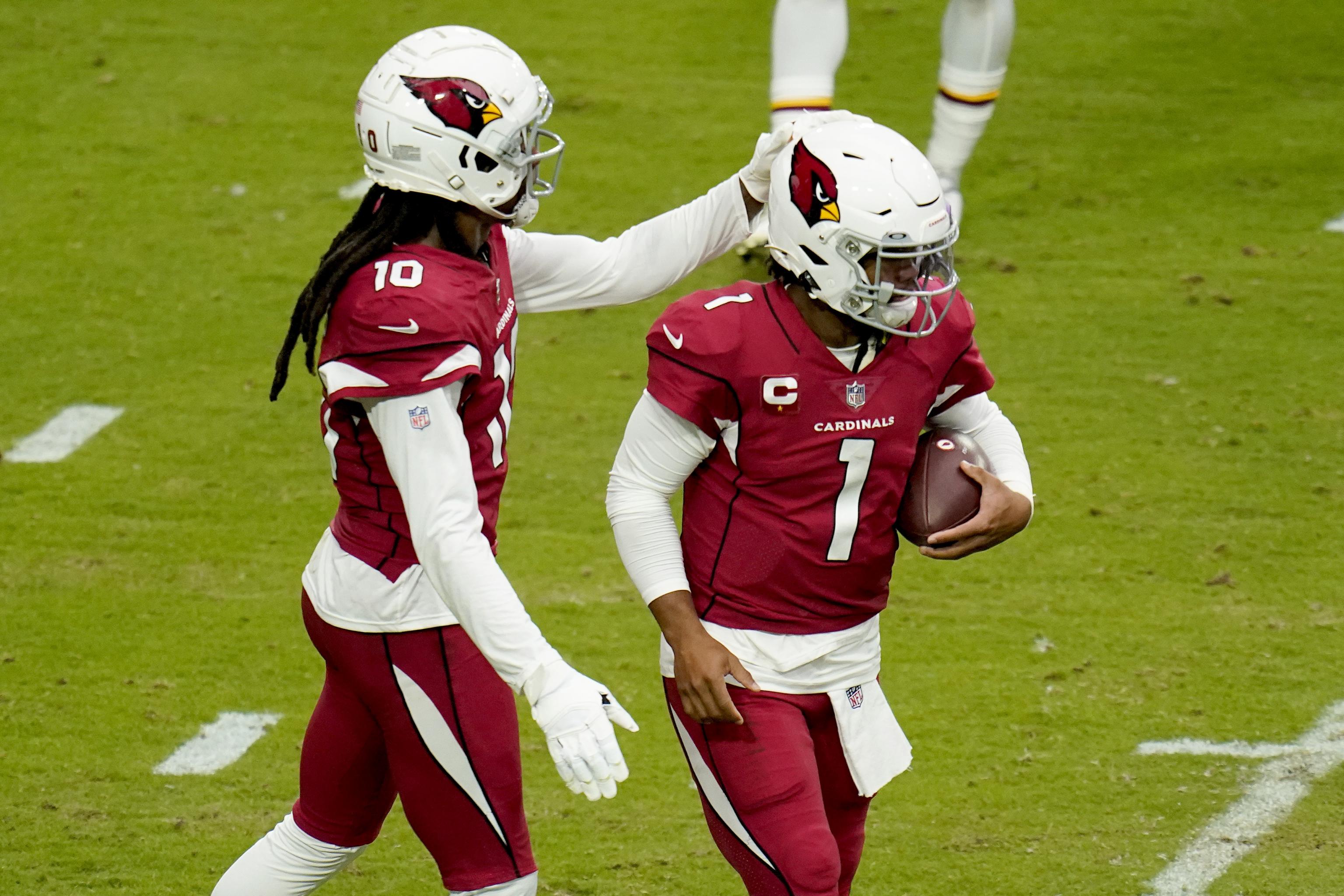 Star signing DeAndre Hopkins will look to improve on his 2 catches from last week and increase his current touchdown tally of 2. Despite his lack of stat sheet building last week, he still finds himself having more than double the targets, receptions and 250% more receiving yards that the next WR in Arizona and is on pace to set career highs in yards and receptions.
He'll be hoping for a win too as the Seahawks are not a team he has ever beaten in his time with the Texans from 2 tries and had mixed fortunes personally in those games too.
On the defensive side of the ball, they were able to cope without DE Chandler Jones against Dallas and the Cardinals will be hoping that Baker and Reddick can replicate their solo performances.
---
Writer's Pick
Arizona are 3 point underdogs at home and will have to be on top of their game to keep the pace with the trailblazing Russell Wilson and co.
There should be plenty of points as both defences are the submissive units for both teams, which the total points line of 56 indicates.
If the bye week hasn't stuttered the Seahawks, they should take the win and cover the handicap, but the NFC West is a funny division and each team plays each other hard. A win for the Seahawks puts them firmly in control of the division, but also the NFC's #1 seed. This game goes over the total if Arizona can continue to the momentum building from last week but the Seahawks haven't lost after a bye since 2015, but that was to the Cardinals.
Another fun fact: Teams with 5 or fewer days of rest (days between games) are 32-17 vs teams with 10+ days of rest since 1990 (modern bye week era).
Expect points and fireworks as we head into Halloween week.
Monday Night Football, Tuesday 12.15am UK
Chicago Bears @ Los Angeles Rams
Yay! The Bears visit the Rams for a slice of Monday Night Football, under the bright lights of the shiny new SoFi Stadium. So are we excited, people? Are we staying up in anticipation of a high-scoring, offensive masterclass between two teams with a combined 9-3 record?
Errr, no. We are not.
The 5-1 Bears have beaten the Lions, Giants and Falcons (no great shakes) but they've also seen off the Buccaneers and last week, won 23-16 in Carolina. Once again, it was more about their defensive strengths than any offensive potency. They were held to 261 total yards, they couldn't run the ball (David Montgomery only managed 58 yards on 19 carries) and Nick Foles was nowt more than adequate, with 198 passing yards and a score, plus a one-yard rushing TD (as well as a pick). It helps that WR Allen Robinson ranks eighth in the league with 474 receiving yards – pretty impressive, all things considered – but even he was the only guy to exceed 40 yards against Carolina.
However, that seems to be enough to win when your defence plays lights-out football. Last week, they held the improving Panthers (on a three-game winning streak) to 303 total yards; they also had two interceptions, a fumble recovery and four sacks, and stuffed 10 third-down attempts. Khalil Mack has 4.5 sacks and leads a unit that has given up fewer than 20 points on four occasions.
Based on how sluggishly they're going about their business (they only have a +12 points difference), Chicago are not earning our undying respect and admiration. Still, they head west with a 3-0 on-the-road record and the last time they had that, back in 2006, they went to the Super Bowl. Just sayin'…
Nipping across the state to visit their neighbours San Francisco on Sunday, the favoured Rams (4-2) went down 24-16 to the injury-hit 49ers, and their offensive performance mirrored the Bears in everything bar the result. I know Halloween isn't till next Friday but it's spooky that Jared Goff matched Foles exactly with 198 passing yards, 2 TDs and 1 INT.
Finishing with a 50% completion rate (19-of-38), he missed his receivers all night – Cooper Kupp caught only three of his nine targets, and couldn't haul in a potential TD, while Robert Woods went four from 10 – and threw a costly interception on fourth-and-goal. The Rams had the ball for just 22 minutes and their run game was limited to just over 100 yards, with rookie Cam Akers going unused.
On the other side of the ball, they weren't as potent as Chicago. They logged no sacks on Jimmy G and Aaron Donald (who's hoping to reach 80 sacks in what will be his 100th game on Monday) was all but snuffed out, getting just one QB hit. We should also remember that all four of LA's wins have come against the pitiful quartet that make up the NFC East (who have as many wins as Chicago combined) so we don't really know how good they are.
---
Writer's Pick – Sean Tyler
Despite their limitations, this match-up could shape the NFC playoff seedings. These two teams are unlikely to walk away with any divisional titles, despite the Bears currently leading the NFC North, but the extra Wild Card berth gives them both a decent shot at the postseason.
Not much seems to have changed since these two last met, in Week 11 of 2019. The Rams won that one 17-7, when neither team could muster 300 yards of total offence. Goff threw for 173 yards and an INT, while Mitchell Trubisky only managed 190 yards – and a pick, naturally – before he was hooked off the field in favour of Chase Daniel.
This feels like it's going to be another attritional, defensive battle with very little run game and no aerial fireworks. Not what you'd expect from two teams in and around the top 10 of most power rankings but hey, it is what it is. The Rams are –6.5 favourites with several odds-makers but Goff's career stats against the Bears (176.5 yards per game, 50% completion rate, 0 TDs, 5 INTs) don't inspire confidence. Based on that, and the strength of their D, I think the Bears have just enough to return to the Windy City with another hard-fought road win, sneaking it 17-14.
If you haven't done so, then please enter our listeners' league "Pick 'em" competition by visiting here or clicking on the logo. There is a chance to win a weekly prize, so it's never too late to join!