Every week, the Full 10 Yards NFL gang preview the games gracing our TV screens, giving you the lowdown on the big games each and every weekend. Make sure that you get involved in our "pick 'em" competition and check out our podcasts and other great articles too!
---
Sunday Early Sky Sports Game, 6.00pm
Cleveland Browns @ Pittsburgh Steelers
When is a rivalry not really a rivalry? When one side is so dominant that the game usually fades into insignificance. Since drafting Ben Roethlisberger in 2004, the Steelers are 25-3-1 against the Browns and a perfect 15-0 at Heinz Field. This Browns team feels different though, and both sides head into this one with four wins. The Steelers are yet to taste defeat and the Browns are unbeaten since a Week 1 defeat to Baltimore.
The Steelers' success has primarily been built off the back of a dominant defence and in particular, a pass-rushing unit that seemingly spends as much time in the backfield as their opponents' running back. Bud Dupree and TJ Watt are as fearsome a pairing of linebackers coming off the edge in the game, and Watt especially loves playing against Cleveland. In his three-year career, he has notched nine sacks against the Browns.
On the back end, former Brown Joe Haden is a leader in the secondary along with trade acquisition from a year ago, Minkah Fitzpatrick. The impact that Fitzpatrick had last year has not been as noticeable to begin this campaign. It all comes back to the pass rush however, which is getting home at a league-leading pace. Twenty sacks through just four games is allowing the secondary to take a bit of a back seat.
Offensively, it's been a little more sluggish. With that said, Chase Claypool announced himself on the NFL stage last week. Through the opening three contests, he was probably best remembered for hauling in the longest play from scrimmage this season, with an 86-yard touchdown. Against the Eagles, however, Claypool exploded for three receiving touchdowns and added a rushing TD for good measure.
James Conner has cemented his place as the lead back after missing a game earlier in the campaign. He will be backed up again by Benny Snell who filled in admirably in Conner's absence. In terms of yards per game, the Steelers rank 8th in rushing. Outside of the previously mentioned Claypool, look for JuJu Smith-Schuster and Diontae Johnson to be the main receiving threats. The Steelers rank 19th in passing in terms of yards per game.
The Browns' offensive gameplan is a lot more lopsided and favours the run. Cleveland has over 200 more rushing yards than anyone else in the league. They have managed this despite facing two of the top 5 ranked teams defensively against the rush; in other words, this attack is legit. Regardless of whether it's Nick Chubb, Kareem Hunt, D'Ernest Johnson or Dontrell Hilliard in the backfield, the chains are consistently being moved. Hunt will again be the lead back in this one with Chubb on IR.
Baker Mayfield had his best first half as a Brown last week. He torched the Colts secondary, particularly when using bootlegs and roll outs. His receivers helped with some tough grabs from Austin Hooper and OBJ, along with big gains to Jarvis Landry. His second half, however, was equally as bad as his first half was good. He completed as many passes as he threw interceptions with two of each. If anyone can shut the Browns' run game down, Baker is yet to convince that he can win the game with his arm consistently.
Defensively, the Browns produced their best effort of the season last week to shut down the Colts. Ignoring a kick return, the Colts offence managed just 16 points last week. That brought the Browns season average down to conceding 29.8 points per game, which shows just how porous they have been up to that point. The secondary and linebackers are opportunistic and outside of Denzel Ward, they lack a real difference maker.
All eyes of course will be on the Browns defensive difference maker, Myles Garrett. The last time he faced the Steelers, there was that infamous incident with Mason Rudolph's helmet. That lead to a suspension, which ultimately cost him the remainder of the 2019 season and having to apply for reinstatement into the league. It's safe to say that he is making up for lost time at the beginning of the 2020 season.
He has already forced more turnovers by pressure through five games than the league-leading mark from a season ago. It was he that forced the safety against the Colts last week for his seventh forced turnover. He has six sacks on the season and a league-leading three forced fumbles. Cleveland should welcome back Larry Ogunjobi this week and, along with Sheldon Richardson, Olivier Vernon and Garrett, the Browns front four is a solid unit.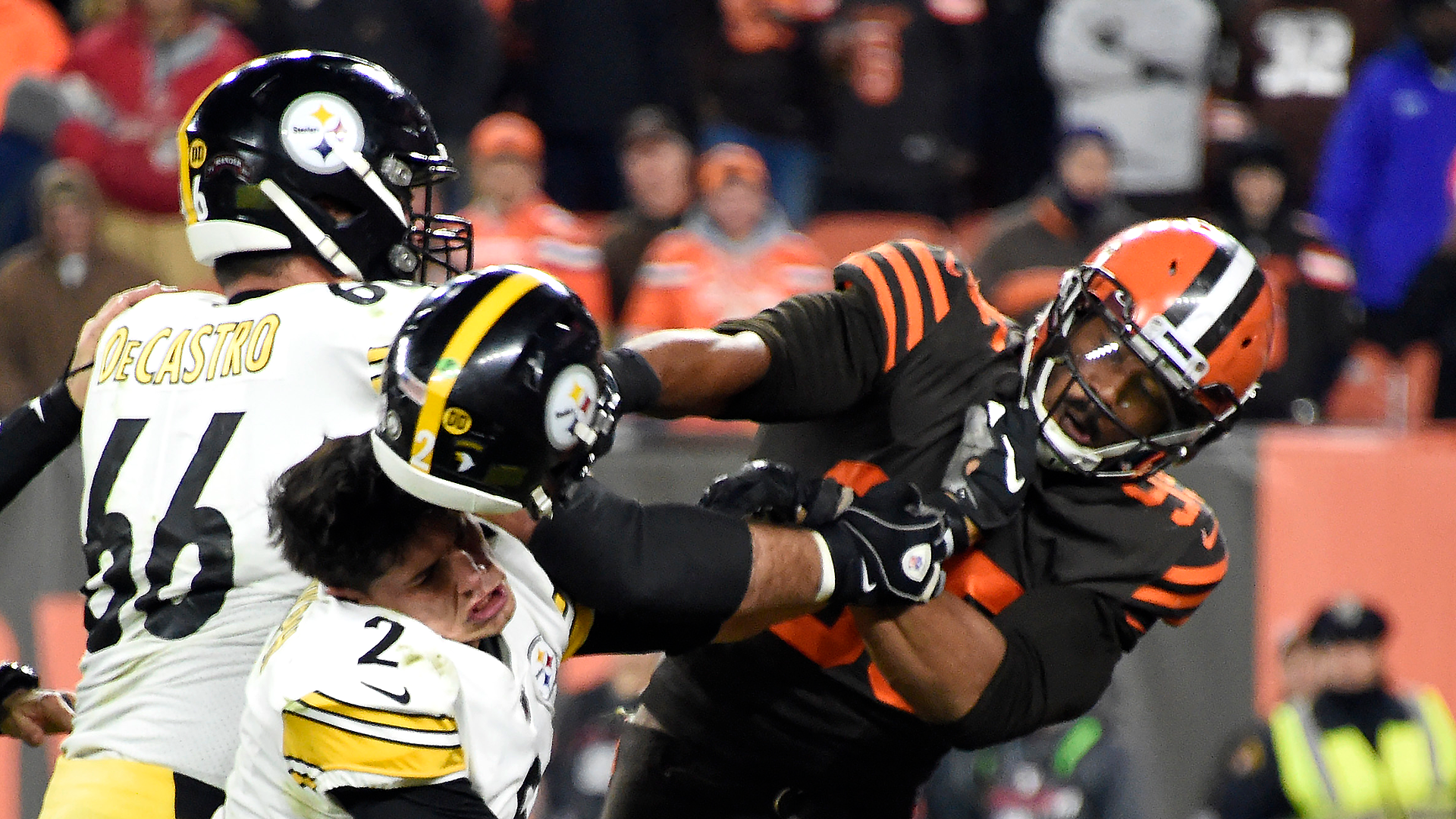 Writer's pick – Shaun Blundell
These are two red-hot teams coming in and it's great that this fierce rivalry actually has a meaningful game within it for the first time in forever. The Steelers' wins have come against slightly weaker opposition than the Browns have faced but you can only beat what is put in front of you. The Browns have improved week to week and have dominated everyone they have faced on the ground. For me, it may be a little bit of heart ruling the head but don't begrudge me a little bit of optimism when the Browns are looking good for a change. Steelers 17, Browns 20
Sunday Late Sky Sports Game, 9:25pm UK
Green Bay Packers @ Tampa Bay Buccaneers
One of the top clashes in Week 6 brings together two teams with a lot more in common than having 'Bay' in their names. Both should be rested after a long week (Buccaneers) and a bye (Packers), both have elite quarterbacks and second-year head coaches, and both are sitting on records above .500. But while the hosts (3-2) have looked a little unsteady of late, especially in their error-filled defeat to the Bears last Thursday, the 4-0 Packers are probably ruing the lost momentum from not playing last week.
Six-time Super Bowl winner Tom Brady has a 12 TD:4 INT ratio after five games in Tampa, which is steady but hardly stellar. His ol' mucker Rob Gronkowski has started slowly too, with just 12 receptions, and fellow tight end OJ Howard is out for the season. But all is not lost on offence. WR Mike Evans is the lead gunner in the NFL (along with Adam Thielen) with six touchdown receptions while Ronald Jones has rushed for 100+ yards in consecutive games. Wideout Chris Godwin should be good to go after a hamstring injury, and RBs Leonard Fournette and LeSean McCoy both returned to practice too. Hold on Tom, the cavalry are coming!
Even with TB12 in the camp, Tampa's second-ranked defence is arguably the team's strength. With 17 sacks and nine takeaways, they have a top pass rush and are stout against the run. Linebacker duo Lavonte David and Devin White have combined for 79 tackles and the team is second in yards allowed. Rookie defensive back Antoine Winfield Jr has also had a solid start with 30 tackles, two sacks and three pass break-ups.
As for their opponents, Green Bay start a run of three road trips riding a winning streak of nine regular-season games and sitting on a +51 points difference (second only to the Ravens). The team's four victories to date have been impressive, scoring at least 30 points each time without turning the ball over.
Franchise QB Aaron Rodgers is clocking up 295 passing yards per game and has 13 TDs to his name (both third in the league) without an interception. While he's being patient and careful when the opportunities aren't there, Rodgers has found ways to connect with the likes of Allen Lazard and, since his injury, new secret weapon Robert Tonyan.
The TE has corralled five TDs from just 13 receptions, including three against the Falcons in Week 4, and is only one behind the league leaders in receiving scores. Despite #85 filling in ably, getting WR1 Davante Adams back from a hamstring injury could prove crucial for the Cheeseheads' aerial attack.
Then there's the other Aaron, Mr Jones, who's third in the league with 93.5 yards per game on the ground and fifth for total rushing yards (374). He's also rumbled in for four touchdowns in the last three games and on track for a 1,500-yard season so he's a big threat to any D, even Tampa's.
Elsewhere, they lead the NFL in sacks allowed (just three), Za'Darius Smith has five sacks under his belt already and Mason Crosby has been 100% on field goals. In short, while some teams look undercooked after a restricted preseason, the Packers are on fire acros the board.
Writer's pick – Sean Tyler
While the Packers have triumphed over Tampa in their last three meetings, this isn't an easy one to call. The Bucs are unbeaten in the Raymond James Stadium and there will be fans present to give them a bit of home-field advantage. On the flipside, Green Bay are one of only two unbeaten teams in the NFC and nearly two-thirds of their drives produce points. They'll be fresh after a week off and you can add the Buccaneers' penchant for conceding costly penalties (42 for 410 yards) into the mix too. So, while many pundits have plumped for the hosts, I'm leaning towards Green Bay to edge it 28-24.
Sunday Night Football – Monday 1:20am UK
Los Angeles Rams @ San Francisco 49ers
When the reigning NFC champions, the San Francisco 49ers, lost second-year stud DE Nick Bosa to injury in the early part of this season, all the way across the pond, you could hear the air coming out of red and gold balloons in the West Coast.
The Niners (2-3) have mustered two wins, but they were against the rotten Big Apple teams (the 0-5 Jets and Giants).
In stark contrast, the LA Rams (4-1) are moving through the gears in their Aaron Donald-branded muscle car. The impressive record, if scrutinised, is a tad misleading though, as all four victories have come against the NFC (L)East.
The first real test the Rams had, against the Buffalo Bills, saw their first loss, after some late Josh Allen heroics put a blemish in LA's undefeated record.
The five-time Super Bowl champion 49ers lead the series 71-67-3. Going back to 2019, the 49ers swept the series, but it took a Robbie Gould field goal as time expired for San Francisco to gain the W at home. In 2018, the Rams did the double on the 49ers, CJ Beathard and Nick Mullens combining for five interceptions in the two losses.
Talking of 49ers QBs, it's a little messy behind C in San Francisco. Coming back from injury in Week 5, starter Jimmy Garoppolo looked dreadful against the Dolphins and was pulled in favour of CJ Beathard at the half. Three different QBs have now played, all posting ratings between 87 and 90.
The Niners' offensive line, led by former Washington LT Trent Williams and road-grader Mike McGlinchey, are having trouble adjusting to the nuances of all three signal-callers, never quite knowing who is taking the snaps.
The injury bug that has seen a QB carousel has waltzed over to the RB and WR positions too. 2019 playoff hero RB Raheem Mostert has only suited up for three games this season, but when he does, boy is he making an impact. He currently averages seven yards a carry, and has two of the longest and fastest touchdowns of the season.
49ers WRs have combined for an abysmal one touchdown, as the catching superstar on the team remains TE George Kittle. He leads the team in targets, catches and yards per game, despite not playing every game.
The Rams' QB Jared Goff is looking good so far, with over 1,350 yards passing, almost a 72% completion rate and 8 TDs, keeping picks down to three.
The run game is not fun for fantasy owners, but their depth is a strength, with Darrell Henderson pacing the Rams with 260 yards and three scores. The starting WR combo of Robert Woods and Cooper Kupp is one of the best tandems in the NFL, and may be the most underrated. They have combined for just under 70 catches and 700 yards to date. TE is another strength for the Rams, with Tyler Higbee and Gerald Everett both able to explode during any game.
If we are going to talk about strength, we cannot go any further without mentioning, hands-down, the strongest player in the NFL. Rams DT Aaron Donald is scaring the living daylights out of opposing team's offensive coordinators, before, during and after Halloween. Donald has 7.5 sacks and 8.5 tackles for loss in five games, and projecting that out, he could set the single-season sack record (22.5 by Michael Strahan). Donald will first set his sights on the DT season sack record of 18, set by the Vikings' Keith Millard in 1989.
Writer's pick – Lawrence Vos
On paper, this looks a relatively straightforward win for the Rams, who are a lot healthier, and they boast the best defensive player to have suited up in the last decade. Where it gets complicated is that this is a divisional rivalry game that goes back 70 years between two teams located in the same state. In some respect, form goes out the window and the intensity of the game is ramped up.
The 49ers will want Jimmy Garoppolo to be back leading the team he took to within a quarter of winning a Super Bowl, but he may not be fully recovered from his ankle injury. CJ Beathard will be suited and booted from the kick-off. Let's just hope Jimmy G does not suffer the same fate as the last starting QB that faced the Rams. Last week, Rams safety Jalen Ramsey almost knocked Washington's QB Kyle Allen into November.
This game has a recent history of being a shootout, and I forecast a lot of points, with the Rams winning by seven: 31-24.
Monday Night Football, Monday 10.00pm UK
Kansas City Chiefs @ Buffalo Bills
A week ago, this hastily rearranged slice of MAF (Monday Afternoon Football, given its local start time of 4pm) would've been a clash between two undefeated teams. The Bills and Chiefs were both 4-0 and sitting pretty on top of their respective divisions. They still lead the AFC East and West, but chinks are starting to show in their armour after last week's losses.
The early Sunday games last week included a humdinger between Kansas and Las Vegas, in which Derek Carr went toe to toe with Patrick Mahomes and won the shootout. The Raiders' 40-32 win was one of the most impressive displays so far this season, considering the Chiefs haven't given up more than 20 points in their other outings and the Raiders started as 11-point 'dogs with the bookies.
As for the Bills, they've been mucked about by the rescheduling associated with positive COVID tests in other teams, and ended up playing one of them – the Tennessee Titans – in a rare-as-hens-teeth Tuesday night game. Whether the change of schedule ruined their prep or the lengthy layoff rejuvenated the Titans, it's hard to say, but the Bills were humbled 42-16. They were a shadow of their former selves, with penalties, defensive errors, turnovers and a hint of the inaccuracy that plagued Josh Allen's earlier career.
So who will bounce back to winning ways?
As many predicted, the Bills are currently on course to oust the Patriots as the perennial champs of their division. One key to that has been the emergence of QB Josh Allen, one of the unexpected success stories of the campaign so far. Admittedly, he didn't have the best of nights in Nashville, with two of his three interceptions to date but even so, with 1,589 yards (second in the league), 14 TDs (second) and a passer rating of 113 (fourth), he's currently ahead of Patrick Mahomes on nearly every measure.
Maybe the other difference this year has been the arrival of former Vikings WR Stefon Diggs, whose 509 receiving yards puts him second to only DeAndre Hopkins. If Allen can find him on down-the-field bombs, they could enjoy the same success that Carr did last week. The Chiefs are poor against the run (29th in the league, conceding 157 rushing yards per game) but Devin Singletary and co. have only outrushed four other teams, so there's little to fear there. Buffalo's is a pass-happy attack but likewise, Kansas are stronger in pass defence.
As for the Bills' defence, they got torched by Ryan Tannehill and have struggled against the pass in recent outings, despite it being a strength last year. To their credit, they did keep human tank Derrick Henry in check on the ground but without a number of defensive starters, they still let Tennessee get a TD all six times they got into the red zone. That's a bit worrying…
Turning to KC, a loss was overdue – as reigning Super Bowl champions, they haven't tasted defeat for almost a year – but the manner of it was concerning for Chiefs fans. Mahomes' worst performance this year saw him having to run and improvise a lot, and his first interception of the campaign was an inevitability, given the pressure he faced all night. He missed almost half his passes but one can only assume it was just one of those games. At least Buffalo's 29th-ranked pass defence gives him a decent shot at redemption.
While Tyreek Hill (364 yards, 1 TD in each of his last four games) is a dangerous weapon, the Bills will also need stop the Chiefs' main point of attack through the air, tight end Travis Kelce – the only non-wideout in the top 10 for receiving yards (405). KC don't rely a lot on the run game but Clyde Edwards-Hilaire's 344 yards still makes him a top 10 RB, so he can't be ignored.
Defensively, Kansas have just coughed up almost 500 yards of total offence, including 346 through the air, so playing the team with the second-ranked passing game (308 YPG) is probably not what the doctor ordered for their post-loss recuperation. Having Anthony Hitchens, who leads the defence with 37 tackles, listed is questionable due to a hand injury isn't great news either.
Writer's pick – Sean Tyler
It's hard to hard to separate two attack-minded teams coming off their first defeats but one will be looking at 4-2 when the dust settles. The deciding factor could be the Bills' wobbly pass defence coming up against a Mahomes-led attack with a point to prove. They got roasted by the Titans' Jonnu Smith last time out (2 TDs from five catches) and now they face the best TE in the league.
The odds I've seen make KC the slight favourites and, given that they've also had a couple of extra days to prepare, I think they'll prove a little too strong for their hosts. Put me down for the Chiefs to leave Orchard Park with a W, maybe in the region of 30-24.
Monday Night Football, Tuesday 1:15am UK
Arizona Cardinals @ Dallas Cowboys
These two teams have a lot of questions to answer. Let's start with the home team who will be missing their franchise QB Dak Prescott, on pace for a record-setting season before his season-ending ankle injury last week.
In comes Andy Dalton, who was signed in the offseason for this exact reason. The Red Rifle is one of the best back-ups in the league and, when shaking off a bit of rust when entering the game last week, he captained a stellar drive including a few beauties to Michael Gallup to set up a game-winning FG. He also overcame an early botched snap that saw the Giants take command of that game. With a week dedicated with him being the starter, expect to see a decent performance from Dalton. He is by no means in the same stratosphere as Dak Prescott, but he is far from a scraping-the-barrel replacement either.
The problem for the Dalton and the offence is what it has always been this season: a heavily leaking defence. Leighton Vander Esch is not too far from coming back but he will not be able to paper over the multitude of cracks on this side of the ball, which has given up the most points and the 27th most yards through five weeks. (This is probably flattering them considering the short fields teams have had due to the miscues on offence!).
DC Mike Nolan has come under a lot of fire and rightly so, but you can only do so much when you have a decimation of bodies. The attrition was added to last week with DT Trysten Hill going on the treatment table and out for the season. Aldon Smith, a rare bright spot on the defence with four sacks so far this season. To his credit, he has not missed a beat since coming back into the league but he will need to continue to be at his disruptive best.
To the visiting Cardinals then, who have had a bumpy ride to start the season. They had emphatic performances against the 49ers and Washington though, with the former looking as though they are a struggling outfit this season, it's probably not a form line to take as read. Surprise defeats against the Lions and the Panthers ensued, taking them to .500 before a customary win against the hapless Jets.
So how good are the Cardinals? Statistically, they are around the average mark on both sides of the ball in most common metrics but are top 5 in terms of points allowed on defence (though they have just played the Jets).
They are a balanced team with 181 pass attempts thus far compared to 148 rushes. The versatility of the offence is a plus and the players fit well to the scheme including Nuk Hopkins, who has settled in like a duck to water.
Perhaps the pressure of expectation was partly to blame for the two underwhelming defeats or maybe getting too cute in game-planning is at fault. The Cardinals deserve to be in both the Divisional and Wild Card conversations but this game is a must-win for Kliff and co. if they are to keep pace in a tricky division.
What can we expect from the game? Expect Dallas to revert a bit more to the run game and through Ezekiel Elliot, who bundled himself into the end zone twice last week. He's been quiet thus far though, with only 364 rushing yards, but has 173 through the air and has uncharacteristically put the ball on the ground three times.
McCarthy and Kellen Moore will need to get a bit creative on rushing, and try to avoid becoming too predictable on early downs. The Dallas defence will need to continue to be plucky and enforce a 'bend but don't break' ethos.
It remains to be seen if the WR core can produce as well as they have been doing thus far, including rookie CeeDee Lamb who has been a revelation through the first five weeks.
Expect Kyler Murray to rush a bit with Kenyan Drake not replicating last year's explosion. There will be plenty of receptions for Hopkins, who corralled nine receptions for 151 yards in his last action against the Cowboys when he was a Texan.
Writer's pick – Tim Monk
I don't think Andy Dalton will be able to play at a high-enough level to compensate for the team's deficiencies on defence and overcome a stingy Arizona defence. Arizona's dual-threat offence and dual-threat QB should have just a bit too much for a defence that is there for the taking. However, if they can establish a run game (the Cardinals are missing Chandler Jones), the Cowboys should be still in with a shout come the business end of the game.
I predict the Cardinals to win by one score, a scoreline Dallas is used to seeing over the past year or so.
If you haven't done so, then please enter our listeners' league "Pick 'em" competition by visiting here or clicking on the logo. There is a chance to win a weekly prize, so it's never too late to join!