Every week, the Full10Yards NFL gang will preview the games gracing our TV screens, giving you the lowdown on the big games each and every weekend. Make sure that you get involved in our "pick em" competition and check out our podcasts and other great articles too!
Sunday Early Sky Sports Game, 6.00pm
Las Vegas Raiders @ Kansas City Chiefs
One of the NFL's great rivalries, dating back to 1960 and the days of the AFL, the mere utterance of Chiefs v Raiders conjours up fierce competition, proud history, and even an aesthetic treat for the eyes, as the silver and black contrasting against the Chiefs (pantone 186c) red is a wonderful counter balance, as the teams march up and down Arrowhead.
K.C. have the upper hand of recent note, having one the last five matchups, and Patrick Mahomes is a perfect 4-0 in contests fought, including wins by 32, 18 and 31 in the last three games. In the 16 quarters of play Mahomes has thrown just one pick and 11 TDs. In contrast Raiders QB David Carr has faced the Chiefs 12 times, dating back to 2014, and has a record of 2-10, 15 TDs and 13 interceptions.
Going into this early window Sky game KC are sitting pretty atop the AFC West (4-0) already boasting a two-game lead on the Raiders (2-2), with an opportunity to extend that to three in front of a UK audience.
Where to start with the Chiefs offence? Everywhere you look there are playmakers, all capable of game winning performances, so when you combine to keep them on the field no wonder this team is currently undefeated.
Patrick Mahomes, the reigning Super Bowl MVP is yet to throw a pick in 150 attempts, and his offensive line have relinquished only three sacks. Rookie RB sensation Clyde 'the Glide' Edwards-Helaire is living up to his pre-season period hype, and has 304 rushing yards an 14 grabs. Perhaps his only 'fantasy' downside is the touchdown production (two in four games).
TE Travis Kelce is doing what he does every year, playing at an All-Pro level and catching balls. He currently lead the team in receptions (24) and yards after catch (152).Elsewhere the ball is being dispensed, Pez-machine like, to Tyreek Hill, a surprisingly good looking Sammy Watkins, and second year speedster Mecole Hadman. Hill and Watkins both have 19 snags, with Hill's YPC almost 5 yards superior to Watkins.
The K.C. defence is delivering a 'bend but don't break' style of play, and despite allowing exactly 20 points in all of their first three games, they feasted on Bryan Hoyer last week and allowed only 10. Perhaps the only weakness the Chiefs have had in recent years is when their opponent adopts a ground and pound offence, and manages to maintain a running offence throughout a game whilst still remaining in touch on the scoreboard. This I fear is the only way the Raiders are going to have any opportunity to cause an upset.
Las Vegas will be gambling on second year RB Josh Jacobs to have a career game. As a rookie he managed 203 rushing yards in the two games they played, including 99 yards on just 12 carries in Week 2 (2019). Jacobs has very similar stats to Clyde the Glide after 4 games (300 rushing yards and 13 catches) but he has found the end zone three times on the ground already.
Very much under the radar the Raiders QB Derek Carr has also not thrown a pick this season, and has 8 TD passes. Again like Mahomes, the biggest and most reliable weapon is a TE. Darren Waller has 29 catches and also leads the team in YAC (140).
Elsewhere for the silver and black its a bit of a rag-tag bunch. An injury to first round selection WR Henry Ruggs has meant minimum production, and only slot-machine Hunter Renfrow has shown any consistency at the quarter mark (16 catches and just under 50 yards a game).
Chucky will want to get the ball in the hands of Josh Jacobs between 25-30 times on Sunday, but a fast start by Mahomes and co. and the gameplay will be re-directed to the likes of wideouts Nelson Agholor and Zay Jones, who hardly inspire confidence.
The Raiders defence has not had much to write home about so far, only 4 sacks in 4 games (3 by Maxx Crosby) and just two picks. Safeties Johnathan Abram and Erik Harris (who gave me an autograph at Tottenham last season) have been kept busy and co-lead the team in tackles.
---
Writer's Pick – Lawrence Vos
This is yet another opportunity to sit back and relax, grab some salted snacks and enjoy Patrick Mahomes in his prime. The Chiefs simply have too much fire power, and when the chips are down it will not be the Raiders coming up aces.
Las Vegas will need to rely on Derek Carr to keep pace with the potent KC offence, and whilst Josh Jacobs is a genuine threat, the supporting cast is not.
Expect Mahomes to have a big day, having been bottled up to a degree last week by Sith Lord Belichick. Four TD passes will be the expectation, and Mahomes will deliver. Let's just hope he remembers to avoid too many post-game hand-shakes. Even being courteous has its price in 2020. Chiefs to cruise to a 35-21 victory.
Sunday Late Sky Sports Game, 9:25pm UK
Indianapolis Colts @ Cleveland Browns
The 2nd treat on Sunday evening looks particularly tasty this week as two teams sitting at 3-1 go head to head as the Colts take on the Browns. Both teams are also riding a 3 game win streak heading into this one on the banks of Lake Eerie.
After finally getting above the .500 mark for the first time in six years with a Week 4 victory, the Browns continue to rewrite some pretty grim recent history. You have to go back nineteen years to find the last time a Browns team were sitting at 3-1. Tim Couch was the Browns quarterback that day and George W. Bush was the US president. Yes, it has been that long!
The questions is though, are these "the same old Browns"? Despite a huge 27 point lead at one stage against last weekend it felt as if the Browns were trying to find a way to lose in the 4th quarter. Nerves were certainly jangling within the fan base when Dallas pulled within 3 points of a tied game. That was of course before a huge exhale of relief as OBJ raced 50 yards into the endzone to effectively seal the win.
Cleveland have so far beaten three teams that have each only recorded one win. Cincinnati, Washington and Dallas have been the Browns scalps so far behind a similar plan of attack in each, namely, running the ball. The following statistical categories show Cleveland with the league lead; rushing yards (818), YPC (5.88) and rushing TD's (8). All of this despite losing top back Nick Chubb to injury in the opening quarter of the Cowboys game.
Next man up is of course Kareem Hunt who would be an upgrade on most teams starting running back. The Browns are in an extremely advantageous position to have such a quality performer in reserve and when he needs a breather D'Ernest Johnson and Dontrell Hilliard will see some carries. Johnson actually lead the Browns in rushing last week following the departure of Chubb and has probably been the most picked up player in fantasy football this weekend.
Through the air the Browns have been efficient with the football and Baker Mayfield has now gone 3 games without an interception for the first time in his career. OBJ and Jarvis Landry will always carry enough of a threat for the defence to respect the passing game and it has allowed more involvement from the tight ends in recent weeks, with Austin Hooper getting his first touchdown as a Brown last week. David Njoku is also back from IR this week to give the Browns another weapon.
Defensively the Browns lead the league in turnovers (10), forced fumbles (7) and in Myles Garrett have the current sack leader in the league (5). Its more than just sacks with Garrett however. in three consecutive weeks he has recorded a strip sack and has recorded 6 turnovers caused by pressure through 4 games. Bud Dupree and Shaq Barrett lead the league in that category last season with a total of 6 on the season. Garrett is playing on a whole different level and is disrupting opponents on a weekly basis, justifying that big contract he signed in the off season.
The Colts strength has so far been the defensive side of the ball. They lead the league in all of these respective categories; YPG allowed (236.3), pts allowed (56), interceptions (7) and opponent 3rd down (31.3%). They also rank an impressive 4th against the run and have notched up 10 sacks, so its more than fair to say this unit has been playing at an elite level.
The linebackers from the Colts however are all battling injuries this week. Darius Leonard left last weeks game with the Bears and hasn't practiced this week. Bobby Okereke has also missed time this week after having thumb surgery on an injury picked upo again in the Bears game. Starting MIKE linebacker Anthony Walker has also cropped up on the injury report with an ankle injury. With the potency of the Browns run game, Colts fans will be hoping for positive news here when the inactives are announced.
Offensively the Colts have been pedestrian with Phillip Rivers behind center. Injuries to key offensive contributors in Parris Campbell, Jack Doyle and maybe most notably Marlon Mack have had the unit searching for a bit of an identity. Injuries obviously mean an opportunity for someone to step in and the Colts have had varied success here with a sluggish start for Jonathon Taylor and Michael Pittman jr in their rookie campaigns but have they found a gem in Mo Alie-Cox?
His usage went down as Trey Burton suited up in Week 3 but he leads all tight ends in yards per catch and receptions of over 25 yards. The Colts would be wise to find a way to get the big man on the field more often as he is taking the opportunities that present themselves. The Browns defence although opportunistic as described above does give up a lot of yardage and big Mo could be one guy to take advantage.
As for Taylor and Pittman jr its been a slow start for both 2nd round selections. Taylor was thrust into the starting role when Marlon Mack went down with injury but he is averaging 3.8 yards per carry on the year with a long of 16. Pittman jr has seen 12 targets through 3 games played, snagging 9 of those but only for 73 yards total. Its indicative of a Colts offence that seems to be stuck in 2nd gear, just doing enough to allow them to win games.
---
Writers Pick – Shaun Blundell
This is a classic strength vs strength matchup as the Browns run game and dominant offensive line goes up against the Colts defence. Often these contests see the teams cancel each other out but based on what we have seen in general during the NFL in 2020 I have to favour the team with the edge on offence.
The Browns have ran the ball against everyone they have faced, averaging over 6 yards a carry against the Ravens in Week 1 before having to abandon the game plan. I can't see the Colts offence scoring enough points for the Browns to have to get away from plan A. Getting the receivers involved in jet sweeps or a variety of Hunt and co in the backfield will be the order of the day and I see the Browns improving to 4-1. When was the last time that happened? Prediction – Browns 24 – Colts 17
Sunday Night Football – Monday 1:20am UK
Minnesota Vikings @ Seattle Seahawks
Russell Wilson's full-blown assault on the MVP looks set to continue in Week 5, as his still unbeaten Seattle Seahawks play host to the 1-3 Minnesota Vikings who picked up just their first win on the year last week against the hapless Houston Texans.
In what was possibly Wilson's "worst" performance of the year so far, his team still managed a 31-23 victory over the Miami Dolphins, with the main man himself throwing for 360 yards and two touchdowns. It seems unfair to describe that stat-line as anything other than damn effective, but with his first interception of the season and less than four scores on the board, this is now a poor outing compared to the lofty standards that Wilson has managed in his previous three games.
For the Vikings, their hope of any success against the unstoppable Wilson will rely on whether they can put up the necessary yards and scores on a struggling Seahawks defensive unit who ranks near last in almost every category. Despite the addition of Damon "Snacks" Harrison to the practice squad this week, the team is still dealing with allowing an average of over 27 points per game, so Dalvin Cook should at least have some room to breathe in the box.
The former Florida State Seminole ran for 130 yards and two scores on the Texans ailing defence and should expect some more of the same, especially if the dynamic receiving duo of Adam Thielen and rookie Justin Jefferson can continue to dictate the coverage of that Seahawks defence. While Kirk Cousins and the Vikings offence looked emphatically streamlined in comparison to the mess of the opening three games, they will need quite the output from Cousins to even stay close to the points total that you can expect to see from Wilson, DK Metcalf, Tyler Lockett and the rest of the crew.
---
Writer's Pick – Alex Lewis
This one has as much as hope of being low scoring as the Cowboys vs Browns did last week, with two defences that average well over 400 yards against them and two stacked offensive units.
It should be a great game for the neutral and don't be surprised to see Russell Wilson continue his rich vein of MVP-level form against Mike Zimmer's men at CenturyLink Field with four or five total touchdowns for number three. I am taking the Seahawks over the Vikings by 42-28.
Monday Night Football, Tuesday 12.10am UK
LA Chargers @ New Orleans Saints
In what feels like another draw of the short straw for Justin Herbert, the 1-3 LA Chargers visit the Superdome for a Monday Night game versus 2-2 New Orleans Saints. In what has been a baptism of fire for the rookie QB in terms of his opposite number, Herbert will have to attempt to match the future Hall of Famer and former Super Bowl MVP Drew Brees having previously faced off against Mahomes and Brady in 2 of the first 3 weeks.
Luckily for the Chargers and the aforementioned rookie QB, there are signs that this time the final outcome may be a positive one. Despite having his fair share of sceptics during the draft, Herbert has certainly given plenty of encouraging signs, especially in the previous week versus the Tampa Bay Buccaneers. In a one-score defeat, he threw for 290 yards, 3TDs and recorded an overall passer rating of 137.9. A large contributor to these stellar figures was number 1 receiver Keenan Allen. As each week passes, the connection between former Oregon QB and Allen grows. Whilst Allen had 7.7 yards per catch, a decrease on Herbert's 12 yards per catch average against the Bucs, Herbert clearly trusts Allen. On Sunday, Herbert targeted his number one receiver Allen 12 times and this trend is only likely to continue.
Clearly, Anthony Lynn places a lot of faith in his passing offence, and that could pay dividends against a team that has struggled against the pass as the Saints defence has so far this season. New Orleans has allowed a passer rating of just under 105 through the first 4 weeks and against Detroit, Matt Stafford had 3TDs against said defence. 
Saying this, whether Lynn has confidence in his rookie QB and pass offence or not, the Chargers have their hands tied. In the Week 4 loss versus the Bucs, running back Austin Ekeler left the game with a hamstring injury and has since been placed on Injured/Reserve, indicating it may be a busy game for Allen and the rest of the receiving group.
For the Saints, the game plan will be more of the same offensively from the previous week. Despite missing star wide receiver Michael Thomas, there were certainly signs of improvement. Instrumental to this, and not unlike the situation with their MNF opponents, the chemistry between receiver and QB has certainly grown. Having previously relied heavily on Alvin Kamara and Jared Cook, Emmanuel Sanders displayed the kind of form he showed in the Bay Area with 6 catches and averaging 15.5 yards per catch.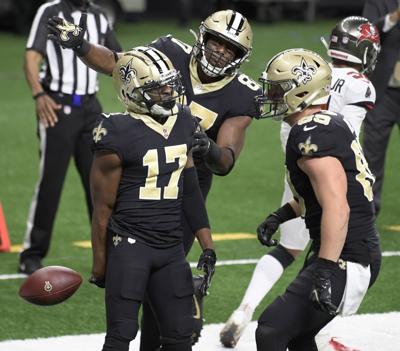 Another worrying omen for the visitors is their poor performance against the run. Not only did they struggle against the Bucs in the air, although judging on the season this appears somewhat of an anomaly, Ronald Jones was able to convert serious yardage on the ground. In total, he rushed for 111 yards. Kamara rushed 19 times in the previous game and it could be a long and ugly game for the Chargers defence if they continue to output more of the same.
---
Writer's Pick – Richard O'Brien
As for my prediction, I do think this game will be an exciting match, although I do have my doubts about just how much defence will be on show. Whilst Sean Payton will have his pick of the litter with weapons to choose from, whether that be rushing or passing, the game plan for the Chargers is likely to be more one dimensional. I expect Lynn to rely heavily on Herbert and his receiver to steal a win away from the Superdome, which will hopefully lead to an exciting and high scoring affair.
Although I have been enjoying watching Herbert and Allen can always be counted on, I think Kamara will cause real issues and the Saints defence gets key stops when necessary leading to a 32-21 win for the home side.
If you haven't done so, then please enter our listeners' league "Pick 'em" competition by visiting here or clicking on the logo. There is a chance to win a weekly prize, so it's never too late to join!