Every week, the Full 10 Yards NFL gang preview the games gracing our TV screens, giving you the lowdown on the big games each and every weekend. Make sure that you get involved in our "pick 'em" competition and check out our podcasts and other great articles too!
---
Sunday Early Sky Sports Game, 6.00pm
Tennessee Titans @ Baltimore Ravens
An intriguing game first up on the Sky slate sees the Tennessee Titans, fresh after a 10-day break, travel to Maryland to face a Baltimore team with more questions than answers. There was plenty to be desired after their respective performances in Week 10 and both teams are searching for a win to stay in playoff contention.
Only the inside of an Antarctic ice-cream van is currently colder than the Titans and the Ravens. Both boast a respectable 6-3 record, but are currently in danger of falling through a proverbial crack in the frozen tundra that is the playoffs.
After a 5-0 start, while combatting the league's first major COVID-19 outbreak, the Titans have slipped faster that a blind nut down a drainpipe. They've lost three of their last four, and only barely managed to overcome a Chicago Bears team that is also fading into obscurity rather rapidly.
The Ravens will need to be back to their sharp and efficient best to get back to battling with the Browns for second best in the AFC North. They cannot blame last week's atrocious weather in New England for their second loss in three contests, as somehow the Patriots managed to pull off a magnificent trick play (WR Meyers to RB Burkhead) and Cam Newton managed to keep hold of the slippery rock for a full 60 minutes. However, last season's MVP, Baltimore QB Lamar Jackson, has been a shadow of his former self for large parts of the season, and his record against strong opponents is pretty poor.
On SNF against the Patriots, the Ravens, to their downfall, made sure people knew Jackson can lead a passing offence. Baltimore have never won a game with Jackson where they have trailed by 10 points, which suggests this team is not built to come from behind. But if they stick what they are good at (Mark Ingram is back in the lineup, if a little ring rusty), then they can put points on the board, dominate the clock and win games.
Injuries have been hurting the Ravens in key positions, none more so than the offensive and defensive line. LT Ronnie Stanley is done for the year, and while Orlando Brown has shifted into that position, and DJ Fluker has moved to RT, neither have the presence that Stanley has provided in the last few seasons. Losing the rather under-the-radar blocking tight end Nick Boyle, who has been in effect a sixth offensive lineman, is another big difficulty, especially considering the Ravens traded Hayden Hurst to the Atlanta Falcons before the season started.
Tennessee may not have such big names in the recovery room, but the likes of corner Adoree' Jackson, guard Rodger Saffold and wideout AJ Brown are not fully participating in training this week. On top of that, Corey Davis recently lost his brother to cancer. He still played last week and actually led the Titans receivers but boy, that must have been hard.
A bit like Jackson, Titans QB Ryan Tannehill seems to be regressing in terms of form and statistical output. Renowned for being incredibly accurate, the former Dolphins signal caller has not connected on more than 60% of his passes in the last month, and has just two games of 250+ passing yards this season. Tannehill's raw stats – 20 TDs, 3 INTs, and 12 sacks in nine games – all look good on paper, but if they don't equate to wins, then they are not going to appeal to fans.
As for Derrick Henry, he has had mixed results since rumbling for over 202 yards against the Texans in Week 6. But the bad news for him and the Titans is that he's averaged a smidge over 23 rushing yards against Baltimore on two previous attempts.
Writer's Pick – Lawrence Vos
In a game where top 10 rushing offences and bottom 10 passing offences do battle, it could be the Titans' defence which is the doing for this game. Any bettor can't have the greatest of confidence in picking Baltimore to cover their 5-point spread but they should have enough to pick up the win. Anything less than a decent performance though, and the Titans will exorcise the ghost of the divisional round from last season, where the Titans stuffed the Ravens' running game.
It'll be a battle in the trenches but considering the style of these two teams, the best passing offence on the day could be the one that comes out victorious. Both teams are looking for some self-esteem after demoralising defeats last time out and it's not an easy one to call but I'm leaning towards the Titans to take a nip-and tuck game 24-20.
Sunday Late Sky Sports Game, 9:25pm UK
Green Bay Packers @ Indianapolis Colts
This is a huge inter-conference battle between two teams likely playing January football.
Packers fans probably bit a fair amount of fingernail at home to a plucky Jacksonville team threatening to upset the applecart. But if it's one thing we know about a Matt LaFluer Packers team, it's that they Just. Win. Games.
One of the top passing offences saw Davante Adams take a back seat in Week 10 to Marquez Valdes-Scantling, who ran one-and-a-half lengths of the field against the Jaguars to easily set seasonal best returns, including a career-high 78-yard reception. The third-year WR is on pace to set career highs in receptions and yardage, and has already has doubled his TD tally from the previous two seasons combined.
If Adams, who has been limited in practices this week due to a tweaked ankle (was downgraded Thursday to DNP) can't go, MVS could be asked to shoulder a heavy load. However, a possible return to the field for Allen Lazard, who has been out with a core injury, could be just the tonic they need if Adams is limited.
On defence, this is a team that generally gives up yardage on the ground and has a lovely symmetry of giving up over 100 yards rushing on even-numbered weeks. Luckily for them (they hope), this is Week 11.
In the secondary, Jaire Alexander, who missed the win over the Jaguars, looks to return from a concussion suffered in Week 9 and the CB position could be boosted further if Kevin King continues his full practice on Friday, returning from a quad injury.
Indianapolis are coming off a huge divisional win in Tennessee from last Thursday night so get the extra prep time for this game back on home turf. The game for the Colts will probably come down to how careful they are with the football and whether they can play complementary football. Keep Rivers from turning it over, and they'll have a very good chance of winning the game.
It seems a long, long time ago now that this Colts team lost to the Jaguars in Week 1. But how far have they come? Looking at their schedule, they haven't beaten a whole lot. Their wins have come against teams behind the 8-ball in terms of making the playoffs (except the Titans last week) and their other losses have come against the AFC North.
Their vaunted defence was unable to produce a turnover for the first time since that loss in Week 1 and will hope to get "back on the scoresheet" in that respect.
On offence, rookie RB Jonathan Taylor still seems to be in some sort of doghouse and has received single-digit attempts over the last two weeks and is not producing a hell of a lot. This is a sneaky game if the Colts want to try and get him going in this one, however. His RB buddy Nyheim Hines saw double-digit carries last week and also six targets on his way to a multiple TD game for the third time this season. Reich also likes to sprinkle in Jordan Wilkins throughout.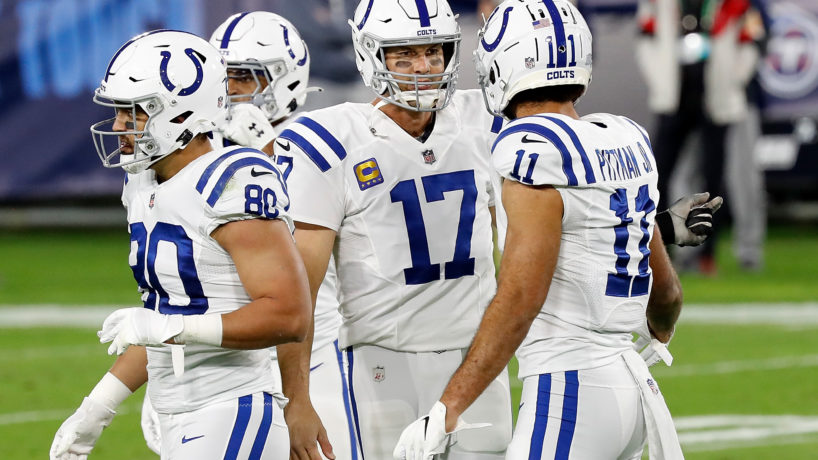 In the passing game, Michael Pittman came to the fore with his first 100 yard receiving game. With TY Hilton showing his age this season, the Colts will need Pittman to continue to take over the mantle from the recently turned 31 year old.
This is a team that doesn't necessarily have the ability to lean on any particular aspect but instead uses their combined competencies in each phase of the game to grind out victories.
Writer's Pick – Tim Monk
The third-most prolific offence (points scored) and sixth-highest in terms of yardage go up against a stout defence however, so it will require A-Rod to be in the mood to get anything going through the air. You can argue both sides on what to take out of the win against the Jags. With the Bears falling away in the NFC North, you have to feel the division is pretty much wrapped up and this game isn't as important to them as it is for the home side.
For Indy, another dose of decent defensive play and conservative play-calling on offence (by leaning on a short passing game and rushing) is probably the call here for Frank Reich's guys. If Adams is not able to get on the field, this makes the Colts -2 look appealing as well as a premium placed on points, making me lean on the under 51.
Fun fact: The Packers have never beaten the 'Indianapolis' Colts and you have to go all the way back to 1974 when they last beat the Colts (when they were in Baltimore).
Sunday Night Football – Monday 1:20am UK
Kansas City Chiefs @ Las Vegas Raiders
Sunday Night Football offers one of the games of the regular season for Week 11 as the almost perfect Kansas City Chiefs visit their AFC West rivals, the Las Vegas Raiders.
Patrick Mahomes has continued to lead his Super Bowl champions into 2020 with a sensational 25 touchdowns to just a single interception as he attempts to grab the second MVP award of his still very young career in the NFL.
The effort hasn't been a one-man job though, Tyreek Hill has caught nine touchdowns already this season, good enough for most in the league, and tight end Travis Kelce has almost 300 more receiving yards than any other player at his position.
Head over to NFL Shop Europe for the latest deals! Use code FULL10 on selected items at checkout
On the other side of the ball, the Chiefs' defence has been a mixed bag up to this point, performing admirably against the pass by allowing just 1,941 passing yards and just 11 touchdowns. Only the Rams have allowed fewer scores through the air.
Despite the impressive performance against the quarterback, stopping the run has been far more difficult for the Chiefs, ranking in the bottom six in important categories like passes allowed and yards per carry. The ability of the unit is likely be put to the test this weekend as much as any, as the Raiders will look to establish themselves a run game through Josh Jacobs, who has averaged 77 yards rushing in his first three career games against the Chiefs.
In injury news, Sammy Watkins looks set to return this week after several games out, but there was no sign of tackle Eric Fisher or receiver Mecole Hardman in training yesterday.
For the Raiders, their season has continued to improve week on week, setting themselves on course for a "ild Card spot with four wins from five, which included the victory over the Chiefs in Week 5.
Derek Carr has made the position of quarterback in Jon Gruden's offence all his in 2020, notching a 69.3% completion rate and an 16:2 touchdown to interception ratio to quieten any rumours from 2019 that the franchise might look to draft someone else for Gruden to build with in the coming years.
The job has been made far easier for Carr by the previously mentioned Jacobs, who has followed on from his productive rookie year with 700 rushing yards and eight touchdowns in nine games.
Former Cowboys safety Jeff Heath picked up AFC Defensive Player of the Week for his two interception performance in the 37-12 battering of the Denver Broncos last week, in which the defensive unit allowed just 131 total yards of offence.
It might be more of a struggle this week against the explosive offence of the Chiefs, challenging enough as it was, and not helped by the news that Arden Key, Jonathan Abrams and Maliek Collins have all been added to the COVID exempt list in the last two days.
Writer's Pick – Alex Lewis
This game has the potential to go either way and, given how the first game ended this season, it could easily be very high scoring with more than one lead change. With the players missing on defence though, I do fear for the Raiders and wouldn't be surprised if Mahomes ends up with a very good stat line come the conclusion of this one. As a result, I'm taking the Chiefs by 31-20.
Monday Night Football, Tuesday 1.15am UK
Los Angeles Rams @ Tampa Bay Buccaneers
A tasty MNF match-up this week will see the 6-3 LA Rams travel to Tampa Bay to face the 7-3 Brady-led Buccaneers. Both teams are coming off bounce-back wins, with the visiting Rams looking to consolidate on their impressive defensive showing in which they stifled Russell Wilson, while Tom Brady returned to usual form in a dominant team victory against the struggling Carolina Panthers in Week 10.
Check out the latest deals over at Fanatics UK
A key talking point entering this MNF game is the striking resemblance between the defences. In almost every category, they are in the top 10, and in most cases, the top 5. Only one sack separates these two teams, with the Bucs nudging ahead with the second-most sacks with 32. In terms of rush defence, the Bucs again pip the Rams, who sit as the fifth-best team allowing only 96.8 yards per game.
Yet the Bucs sit atop the NFL, allowing only 76.6 yards per game rushing. While the Buccaneers excel in regards to their front seven, the Rams' secondary is elite. Over the season, the Rams have allowed an average passer rating of 81 and just under 200 yards per game, which ranks third best in the NFL in both categories. In an almost eery fashion, the Bucs are ranked ninth in both passer rating and yards per game too, allowing a rating of 90 and 223.7 yards per game.
After a miserable offensive showing against the Saints, the Bucs offence was able to bounce back in a big way against the Panthers, in large part thanks to their rushing and, in particular, Ronald Jones II.
While in total the Bucs rushed for 210 yards with nearly six yards per carry, it was Jones who did the heavy lifting. He grabbed the highlights with a 98-yard TD run, but was too much for the Panthers to handle all game. Overall, on 23 rushes, Jones racked up 192 yards with 8.3 yards per carry and the aforementioned TD to boot. The value of Jones' stellar performance is not only highlighted in his own statistics, but also by the passing game's noticeable improvement from the previous week's loss.
Despite all eyes being placed firmly on Antonio Brown, who had a good showing and is now looking settled with seven receptions for just under 10 yards per catch, the usual dynamic of the receiving core was relatively unchanged.
With 11 targets, Mike Evans remains the primary go-to man for Brady while Godwin gained the most yards of the three, totaling 92 yards in the game. What does all this offensive potency amount to? A 124 passer rating for Brady, with 341 yards and 3 TDs. Having thrown 3 INTs the week before, I think even TB12 is happy with his bounce-back performance.
Likewise for LA, pressure appears to be lifted off the QB's shoulders. Jared Goff, who faced heavy criticism heading in this season, was reminiscent of the Goff that helped take the Rams to a Super Bowl. Under Sean McVay, Goff is at his best when he isn't forced to be the playmaker.
Against the Seahawks, Goff put up good numbers as he threw for 302 yards, gaining 8.2 yards per attempt. Although he didn't throw a TD, it was still enough to see off Seattle in a statement victory.
Writer's Pick – Richard O'Brien
This MNF affair has the hallmarks to be a nail-biting game. Two elite defences that can not only get at the QB but also remove their options. Two offences that look to have bounced back and settled back into their natural positions. But I think it is the depth of offensive weapons that Bruce Arians possesses, and the removal of McVay's, which will be enough to see the Bucs to a 27-17 home victory.
---
So there you have it. Grab the popcorn, get comfy on your sofas and tune in to Neil Reynolds and the gang on Sky Sports. If you are a Red Zone kinda person, you may want to check out Shaun's weekly previews, which features all the other games in Week 11.
And don't forget, when it is all said and done, the crew will break it all down live at 9pm on Monday in our regular NFL podcast slot. We will also have the thoughts of all of the crew on Tuesday evening with our Full10Yard 'Takeaways' article.
#EyesPeeled
If you haven't done so, then please enter our listeners' league "Pick 'em" competition by visiting here or clicking on the logo. There is a chance to win a weekly prize, so it's never too late to join!