Every week the Full10Yards NFL gang will preview the games gracing our TV screens, giving you the lowdown on the big games each and every weekend. Make sure that you get involved in our "pick em" competition and check out our podcasts and other great articles too!
Sunday Early Sky Sports Game, 6:00pm UK
Dolphins @ Patriots
The new era of New England football is officially set to begin, as the Brady-less Patriots host their perennial bogey team, the Miami Dolphins in the first of many TV games this season for Bill Belichik's rebuilt roster.
With Cam Newton now officially under centre and voted a team captain for Week 1, we can start to imagine what sort of game-plan Belichick has got in mind for the former MVP quarterback as the franchise looks to earn its 550th victory in team history.
Proceedings in Gillette Stadium have not been helped by COVID-19, the Patriots suffering the most opt-out's of any team, with Patrick Chung, Dont'a Hightower, Marcus Cannon, and a bunch of others all deciding the risk of illness is not worth the season.
There are questions on both sides of the ball as a result, with Belichick's men returning from a season that ended in a disappointing playoff defeat to the Tennessee Titans and which was punctuated by claims that teams had finally worked out how best to beat the dominating, ageless Patriots defence.
For their opponents on Sunday night, the off-season has been a far clearer path to a rebuild, but ironically at the heart of it all for the Dolphins will once again be pure Fitz-magic for the second successive year.
Rookie quarterback Tua Tagovailoa is injury-free and ready to play, but Brian Flores still feels more confident it seems in giving time for the fifth overall pick to learn under Ryan Fitzpatrick for at least a few games before throwing him into the fire as a starter. The decision, which was not too surprising, should give the team a chance to stabilise and click all the new pieces together ready for Tua to lead from next season and beyond.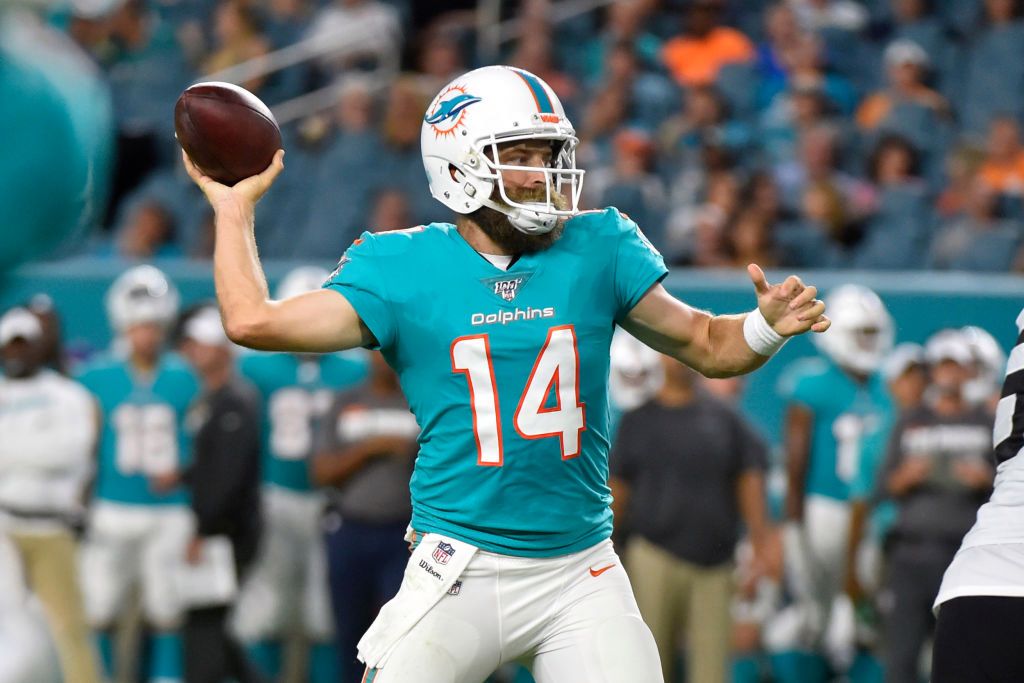 The Hard Rock Stadium has seen a lot of big-free agent arrivals in 2020, former-Cowboy corner-back Byron Jones was the marquee signing and will look to shut-down AFC East passing attacks opposite the impressive and equally expensive Xavien Howard. Miami has also employed Kyle Van Noy straight from New England in the hope that he can provide the knowledge that will let the Dolphins challenge the Patriots without the need for another last-ditch, miracle play.
Writer's Pick (Alex Lewis @alexlewis226)
Not many people feel as positive about Cam Newton's chance of success in New England as I do, especially up against the roller-coaster that is Ryan Fitzpatrick. Even with all the set-backs that the Patriots have suffered this off-season, I think they end up as 17-10 winners here.
Sunday Late Sky Sports Game, 9:25pm UK
Tampa Bay Buccaneers @ New Orleans Saints
The NFC South kicks off with a tasty match-up in Louisiana. The Superdome plays host to the first divisional game of the season as Bruce Arians and the Tampa Bay Buccaneers are the visitors, looking to get out of the blocks early with Tom Brady as the new man under center. Meanwhile New Orleans and Sean Payton will give it one last try with Drew Brees to try and get that 2nd coveted ring of his career.
Brady comes into an offence that was already hot last season. Tampa Bay lead the league in Passing Yards per Game (302.8), was 3rd in Yards per Game (397.9) and tied 3rd for point per game (28.6). They also had 2x 1,000+ yards receivers in Mike Evans and Chris Godwin. If Brady can eliminate some of the INTs that plagued Jameis Winston in 2019, this Tampa Bay offence will be frightening! Oh, and they also have Rob Gronkowski now too. Yeah, him…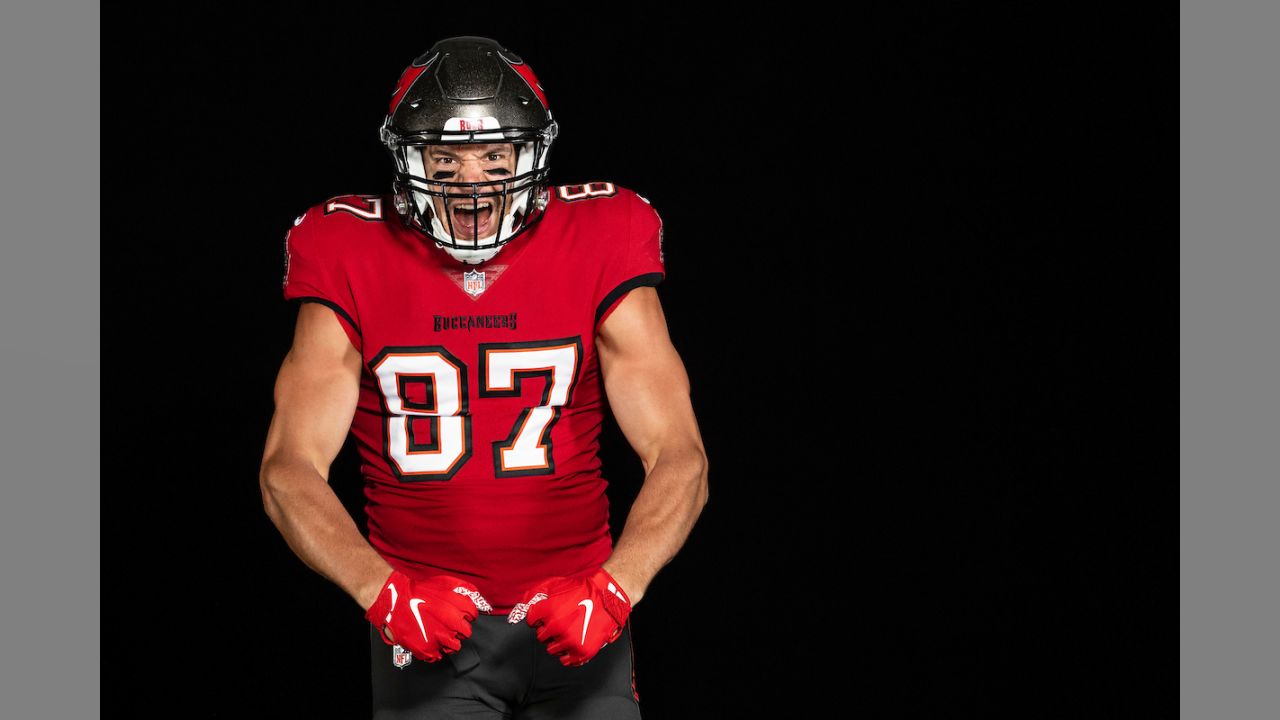 However, this isn't going to be a stroll in the park for Byron Leftwich (OC) and Tampa. Last year the Saints Defence handled the passing game pretty well considering they were thrown against 603 times (3rd most). They held QBs to an average rating of 88.3 (14th) which is certainly respectable. Add Malcolm Jenkins into that Secondary and the Saints possess a pretty good pass defence. They also look good up front, with Cam Jordan returning on the back of a 15.5 sack season in 2019.
On the other side of the ball for New Orleans, Drew Brees is back for one last hurrah. Brees turns 42 in January and with an analyst contract with NBC signed, you have to assume he is winding down his illustrious career. in 2019 Brees threw 27 TDs and 4 INTs with a passer rating of 116.3 – 2nd in the league behind Ryan Tannehill. The Saints Offence was just as potent as Tampa's, just without all the interceptions (373.9 YPG – 3rd & 28.6 PPG – T-3rd) and they have Michael Thomas. Nobody was able to stop him getting his hands on the ball as he dominated his way to 1,725 yards over 149 receptions with 9 TDs.
However, just like a lot of aspects of this match-up, the Tampa defence also holds up compared to New Orleans. No team faced more passing attempts last season than Tampa did (664) and they held QBs to an average even 90 passer rating – respectable considering the sheer volume of balls they faced in the air. Up front Tampa Bay is aggressive too, they had 46 total sacks last season, with Shaquil Barrett coming up with 19.5 (1st). However they'll be going up against the 5th ranked O-Line in 2019 by PFF so getting to Brees is going to be tough.
The run game could be very light in this one. Last year the Saints averaged 4.3 YPC in the run, however the Bucs defence was brutal against the rush last season. They averaged a best-in-class 3.3 YPC and 73.8 YPG on the ground, ensuring that putting the ball in the air was the only viable options for their opponents. That could play into New Orleans' hands with the likes of Michael Thomas, Emmanuel Sanders and Jared Cook looking to wreck havoc in the Tampa Bay backfield.
Writer's Pick (Steve Tough @SteTough)
I think this is the match-up of the weekend with two teams who most certainly will be in the conversation when we get to January. I could see this being the NFC Championship game. It is the first game in NFL history with both starting QBs being over 40 years old, but it won't be short of story-lines. Brees vs Brady will be box-office and it's so hard to call. I'm taking New Orleans in a nail-biter. 35-32.
Sunday Night Football – Monday 1:20am UK
Dallas Cowboys @ LA Rams
A really fascinating matchup to kick off Sunday Night Football and it's a real shame there wont be a capacity crowd to welcome in the Rams season in their curtain raiser in the brand spanking new SoFi stadium.
On the field, will we get a repeat of the 44-21 drubbing the Cowboy's dished out week 15 last season? Or will it revert to 30-22 Rams dominant defensive display from the playoffs the year prior?
For the home team, who have graced on our screens already through Hard Knocks, will look to sort out their issues from 2019 which led them to missing the playoffs after experiencing the dreaded Super Bowl hangover. They'll look to test the secondary of the Cowboys through the air early and often as the unit for Dallas are somewhat inexperienced group that has lost some of their stars on the back end.
For the visitors, new Head Coach Mike McCarthy went to great lengths to try and hide their offensive masterplan throughout camp by removing numbers from players shirts. Rams defensive end Michael Brockers even admitted that they had to watch the Cowboys' YouTube training camp footage as an extra in their gameplanning.
Dallas struggled mightily against the good teams last year, winning just one game against the teams that participated in the playoffs last year. I know the Rams didn't play in January (or February) last year, but this is a Playoff calibre team and the Rams will want to put a marker down in their new cribs.
Both teams were top 5 passing offences in 2019 but it remains to be seen what Mike McCarthy's Dallas Cowboys look like offensively. Dallas could nick this one purely due to the fact that there is a bit of unknown about how the team will operate and I'm sure Dak Prescott will be more than happy with a smash and grab in southern California. Look out for the fireworks through the air as Dallas deploys its 3 star studded wide receivers on the field. However, they could be all outshone by 4th year Tight End Blake Jarwin who steps out from the shadows of Jason Witten.
Writer's Pick (Tim Monk @Tim_MonkF10Y)
I think you have to give the edge to the Cowboys purely due to the solid run game that they have and is pivotal for any travelling team to try and grind out a win on the road in the NFL. Expect fireworks on both the exterior and the interior of the stadium in this game. Lots of points, lots of highlights and lots of talking points to kick off SNF.
Drinking game idea: Every time the TV broadcast focuses on the swanky new circular videoboard, take a swig of beer. You won't last till half time.
Monday Night Football, Tuesday 12.10am UK
Pittsburgh Steelers @ New York Giants
The first Monday night game of the season is going to be a battle of quite different minds, with the Steelers' Mike Tomlin – a man yet to experience a losing season in any of his 13 campaigns so far – up against New York's Joe Judge, making his NFL debut as a Head Coach. The straight-talking, detail-oriented Judge has quite a task on his hands. The Giants have only reached seven wins once in the last half-a-dozen seasons while Pittsburgh never seem to drop below .500. That said, after missing out on the playoffs for the last two years, this season could spell their first three-game drought this century. But I doubt it.
Even in an eerily empty MetLife Stadium, there is hope for the Giants. If the Pittsburgh secondary focuses on stopping RB stud Saquon Barkley, QB Daniel Jones could find some gapes to exploit. For this to happen, the O-line has to create the room for No.26 to do his thing. Last year, they were decent and it should be better now with Andrew Thomas at left tackle. Yet the Steelers' defensive front will probably shape the story of the night.
On the defensive side, the Giants pass rush won't trouble Ben Roethlisberger, even if he's still coming back to speed after a season-ending elbow injury. Elsewhere, rookie safety Xavier McKinney and linebacker David Mayo have been placed on IR with foot and knee injuries respectively, and CB DeAndre Baker was released after his alleged involvement in an armed robbery. Former Titan Logan Ryan, a versatile defensive back who knows Judge from his time in New England, will need to assimilate quickly after his recent acquisition.
Like the coaches, there's a sizeable gulf in experience between Jones, a fresh-faced, second-year starter who had a few fumble issues in his debut season, and grizzly ol' veteran Big Ben. For a while, Ben was looking like the wild man of Borneo but he's back in shape as he prepares to face the Giants without Eli Manning for the first time. After a year when the key guys went AWOL, it's like the band is getting back together: Big Ben, WR JuJu Smith-Schuster and RB James Conner are all raring to go. If the Steelers' play-caller is back to near his best (2018's 5,129 yards and 34 TDs), all should be fine.
Firing an extra warning shot across the league, Pittsburgh locked All-Pro DT Cameron Heyward into a $65.6 million extension this week. The deal ties the 31-year-old lineman in for five years and gives an already-impressive defence even greater stability.
Writer's Pick (Sean Tyler @seantyleruk)
I can only see this one going one way. The Giants look a little undercooked and, while Jones and Barkley could conjure up a few eye-catching moments, they will be too few and far between. The Steelers' defence will boss this one and if Roethlisberger finds his groove, they'll rack up a few points too. I foresee a comfortable 34-17 win for the Steelers.
Monday Night Football, Tuesday 3.20am UK
Tennessee Titans @ Denver Broncos
The Broncos have posted a losing record in each of the last three seasons, while Tennessee have now gone 9-7 four times in a row. On paper, this match-up looks like the Titans' to lose but with Denver on the up, the momentum could be starting to shift.
Scoring an average of 19 points per game last season, the Broncos needed to invigorate their offence to get fans on their feet (although there'll be no one in the Mile High Stadium for their first two home games at least). John Elway and co. did exactly that, making Drew Lock the starter under centre after a handful of successful games at the tail-end of last season (he went 4-1). But given this curtailed offseason, teams with established rosters and settled staff may hit the ground running while those relying more on rookie players and new coaches – like Denver – could take longer to move through the gears.
Lock is now being guided by incoming OC Pat Shurmur and QB Coach Mike Shula, and has new weapons, including draft picks Jerry Jeudy and KJ Hamler, and former Chargers RB Melvin Gordon, at his disposal. All these pieces could take a while to gel so look for RB Philip Lindsay to carry more of the load in the meantime.
On the other side of the ball, with Bradley Chubb back after an ACL injury, the D was all set to start 2020 where they left off, as the league leaders in Red Zone defence and a top 10 unit against the pass. Alas, Von Miller suffered a freak ankle tendon injury in practice on Tuesday, potentially ending his season before it began and essentially killing Denver's pass rush.
Unlike their hosts, the Titans have enviable continuity in their offence. The Comeback Kid, Ryan Tannehill, signed a lucrative deal to stay at QB and powerback Derrick Henry also got paid, as his carries and rushing yards continue to rise every year. With the WR corps bolstered by the return from injury of Adam Humphries, TE Jonnu Smith having a healthy offseason for a change (MCL injuries ended his 2017 and 2018 campaigns) and the O-line staying pretty much intact, that side of the ball is as you were.
Tennessee's defence isn't stellar by any means and they'll be missing (and going up against) 10-year vet Jurrell Casey, who shipped out to Denver during the offseason. Six months on, the hole was finally filled when run-stuffing, pass-rushing free agent Jadeveon Clowney signed a one-year, $15 million deal this week. The 27-year-old DE had his best season back in 2017 in Houston, when his Defensive Coordinator was none other than current Titans HC Mike Vrabel. After an injury-shortened year in Seattle, look for the former #1 pick to be reinvigorated in the deep South.
Writer's Pick (Sean Tyler @seantyleruk)
Many people have Denver pegged as a dark horse for post-season football this year and some of my F10Y comrades have gone for the Broncos in their Pick 'Em selections for this game (see link below). It's not an easy one to call but I was leaning towards the Titans to take a nip-and tuck game 24-20 even before the Von Miller news broke, so I'll stick with that.
If you haven't done so, then please enter our listeners' league "Pick 'em" competition by visiting here or clicking on the logo. There is a chance to win a weekly prize, so it's never too late to join!