Welcome to the Full10Yards Thanksgiving game previews!
We have three games to get into while you are stuffing turkey in your faces.
Don't forget to check out our Thanksgiving piece from Mr. Retro here, giving you a bit more insight into the history of Thanksgiving with some cool stats and tidbits with which to impress the relatives.
Right, let's get to it!
---
Houston Texans @ Detroit Lions
It's a real shame that Detroit fans seem to have nothing to be thankful for in Thanksgiving week when it comes to the traditional home game.
They are never really in the divisional race, they aren't terrible enough to look forward to a premium pick most years and it's all just a bit "meh" (sorry Detroit fans!).
That being said, it's also a pain for the neutrals as it either usually means that it'll be a blowout for the visiting team or the game probably means nothing. The game against Houston is the latter in this case, as the 3-7 Texans travel to Ford Field with both teams unlikely to play anything meaningful from here on out. The only thing this game affects is Miami's 1st round pick, which Bill O'Brien gave up.
Many are still wondering how Matt Patricia still has his HC role in Detroit after an abhorrent 13-28 record since taking over in 2018.
The Lions have struggled to penetrate the top half of metrics on either side of the ball and even with rookie running back D'Andre Swift starting to show his pedigree and tight end TJ Hockenson starting to find his groove, there isn't much else going on for the Lions.
Stafford has been battling a thumb injury and the team were just shut out in Carolina. The Lions generally rank in the bottom 10 of most metrics and are especially bad running the ball and defending the run. Kenny Golladay has been struggling to get on the field with a hip injury and outside of the two aforementioned playmakers, there isn't a lot else to lean on.
Luckily for them, the Houston Texans aren't much better. Running back Duke Johnson hasn't gotten anything going since namesake David Johnson went down with concussion and landed on IR. Yet again, the Texans' highlights consist of Deshaun Watson running around, trying to extend plays and run in the odd score.
His back must be getting tired of carrying this Texans team. Similarly, JJ Watt must sometimes look at the mess in Houston and think, "I need to get out of here".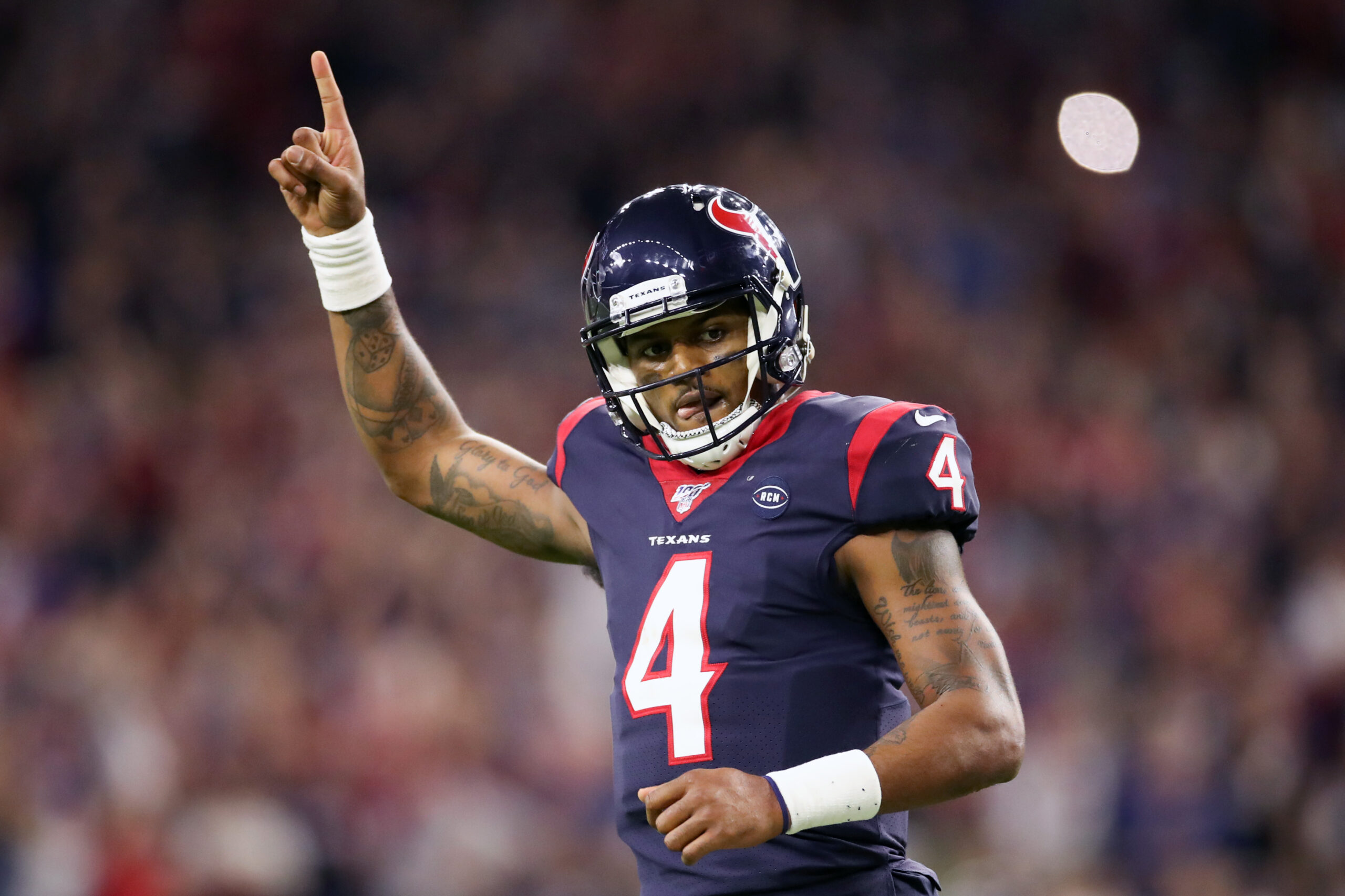 WRs Randall Cobb and Kenny Stills will be missing for the Texans offence this week and we perhaps saw an indication of plan B with Jordan Akins making a few grabs in the win against the Patriots from the tight end position.
Both teams are terrible at running the ball and terrible at defending the run, so something has to give in this one. You have to give the edge to the Texans as they have the best player on the field in Watson.
This will be Detroit's 81st game on Thanksgiving and have a 37-41-2 record. It's likely going to end up with another notch in the loss column.
---
Writer's Pick – Tim Monk
Houston are currently 2.5 favourites and I expect the Texans to win by a field goal so take Houston on the spread.
With the total points line at 48.5 and considering that Detroit were shut out last week, you'd probably have to take the under, but these are two awful defences.
---
Washington Football Team @ Dallas Cowboys
The second game on Thanksgiving is now traditionally played at the Cowboys, who bring a bit of momentum into this game out of nowhere. The return of Andy Dalton, a functioning offensive line and a feisty defensive play saw them come away from Minnesota with a victory.
All teams in the NFC East now have a massive three wins to their names and this game actually has a big impact on who gets the right to play (and lose) a home playoff game in January.
Ezekiel Elliott made a return to the 100-yard rushing club for the first time since last year and Tony Pollard scored a long rushing touchdown, which goes to show that when you are not trailing by 21 points, you can actually run the ball and be more balanced.
Andy Dalton made some good completions, notably a 4th-and-6 on the final drive in the Vikings red zone to set up the game-winning score, but CeeDee Lamb has outshone all the Cowboys receivers this season in his rookie season. He still trails Amari Cooper in receptions and yards but leads the team in receiving touchdowns. His end-zone grab in Week 11 was one of the best touchdown catches you'll see this year.
The Cowboys' defence employed the 'bend but don't break' mentality and made some opportunistic plays to enable Dallas to get more offensive drives. Donovan Wilson came up with a strip sack early on and a forced fumble of Dalvin Cook inside the two-minute warning of the first half to flip the momentum in Dallas's favour.
They'll have less of a force to be reckoned with in the Washington Football Team's offence, but Antonio Gibson is starting to make a name for himself and it seems just only yesterday when Peyton Barber was finding the end zone. Gibson's rushing TD against the Bengals was his eighth on the ground, where he averages 53 yards per game, and gets an extra bit of change through the air too.
Talking of the passing game, Terry McLaurin continues to get it done for the Football Team, with the interchanging support cast chipping in and making plays. He should have a decent game in this one judging by the space Adam Thielen and Justin Jefferson found themselves in Dallas's secondary in Week 11.
The match-up is the fourth-most played fixture on Thanksgiving and this will be the 10th iteration of the series. The Cowboys are 8-1 in this fixture on Thanksgiving (Washington's only win came in 2012) but the Football Team did win the reverse fixture in Week 7.
This game will be won and lost with Washington's pass rush up against the Dallas O-line. Dallas had their seventh different offensive line combination in 10 games against the Vikings, kicking All-Pro guard Zack Martin out to RT. It seemed to work so hopefully for Cowboys fans, they can stay as effective. Handle the pass rush, they'll win the game; if not, expect turnovers and more hilarity on the Dallas offence in a Football Team win.
The prize on offer? Top spot in the NFC East
---
Writer's Pick – Tim Monk
The -3 for Dallas on the handicap is the right line for me but I would probably take the Cowboys, considering their record and the number of stars on their roster. No bet either way though. 46 is the total points line, which again looks about right, but I'd probably lean to an over here. Defences could easily take over but there is a lot on the line in this one. Best bet is McLaurin to find the end zone at 6/4.
---
Baltimore Ravens @ Pittsburgh Steelers
What a terrific Thanksgiving dessert: far better than pumpkin pie and squirty cream! If you make it this far with your 'eyes peeled' (and plenty of caffeine), then you should be in for a treat.
If we were allowed to go out and socialise, then you would find the Baltimore Ravens in the last chance saloon, slumped in a darkened booth, sipping on a cheap Scotch, while the Pittsburgh Steelers would be surrounded by velvet ropes sipping Cristal in the VIP lounge of a swanky nightclub.
Pittsburgh (10-0) remain the only undefeated team left standing and are delighted to be welcoming a 6-4 Baltimore team that have lost three of their last four, looking underwhelming for the last month.
Talk of a 2020 MVP has tended to hover around Patrick Mahomes (Chiefs), Russell Wilson (Seahawks) and Kyler Murray (Cardinals), but Steelers QB 'Big' Ben Roethlisberger has had a masterful season so far: 255 yards a game, 24 TDs and only 5 interceptions, and a 67% completion rate. The Steelers offensive line has been tremendous too, with the rather statuesque Big Ben only taking 10 sacks in as many games.
Just for fun, Roethlisberger's rushing stat line on the season is 19 for 14 (0.7 yards a carry).
Facing the Steelers is a Ravens team led by Lamar Jackson, who currently ranks 14th in the NFL for all rushers. L-Jax has more yards on the ground than Aaron Jones and Alvin Kamara, yet he trails the top rushing QB, Kyler Murray, by 44.
The last time these two teams met was in Week 8, a see-saw battle that saw the Steelers won with a fourth-quarter hook-up between Big Ben and the ultra-impressive rookie WR Chase Claypool (who now has 10 TDs in 10 games). At the half, the Ravens led 17-7 and with under 10 minutes left, the Ravens led by three.
In the Week 8 game, the Ravens' running game was rampant (265 yards from 47 attempts). Just four weeks later and the Ravens are the latest team to be hit by COVID-19. Closed facilities this week followed the announcement that Baltimore's top two running backs, Mark Ingram and rookie JK Dobbins, are out after testing positive. Joining the RB duo on the COVID list is Ravens DT Brandon Williams.
For the Steelers, WR JuJu Smith-Schuster and CB Joe Haden are questionable. JuJu suffered the ignominy of getting injured after treading on a ref's yellow flag on Sunday.
This looks to be a big game for Steelers RB James Conner, currently ranked in the top 10 with 645 yards. Conner also has a respectable 25 catches but has done almost nothing with them.
Where the Steelers have had great success is by remaining relatively injury-free, and by Big Ben using all of his impressive array of weapons. Three WRs (Smith-Schuster, Claypool and Diontae Johnson) have 500+ yards, and have combined for 17 TDs. TE Eric Ebron has also been solid to date.
For the Ravens, it's been a very different picture. WR Marquise 'Hollywood' Brown has been more of a straight-to-TV movie as opposed to a blockbuster, yielding just 32 catches and two TDs. Mark Andrews the TE has been the only true bright spot, evidenced by his TD against the Titans last week.
Both teams have fantastic defences. The Ravens are hopeful the gigantic Calais Campbell will return on Thursday, but that situation will not be confirmed until 90 mins before the game. The Steelers have linebacker TJ Watt playing at a DPOY level, and he will be looking to add to his CV on Thursday night against a weakened Ravens offensive line.
---
Writer's Pick – Lawrence Vos
This looks like a relatively straightforward pick. The Steelers are at home, undefeated and facing a team that has been weakened by COVID but, more importantly, a complete lack of confidence and form.
Pittsburgh lead the overall series 29-24. However, the Ravens have won three out of the last five meetings, with the two losses by 7 or under.
It is possible the Ravens can scratch and claw their way to a scrappy win, through Lamar Jackson's legs and a Gus 'the Bus' day saver. Unfortunately for Ravens fans, I think this is simply not their year. Lamar Jackson is not looking right, or maybe this is his true colours?
The Steelers simply have a fitter, stronger squad with a receiver group that is arguably the best in the league. Look for Pittsburgh to strike early and often, before giving James Conner more rocks than those found in Jenny's block. Ravens 17 – 31 Steelers.
If you haven't done so, then please enter our listeners' league competition by visiting here or clicking on the logo. There is a chance to win a weekly prize, so it's never too late to join!