On Monday 18th January 2016, The Philadelphia Eagles hired Doug Pederson to be their new Head Coach. The Chip Kelly experiment had failed, the era of Andy Reid a distant memory to some, but by bringing in Pederson, the Eagles opted for familiarity once again.
Pederson had been a QBs Coach under Reid in Philadelphia, following him to Kansas City in 2013 and progressing to Offensive Coordinator from 2013-2015. The Birds snapped him up to bring him back to Philly and replace the former Oregon play-caller, Chip Kelly.
Little did owner Jeffery Lurie know, it would be the best decision he's made during his ownership of the Eagles.
On Monday 11th January 2021, they fired him…
I just. I don't understand.
Doug Pederson came to Philadelphia first in 1999 as a player. The veteran QB came in to be Andy Reid's starting QB until 2nd overall pick Donovan McNabb was ready to play. Pederson lasted 7 games before McNabb came in. Pederson returned in 2009 in a coaching role, again under the tutelage of Andy Reid first as offensive quality control coach, and then later as QBs coach. It was clear that Pederson had a connection with Philadelphia and bringing him back as Head Coach in 2016 seemed like a smart move. It was.
Pederson was immediately thrust into turmoil. The roster had been torn apart by Chip Kelly and Pederson had a mountain to climb. It's interesting that he wasn't Lurie's first choice. None of their primary targets wanted to take the job. It all worked out in the end as they fell backwards into a terrific Head Coach.
Immediately changes were made to accommodate the QB coaching talent that Pederson clearly was. Philadelphia traded their way up the draft from #13 to Cleveland's #2 via Miami's #8. Trading away unwanted players left over from the Chip Kelly era, Kiko Alonso, Byron Maxwell and later Sam Bradford were all out of the door. Enter the era of Wentz. Philadelphia used the #2 pick in the 2016 NFL Draft to select the NDSU gunslinger and Pederson had a real talent to mould into a starting-quality NFL Quarterback. The Eagles could look forward again. The Head Coach was in place, they had a franchise QB, Howie Roseman returned to GM duties and wheeled & dealed to get the Eagles into a competitive place again. Although a 7-9 season following, things were looking up and Wentz had shown plenty of promise to convince many that he was the guy moving forward.
Then. 2017.
After a week 2 loss to Kansas City, the Eagles won 9 straight. They ended the season 13-3 (should have been 14 had most of the starters not been rested for a meaningless week 17 6-0 loss to Dallas). Carson Wentz played absolutely lights-out football until his injury against the Rams in week 14 – I am convinced he would have won the MVP that year were it not for the unfortunate knee injury. Zach Ertz was unstoppable, the best TE in the league. LeGarrette Blount still had juice in the tank and was the big north-south rusher that Philadelphia so desperately needed. Alshon Jeffery gave the birds a true WR1 who was able to contest catches in the air and come down with the ball. The Defence was astounding, only allowing more than 30 points on 1 occasion in the regular season.
Pederson had built a top quality offence and they were rolling. A tight, very nervous performance against Atlanta went down to a last second drop by Julio Jones. Then, in the NFC Championship game which saw the break-out of backup Nick Foles, the Eagles tore apart the Minnesota Vikings after their emotional last-gasp victory against New Orleans the week before. Then, the most famous game in Eagles history. They battled all game with New England and eventually, after a Brandon Graham strip-sack late in the 4th, came out on top and won Superbowl LII.
Pederson had done it. He had brought the Vince Lombardi trophy to Philadelphia for the first time in the franchise's history.
What followed in the years immediately after the Superbowl victory was something so familiar to many teams who go all the way to the top. Many veterans moved on. Young stand-out players earned contracts elsewhere. Doug's staff was pillaged as OC Frank Reich left for Indianapolis and QB Coach John DeFilippo moved to Minnesota. Carson Wentz couldn't shake the 'injury-prone' tag in 2018 as he spent the latter half of the season on the side-lines with a back issue. Nick Foles couldn't replicate his monumental post-season form from 2017. Jay Ajayi tore his ACL. Somehow they finished 9-7 and even won a playoff game in Chicago. They were even 'an Alshon Jeffery dropped pass' against New Orleans away from going to the NFC Championship game for the second season running. 2019 provided much of the same frustrations and the Eagles back-doored their way into the playoffs again, winning their final 4 games to finish 9-7, this time only to whimper out of the playoffs against Seattle.
What happened this past 2020 season I cannot explain. I have never seen the drop-off from a QB like Carson Wentz had this year. It is unexplainable. How does a QB go from dragging the entire team with deck chairs at WR to four must-win games to end the 2019 season and put Philadelphia into the playoffs, to throwing 15 INTs despite sitting the final 4 games of the season. He was sacked 50 times in 12 games. He looked nervous, unsure and completely devoid of any sort of confidence. Pederson clearly couldn't figure it out either, he tried everything to try and fix Wentz mid-season and nothing worked. Eventually, it would be his downfall.
Doug Pederson will walk straight into another Head Coaching job. I wouldn't be surprised if he isn't hired before next weekend. Several teams (Jets, Jaguars and Chargers to name a few) should be scrambling to get on the phone to him and fly him in for an interview. His motivational ability is next to nothing.
He won a Superbowl in his 2nd year as a Head Coach, an absolutely unprecedented feat. Just looked at the QBs that have been able to thrive under him. Wentz (2020 aside) has looked a top-12 QB. Nick Foles will forever be remembered as the best back-up QB in the history of the game. He was even able to scheme open receivers and play to the strengths of Jalen Hurts, leading to an unlikely victory over New Orleans in week 14 of 2020. He's clearly incredibly talented, and Philly just let him walk.
No, actually, they didn't just do that. They fired him. And it makes no sense.
There's no denying that Doug did not have the greatest year in 2020, of course he didn't. The downfall of Carson Wentz will have been placed directly on his doorstep. However, to not even give him 1 season to try and turn things around? Extraordinary. The main indictment of Pederson will be the slow collapse of the passing game to a near death since the lofty heights of 2017. No offensive additions could prevent the ship from sinking, and now the captain has gone down with it.
Doug Pederson didn't create the cap-space hell that the Eagles will be faced with in 2021 (projected to be $51.6m over the cap according to overthecap.com). Pederson hasn't had final say over draft picks that have seen the Eagles draft only one solitary pro-bowl player since 2013 (Wentz). Pederson, ultimately, has has one hand tied behind his back since he arrived in 2016. He has been forced to fire coaches he didn't want to, accept average rookies whilst watching others thrive elsewhere and even reportedly had to wait for the green light from Jeffery Lurie before Wentz was benched this season.
Finally, it sounds like Doug had just had enough. Enough of the politics and the gamesmanship from above. Wondering what decision he would be forced to make next. I absolutely do not blame him.
Even through all of this, he provided Philadelphia with a Superbowl and I will be forever grateful for one of my finest sporting memories. The 2017 season was the best I have ever watched in 16 years of following the Philadelphia Eagles. I will never ever forget the 'Philly-Philly' play, the audacity, the confidence, the poise… They built a damn statue. Doug wrote a book. The fans hoisted a keg atop the gates of City Hall…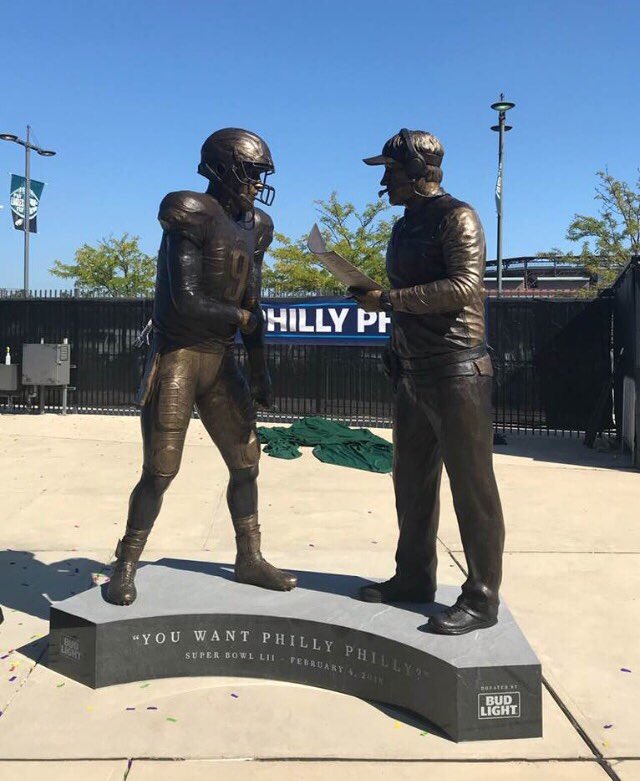 I don't know what is next for the Philadelphia Eagles. Lurie's statement makes it clear that winning in the short term isn't going to be a priority. Players are going to go, I don't want to admit it, but Zach Ertz won't be wearing green next season. Jason Kelce will retire, DeSean Jackson will be cut. It's going to be a tough few years for Eagles fans and who would have thought in Feb 2018, after lifting the Superbowl trophy, becoming the first Eagles Head Coach to do so, Doug Pederson would be fired less than 3 years later.
For the very best sports moment of my life, thank you, Doug.
Steve Tough (@SteTough)