2 teams remain in the NFC and they are two teams that know each other pretty well.
As well as being teams that are both in the top 3 of all time NFC Championship appearances (49ers 1st with 17, Rams 3rd with 11), they are two teams that watch twice as much (if not more) tape on each other every season, trying even harder to find a new wrinkle or a new way to outsmart one another. For Sean McVay it's something in recent times he's not been able to do against Kyle Shanahan.
The Rams have had a recent tough time of it against the 49ers in the Sean McVay era, after a promising first couple of years and for all of the plaudits Sean McVay has gotten in his 5 years and 136 games as the Head Coach of the Los Angeles Rams, including that video of his amazing recall of plays from yesteryears, it wont take too much racking of the brain for him to recall the pain experienced in his last 3 years against the 49ers.
Even more infuriating about his most recent defeat, a streak which is now 6 games deep, is that it wiped his perfect 45-0 record of winning games when winning at halftime, that was even with a 17-0 lead.
That win for the 49ers in week 18 was a main reason as to why they were even able to get into the postseason, so you could say they've only got themselves to blame that they face this matchup.
Let's not make any bones about it, there are probably 15 other teams Sean McVay and the Rams would've rather seen in the NFC Title game than the 49ers.
But whilst that's a decent subplot to this game, the main one has to be how the Quarterbacks have fared in this postseason. Matthew Stafford has trailblazed, demolishing the Buccaneers defence last week to the tune of 366 yards, 2 TDs, a rushing touchdown and a 121 quarterback rating. Makes a lot of difference playing for this offence compared to the Lions' ones he took to the playoffs and lost on 3 occasions.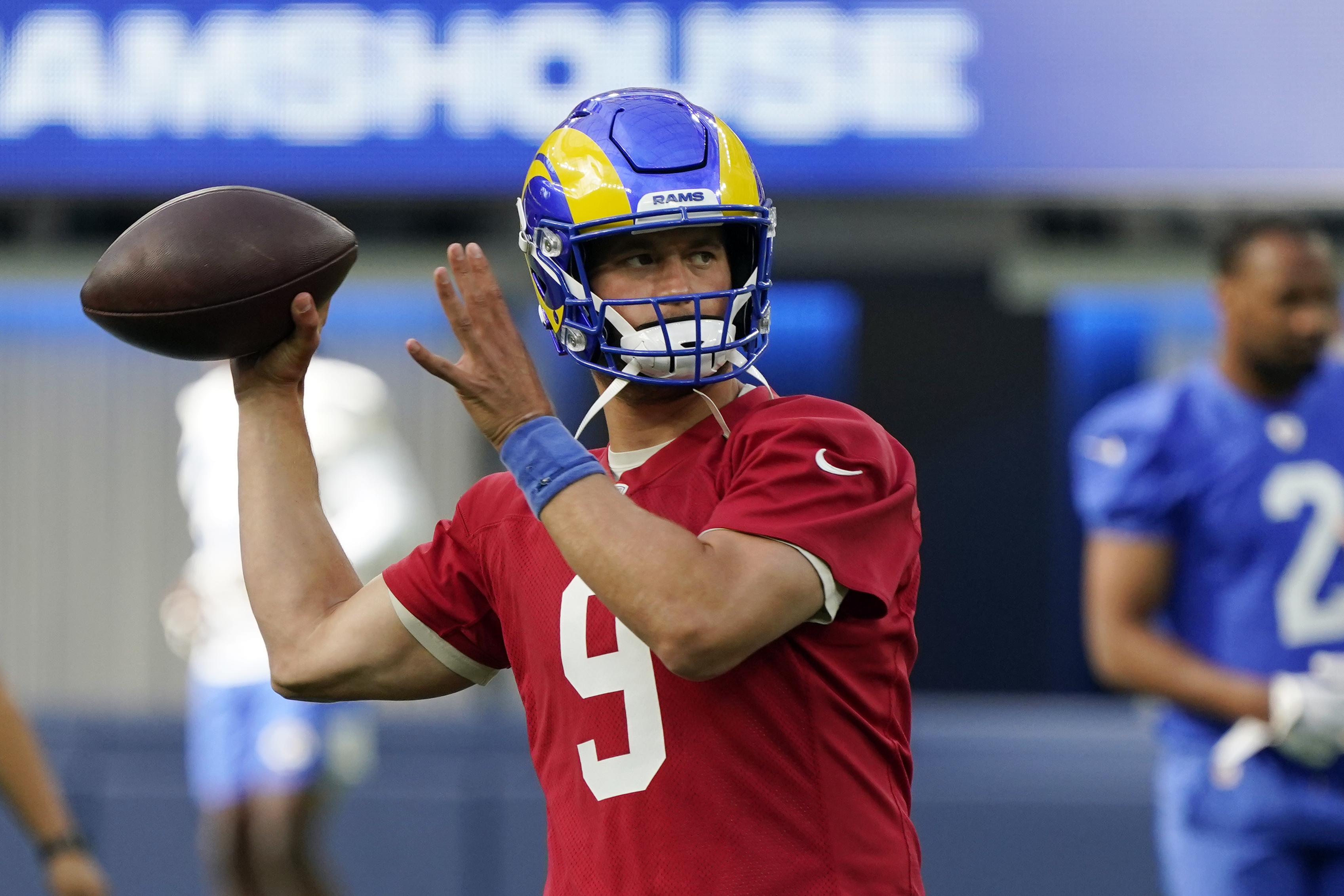 The Rams version of "Playoff Stafford" has come alive and is a far cry from the Stafford we saw in the final few weeks of the regular season; a trigger happy, interception machine. He'll need to replicate the performance from the last 2 weeks rather than the 2 performances against the 49ers this year for the Rams to have a chance to come out victorious. That means utilising star WR and probable offensive player of the year and one of his best pals in Cooper Kupp.
Kupp pre-Stafford Rams has struggled vs the 49ers but this season under Stafford, has surpassed the century mark in receiving yards on both occasions and a touchdown, doubling his tally against them in his career. His low points this season in receptions and yardage is 5 and 61 respectively, lofty heights for any receiver and even Jerry Rice would probably be raising eyebrows at the season he has had.
On the other side, it's been a case of Jimmy Garoppolo trying to remove his finger from the self destruct button. In the games against the Cowboys and Packers, fans would have been wincing most times he's gone to throw the ball. In the last 4 consecutive games, he has thrown more interceptions than TD passes, including the last 2 games where he has not even thrown a TD pass. Considering you have the talent on the roster that the 49ers do in Samuel, Aiyuk and Kittle, it beggars belief that this is the case.
Yes, the 49ers are heavily committed to the run, play great defence and it often amazes how the 49ers are able to win games in spite of his at best average Quarteback play. It's eerily similar to their Super Bowl run 2 years ago where you'll recall the game against Green bay, where he only attempted 8 passes for 77 yards.
Garoppolo's future is hanging in the balance with each snap taken in this post season and whilst even a Super Bowl may not be enough to prevent him from heading out the exit door of Levi's Stadium, Head Coaches of teams needing a signal caller will possibly looking his way intriguingly and it's absolutely plausible that he may even find himself out of a starting gig next season off the back of a Super Bowl win.
Whilst it's more quantity over quality seemingly in the upcoming NFL draft at the Quarterback position, it's going to be fascinating to see how it plays out for the handsome one because i cannot see him wanting to play second fiddle to Trey Lance, a Quarterback in which John Lynch and Kyle Shanahan invested a lot of draft capital in to take over the reins, many who'd have thought that he would have been in long ago.
So, what to make of this game?
Both teams have stellar defences, and that old cliche of "defence wins championships" will no doubt get another run out this weekend from Joe Buck and Troy Aikman in the Fox commentary box, but in my opinion, it may actually come down to how different Sean McVay approaches this game and thus how well Stafford is afforded to make plays, capitalising on his recent purple patch.
It wont be easy as the bread and butter of the 49ers defence is being able to generate pressure with the juggernaut front 4, specifically defensive ends Nick Bosa, Arik Armstead. This allows the 49ers to drop more back in coverage, the highly talented Fred Warner and the rest of the linebackers to run downhill once the ball has been handed off to the opposing running back.
This 49ers defence is one that has limited 2 of the best offenses in the post season to 17 and 10 points and a team that has given up 30 points twice since the start of November.
However, the 49ers chink in the armour is that beatable secondary (provided you get enough time to look that far) and Stafford has enough weapons at his disposal to go for the jugular, as we saw last week against the Buccaneers.
Even outside of Cooper Kupp, who doesn't need any introduction, Odell Beckham Jr is recapturing his best form and has found the endzone 6 times since his mid season move from the Browns. Tyler Higbee has been seeing increased workloads, seeing 38 targets over the last 4 games.
Talking of mid-season moves and recapturing old form, former Bronco Von Miller's matchup against 49ers Right Tackle Tom Compton is going to be a key. Yes yes yes, I am aware Aaron Donald, one of the best, if not the best NFL player in the league is on the Rams line, but he gets the requisite treatment. Von Miller has recorded 6 straight games with a sack and although the week 18 game was the only time he has tasted defeat as a Ram, he seemingly has gotten his appetite back and is still putting the work in at the ripe old age of 32. Not a former Super Bowl MVP for nothing.
They and the other Rams defenders will be trying to clog up the well oiled 49ers running machine and Elijah Mitchell, one of the diamonds in the rough in the 6th round of last year's draft is leading the charge.
He has more than stepped up (when healthy) replacing one of the 49ers' captains in Raheem Mostert, and Mitchell in the process of doing so, broke the 49ers single-season franchise record for rushing yards by a rookie, accomplishing the feat in only 10 game appearances. Just shy of the 1,000 mark on 963, has also contributed a little through the air too on 137yards, 1 TD on 19 receptions.
The jewel in the crown for the 49ers is do-it-all superstar Deebo Samuel. Selected to his first pro bowl and also 1st team All-Pro, Deebo has exploded onto the NFL upper echelons of superstars and is box office each week. For the Niners it's simple, get the ball in his hands, and Kyle Shanahan knows it.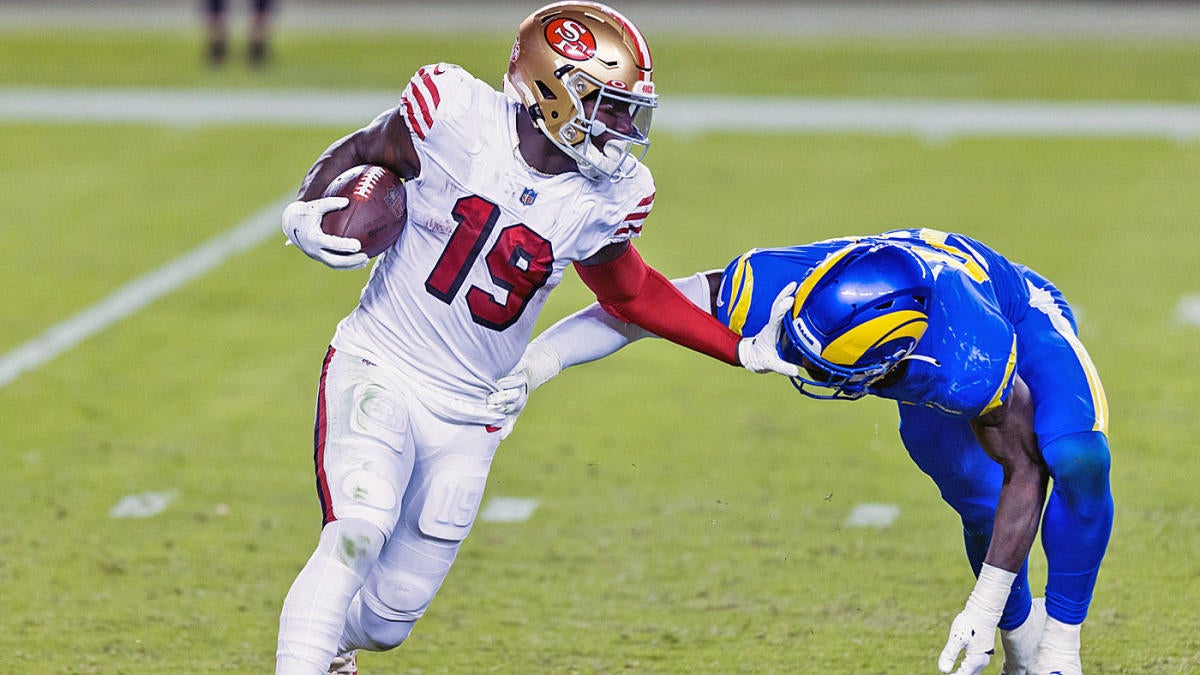 He's an absolute nightmare to account for as he'll lineup literally anywhere, even having snaps as a kick returner and also completing a pass against the Rams in week 18. No matter how he touches the ball, he's been effective and then some, amassing 1770 yards from scrimmage and 14 touchdowns in the regular season.
Keeping him and Mitchell quiet seems like mission impossible, but even if they do, they can call upon Brandon Aiyuk who has stepped up in parts, George Kittle, who is harder to bring down than Boris Johnson which as we know is no mean feat.
In terms of a winner and predicting the NFC participant in the Super Bowl, if Stafford and McVay stay aggressive and Stafford stays hot, I think the Rams can win this one with their home comforts and play at home again in two weeks time. It wont be without a nail bitten here or there though as they try and get over the recent losing hump against the 49ers. It may well be up to Jimmy G to hand it to them on a plate when push comes to shove should a similar gamescript play out like it did in week 18.
Anything subpar or conservative from the Rams and the Jimmy G led 49ers will be in the 2nd Super Bowl in 3 years and the fascinating offseason storyline with him will start on Valentines day.
For me, the win streak and abilities of Kyle Shanahan and the efficiency of this 49ers team cannot be ignored. I'm taking the 49ers to win it and win it by a Robbie Gould Field Goal, Stafford throwing a heartbreak interception late in the 4th.
Prediction: San Francsico 49ers 26-24 Los Angeles Rams
Featured image: Creator: Michael Zagaris, Michael Zagaris | Credit: Getty Images