Welcome in again for Week 14's previews for the Sky Sports games. There are some crackers again this week and we are going to start to see some playoff-style games in the sense that losses for some teams see them elimated from January football. If you want to preview a certain game, click below for your match-up! If your team isn't on TV this week, you can find our preview of your game in Shaun's weekly previews.
| Kansas @ Miami | Indianapolis @ Las Vegas | Pittsburgh @ Buffalo | Baltimore @ Cleveland|
---
Early Game: Kansas City Chiefs @ Miami Dolphins
Wait a second, is this a trap, as Admiral Ackbar likes to scream in his dulcet fishy tones? The Kansas City Chiefs will be mightily relived that the Pittsburgh Steelers finally registered a loss this season, putting both teams atop the AFC with an 11-1 record. What they will not be looking forward to is facing one of the most improved units in football, in the shape of the Miami Dolphins defence.
Along with smiles resonating from Chiefs faces after the Steelers loss, the Dolphins alumni from 1972 (remaining the only team to go a full season undefeated) will be reaching to the back of the fridge to pull out a nice chilled bottle of Moet. Their celebrations will be short lived as the front runner for the 2020 MVP, Chiefs QB Patrick Mahomes, and the rest of the reigning Super Bowl champions will be soaking up some Florida sunshine this weekend as they bring their explosive offensive unit to South Beach.
With four games left, the Chiefs have already secured a play-off spot, so they will now be gunning for the number one slot and precious home field advantage. The Dolphins, as it stands, hold the #6 seed, their 8-4 record and win percentage in conference games being marginally superior to fellow 8-4 record holders the Indianapolis Colts.
Where do you try to stop the Chiefs from gaining big chunks of yardage? It's a bit like the challenge of trying to catch every raindrop in a storm. The Broncos did an admirable job in Week 13 in slowing the Chiefs down, forcing them to kick five Harrison Butker field goals.
This lack of touchdown action will have Mahomes and his crew fired up, with Tyreek Hill (leading the league in touchdown catches with 13), Travis Kelce (who has the second most receiving yards for a TE in 12 games in the past 70 years) and rookie jitterbug Clyde Edwards-Helaire returning from a brief injury stint. CEH was available in an emergency last week, but was held out to enable a speedier recovery.
CEH can quite easily eclipse 1,000 yards of offence on Sunday, providing he does not underestimate a Dolphins defence that is allowing less than 13 points a game in the last month and that posseses the league's leading interceptor – CB Xavien Howard (8 interceptions).
Dolphins head coach Brian Flores has done an admirable job to date, turning lesser-known players such as Zach Sieler, Jerome Baker and Andrew Van Ginkel (pictured) into rock-solid performers.
Somehow Miami have avoided a quarterback controversy or any sideline animosity by getting rookie Tua Tagovailola and grizzled hirsute legend Ryan Fitzpatrick to bond like long-lost brothers, each stepping up when needed to support the team to continue to progress.
Since the turn of the century, Miami have won their division just the once, falling prey to two decades of TD12, but now they have an opportunity to have a first winning season since 2016. And if they get more breaks than a KitKat testing facility and win out, it will be the first time they'll reach 12 wins since way back in 1990. Back then, they reached the play-offs and beat the Chiefs in the Wild Card game before being trounced by the Jim Kelly-led Buffalo Bills.
The Chiefs need to bring their big boy pants to Miami, where the weather may be welcoming and the opposition uniform is no silver and black sign of intimidation. But if there's any degree of underestimation, which was likely the case in part against the Broncos, it will cost KC a possible shot at the AFC #1 seed.
If KC can do anything well, it is scoring quickly and often, so this game will need to see Miami bleed down the clock on every possession they have. Miami's running game is pedestrian at best, but they will need to feed Myles Gaskin over 20 times to stand a chance of winning the clock battle. Having missed significant time, Gaskin did manage a healthy 90 yards in Week 13, and he will be looking to crack 100 in front of Sky fans.
---
Writer's Pick – Lawrence Vos (@NFLFanInEngland)
This would be up there with the shock Washington win over Pittsburgh if Miami could somehow overcome the most dynamic offence in the NFL, with a combination of disciplined defence, strategic excellence and a sprinkling of turnovers. There is evidence that the Chiefs can be manhandled: the Raiders simply out duelled Andy Reid's crew and Josh Jacobs punched in two scores in the fourth quarter.
Tua will need to play mistake-free football to keep pace with the Chiefs. One suspects there will be a break in concentration by the rookie, and that is going to be enough for the reigning champions to move ever closer to that top seed in the AFC.
Kansas City 33 – 23 Miami
Late Game: Indianapolis Colts @ Las Vegas Raiders
The 8-4 Indianapolis Colts travel west this week to face the Las Vegas Raiders in a match-up that could have big implications in the AFC play-off picture. An Indianapolis win would see them move to 9-4 and potentially leapfrog Tennessee for the lead in the AFC South if they don't bulldoze the Jaguars like most would expect them to this week. However, if Las Vegas stays strong and hold out for the victory, they would move to 8-5 and move into the 7th seed over Indy – there's no chance they're catching the 11-1 Chiefs for the division lead in the AFC West.
The Raiders may not care too much as to why Henry Ruggs III was left wide open downfield in the last seconds of the game versus New York last week. After all, it stopped them from moving to 7-6 and handing the Jets their first victory of the season. However, what they will care about is their defence having a better game. They gave up 376 total yards to the Jets, including 206 rushing yards and 2 TDs. They are now allowing an average of 378.2 YDS/G (22nd in NFL) and 28.9 PTS/G (28th in NFL). They will also be concerned with their pass rush, having only gotten 15 sacks on the season, which is tied for dead last in the league.
What they face this week is a strong Indianapolis offence that spreads the ball around well. Five different players have over 350 receiving yards on the season. Through 12 games, Indianapolis average 265.3 passing yards per game (11th in NFL) and Philip Rivers is having a good season in new surroundings, posting an impressive 68.1% completion rate and 3,263 passing yards. While he probably won't be in the league for much longer, his experience is helping Frank Reich's Indianapolis team to push for only their second play-off appearance since 2014. They're also having success on the ground too. While they were unfortunate to lose rising star RB Marlon Mack to an ACL tear in Week 1, rookie Johnathan Taylor has stepped up to the plate posting over 600 rushing yards from only nine starts and a very respectable 4.1 yards per carry average.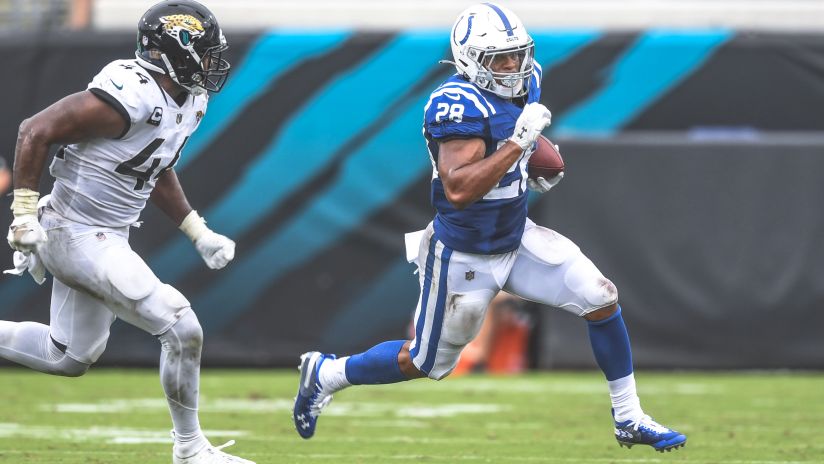 Meanwhile, the Raiders offence will be hoping that Darren Waller can continue playing at the high level he has been. He posted 200 receiving yards last week against New York as well as two scores. He has 742 receiving yards on the season which puts him second only to Travis Kelce among TEs. The Raiders offence are one of the least pressured in the league, which has allowed Derek Carr to have success in moving the chains. Las Vegas is currently 48.7% on third downs (3rd in NFL) and Indianapolis not being a great QB pressure team won't help their cause. Carr will have an age to find a receiver in this game. Las Vegas' run game is also vital to their success. Josh Jacobs continues to dominate on the ground, with 782 yards on the season (7th in NFL) and 46 first downs (5th in NFL) with the Raiders as a whole, averaging 121.2 rushing yards per game (10th in NFL).
The Indianapolis defence will have their work cut out when it comes to that LV third-down conversion percentage. Indy is allowing 40.7% third-down conversions so far in 2020, which is 15th in the league. If Carr remains unpressured, this defence could be made to pay. However there are upsides: Indianapolis makes things difficult for opposing QBs in the passing game and just last week ,they held Deshaun Watson to his first game in 2020 without a TD pass. They are holding teams to just over 218 passing yards per game (8th in NFL) as well as only 100.9 average rushing yards per game (7th in NFL). Las Vegas could find it tough to move the ball if this Indianapolis defence comes to play.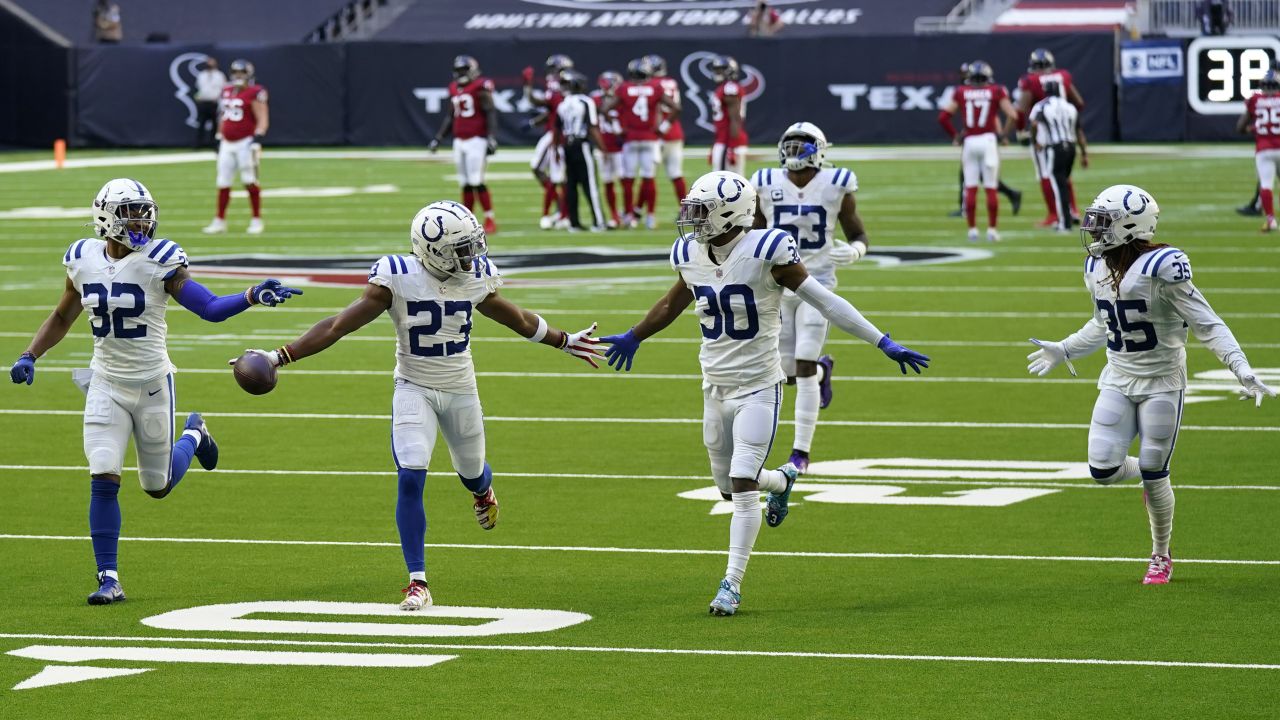 ---
Writer's Pick – Steve Tough (@SteTough)
This is a really intriguing match-up in the AFC playoff picture. It could be a bit of a shoot-out if both QBs get warm and spread the ball around the field like they can. Expect a lot of the ground game too, with Jacobs and Taylor likely to have 15+ carries each. Ultimately, I think it will be a high-scoring game, but a close one. I have Indianapolis to edge out Las Vegas in a nail-biter!
Indianapolis 37 – 34 Las Vegas
SNF: Pittsburgh Steelers @ Buffalo Bills
The Pittsburgh Steelers will look to bounce back from their first loss of the season last week when they travel to Buffalo to face the impressive Bills for Sunday Night Football.
The Steelers suffered a crushing 23-17 loss to the Washington Football Team in Week 13, as weeks of miscues on offence and injuries on defence finally struck in unison to undermine what had been an unbeaten 11-0 start up until that point.
Going forward, it's far easier to see a way out of the offensive issues than injuries, especially with the news that standout veteran corner Joe Haden and linebacker Robert Spillane were absent from practice on Wednesday and Thursday. Spillane has been particularly impressive since he took over middle-linebacker duties from Devin Bush, who tore his ACL in late October, only to have his job made even more challenging in Week 12 when Bud Dupree picked up the same major injury. The absence of either would make victory over the Bills very difficult to manage, especially with the confidence boost Josh Allen received last week with his demolition of the 49ers defence.
Pittsburgh's loss to Washington, however, was not merely an issue with stopping a team's offence; in fact, their own offensive errors once again played a part, with several receivers having drops in big moments despite Big Ben still managing to throw for 305 yards and two touchdowns. It was a similar story against the Ravens in a game in which the Steelers could easily have lost their unbeaten streak a week before, yet it was Eric Ebron and Anthony McFarland with crucial drops in the loss to Washington.
The issue was called out in no uncertain terms by Mike Tomlin after the defeat. The 13-year Head Coach warned his receiver group that "they can either catch it or get replaced by someone who will catch it". It's a problem that will need an immediate fix to beat the Bills as well, who play opportunistic defence and will have an early Christmas feast should catchable balls continue to pop into the air.
In fact, the Washington game was the second in a row with five total drops, having had just two such games in the last 15 years of NFL football, giving the Steelers a big reminder in all fashions that they need to get back to walking before they can run.
For the Bills on the other hand, Week 12 was a masterpiece of everything they wanted to see from their offensive unit, as Josh Allen returned to MVP form with a sensational 375-yard, 4 TD day through the air on Monday night.
The Wyoming alum once again hooked up snuggly with his two major receiving threats, Cole Beasley and Stephon Diggs, as the Bills torched a defence that showed little resolve, though this week's match-ups with the Steelers should be a far greater test.
The defence also grabbed two picks off Nick Mullens as it continues to improve. The quartet of Trumaine Edmunds, Tre'Davious White, Jordan Poyer and Micah Hyde looked ominously hooked up as we head into the part of the season where offences start to struggle in colder temperatures.
Over the course of the season, they have consistently given up decent yardage against both the pass and the run (bottom 13 in both categories), but being able to take the ball away, with 19 total turnovers, means that they will easily sniff out any further mistakes from the Steelers' up-and-down offensive ability.
---
Writer's Pick – Alex Lewis (@alexlewis226)
I think this game is going to be close, especially if the weather turns the game into a battle of attrition to see who breaks first and makes the big mistake. It's easy to look at Week 13 and say that the Bills are going to win again because they looked so mightily impressive while the Steelers, well, didn't. Yet it's important to remember that the Washington defence is seriously, properly good and they've made a lot of teams look bad so I don't think we will see quite the same story again this week. Despite that, I think Josh Allen has enough to grind and muscle a way past the Steelers in his own building.
Bills to beat the Steelers 21-17.
MNF: Baltimore Ravens @ Cleveland Browns
Prior to Week 1, you'd have got decent odds on the Browns having a better record than the Ravens heading into this clash, but 2020 doesn't care for the script. It's thrown it out of the window.
But here we are, the play-off bound Browns (sounds weird, doesn't it?) at 9-3 host the COVID-hit Ravens (7-5). The Browns have a decent shot here at kicking the Ravens while they are down and could go a long way to making the Ravens' play-off ambition hang by a thread. A loss for the Ravens coupled with some other results could see Lamar Jackson and co. two games back with three to play. I think that is a big enough carrot in itself for the Browns and Kevin Stefanski.
After four straight wins coming out of the bye, the Browns are dreaming of play-off football. With a win on Monday night, that would all but confirm their first post-season game since 2002 and their first season with double-digit wins since 2007.
The Browns will not be worried by what they saw out of the Ravens as they rushed all over Dallas, but the Ravens defence was unable to get much pressure on Dalton and Dallas were able to convert almost 50% of their 3rd and 4th downs last Tuesday night.
With Baltimore struggling with injuries, COVID and a lack of rhythm coming off a short week, the Browns have the Ravens exactly where they want them. The problems lie a bit deeper than that though for the Ravens, and I can't but help but get the sense of Colin Kaepernick syndrome with Lamar Jackson with regards to how he has performed this year and how much production he has been able to produce for this offence.
As Jackson is not there with his passing and the weapons in the passing game have flattered to deceive, teams are able to sell out defensively on the run and teams (Dallas aside) are able to limit the Ravens to a degree. The Browns should be able to contain the Ravens enough here.
Yes, it is still a top rushing offence, mustering over 2,000 yards now, and they still manage to gain chunk yardage on the ground after Week 13's demolition of the Cowboys. But this is a far cry from the 2019 rushing attack (2,494 yards at the same point last season).
Mark Andrews, due to his Type 1 diabetes, is taking a bit longer to come back from COVID and on the defensive side, Calais Campbell did not look comfortable on 'TuNF' against the Cowboys after a multiple-week absence with a calf injury. The Ravens need to get healthy and quick, as this game could quite possibly be the start of their play-offs. Their last three games against the Jags, Giants and Bengals are probably three notches in the win column so this game feels like it will decide whether we see Lamar and co. in January.
Switching our attention to the Browns, Baker Mayfield had a career first half last week against the Titans as he helped put 38 points on the board against Tennessee. He'll be looking to continue the hot streak, as will Nick Chubb who, despite missing four games and change through injury, still sits at 799 rushing yards on the season, ranking fifth among all RBs.
Despite the Browns' offensive focal point being the run game, if Baker is able to get some momentum going as the regular season closes and play-offs arrive, this team could go far. They need to be as balanced as possible to aid that run game and you do find that games where Baker isn't playing well or at the level required, the Browns can be defended against.
Talking of the run game, Jack Conklin was limited in practice this week and but Wyatt Teller should be good to come back from the COVID list.
With the Pittsburgh Steelers losing against Washington and having a tough game 24 hours prior to this one, the juiciest of carrots could be dangling with the division title door slightly ajar. The Browns would likely win all of their remaining games going into Week 17 when they face the Steelers, where the division title could be on the line so this is a crucial match-up to close out Week 14.
---
Writer's Pick – Tim Monk (@Tim_MonkF10Y)
It would be "so Browns" of Cleveland to throw it away from this position, but I think Kevin Stefanski has the right culture installed, the right mindset and the right players to be able to secure a first play-off game for almost two decades.
The Ravens are too beaten up and seem a bit too fatigued from the ramifications of COVID sweeping through their team. There is no rhythm or momentum for the Ravens and they are coming off a short week, albeit after playing their "free square" against Dallas.
I'm going for the Browns to win at home and I am more than surprised to see Cleveland as underdogs here so take Cleveland +2. I don't have a lean on the total points at its current 47 point mark, but would veer towards the under if anything.