So, let me start by saying that I have never done a mock draft. I usually read hundreds and might even have a play around on a mock draft simulator, but I've never actually taken pen to paper. Maybe it's being in "lockdown", or maybe it's recording our series of "wayyyy too early" pods and discussing team needs, but whatever it is, without further ado I give you………
Shaun's Mock Draft 1.0 (of all time…….)
1 – BENGALS SELECT – JOE BURROW – QB
So I might not win prizes for getting my first pick bang on, but surely this is effectively signed and sealed? The Bengals hope to land their franchise QB for the next decade or more.
2 – REDSKINS SELECT – CHASE YOUNG – EDGE
The best player in the draft could become a transformational piece on the Skins line. Look at what Nick Bosa brought to the 49ers and imagine that being replicated in DC.
3 – DOLPHINS SELECT – TUA TAGOVAILOA – QB
Trade w/DET – MIA sends #5, #56, 2021 2nd
The dolphins might not "need" to make this trade, but there is no way they leave it to chance. Tua is the QB that has been talked about here for over 12 months, with all the draft capital not just this year, but next, the dolphins make their move.
4 – GIANTS SELECT – ISAIAH SIMMONS – LB
This is what I "think" will happen and not necessarily what "should". Simmons is viewed as a sexier pick and Dave Gettleman passes up on all of the premier tackles (poor Danny Dimes)
5 – LIONS SELECT – JEFF OKUDAH – CB
From Miami
A perfect scenario plays out for the Lions as they get the man that they would have taken at #3. The best corner in the draft fills a big need, and extra capital is gathered in the process.
6 – CHARGERS SELECT – JUSTIN HERBERT – QB
I didn't "buy" the Tyrod Taylor talk when he was in Cleveland, and I'm not buying it now. The Chargers hope to be nowhere near the top 10 next year so they take their QB here whilst the opportunity presents itself.
7 – BRONCOS SELECT – CEEDEE LAMB – WR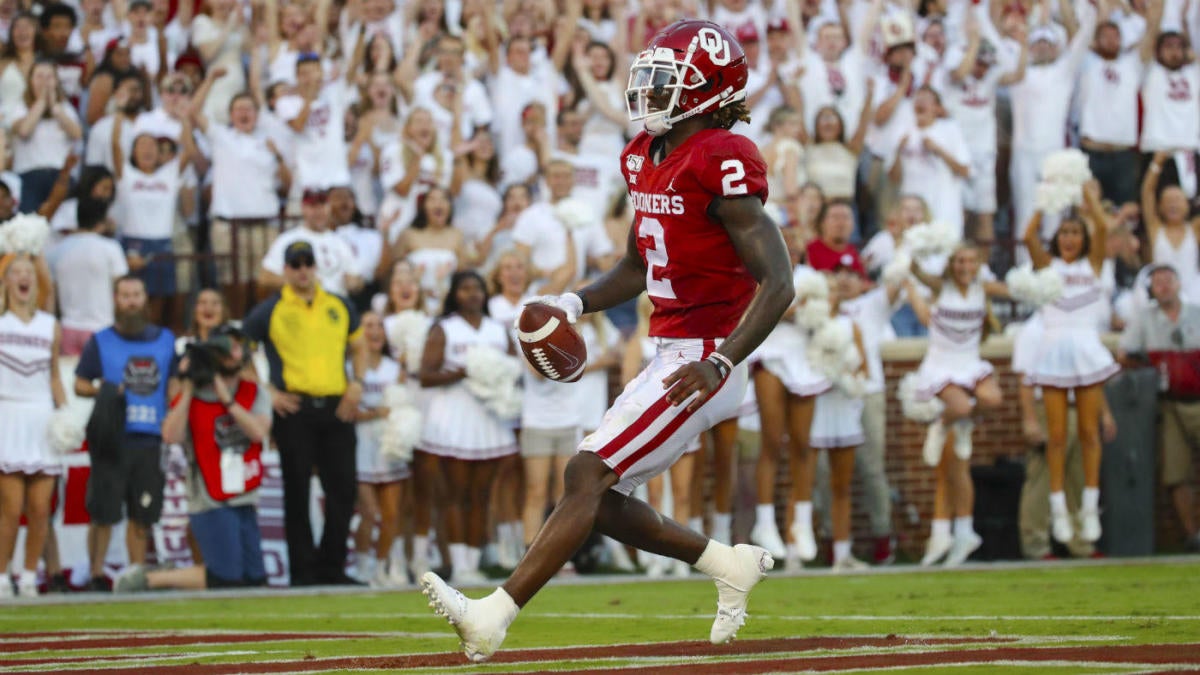 Trade w/CAR – DEN sends #15,#77,2021 2nd
The Broncos trade up to grab the wide receiver of their choice. With Courtland Sutton on 1 side this could form a tantalizing partnership for years to come. I have Denver as a dark horse this year to surprise a few people.
8 – CARDINALS SELECT – MEKHI BECTON – OT
There is talk of a wide receiver going to Arizona but after investing in Kyler Murray its time to find him some protection. Becton is raw but possibly has the highest ceiling of the tackle class and the combine drugs test doesn't bother the Cardinals.
9 – JAGUARS SELECT – DERRICK BROWN – DL
The Jags are in a rebuild and start by trying to re-establish what was considered a formidable defence a few years ago. Josh Allen played well on the line last year and is joined by the Auburn prospect to give the Jags some nice building blocks.
10 – 49ERS SELECT – JERRY JUEDY – WR
Trade w/CLE – SF sends #13, 2021 2nd
The 49ers look primed for a wideout and with Lamb off the board and receiver needy teams ahead of them they pull the trade for the Alabama man. This is a big need to take pressure off the run game and also replace Emmanuel Sanders.
11 – JETS SELECT – TRISTAN WIRFS – OT
The Jets will be thrilled if this scenario plays out. Explosive and athletic, Wirfs will start day 1 and provide Sam Darnold with some much sought after protection.
12 – RAIDERS SELECT – HENRY RUGGS – WR
The last of the big 3 receivers comes off the board to Las Vegas. Although scheduled to pick again at 19 they pull the trigger on the defense stretcher here and wait to address other needs.
13 – BROWNS SELECT – ANDREW THOMAS – OT
From San Francisco
Offensive line was the Browns biggest weakness last year. With Jack Conklin added via free agency, the Browns address the left hand side with the selection of Thomas who they may have taken at #10 had they stayed put.
14 – BUCS SELECT – JEDRICK WILLS – OT
The Bucs have invested in Tom Brady and now they invest in his protection. With Donovan Smith on the left side, Wills can start off on the right side of the line and learn from playing with Brady to begin his career.
15 – PANTHERS SELECT – JAVON KINLAW – DT
From Denver
The Panthers have a lot of holes to fill on this roster and replace the slightly disappointing Gerald McCoy experiment with the 6ft 5inch, 325lb man mountain in the middle that is Kinlaw.
16 – FALCONS SELECT – CJ HENDERSON – CB
The consenus 2nd best available corner in the draft becomes an opening day number one corner in Atlanta for a secondary that has been a weakness in recent years.
17 – COWBOYS SELECT – KRISTIAN FULTON – CB
The Cowboys continue to retool their secondary with the addition of Fulton out of LSU. Safety is also an option here but free agency moves dictate the move is made at corner.
18 – DOLPHINS SELECT – AUSTIN JACKSON – OT
Miami traded away their premier left tackle in Laremy Tunsil so now they have to use some of that capital to find a replacement. There is talk of them trading up but I feel they value Tua more so sit at 18 and pick the tackle here.
19 – RAIDERS SELECT – JEFF GLADNEY – CB
The Raiders switch attention from their biggest offensive need at #12 to their biggest defensive need here. Gladney is a physical corner who should start right away in the Vegas defensive backfield.
20 – JAGUARS SELECT – JUSTIN JEFFERSON – WR
The Jags switch the opposite way to the Raiders and now go offense by adding a legitimate weapon to the passing game. Gardner Minshew will have someone other than DJ Chark to throw to at last.
21 – EAGLES SELECT – XAVIER MCKINNEY – S
I can't believe I have the Eagles making this pick as is their history of trading up or down but safety is a need and the best available prospect is on the board, sometimes just do the simple things.
22 – VIKINGS SELECT – JOSH JONES – OT
Tackle makes a lot of sense for the Vikings. Jones is a raw prospect but might not need to be pushed into day 1 starting duty so this is a good landing spot for him.
23 – PATRIOTS SELECT – JORDAN LOVE – QB
I refuse to belive that the Patriots will not address the quarterback position in a big way over the course of the draft. The board is kind to them here as they stay put and take Love who is the consensus "best of the rest" option.
24 – SAINTS SELECT – PATRICK QUEEN – LB
The Saints don't have a lot of obvious holes but lnebacker is one that probably does need some help. The LSU product provides the Saints a rangy presence at the second level of the defence.
25- VIKINGS SELECT – TEE HIGGINS – WR
The Stefon Diggs drama is over and with one of the picks that trade landed the Vikings look for a replacement. The Clemson product carries enough deep threat to be a nice compliment to Adam Thielen.
26 – DOLPHINS SELECT – K'LAVION CHAISSON – EDGE
A surprising fall this far down the board possibly but if it works out this way the Dolphins will be thrilled. A new QB, LT and now a pass rusher would be an excellent nights work in South Florida.
27 – SEAHAWKS SELECT – YETUR GROSS-MATOS – EDGE
Another team within need of pass rush help get it at the back end of the first round as Seattle lands the edge rusher out of Penn State.
28 – RAVENS SELECT – KENNETH MURRAY – LB
The Ravens linebacker room has been depleted over the last few seasons and they are able to start the rebuild here with addition of Murray.
29 – TITANS SELECT – TREVON DIGGS – CB
An underrated roster doesn't have many holes to fill and for me this was a toss up between offensive line and cornerback. Corner is the selection here as Stefon's baby brother heads to an AFC rival of his brothers new team.
30 – PACKERS SELECT – DENZEL MIMS – WR
Outside of Davontae Adams can anyone honestly name a Green Bay receiver (outside of Packers fans)? Mims projects as a good running mate for Adams with size and speed to beat 1 on 1 coverage.
31 – 49ERS SELECT – EZRA CLEVELAND – OT
The 49ers will need to be on the lookout for Joe Staley's replacement and pick the Boise State product who is a perfect fit for the wide zone scheme in San Francisco.
32 – CHIEFS SELECT – D'ANDRE SWIFT – RB
The rich get richer! The needs of linebacker and corner can wait as the guys the Cheifs may have taken are gone so they pick the drafts best running back to add to their already high powered offensive unit.