Rounding out the week, Shaun takes a look back at some of his memorable takeaways from the 2020 season. And yes, of course, there is a Browns take…
---
Check out the latest deals over at Fanatics UK
Diversity shines through 2020 NFL season
Make no mistake about it, the NFL made a really bad job of handling players' protests around social issues prior to the 2020 season. There were more headlines around sanctions being posed against teams than there were positive reinforcements of the messages they were attempting to portray. There are still plenty of areas for improvement as we move to a more equal world, but you have to start somewhere and kudos for the good things that have come out of the NFL this year.
My hope would be in years to come that these upcoming bullet points will not be "newsworthy". They should hopefully be seen as normal occurrences but as I said, you have to start somewhere.
Jason Wright was announced as team president of the newly renamed Washington Football Team – the first black person to hold that title in NFL history. At age 38, he's also the youngest.
For the first time in the NFL, an all-black crew officiated the 23 November game between the Tampa Bay Buccaneers and the Los Angeles Rams. 
For the first time in the NFL's history, three women were on the gridiron in an official capacity during a regular season game. A female coach was on each sideline and a female official was on the field when the Washington Football Team faced off against the Cleveland Browns. Callie Brownson was the Browns' chief of staff, Jennifer King was part of the Washington coaching team and Sarah Thomas was an NFL official.
Sarah Thomas would go on to make even more history, becoming the first female official to be involved as part of the referee crew in the Super Bowl.
Defensive end Ryan Russell announced his bisexuality, the first such player to do this publicly in the 101-year history of the NFL. 
And in college, Vanderbilt women's soccer player Sarah Fuller made history in November as the first woman to play in a Power 5 Conference college football game, kicking field goals for Vanderbilt.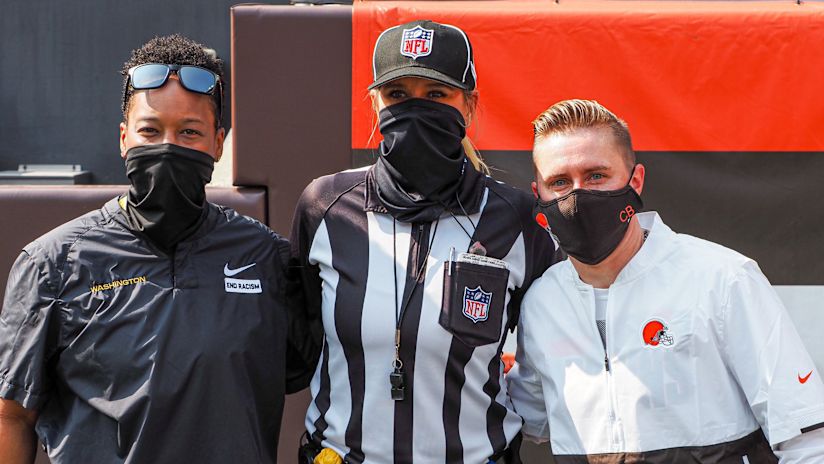 This is a sport for everyone: male, female, young, old, black, white, gay, straight and any other combination not mentioned. The more diversity, equity and inclusion are embraced, the better for everyone involved. Long may it continue on its journey to being resigned to an afterthought in the conversation.
---
Herbie goes bananas
The 1980 film Herbie Goes Bananas is easily forgettable but the 2020 rookie campaign of sixth overall pick Justin Herbert will be remembered for quite some time. Herbert ended the season with NFL rookie records for most passing touchdowns (31), most total touchdowns (36), most completions (396), most 300-yard games (eight) and most games with multiple passing touchdowns (10). An incredible feat for a player who, don't forget, only actually started 15 games, losing out in the training-camp battle that never was to veteran Tyrod Taylor. The Chargers may secretly be thanking the medical mishap that ultimately sidelined Taylor and pushed the rookie into action. The main question to be answered in 2021 will be if Herbert can continue this type of production with a new Offensive Coordinator and Head Coach. Whatever does end up happening on the coaching side of things, it's clear Herbert has cemented himself as one of the top young quarterbacks in the NFL.
---
Josh Norman takes on King Henry's stiffy
One of the most memorable plays of the entire 2020 season occurred during the Week 5 contest between the Tennessee Titans and the Buffalo Bills, when running back Derrick Henry brutally stiff-armed cornerback Josh Norman. But even that description doesn't do the play justice. The Titans star rusher literally tossed another grown man several yards, leading to an endless supply of jokes and memes for the internet to bask in.
Fair play however to Josh Norman though, as he isn't shying away from it as he said in a recent interview.
"I'm not shying away from no one. I want to make that very clear – very, very clear," Norman said. "That's just the type of entertainment (fans) just want to see. But to actually go out there and do that? Man, they going to scurry and tuck they tail and go hide somewhere. They ain't trying to do that."
Lets be honest, it's impossible to argue with Norman. Yes, he get tossed like a rag doll into another state, but there aren't many of us out there who would be willing to get into Henry's way when he has the football in his hands and a full head of steam. I, for one, would be running the other way. Many other defenders were unable to slow down Henry as he went on to eclipse 2,000 yards rushing in another phenomenal season.
---
Passers beware
There was plenty of noise made when the Miami Dolphins added a marquee name in free agency: cornerback Byron Jones. One person who must have really heard that noise was Xavien Howard. A premier cornerback in his own right, many thought Howard may end up being a cap casualty in South Florida. Howard had other ideas, and put together a season for the ages.
He tied the Dolphins franchise record with 10 interceptions, which was set by Dick Westmoreland all the way back in 1967. Unsurprisingly, Howard led the NFL in interceptions, only JC Jackson of the New England Patriots threatened his double-digit mark. He also led the league in passes defenced, registering 20 such occasions. His first career interception came in 2017, and he's picked off 22 passes since that time, the most in the league (Tennessee's Kevin Byard is second with 18).
Howard finished the season with a passer rating against of 53.0, the best in the NFL among cornerbacks with at least 40 pass targets, while his completion percentage allowed of just 52.2 was fifth among cornerbacks with 40 pass targets. Jones added an extra comfort blanket on the other side of the field, which probably led to Howard being targeted more often. He certainly made the most of his opportunities when the ball came his way.
Use code FULL10 at checkout and get 10% off selected items.
---
---
Kevin Stefanski – the saviour
The last time the Cleveland Browns had a Head Coach winning the coach of the year honours was back in 1976 with Forrest Gregg. Stefanski accomplished the feat despite plenty of challenges for a first-time HC. A virtual offseason and a shortened training camp started his tenure. An opening weekend hammering was a worrying sign but despite those challenges and early concerns, Stefanski blossomed. He guided the Browns to their first playoff appearance since 2002, snapping the NFL's longest postseason drought. Cleveland then won its first playoff game since 1994, while ending a 17-game losing streak in Pittsburgh.
At his introductory press conference, Stefanski had a clear message to his players. His Browns would have a "culture of accountability" during his tenure. On the heels of a 6-10 record marred further by several embarrassing off-the-field incidents, the phrase used was "personality is welcome, production is required." The message was clearly well received as, after the opening day drubbing at the hands of Lamar Jackson and the Ravens, a three-game winning streak came next, culminating in a shoot-out in Jerry's World.
The Browns travelled to Texas as underdogs, with plenty of outsiders doubting whether they might be for real. But on the opening drive, Stefanski dialed up a wide receiver reverse pass, and Jarvis Landry connected with Odell Beckham Jr. for a touchdown, setting a tone for the afternoon. OBJ would score two more touchdowns, and the Browns prevailed for their first 3-1 start since 2001. More wins followed and as we got to the business end of the season, the Browns had secured their first non-losing season since 2007.
Heading to Tennessee in Week 13, the Browns were 8-3, yet most of their wins had come against sub-.500 opponents. A statement win was required to quieten the doubters and the Titans had gone to the AFC Championship Game the season before. They were beginning to surge again and had playoff implications of their own to take care of. The game was over before half-time when the scoreboard read 38-7 behind four Mayfield TD passes. Arguably the game of the season followed: the Browns battled Baltimore in a Monday Night Football classic before coming up just short. Stefanski refused to claim any moral victory for the Baltimore defeat but his team had still sent a message that they would be a threat in the postseason.
The week after Cleveland clinched its first playoff berth in 18 years, things quickly turned into a nightmare, as several key players, a host of assistant coaches and Stefanski himself tested positive for COVID-19. But instead of complaining, whining or throwing in the towel on an already successful season, the Browns never flinched. And having taken on the identity of their unflappable Head Coach, who had been telling them to "embrace the suck," the Browns didn't panic.
Instead, with Mike Priefer serving as interim HC, Van Pelt calling the offensive plays and Stefanski watching from home in his basement, Cleveland jumped to a huge lead over the Steelers, then rolled to a 48-37 victory. In the locker room, the team Facetimed Stefanski so he could celebrate with them. Cleveland's season finally ended the following week in the Divisional Round after a narrow 22-17 defeat in Kansas City. It didn't take long for Stefanski to spin his team's attention to a promising future. "That feeling of disappointment," he told them afterward, "that will be our fuel going forward."
The "same old Browns" mantra has been put to bed. Talk of JJ Watt would have been laughable a few short years ago, but it is a sign of real progression in Cleveland. Thankfully, they seemingly have the right man at the helm.
Feature image: Kyusung Gong – AP Photo