By Lee wakefield (@Wakefield90)
Time to look at this year's bridesmaids, the San Francisco 49ers. How did Jimmy G and Kyle Shanahan turn it all round? Are they here to stay? Let's find out…
---
Entering the season
---
Coming off a 4-12 season when your starting QB tears his ACL is tough, especially when we're talking about a QB you traded for and signed him to a 5 year contract (although more of that later), in the hope that he could lead your team to bigger and better things.
What's more, the NFC West is a very competitive division and a division rival had just been beaten in the Superbowl. The Rams and Sean McVay were the darlings of the NFL in the media, Kyler Murray and Kliff Kingsbury were teaming up in the desert to but Arizona back on the map and Seattle, well, nobody in San Francisco likes Seattle and their Seahawks.
However, it was certainly looking rosier in the Bay Area…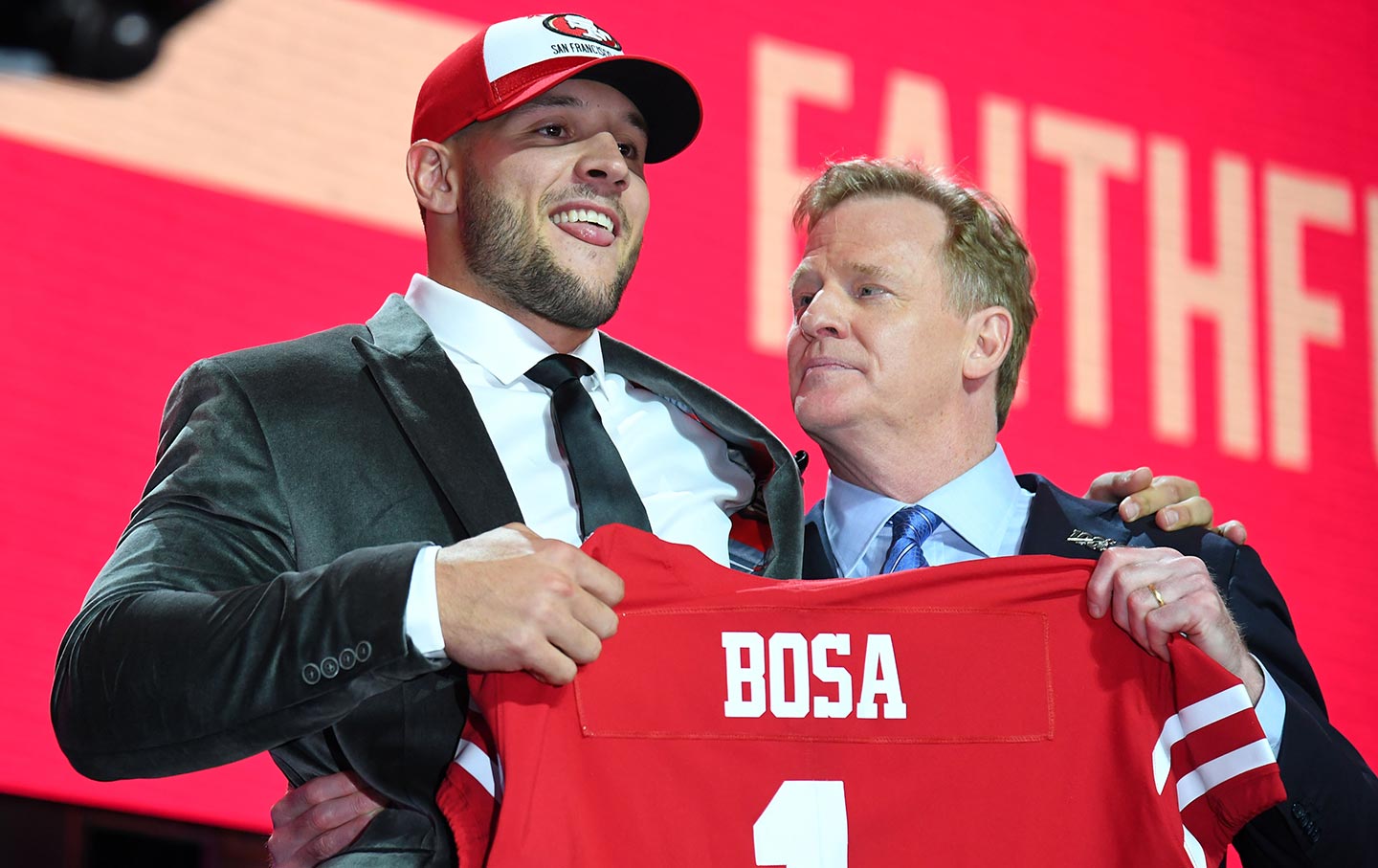 The reward for finishing 4-12 was the #2 overall pick which turned into Nick Bosa – Not a bad consolation prize, and the rest of the draft class looked good in the Spring. Bosa was followed by wide receivers, Deebo Samuel and Jalen Hurd on day 2. Day 3 brought punter Mitch Wishnowsky and linebacker Dre Greenlaw from Utah and Arkansas respectively – Neither of these players moved the needle much back in April of last year but both were very solid contributors to the past season.
Drafting well made what looked like a decent draft haul into what is now a great draft haul and for those of you who haven't been paying attention, that is what makes teams stick around at the top.
Another aspect of team building is, of course, trades and this is another method by which John Lynch and Kyle Shanahan improved the 9ers in the off season; Laken Tomlinson and Shon Coleman looked like solid acquisitions, even if they weren't groundbreaking by any means, and even if Coleman didn't play a snap this year after being injured in preseason. However, the point is, the 49ers braintrust was prepared to make moves in order to elevate their group and drag them from the second pick to what became second place.
---
During the Season
---
You know how I mentioned that things were looking rosier in the Bay? Well things started off more than rosy, the 49ers began the season on F I R E. Week 1, the 49ers went across the country and smoked the Bucs – The defense, led by Nick Bosa, Fred Warner and Richard Sherman, suffocated Tampa, forcing 4 turnovers and put Jameis Winston on his backside another 3 times. This was the kind of performance from the defense that we came to expect week-in, week-out from this unit and they were really the driving force behind the much improved San Francisco squad.
Week 2, for example against the Bengals, the 49ers surrendered a mere 25 yards rushing, sacked the QB 4 times and forced another turnover. Week 6 against the Rams, L.A. were held to a total of 157 yards of offense and 7 points. The Rams, the Sean McVay Rams, the team that every media analyst was salivating a few months before. These are just a few examples of how dominant of a unit the 49ers defense had become – Like I said, it was sort of to be expected. This unit was the 2nd ranked defense by total defense by the end of the year.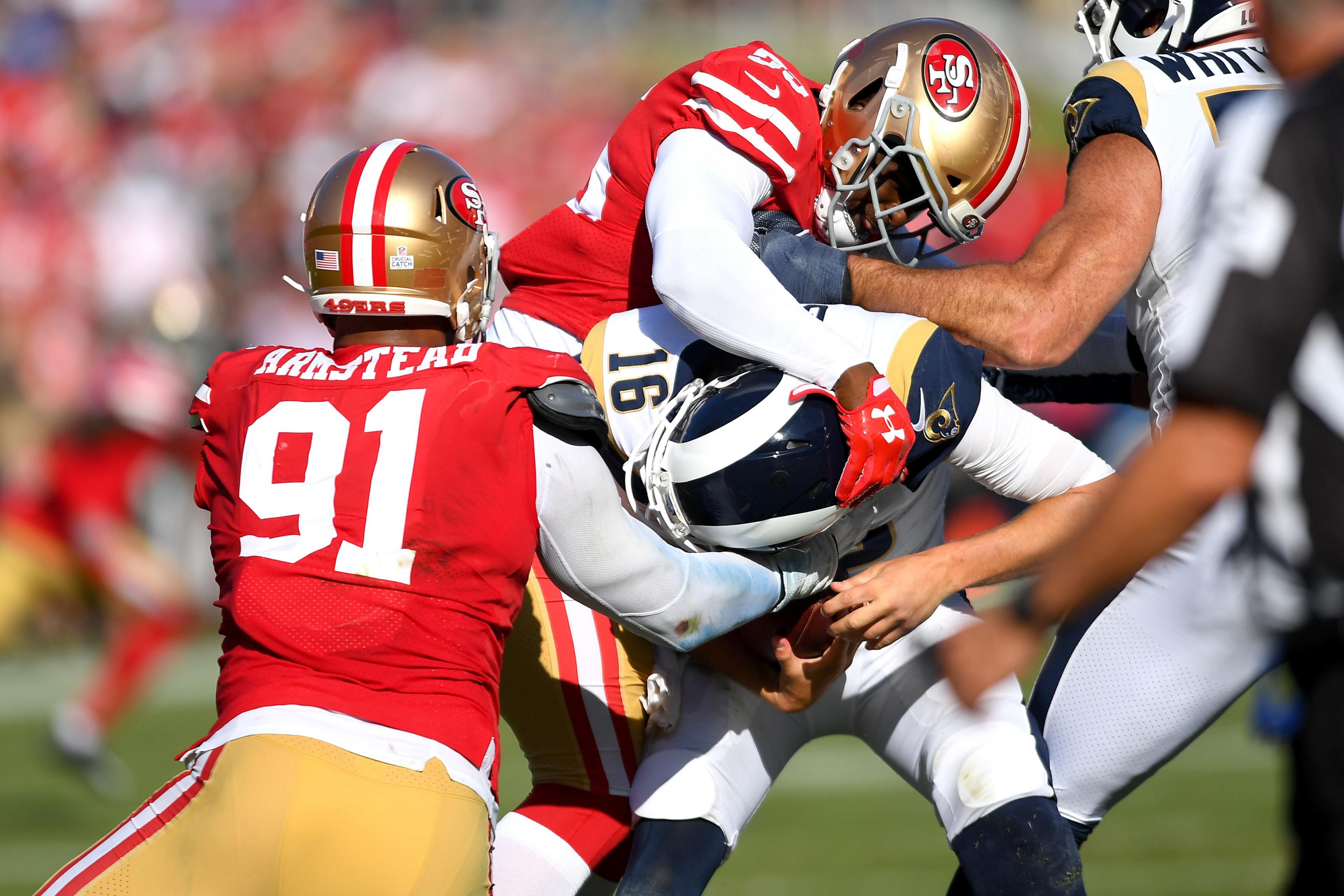 Another thing that we came to expect was Jimmy G just doing enough in the passing game. This offense was powered by Kyle Shanahan's running game and play-action.
The passing game finished a middle of the road, 13th in yards per game at 237, which usually wouldn't be enough to power anyone to 13 wins but the running game was absolutely dominant. 144 yards per game was second only to the Ravens frankly insane, 206 per game. No matter how it's cut, if you're putting up a shade under 30 points per game, your offense is a problem.
Of course, not everyone has a head coach who is an offensive genius, willing blockers such as Kyle Juszczyk and George Kittle and a bevvy of running backs who can all get hot in a hurry but these two guys were certainly the driving force, the heartbeat and the emotional leaders of the offense. They really did personify it. Whereas other tight ends might get uppity about not catching passes, George Kittle loved running people over, laughing as he did it and jogging to the sideline to ask Shanahan to run the ball again.
---
---
What was the result of this?
Well, a whole bunch of blow out wins. The 49ers weren't just winning most weeks, coming out the right side of one score games – which can sometimes be a sign of a team getting lucky – the 49ers were smoking a lot of teams, and not just being flat track bullies either. San Francisco blew out; the Bucs, the Panthers, the Rams in L.A., the Packers… And when they were asked to win a close one, they were able to get the job done, such as the regular season wins against the Saints, the Seahawks in Seattle and the Rams at home.
The only losses were in overtime at home to Seattle by 3, a 3 point loss in Baltimore and a weird loss at home to the lowly Falcons.
The offseason beckoned and it was much of the same – The Vikings and Packers fell again and truth be told, they were one-sided affairs. The 49ers steamrolled them both, Nick Bosa was on his way to Defensive Rookie of the Year and a Pro Bowl nomination and so were Juszczyk, Kittle and Sherman.
(Fred Warner was robbed y'all).
Kittle, Sherman and DeForest Buckner made All-Pro too, but this team was gunning for the biggest prize of all, not personal accolades.
The Superbowl then… Sorry to 49ers fans who are reading… I tried to hold off talking about it for as long as a could.
It was all going so well, wasn't it? Until it wasn't. The Chiefs just did what they do and put up points in bunches with their blitzkrieg-esque offense. It was a great game and even if it's no solace to 49ers fans, the 2019 season was still a great season for this team and I have optimism that the 9ers are here to stay, too. Which leads me on to…
---
Offseason Outlook
---
I think the offseason outlook for the 49ers is pretty good. As I alluded to a moment ago, I feel like this team is set to be good for a while, or at least the next 3 or 4 years.
I'm a massive fan of Kyle Shanahan and keeping him in the building is going to be of paramount importance – Although, why would he want to leave?
John Lynch has just won NFL Executive of the Year, and seems to do as he's told by Shanahan in terms of player recruitment and he hasn't been afraid to put the trigger on a deal. Aside from Garoppolo and the linemen I mentioned earlier, Dee Ford has been brought in, Emmanuel Sanders was acquired later in the season and provided a boost, and not only incomings, before this season, the likes of Daniel Kilgore, Vance McDonald and Trent Brown all left town.
We see far too many teams who stick rather than twist when it comes to roster building, talent acquisition and the acquisition of draft capital, and many of those teams stagnate.
San Francisco, New England and Seattle are teams that I think of that are never afraid to do a deal, whether that be in season of around the draft and that coupling of good coaching and a front office that isn't scared to deal has meant that in the past 10 Superbowls, since Superbowl XLV in 2011, there has only been two Superbowls that hasn't featured at least one of those 3 teams.
Food for thought – That's an elite group of teams in terms of their philosophy and the way they do business.
In terms of the business that the 49ers need to do this offseason, well… there's actually very little to be done. Which is a great thing! This team is fresh and young in all the right places – Young leaders on defense, such as DeForest Buckner, Fred Warner and of course, Nick Bosa are matched on the other side of the ball by George Kittle, Mike McGlinchley and Deebo Samuel. All these guys and more are young or coming into their primes on relatively cheap contracts.
Buckner is moving into his 5th year option and Kittle is in the final year of his rookie deal and will both need extending and both will get done, I'm sure.
The 49ers have a decision to make with Arik Armstead, whose contact is up and there may be no room at the inn unfortunately, since the two players above and also Kyle Juszczyk need paying first and the cap situation isn't the prettiest in the NFL.
The 49ers have $12.8m of space to play with according to Overthecap.com, which isn't a lot when you have to find money for Buckner and will probably have to make Kittle the best paid tight end in the NFL.
Cuts will have to be made…
Sanders deal is expiring and was worth $11m, so I doubt he's retained unless he takes a hefty pay cut – That frees up a fair chunk of capital. As will saying goodbye to the likes of Jimmie Ward, Jascon Verrett (and it maybe goodnight on his NFL career) and a bunch of other players who are further down the pecking order such as Ben Garland, Anthony Zettel and Jordan Matthews.
It is also quite handy that other free agents that they may want to keep hold of, players such as, Emmanuel Moseley, Matt Breida, Kendrick Bourne and Jeff Wilson are all exclusive rights free agents or restricted free agents, meaning the 49ers can retain them on the cheap for another year, which I am sure they will.
Ok so, a little bit of careful surgery here and there, a contract extension or two and delaying extending a couple of others means the 49ers can do into next season with a pretty similar squad to last year and just add to it via the draft, but what about next year when new contacts kick in for Kittle and Buckner and you still need to extend Moseley and Bourne?
Well, this is where we come all the way back to the top of the article and look at the contract of one, James Richard Garoppolo.
The 49ers are on the hook for $25.2m for Jimmy G next year, however, due to the way Jimmy's contract is structured, San Francisco's dead cap hit drops from $13.7m to just $4.2m after the 2020 season and after that it's just $2.8m in 2021 when Garoppolo's deal could cost $25.2m.
That's a heck of a cap saving. Especially because we've got to start considering where the money is going to come from to make Nick Bosa the most highly paid edge defender in football in a few years time.
We know Jimmy G isn't the greatest QB of all time – The 49ers focused on their run game and making that the strength of the offense in 2019 and relegated Garoppolo to being a facilitator. Which is fine and he did a good job and will probably do a good job in that role again in 2020… But do you know what, you can pay a facilitator QB around $10-15m per year and get similar results.
Unless Garoppolo seriously elevates his game next season, I think it'll be his last season in the Bay Area, because it simply isn't a good business decision to give a facilitator QB north of 25 million dollars when you have to pay a young team who are coming into their prime.
So yes, the future for San Francisco football is bright but they just may have a new QB in 12-18 months time.
A final word on the draft before I sign off here…
The 49ers are one of the most intriguing teams in the later portion of the first round this year, in my opinion.
As Superbowl runners-up, they pick 31st in the first round, a prime trade back spot for teams to deal with another team who want to get back into the 1st round and get that 5th year option on a guy they really want.
---
---
Now what do the 49ers do?
Due to their wheeling and dealing in the past, after the 31st pick they don't pick again until the 5th round and the 159th overall pick – That's quite a wait.
Do the 9ers trade back and pick up a few more swings? Or do they recognise that they are perhaps one player on defense away from becoming a complete unit?
I believe a deep safety such as LSU's, Grant Delpit or a physical corner such as Jaylon Johnson of Utah or Trevon Diggs of Alabama could really be that icing on the cake.
In reality, they will probably wait and see how the board falls on the night and see how it matches up with their board and go from there, but it, like the draft as a whole should be absolutely fascinating.
Either way, I'd back this group to do the right thing – I was part of the 49ers Hype Train last year and I think I'll be signing up again for 2020.