By Lee Wakefield (@wakefield90)
Welcome to the Chargers season review, by me, a fan.
It's January and unlike January last year, there has been no playoff football for the Chargers.
Yes, 2019 didn't end in a Superbowl either, so it was a failure – Just as this season has been but at least the book closed with hope last season. This season, the book closed with questions, and lots of them.
---
Entering the Season
---
Well, at least we get to start on a positive note.
Like I alluded to above, yeah getting smoked in the divisional round to the Patriots wasn't a great way to bow out of the playoffs last year but at least the Chargers had won a playoff game for the first time in what feels like forever and won 12 games in the regular season – Often having to dig deep in those games and get over the hump with a big play, or gutsy play call, or sometimes even a last minute kick.
Optimism was high and some people, fans and media members alike, where talking up the Chargers to make a Superbowl run in 2019. And you know what? The optimism wasn't misplaced. The team, on paper looked talented and full of playmakers, they'd just come off a 12 win season and their playoff win was one where the coaches out coached the Ravens coaches and they shut down Lamar Jackson almost completely. It looked like everything was coming together.
Thomas Davis came in to sure up the linebacking room and add some experience and steel – Something that was deemed to have been required to stop teams running all over them, like New England did in Foxborough the night the season ended.
Jerry Tillery was added with the 28th overall pick – another mechanism for plugging running lanes but also to add some interior pass rush to match the high quality rushers off the edge that they already possessed.
The signings, whilst not plentiful, seemed sensible and logical. The draft class outside of Tillery contained exciting safety, Nasir Adderley and linebacker Drue Tranquill, and some potential high upside projects, like left tackle, Tray Pipkins – Something the Bolts thought they could afford to wait on, given the talent at their disposal.
It was all looking rosy… Until it wasn't.
Melvin Gordon started his well publicised contract hold out, Derwin James broke a metatarsal and Russell Okung contracted a Pulmonary oedema.
Adderley then split a hamstring tendon and Tillery was taking longer to adjust to the speed of the NFL than expected and Pipkins wasn't supposed to play yet…
Where did that sunshine go? Where did out draft class go?
Then the games began.
During the Season
---
After the early optimism. things weren't looking great off the field in some respects, the spring felt quite a long time ago but we were going to roll with it and we still backed ourselves. Now the Colts were rolling into town
A prequel for a playoff game perhaps? An early season gut check.
"At least Hunter Henry was back", "we can get away with having no Gordon, we've got Ekeler and Jackson", oh how we comforted ourselves.
And Derwin? Well yeah, we'll miss him badly but he'll be back around week 8 to lead us into the postseason.
Well, we beat the Colts, just. In overtime. "This is what we do, we can grind wins out against good teams", "Just like last year". Like idiots we allowed ourselves to think like this.
The signs were there. We just didn't know what the signs were yet. Rivers was picked off superbly by Malik Hooker, in the endzone, in this game. Yeah… You know where I'm going. The Chargers, from week 2 onwards well, as the saying goes, Chargered (It's a phrase that pisses me off whenever I see it, I hate it, it's what idiots say on the internet to score cheap points or likes but I'll use it, because this season was just as irritating).
Detroit, week 2 – Rivers threw a pick going for it all instead of just allowing the team to kick a field goal and Austin Ekeler fumbled on the goal line, trying to leap over the pile – Something he'd done successfully earlier in the game. 1-1.
Houston another winnable game goes awry and later Denver and Tennessee…
Gordon was back by now but looking extremely rusty. The whole holdout thing was how exactly not to do it, a disaster for all parties from start to finish.
When I say Gordon was back, it was just in time to fumble literally inches away from scoring a game winning touchdown in Tennessee as the clock ticked its final few ticks.
We're 2-5 and weeks are ticking by, wins that should have been won are slipping through our fingers and players are dropping like flies. Adrian Phillips to a broken arm the latest. The glue of our defense gone.
No Derwin, no Philips, Tillery still not producing, no discernable attempt at fielding competence opposite Haywood at corner, King only present in body. Where has our defense gone?!
Christ this season is falling apart. Like I said, Chargering is irritating at best.
The weirdest game ever – in terms of my post match feeling, at least – followed. At Chicago, week 8.
A game we won as Eddy Piniero missed a walk off field goal. A WIN!
But I was p****d off, we played terribly and didn't deserve the win. I didn't feel like celebrating. This wasn't the team we all thought it was from a year ago. This very much felt like it was papering over some exceptionally large cracks.
I'm eight weeks in now and the issue I mentioned in week 1 has bubbled without exploding in our face yet. It was about to. Through 8 weeks, Rivers had 7 interceptions. Many stupid, needless and costly.
"Rivers is always prone to the odd game like this", "It's the line's fault", "we're 3-5, we can bring it back".
Oh how we deluded ourselves. Well… to add to the delusions. We went and beat Green Bay. Just what we needed. Although it wasn't. The Chargers would only beat a hapless Jags team the rest of the way.
We all know what happened from here… We threw it all away. Literally and repeatedly.
The team were disjointed on the field and lacked joined-up thinking off it. Offensive coordinator Ken Whisenhunt, was a casualty and nothing much changed. Was it his fault? Or was it actually the offensive line?
13 more Rivers interceptions, 4 multi-pick games: questions about effort and in-fighting reigned from inside the locker room.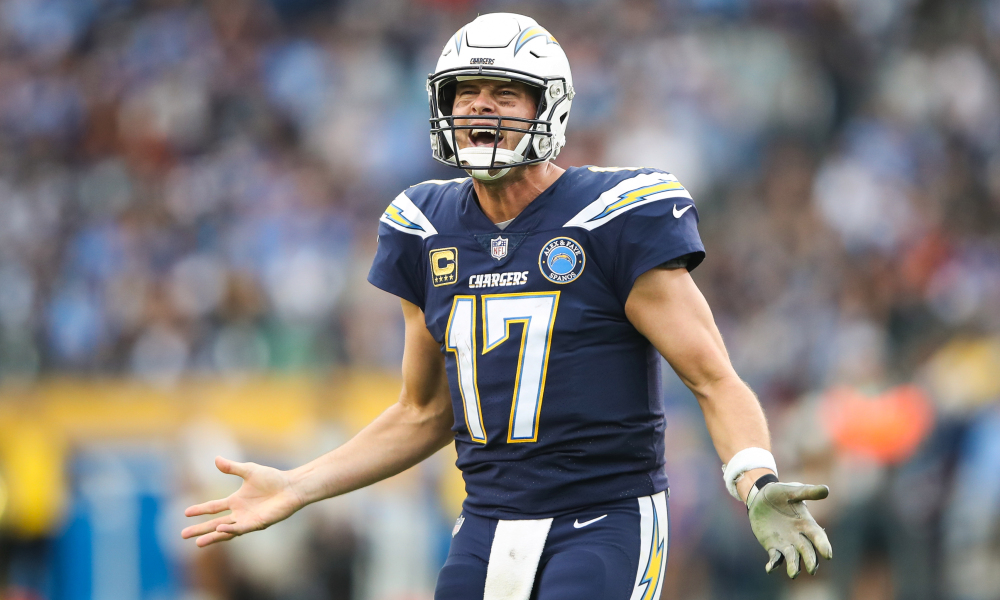 The end of an era was nigh. Rivers? Lynn? Telesco? All three? Who was going? In the end it only seems like it's goodbye to Philip Rivers, and hello to, well, we're not sure yet. Cam Newton or Justin Herbert? Or Tom Brady? Who knows… Rivers is reportedly moving himself and his family to Florida. Where everyone goes to retire, right?
All we know it's there's more questions than answers at this point and the optimism is long gone.
---
Offseason Outlook
---
Lots of work to be done. That's what the outlook it.
Look, this group isn't too bad, far from it, they have some very talented players and a bunch of good draft picks to take.
The General Manager and Head Coach probably won't survive another poor season either, so you'd like to think it's time to push the chips into the middle of the table and make some moves.
First things first – The deadwood needs clearing out. There are a few players who have either, just not worked out or are earning way too much to keep around compared to the end product on the field.
Next – Well, maybe this over anything but maybe you need the money from clearing out the deadwood but anyway, SIGN JOEY BOSA.
Don't mess around like you did with his rookie deal. Walk in with a smile on your face and a blank cheque in your hand and say: "Joey, you're the face of the franchise now, you write whatever number you'd like on that cheque and you can have it". Get it done. No amount is too much. If this team is serious about making a fist of it in Los Angeles, then you absolutely have to keep Bosa in the building. AND! This team could do without the drama of another holdout. Thanks.
Next, have a good draft!
Telesco's drafts have been spotty at best – We've had some notable hits but also some notable misses – Especially in round 3 (If Gordon goes elsewhere in free agency, the Bolts should receive a 3rd round compensatory pick), so eyes peeled for that one. I want to see another QB. Whether it's Justin Herbert at 6 or Jalen Hurts on day 2, this team needs to usher in a new era at SoFi Stadium, even if the new era begins with Tyrod Taylor under center.
Hopefully we'll see the 2019 draft class come to the fore too and therefore they'll be like new signings too.
There's always room for optimism in the offseason and as I said earlier, there is talent in every room for L.A. but some careful surgery is needed. If they receive that, then we could be looking at a worst to first candidate in 2020.
Maybe.