By Euan de Ste Croix
Back again for more season reviews, today it's time to look at the Colts, a team who perhaps were the most under-prepared going into the season, but what's the outlook for them?
---
the season
---
The 2019 season was always going to be remembered, regardless of any ensuing on-field results, as the season Andrew Luck retired, just days before the seasons outset.
Rumbling's all off-season lingered. There was an underscribed injury that had seen him miss time from training camp and he wasn't going to be able to start the season. Then, that fateful 3rd mid-pre-season game announcement by the media. He stood helpless, in front of an enraged Lucas Oil stadium.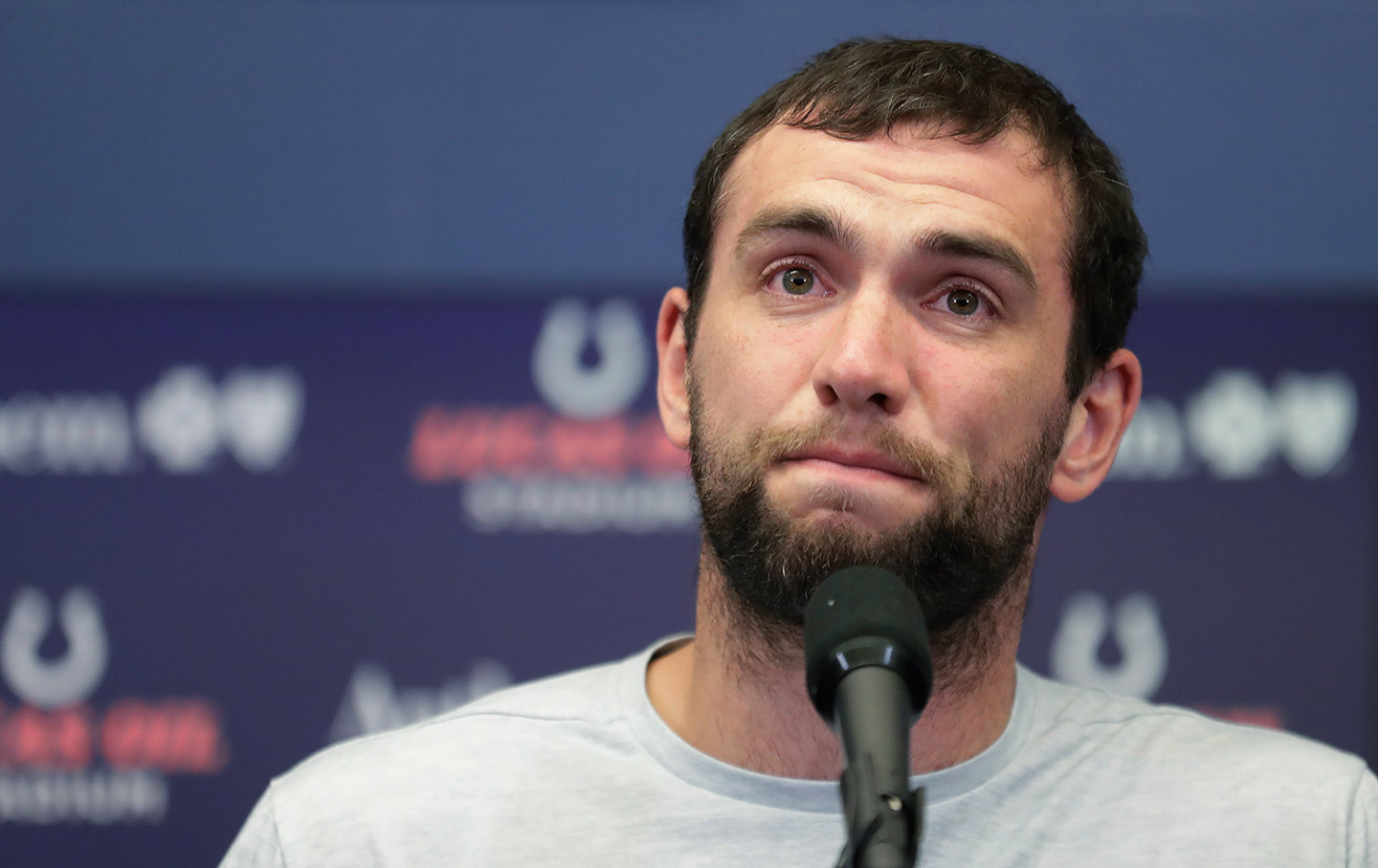 Luck, will have felt a gross injustice, when he left the field for a final time, to a chorus of Boo's from a baiting home crowd that had been dealt the worse possible news. An ending, not befitting of such a decorated franchise player. But that was to be his final act. On the turf he called home. In a city he called home. "fans" took to burning his jersey and it all concluded in a manner that all would live to regret. A timely reminder that memories are short and feelings of goodwill are even shorter in pro-football.
Health was given as the reasoning, in an emotional press conference, where the devastating blow to the teams talent and resulting fortunes was tangible. Owner, Head coach and General manager stood in front of the media defiantly, stating they believed all was not lost. But regardless of their faith in Jacoby Brissett, it was almost going to be impossible to replace their talisman.
The regret and angst perhaps lies with Chris Ballard's predecessors. He had formed a formidable line in front of Luck and a plausible case for one of the AFC's elite. The reality was perhaps, the damage was already done, in seasons prior. The stand-in-the-pocket and deliver days still lingered harrowingly on the former Stanford playmakers body. So much so, he'd lost his love for the game. This seemed unthinkable based on the previous years performances which looked like he was "back". His ailing health, the mounting injuries and the following re-habilitation process put him in a dark place. It was almost unthinkable for the Mr Nice Guy, who universally respected across the game.
It was a stark reminder, that beyond its, glitz, fireworks, fighter jets and national pride sentiment, lies a dark and shattering billion dollar business. They will bulldoze the lives and hopes of those who aspire to play it, at any given moment.
Ballard's move for Brissett in prior years with New England seemed like a ingenuius strategy. The media darling GM was continued to be lauded for this young, fast and athletic team he had built. The realtity which planned out in 2019 appeared in many ways to be a departure from this notion.
Injuries played a part, comeback star Tight End, Eric Ebron, from a year ago looked short of form and eventually was placed on IR. Both Pierre Desir and Kenny Moore, both handed extensions in the off season, battled contuined injuries. As did defensive lineman – Denico Autry, who formed a strong core of their defence.
The in season retirement of long time kicker was another unforeseen circumstance that the team had to manage. The oldest player left on any of the 32 teams rosters at the start of the season, some questionable form which cost them games and his legendary leg, suddenly was done. A tough exit for a true great of the game but another microcosm of the Colts season.
Despite a well recognised line, the Colts appeared to be short of weapons, as a deep threat, TY Hilton. He struggled to contribute as injuries plagued one of the most underrated playmakers in the game. The Colts still consistently ran the ball well in an attempt to balance their offence, in support of Brissett. But the lack of passing attack could not be overcome, to find scoring dives, when needed, they become predictable as injuries and poor form mounted. The roster the ceased to cope.
---
offseason outlook
---
The biggest questions that will need to be answered in the Off-season: what do they do at Quarterback? Brissett for all his leadership and intangibles, appeared to not provide the future John Irsay's team. The Colts hold the 13th pick of the off-season and a question of trading up to attain a target may well be on the table. They have an additional 2nd round pick as ammunition – via the Montez Sweat trade- if they see a candidate they want. Who will be within their reach is partly out their control, as QB-needy teams have stated the price they are willing to past. So a move into the top 6-8 teams may well be required, to find their future signal caller.
Or conversely, do they fulfil the most important position with a known quantity and hope they can improve the team further. Their defence with a true edge rushing presence could be in the realms of top-5 based on talent alone. They are equipped with over $90.3 mil with of cap space. They have plenty space not only extend those needed to retain its core, they have room to make a number of splashed, if they feel the talent is warranted.
They were rumoured to be making a move for previous divisional foe – Jedeveon Clowney. A perfect fit for Matt Eberfuls' defence and would add a complementary and further flexibility to what they run schematically. Players of this ilk will be where the Colts should be looking to shop for a quality over over quality approach. As Ballard has stated they will not pay over the value that they perceive each free agent to represent.
Besides a win at home against Houston, where Brissett hit unrepeated heights in his play, there were few signature performances to savour, in a 7-9 season.
They have reasons to believe as Darius Leonard is a player most front offices would want to run their defence. But they will want to find a permanent solution on offence shortly so they can maintain the young talented core together for a long as possible.
The Colts are a handful of players away from being a real force, just as they were prior to the shock Andrew Luck retirement. but based in their historic fortunes at filling that position, could they strike gold for a third time? Upon the close of the 1st round on the 23rd of April, we will then have a clearer ideas where Indianapolis see the most important question in all of sports.