By Tim Monk (@Tim_MonkF10Y)
Today we take a look at the NFC South. The Carolina Panthers have a lot of question marks dotted all over the franchise in 2020. Were they able to answer any during the 2019 season? Let's take a look…
---
entering the season
---
The Carolina Panthers were many people's dark horse picks to make a decent effort in January. They drafted well in the early rounds, with Brian Burns the standout of their draft haul.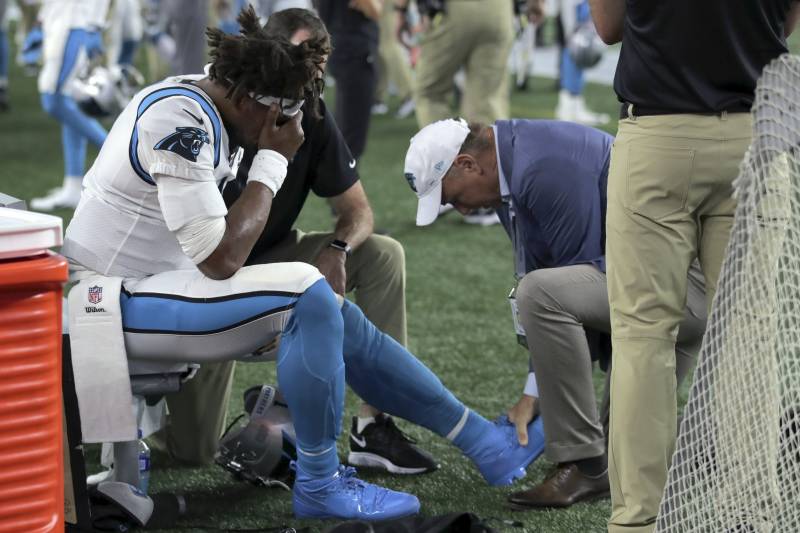 Cam Newton still struggled with niggles and injuries heading in to the season with a variety of reports from different sources ranging from "he'll be fine" to "there's something seriously wrong" with #1. A sprained foot in week 3 of the preseason put his regular season status in a lot of doubt. He was able to make the field but it wouldn't be for long.
Elsewhere on the team, Matt Paradis was brought in on a three year deal to help the offensive line and heading out the exit door was WR Devin Funchess (Colts) and veteran linebacker Thomas Davis (Chargers). Matt Khalil and Captain Munnerlyn were released as surplus to requirements and to open up a bit of cap room.
---
during the season
---
On opening weekend, the Panthers were handed a tough start against previous Super Bowl participants, the LA Rams at home. They went down narrowly but the Rams always had the Panthers at arms length despite a blocked punt recovery at the 5 yard line which was converted by the Panthers.
Their fortunes weren't any better on home turf in week 2 as the Buccaneers handed the Panthers an 0-2 start, something they had not experienced since 2013. Even more worrisome for the Panthers was the health of Cam Newton, who would not see the field again after week two with a plethora of injuries but at the forefront of those was reported as a plantar fasciitis his foot. He would later go on Injured Reserve in November.
Despite that setback, Carolina were able to turn it around and show their grit in the following 4 games prior to their week 7 bye. It was Kyle Allen and not 3rd round pick Will Grier that got the nod and Allen took his opportunity by the scruff of the neck; defeating the Cardinals to make it 200 all time franchise wins for the Carolina franchise along with wins over the Texans, Jags and Buccaneers in a blowout in London for the International Series game.
You could argue that the Panthers probably didn't want their bye as the wheels fell off after that, only winning 1 of their remaining games in the season which came against the Titans in week 9. 4 straight defeats saw the Carolina Panthers freefall from a playoff berth towards the cellar of the NFC South. It was the loss against the Redskins that was enough for David Tepper to call time on Ron Rivera's Head Coaching tenure in Carolina. Perry Fewell was unable to elevate the performance levels of the players for the rest of the season, losing his 4 games in charge. Will Grier was given the last few games of the season to show the coaching staff what they had as Kyle Allen's wheels also fell off. Unfortunately, it wasn't very much and Kyle Allen saw the field once again before the season was out.
You can't talk about the Carolina Panthers without mentioning Mr Do-it-all, Christian McCaffrey. CMC was able to have one hell of a season both on the ground and through the air, and joined an elite crew to have both 1,000 yards rushing and receiving in the season. He surpassed his receptions record from last year by 9, totaling 116 receptions in his 16 games (aided by 22 receptions in the last 2 games including 15 against the Colts in week 16). Unfortunately for him, we was unsuccessful on his 2 pass attempts on the season so perhaps Mr Do-it-all is unwarranted (I kid of course). Elsewhere, WR DJ Moore had himself a good if maybe a little under appreciated season, ending up with 87 rec for 1175 yards and 4 TDs. He and Curtis Samuel will look to take another step forward as a tandem in 2020.
---
offseason outlook
---
Where to start?!?!
Already plenty of changes to the front office with Ron Rivera packing his bags after 9 seasons, and travelled north to the nation's capital.
His replacement? Matt Rhule, a whipper snapper from the collegiate game over in Baylor takes his place, becoming the 5th Carolina Panthers HC in their history. Following him in is Joe Brady from the LSU coaching staff, leading to rumours that the Panthers could be in play to trade up and go get Joe Burrow at #1 overall. However unlikely you feel that may be, times certainly are changing in Carolina and this team will in most facets, be completely different when August roles around.
Owner David Tepper certainly has started to roll the dice with this team and put his stamp on the franchise. Will it work out? Considering Tepper's history and his track record, you have to feel it could come good for Carolina sooner rather than later.
That all starts with the QB position though, and that will certainly warrant attention during the off-season to see how that is addressed, if at all. Cam Newton has expressed his desire to stay, but if there is even a chance he can be traded for a decent haul to try and get that #1 pick, expect Carolina to exhaust all avenues to obtain it. If they are unsuccessful, selecting from the #7 spot will still give them plenty of options.
They will need to address some holes elsewhere, none more so than the potential Hall of Fame hole left be Luke Kuechly after his shock retirement. Veteran TE Greg Olsen is likely to follow Kuechly out of the exit door, apparently interested in joining Rivera at the Redskins. Ian Thomas will likely step into his shoes for next season.