Stock Up
Mac Jones:
Mac Jones barely missed a throw all game on Sunday vs the Cowboys, completing 71.4% of his passes with an 84.2% adjusted completion rate. Unfortunately for him, when he did miss, it ended up in the hands of Trevon Diggs and went back the other way for a touchdown. Despite the huge interception in the fourth quarter Jones still played very well and was one of the only reasons the Patriots were still in the game. Stats wise Jones finished 15/21 for 229 passing yards and 1 touchdown, however it was his pre snap protection calls and blitz recognition that highlights how advanced he is mentally compared to most other rookie Quarterbacks. As the Patriots schedule starts to weaken, if the Patriots can unlock parts of the playbook now you could see Jones start go off and further strengthen his case for offensive rookie of the year.
Jaylen Waddle:
Waddle was one of the stars of NFL London last Sunday afternoon, even though the Dolphins lost Waddle saw 13 targets this week with an average depth of 9.8 yards downfield. He caught 10 of those for 70 yards and a pair of touchdowns, but the most encouraging thing was how much more prepared the team was to send him deep down the field, compared to the first few weeks of the season. Waddle was an elite route runner in college football but the Dolphins have not been able to unlock his ability down the field, this is partly due to the arm strength of Tua but mainly due to the level of the offensive line. This week was the first sign they are willing to structure the offense to try to allow Waddle to impact the passing game more than he has so far. In week 6 alone they used Waddle on 100% more deep crossing routes than any week before, this could lead to long term success for Waddle and the Dolphins.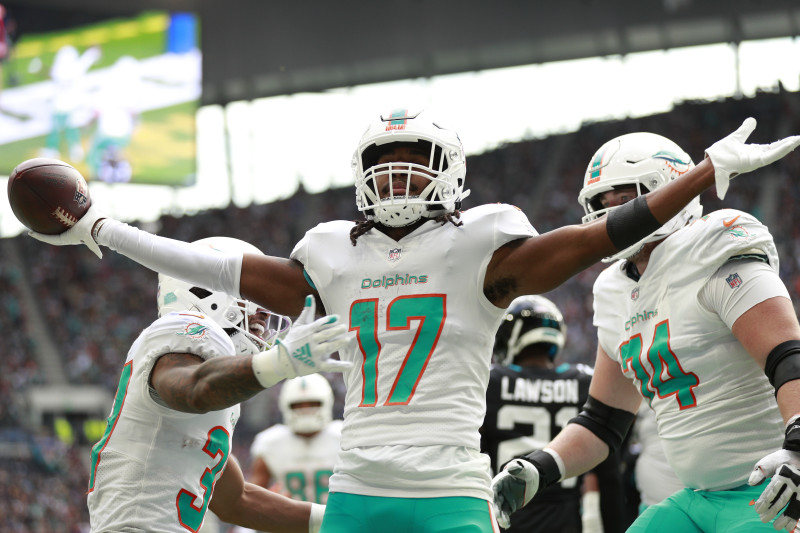 Khalil Herbert:
Khalil Herbert was pick number 217 of the 2021 NFL draft and he has certainly played above the level of that pick when he has been able to see the field. Herbert has seen an increase in snaps due to the injuries to Montgomery, Cohen and Williams. This week Herbert was the only running back to see a carry and took advantage of his increase in touches. Herbert ended the game with 97 rushing yards, 15 receiving yards and a touchdown. Herbert was efficient with his touches as well averaging 5.1 yards per carry and 7.5 yards per reception. Alongside these stats Herbert also was a plus in pass protection where he was tasked to help pick up blitzers on third down on a few occasions, all these signs should help Herbert see the field even when the other backs are healthy.
---
Stock Down:
Micah Parsons:
This was Micah Parsons worst game of the season so far which no surprise when you consider Josh McDaniels loves to target linebackers in the passing game. We mentioned Mac Jones earlier in the article and he had his highest completion % when targetting Parsons on Sunday night. Parsons gave up 3 receptions for 33 yards, two of which were during blitz situations for the Cowboys defense. Alongside his poor night on coverage Parsons only managed to get 1 pressure on 9 pass rushing snaps for the Cowboys then they were forced to rush him more due to his poor coverage game. Parsons also had his worse game in run defense, one prime example of this was when the deep free safety managed get down to the box to tackle a runner before him on an inside run play, that's how badly he miss diagnosed the run play. He still showed flashes of his usual speed but just could not get to grips with this Patriots offense.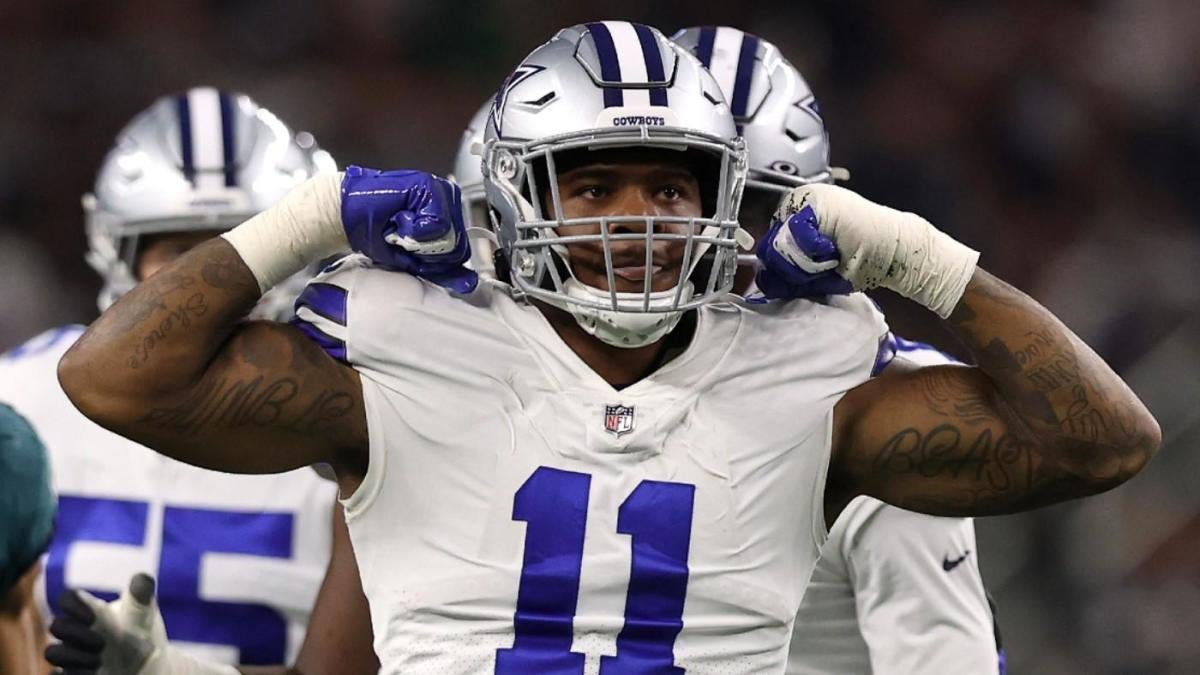 Jaelen Phillips:
Jaelan Phillips has not seen the field as much as he would have liked, despite the Dolphins having a very poor season when trying to rush the passer. This week Phillips managed pressures vs the Jaguars but two were unblocked blitz looks, therefore he only actually beat his oposing player on one occastion. However it was against the run he struggled the most, Phillips was lines up on both sides of the defensive line at times and film showed he was blocked 1v1 by tight ends on numerous snaps, something that really helped allow the Jaguars so run a lot of outside run plays. If Phillips cannot force teams to block him with offensive linemen in the run game I fear he will end up as a third down pass rusher only for the defense.
Caleb Farley:
Caleb Farley has has an poor season and has not been able to see the field as much as he would have liked, despite being healthier than people thought in the draft process. Farley was starting this week vs the Bills due to a group of injuries for the Titans secondary. Farley ended up leaving the game with a torn ACL, which is brutal for the Rookie that has been battling a back injury for two years. However even before his injury he gave up 5 receptions on 5 targets and was a constant target on third down for the Bills. Josh Allen had his second highest passer rating of the season when Targetting Caleb Farley. Farley is an atheltic freak that needs to improve his ability in man coverage, lets hope this injury doesn't slow him down next season to make the problem worse.