Week 8 in the books means this week is officially the halfway point of the season. Be sure to check out our Half Term report on site running the rule over ALL 32 teams. Check out and see our grades for your team!
But you are here because you want our takeaways! So without further ado…
---
Harsh treatment on the 49ers table
The San Francisco 49ers are in dire needs of a miracle if they hope to make a repeat run to the Super Bowl. Following a Week 8 loss to divisional rivals the Seattle Seahawks, the Red and Gold dropped to a 4-4 record. While losing to Seattle in itself is no cause for panic, the repercussions are.
Now, the Niners must go six weeks without QB Jimmy Garoppolo who suffered a high ankle sprain and, arguably more devastatingly, TE George Kittle suffered a broken bone in his foot putting him on the sideline for a minimum of eight weeks.
In this timeframe, without their QB and the face of the franchise, the Niners travel to the LA Rams and New Orleans Saints as well as hosting the Green Bay Packers and Buffalo Bills. To cap off what can only be described as a brutal run into the end of the season and, bearing in mind George Kittle will presumably miss the rest of the regular season, the Bay Area team finish their season on the road to the Arizona Cardinals and then finally, the aforementioned Seahawks.
In short, the deck is stacked up against the Niners. Truly, a miracle is required if they have any hope of even making it to the playoffs, let alone the Super Bowl. Kyle Shanahan will be hoping such a miracle will come in the shape of QB Nick Mullens who, so far, has shown glimmers of hope. Whether this tandem of Mullens and Shanahan can get this team out of the hole they find themselves after Week 8 is very unlikely.
---
The dynasty is over
If you didn't already know it, the Patriots dynasty is finished. Well, it actually finished on 17 March when Tom Brady announced he wouldn't be returning to New England.
New England went to four Super Bowls in five years, winning three of them. They went to a record 11 AFC Championship games in a row until last year. Nothing could stop them. Everyone knew New England would never be the same without its prodigal son, but Bill Belichick has worked wonders before. Some even thought Brady leaving might not be as dramatic as most feared.
Well, it has been. And some…
New England is struggling. They are 29th in receiving yards and, outside of Julian Edelman, no receiver has more than 300 yards on the season. They also rank 29th on points for (136) and 30th in offensive turnovers lost (15). Their offence looks stagnant and devoid of ideas. Cam Newton looks a shadow of the player who led Carolina to Super Bowl L.
Their defence isn't playing much better. They've given up 983 rushing yards through seven games, which is more than 140 yards per game. They cannot stop the run. They also only have 10 sacks on the season; only four teams have fewer. To put that in context, Myles Garrett and Aaron Donald have nine each.
They're 2-5. Bye week has already been and gone. Cam Newton doesn't appear to be the answer. They still don't have any reliable pass-catchers outside of Edelman, who is again injured. Their defensive line looks mediocre at best. After many clamoured for it for so long after their dominance, the Patriots finally appear to be a weak team. Makes you wonder how much Belichick has left in the tank…
---
Who's next in line for the banged-up Bengals?
Last week's defeat to the Cleveland Browns cost Cincinnati a lot more than a W; they also lost three starters from their offensive line, already considered to be one of the NFL's weakest units. LT Jonah Williams (neck), C Trey Hopkins (concussion) and RT Bobby Hart (knee) all exited the game and were deemed unavailable for Sunday's match-up with the Tennessee Titans.
To compound matters, left guard Michael Jordan dropped out 90 minutes before kick-off with an illness. That left Offensive Line Coach Jim Turner needing to replace four of his starters from the previous week at short notice. Gulp!
With the first-choice options hardly setting the world alight, relying on their understudies seemed to reduce Joe Burrow's life expectancy even more. Free agent signing Shaq Calhoun made his first Bengals start in place of Jordan. Right tackle Fred Johnson also made his starting debut while sixth-round rookie Hakeem Adeniji was also put into service at LT from the get-go for the first time, having only played seven snaps previously. Then back-up to the back-up at left guard, Quinton Spain, who only joined the team on Friday after being traded from Buffalo, replaced Calhoun after one drive.
The only players with any experience playing in tiger stripes worth talking of weren't exactly flavour of the month: Alex Redmond was briefly cut at the start of the season and former first rounder Billy Price is little more than a stand-in center or guard these days. To say it was a rag-tag mob is an understatement of epic proportions and the omens did not look good against the then 5-1 Titans.
Luckily, Tennessee's pass rush hasn't lived up to billing of late, so despite boasting names like Jadeveon Clowney in their ranks, it wasn't the worst opposition they could've faced. But still, like a conjuror, Turner had to magic this mish-mash of second and third stringers, newbies and untested rookies into a cohesive unit. And somehow, leaving us all open-jawed in disbelief, he pulled the rabbit out of the hat.
Adding up to more than the sum of their parts, the front five were awesome. They went nose to the grindstone and didn't give up a single sack or QB hit, according to PFF. That's literally unheard of, with the Bengals tied for the most sacks allowed this season (28) beforehand. Burrow was protected well and given lots of time to pick out Tyler Boyd, Tee Higgins, Auden Tate and co. with some seriously tight-window darts, finishing the day with 249 yards, 2 TDs and 0 INTs.
On the odd occasion when the Titans did break through, the young QB became an escapologist (one play in particular saw him evade four tackles in a collapsing pocket and still scramble for 8 yards). In the absence of the also-crocked Joe Mixon, Gio Bernard and Samaje Perine needed to get the ground game going. Their 118 yards and three TDs helped seal the 31-20 win, again thanks to the channels gouged out by the linemen upfront.
"The newer guys up there on the line did an awesome job," Bernard said afterwards. "Hats off to those guys… they worked their tails off. They deserve that win. They went in with minimal experience and they showed out today." Amid a lot of 'trade him' chatter, Billy Price's performance was particularly commendable, earning a game ball from Zac Taylor for his unwavering commitment and work ethic after a difficult couple of years.
As the Bengals embark on their bye week, Taylor can bask in the glory of this unexpected win – his first against a team with a winning record – for a fortnight. That rest period will give the walking wounded time to heal but it also gives the coaching staff the opportunity to address an unexpectedly difficult decision: which five linemen start against the league's most feared defence in Week 10, when they travel to Pittsburgh?
---
Steel unbeaten
In the blockbuster match-up of Week 8, the AFC North top-of-the-table clash saw the Steelers squeeze out the win in Baltimore.
Despite Lamar Jackson's and the rush game's best efforts, the Steelers defence continued to dominate.
Lamar's Jackson's struggles continued with his first drive ending in a pick-six. The Steelers' defence helped themselves to four sacks, two interceptions and laid down nine hard hits on the Baltimore QB.
Standouts on the defence include Stephon Tuitt, who helped himself to another two sacks and eight tackles (three for loss) and three QB hits.
The Steelers won't be happy with the 265 rushing yards they gave up. However, after allowing an average of 129 yards coming in to the game, they'll be happy with the win they picked up in the division on the road.
Securing the win forcing a Lamar Jackson fumble will be something they'll peacock until Thanksgiving week, when these teams meet again. Will Pittsburgh still be unbeaten when that games comes to pass?
---
Chiefs didn't give LeVeon a Bell
A main storyline heading into this week's games was one at Arrowhead, where former Jet LeVeon Bell and his Chiefs welcomed in his former team the New York Jets.
Many expected the Chiefs and Andy Reid to put it to the Jets but Bell ended up with a disappointing statline come game's end: six carries for 7 yards on the ground and three receptions for 31 yards without finding the end zone.
The backfield will be a puzzle for the foreseeable future with first round draft pick Clyde Edwards-Helaire also seeing three receptions and six carries. You have to think that both of them sharing the limelight will ensure neither player shines too brightly on any given week. Music to the ears of fantasy owners…
---
Running by committee
Yesterday's 41-21 win by the Indianapolis Colts over the Detroit Lions came with lots of positives, but also managed to muddy the waters further on who would be the go-to choice at running back for the rest of the year.
Since Marlon Mack's season-ending Achilles injury in Week 1, the triple-headed monster of rookie Jonathan Taylor, Jordan Wilkins and Nyheim Hines have been fighting for the limelight.
Before their bye week, Taylor had been putting down a solid case for the starting role, averaging 4.7 yards per carry and two total touchdowns in the last three games before the Colts travelled to Ford Field on Sunday.
That form didn't carry over the break however and, with Taylor averaging a measly 2 yards per carry, Jordan Wilkins, the fifth round selection from 2018, stepped up with 89 yards on 20 carries and one score.
Taylor's case to be lead back wasn't helped by Hines who hauled in a total of three catches, two of which were taken in for touchdowns. They included a sensational catch-and-run in the first quarter that put the Colts' first points on the board, and was celebrated in style with a move rarely seen outside of a gymnastics hall.
If the increased production by the second and third backs continues into the future, Frank Reich may soon have to head towards a defined running back by committee approach. Reich admitted after the victory that the team had "rode his (Wilkins') hot hand" as they continue to try and find the answers to their drop off in the running game.
Mack's absence must surely be the key, with the team dropping from 133.1 rushing yards a game last season to just 101 this season, bad enough to rank 24th in the league after eight games. Whatever the answer is for Reich's men, they might need to work it out quickly.
With just two more games against top 10 rush defences left this season, the Colts' chances of holding the AFC South lead might end up falling or succeeding with Taylor, Wilkins and Hines.
---
Dawn of the living Dalvin
The Vikings coaching staff need to go back to school to learn some very basic sums, namely that 33 x 25+ = W. Yes 25+ carries for Dalvin Cook in a game week equals a W.
Conclusive proof that this theory can be proven came on Sunday against a pretty decent Green Bay Packers team, as Cook was fed the ball 30 times on the ground and three times in the air.
The result was four touchdowns for Cook, 28 points for the Vikings and only their second win of the 2020 season. The usually indomitable Aaron Rodgers did manage a furious comeback, and he had the ball in his hands in the final minute, but a strip sack put pay to a cheese-headed victory.
Dalvin Cook is a terrific asset, and hopefully now the Vikings will keep providing him with opportunities to influence games. In six games, Cook has now accrued 13 touchdowns.
The NFL record is 31 in a season (by LaDanian Tomlinson in 2006). Unfortunately, due to a one-game injury absence, Cook is unlikely to eclipse this mark, but he will go darn close by season's end.
---

Acting up: Tua needs to thank his supporting cast
It was the long-awaited NFL debut of Tua Tagovailoa and for Head Coach Brian Flores, the move from the hirsute Fitzmagic to the clean-shaven first round rookie proved to be a winning decision.
The Miami Dolphins moved to 4-3, and second in the AFC East, after logging their third consecutive win, with last weekend's win over the five-win Rams their most impressive of the season.
Tua was all smiles in the post-game presser, but he knows that many more performances like the one he served up on his debut and the Dolphins will be in trouble.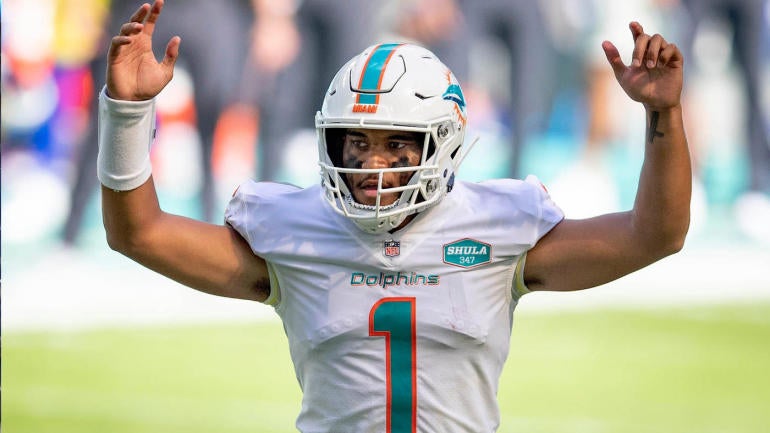 Tua was less than impressive in his matinee performance, getting sacked on his first snap, before failing to get much going all day. His 102 yards were hard fought and while he did manage to settle, even throwing his first TD (to DeVante Parker), it was a bonkers second quarter where the Dolphins defense looked like the 1970s 'Killer Bees', and Jakeem Grant returned the first punt of the season to paydirt that was the difference.
The Dolphins are looking like a playoff team. Can Tua drive the bus or will he be a passenger?