Xmas football is here! Just 2 weeks left of the regular season before we separate the men from the boys. Yet another feast of action provided by SkySports this weekend including a Christmas Day game and 3 on Boxing day. So get your mince pies in your hands as you peruse through the games. Use the handy menu below to choose your game!
Merry Christmas to everyone and hope that it is as good as it can be considering the year we have had, but thankfully the NFL is here to keep us company if you can't be with those that you intended to be with.
Head over to NFL Shop Europe for the latest deals! Use code FULL10 on selected items at checkout
---
| MIN @ NO | TB @ DET | SF @ ARI | MIA @ LVR | IND @ PIT | LAR @ SEA | TEN @ GB | BUF @ NE |
---
Xmas Day 9.30pm

– Vikings @ Saints

You have to wonder how much stuffing has been knocked out of the Vikings after their loss against divisional rivals Chicago. They have conceded an average of 28 points over the last few games and take on a Saints team on a 2 game losing streak but should have a as healthy as can be Drew Brees under center.

Personally, I feel that Drew Brees came back too early but considering the position the Saints are in, I can understand why. currently the #2 seed, chasing the Packers and had Kansas coming to town, totally get why they brought back the future hall of famer, even if it was a bit hastily.

He'll have a better time of it against the Vikings but it isn't a fixture thay've had too much success in, with Minneosta leading the all time series 23-12 and winning 3 of the last 4 (who can forget the Minneapolis Miracle).

Brees will have to do it without Michael Thomas who landed on IR so that he can as fit as possible for the playoff and try and rekindle that partnership on the field in the post season with the Saints guaranteed to be there. The Saints (10-4) still need to win one of their two remaining games to clinch the division and the Buccaneers are making a late charge, only one game back.
Alvin Kamara has had far from a vintage year and you have to go back to week 6 since he had his last 100yard scrimmage game and the recent switch at QB and an under par Brees and missing Michael Thomas has played its part in that. That being said, he is still the leading rusher AND receiver on the team so expect similar outputs from him here against a Vikings defence that ranks 23rd against the rush and 24th against the pass in terms of yardage.
The Saints defence has come to play and is getting better as the season goes on. Their 32 points conceded against the Chiefs, which is no embarrassment at all, was the first time they conceded 30 plus since week 5. Since their week 6 bye, they have limited opposing offence to under 14 points 4/9 times and under 300 yards of total offence 5 times.
Led by leading team sacker Trey Hendrickson, who was able to be more than a nuisance for Patrick Mahomes last week, will look to add to his current 12.5 sack total on the year. Fellow Defensive end and partner in crime Cameron Jordan, whilst not having his best year has still been able to notch 6.5 sacks and are a good pass-rushing duo that Kirk Cousins will no enjoy getting to know this Xmas.
For Minnesota, despite being the 9th seed currently, are all but out of it by name being 2 games behind Arizona and also now behind Chicago in the tie-breaking ranks.
They'll look to play spoiler here and they do have the talent on offence to score the points and star rookie WR, who earned a pro Bowl nod (for what it's worth) this week, will continue to add to his 1182 yards and 7 Touchdown dances this season. A perfect compliment to Jefferson is Adam Thielen who has gotten the Touchdowns and redzone looks, if not the yardage and has 13 TDs and just a few ticks under 800 receiving yards this season.
This team is a run first offence though as Dalvin Cook, also a Pro Bowler for 2020, will look to find the endzone against a Saints defence giving up the fewest amount of rushing scores. that being said, he did find the endzone against Chicago who are also a top 5 stingy team when it comes to scores on the ground. Cook has mustered 8 games with over 100 rushing yards this season and has scored in all but 3 games.
Check out the latest deals over at Fanatics UK
For Minnesota to have any chance, they'll have to be clean in the turnovers battle, a metric that Saints rank 6th (+6 turnover differential) compared to the Vikings lowly 23rd (-5).
---
Writer's Pick: Tim Monk (@Tim_MonkF10Y)
I can't see anything but a Saints victory here against a Vikings team that only has pride to play for now. That being said, if Brees is no better than he was last week, they could struggle but considering how dominant the defence has become since their bye (Kansas game aside), they could bail the offence out anyway. Saints should cover the 7 points that the bookies have handicapped them and I feel the total points line of 51 is too high.
Saints 27 – 17 Vikings
Boxing Day 6pm

– Buccaneers @ Lions

Brady and the Bucs struggled to get going in the first half against the Falcons, but they got out of jail because they were playing the Falcons.

They remain a game back from the Saints who are far from guaranteed win either of their remaining games in the division but they also sit level with the Rams at 9-5 and they'll at least want that #5 seed which is a trip to play the NFC East winner, so essentially a bye in the Wildcard round in January. As the Rams are facing the Seahawks, a win for the Bucs in this one likely lifts them into that 5th spot regardless of the NFC West battle result.
So how good has Tom Brady been this year? Well stat wise, it's in keeping with most of his years. Consistent, if not spectacular. A win in either of his last 2 games will continue his streak of double digit wins in the regular season, with 2002 the ONLY season he won less than 10 games as a starter and that includes a 11-1 season (due to suspension) in 2016. It's fair to say the Belichick vs Brady debate clearly is a battle that Brady has won this year. You can still tell that he has the fire in his belly after his riposte to Tony Dungy on Twitter when he ranked him as his 6th hardest QB to play against.
It helps when you have players like Mike Evans, Anotnio Brown and Chris Godwin catching balls for you. Evans, who paces the Bucs with just 779 receiving yards, epitomises what Brady has done this year, which is spread the love around. 5 receivers have over 30 receptions and all have over 300 yards and there are 10 different players that have caught a receiving touchdown off the future Hall of Famer.
Leonard Fournette, with 2 TDs last week will continue in place of Ronald Jones, who will continue on IR but this is a pass first offence who rank in the top quarter of most passing metrics including yardage, Touchdowns and points.
They face a Lions team that are 1-5 at home and a defence which rank in the bottom 5 in most metrics in either passing, rushing or total defence including a league worst 31.1 pts per game given up so should be able to do what they want, when they want.
Whilst there are points giving up on defence, on offence, they are able to score too so signs point to a potentially high scoring game. Matthew Stafford doesn't seem as though he'll miss this game despite having multiple injuries including a back injury, a consequence of trying to carry this team for years.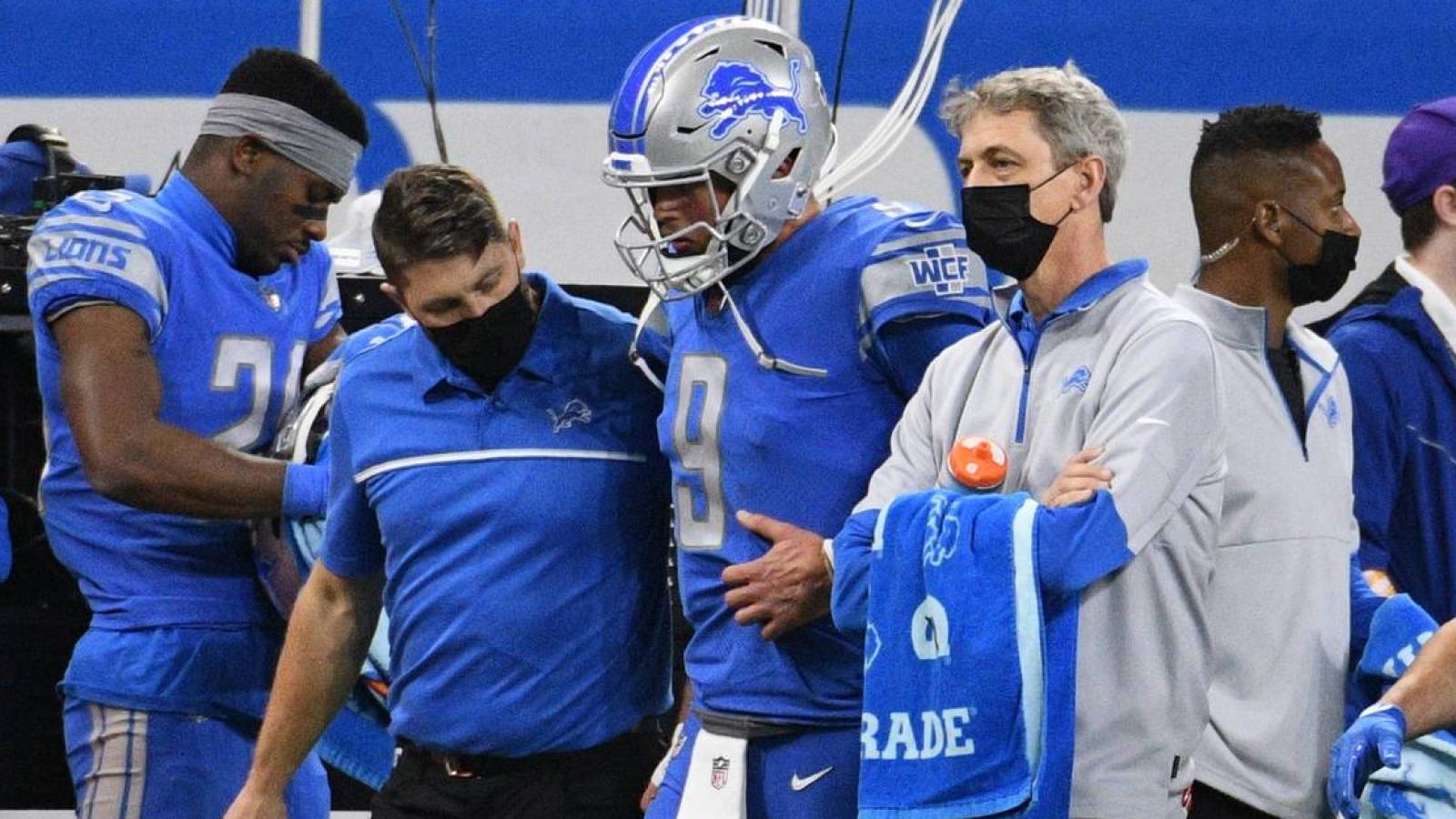 The same can't be said for Golladay who clearly has some serious hip issues that have kept him out for the majority of the season. Marvin Jones has rolled back the years somewhat over the past few weeks, with 2 TDs and 276 yards in his last 3 games. Like he did in New England, Mo Sanu has made a decently positive impact in his first few weeks for the Lions and will look to continue his part in the last 2 weeks.
The team's main target hog who fumbled last week, TJ Hockenson, will look to get back on track and add to his 6 TDs on the season, which has seen him earn a Pro Bowl nod (though Evan Engram did also, so whether we can use Pro Bowl as an achievement is very much debatable).
Stafford an Co. take on a Bucs defence that has seemed to have been more frivolous in recent weeks, allowing at least 4 scores (TD/FG) in 6 of it's last 7 games (would have been 7/7 if not for Dan Bailey) and have been picked apart through the air all season giving up an average of 255 yards.
---
Writer's Pick: Tim Monk (@Tim_MonkF10Y)
Hard to see anything other than an away day victory for the Bucs on "Bucsing Day" (sorry). The 9.5pt handicap line indicates a tough day for the Lions, which would be in keeping with their defensive performances throughout this season. I'd probably fancy the Bucs to win by double digits.
The Bucs defence has gotten into the Xmas giving spirit too though and the total points line of 54 appeals on taking the over.
Buccaneers 38 – 24 Lions
Boxing Day, 9:30pm –
49ers @ Cardinals
It's Christmas, and on Boxing Day we get served up two tasty match-ups to enjoy after everyone has eaten approximately 781kg of turkey & stuffing. The evening game sees a depleted San Francisco team, hobbling to the end of the season at this point, visit State Farm Stadium to play the Cardinals. Is this now a home game for San Francisco? As they're temporarily playing out of State Farm? Should they not choose a neutral venue? Sod it, send them both to Wembley. Not much going on there right now…
Okay, okay, London is a long way from the West coast. I get it. If this had been the reverse game it would have been very interesting, especially seeing as Arizona is currently allowing some fans into the games. Not much of a home game for SF? Focusing on the game, San Francisco comes into this one beaten down and hurting from their extensive injury list this campaign. Jimmy G is still on IR and according to reports isn't expected to return again this season. Fans have to be wondering if he can be relied on moving forward from here. Since tearing his ACL after 3 games of the 2018 season, he will now have missed 23 games from a possible 45 (assuming he doesn't start again in 2020). Could he have played his last game in a 49ers uniform? The bad news doesn't end there either, with Nick Mullens also headed to IR after elbow surgery this week. The end of the season can't come soon enough for Kyle Shanahan.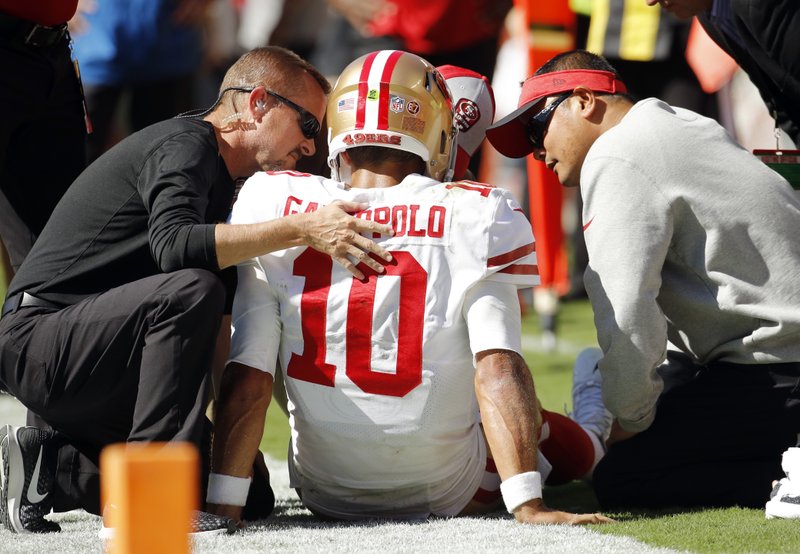 However, defensively San Francisco might actually be able to put up a bit of a fight. They currently have the 5th-best ranked defence in the NFL in total yards allowed, they are also 4th in the NFL when it comes to passing yards allowed (2,938). The 49ers secondary is looking good and if they can pressure Murray into quick first and second read throws, they might be able to create some turnovers and hand their offence a short starting field position, which will certainly help given the boat load of injuries they have on that side of the ball. They will have to rely on their secondary as their pass-rush just isn't getting it done. With Ezekiel Ansah and Dee Ford both on IR, San Francisco aren't getting the sacks to try and pressure opposing offences. They only have 25 sacks this season, which is almost half that of the league leaders (Pittsburgh – 47).
Arizona come into this game on the back of the game of the week versus Philadelphia. A shoot-out between the two ex-Ohio State QBs ended in a narrow victory for Kyler Murray. He threw over 400 yards in the process with 3 scores, but had some real 'interesting' moments. The interception throw straight into the arms of Eagles safety Marcus Epps was puzzling to say the least. Murray obviously still has plenty time to improve, he's only in his sophomore season in the league and with one more win will lead Arizona to their first winning season since 2015. He's also on the brink of a milestone; he needs a further 363 passing yards to reach 4,000, and 259 rushing yards to reach 1,000 on the season respectively. One would imagine he will fall short of the rushing total, but its a monumental effort – note that no QB has ever done that before, showing how difficult it is to achieve.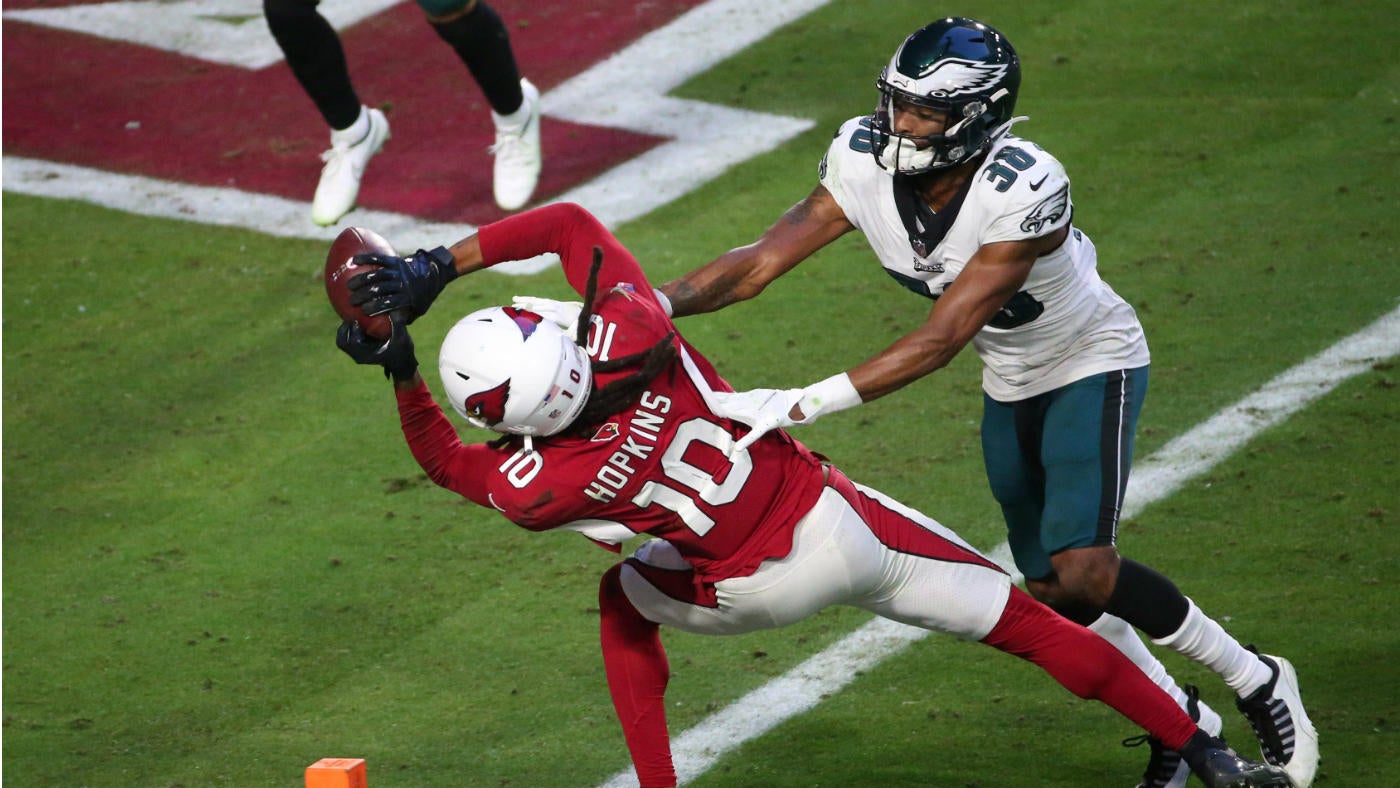 Kyler's youthfulness was bailed out a couple of times from some truly incredibly catches by his receivers. The DeAndre Hopkins catch pictured above was eventually the game-winning score, and just a truly mesmerising display of athleticism. He ended up one handing that catch down to the ground. Veteran receiver Larry Fitzgerald also caught a wonderful low pass at the back of the end zone, making it 255 games in a row that he has caught a pass. A absolutely mesmerising statistic – he's only missed 8 games in 16 seasons in the league.
On the ground Arizona should be a dominant force too. They are 4th in the league in rushing yards – averaging 147.8 per game with 4.8 yards per attempt average (T-7th). Murray's elusiveness will prove tricky for the 49ers defensive line and pass rushers, if he can get out of the pocket and run the ball on either designed runs or RPOs, Arizona could have some success but they shouldn't expect a walk in the park against the 7th ranked rush defence in the league (104.4 yards per game).
On the face of things, this Arizona defence should have an easier time of things if Garoppolo isn't playing and CJ Beathard gets the start. San Francisco are also still without star RB Raheem Mostert, not making their attack on the ground much more formidable than the one in the air. However, there is no such thing as an easy game in the NFL and just 4 weeks ago the 49ers pulled off an upset win against the Los Angeles Rams. Haason Reddick and co should be licking their lips with a chance to get to the top of the sacks table. Arizona has 43 on the season, only 4 away from the league leaders. If he can have another 5-sack game like he did in week 14, I can't imagine SF will be leaving (or staying in) Arizona with the W.
---
Writer's Pick

(Steve Tough – @SteTough)

Despite some real hearty performances from San Francisco this season in the face of absolutely horrible injury luck, I just don't think they have enough to overcome Arizona. Kyler Murray is coming off a 400+ yard passing game and will be looking to add to that total. DeAndre Hopkins also leads the league in receiving yards with 1,324 and will be looking to take that crown for the first time in his career. It will be interesting to see if the San Francisco defence can enjoy the same success that Philadelphia did against Arizona, if they can, this game could be closer than most anticipate it will.

San Francisco 10 – 27 Arizona
Saturday, 1.15am

– Dolphins @ Raiders

The Las Vegas Raiders will hope that quarterback Derek Carr can return for Sunday to face the Miami Dolphins, as the Silver and Black look to pursue very narrow play-off dreams entering Week 16.

Carr, who left the defeat to the LA Chargers with a suspected groin injury last week, has split time in practice with Marcus Mariota, who looked ultra-capable when he came in to cover for Carr in Week 15, despite the over-time loss to Justin Herbert.

The loss marked a fourth crushing defeat from the last five games, the only win coming in that last gasp deep-ball win over the New York Jets, a run that has seen them slip from play-off consideration to holding on for dear life at 7-7.

A win over the Dolphins who sit at 9-5 would at least give them a shot going into Week 17 should other results go their way, but the miserable season collapse has paid way to them deciding their own destiny for 2020/21.

Josh Jacobs ran for 76 yards and a touchdown last Saturday which looked impressive when partnered with the 88 yards from Mariota but averaging just 2.9 yards a carry and without a 100-yard rushing game in four attempts is a worrying trend for the young starlet.
The offence will be aided should Carr return, especially with tight-end Darren Waller continuing to play at an exceptional level as the second best tight-end in the league behind the incomparable Travis Kelce.
The former-receiver notched 150 yards and a magnificent looking deep score as he approaches the 1000 yard mark with two remaining games to go on the season.
Defensively, the Raiders may also be boosted by the return of safety, Jonathan Abrams who has practiced all week, and they might need the help as they continue to shift big yards against all most everybody they face.
Corner Trayvon Muller had a particularly tough outing against the Chargers, as they gave up 314 yards through the air to rookie Herbert and now rank 7th worst in passing yards allowed on the year and 6.0 yards per play on the season, which is 5th most and in competition with some of the worst defences in the league.
On the other side of that scale however is the Miami Dolphins constricting defensive unit who held the New England Patriots to just 12 points in a victory over their division rivals in Week 15.
The group was also coming off the back of a game in which they picked off Patrick Mahomes on three occasions, as the high-paid cornerback combination of Xavien Howard and Byron Jones prove their value to this defence first set up that Brian Flores has built.
The group has been under pressure to perform throughout the year, as rookie quarterback Tua Tagovailoa attempts to find his feet in the NFL before they potentially reach the play-offs for the first time since Adam Gase.
The Alabama-alumni has shown glimpses of what made him the fifth overall pick last year, and why the Dolphins replaced Ryan Fitzpatrick with the young-gun half-way through the year as the leftie has done well to continue building rapports with Mike Gesicki and Devante Parker in particular.
Gesicki has become a good safety valve for the young QB, and now has over 600 receiving yards on the season as he looks to further his numbers against a team who has shifted 700 yards against tight-ends in their 14 games this season.
The Week 16 matchup with the Raiders will prove a further test for Tua with the opportunity to kick the Raiders out of contention for that 7th and final play-off spot providing he gets the Florida team a big win on the road in Las Vegas.
---
Writer's Pick

– Alex Lewis (@alexlewis226)

Overall, the Carr news only makes a small difference to what I think will happen when these two teams face up on Saturday. The Raiders have struggled a bunch in all four of their recent losses and they cant seem to stop anybody with any consistency on defence.

Miami however can stop just about anyone and even made the Chiefs sweat for the entire game which is a far more effective offensive unit than the Raiders, and I expect them to grind out a low-scoring, but important win to keep themselves in the driving seat of that final play-off spot.

Dolphins 21-15 Raiders
Sunday 6pm

– Colts @ Steelers
With major play-off implications at stake, these two postseason-bound teams may have similar records but they are on quite different trajectories. The visitors are fresh off a 27-20 victory over divisional rivals the Texans, their third win in a row, while the Steelers suffered an unexpected 27-17 loss to AFC North foes the Bengals – their third defeat in succession.
If we use a New Year Eve's fireworks display as our analogy, the 10-4 Colts are a Catherine Wheel, spinning away nicely at an even tempo. These steady Eddies have been slugging it out with the Titans (also 10-4) in the AFC South and it's all still up for grabs, although they lag behind on a tiebreaker. In stark contrast, the 11-3 Steelers are a Skyrocket. Everyone went "oooh" and "aaah" as they raced out to an 11-0 record, only to explode in a big, noisy and colourful way. The ashes are now drifting back to earth.
Use code FULL10 at checkout and get 10% off selected items.
With a chance to wrap up the AFC North, the wobbly Steelers had a Monday night match-up on primetime at Cincinnati: talk about the perfect get-right scenario. The pundits queued up to predict an easy win for the 14-point favourites. Everything that transpired thereafter felt like it belonged to the alternative universe from His Dark Materials: close to the one we know but not quite the same. The Bengals D was fierce; Ryan Finley was competent; Ben Roethlisberger was poor; Diontae Johnson wasn't Mr Butter Fingers; there were three first-half turnovers in favour of Cincy. All very odd indeed. The 10-point upset, in front of a national TV audience, saw the Bengals snap a five-game losing streak and an 11-game run of defeats against their nemesis.
Pittsburgh's offence has been held to under 20 points for four consecutive games now and was restricted to a measly 244 total yards by Cincinnati. Big Ben clearly wasn't at his best (throwing 4-of-10 for -5 passing yards in the first quarter), even though he became the seventh player to pass for more than 60,000 yards. His 62.4 QB rating set a new low for the season.
The pressure is growing on the ailing Steelers' QB and his WR corps because the team owns the league's second-worst rushing attack. With the banged-up James Conner once again missing, they've gained an average of 51 yards on the ground during the three-game losing streak. If it weren't for Benny Snell's 84 yards and a rushing TD on Monday, Pittsburgh would have posted a net total of 2 yards rushing.
Their once-invincible defence is still the second-best in the league but it has been weakened by a number of key injuries of late, not least to linebacker Bud Dupree and on Monday, to fullback Derek Watt. At least his brother, TJ, continues to excel. His league-leading 13 sacks make him a Defensive Player of the Year contender but he can't do it all by himself.
You could argue that, like Pittsburgh, Indy's defence (ranked 7th in the NFL) has been the backbone of the team for much of the campaign. Their mainstays stepped up again to complete the season sweep over Houston, with Darius Leonard forcing the game-deciding fumble, rushing up and punching the ball out of Keke Coutee's hands as he headed for the end zone with just 23 seconds on the clock. And one of the trades of the year, DeForest Buckner, sacked Deshaun Watson three times, despite operating on one good leg.
The revitalised unit has allowed the fifth-fewest rushing yards in the league – not great news for the Steelers' weak running game. Indy's D have also forced the third most turnovers in the league so Diontae Johnson's handling needs to be error-free in this game.
Another similarity between these teams is that they both have a veteran quarterback plucked from the 2004 Draft class. Unlike Big Ben's current funk, Indianapolis winning four of the last five is down in no small part to Philip Rivers, who could be back to his best (11 TDs to 2 INTs in that spell). His 419 career TDs leave him needing just two more to pass Dan Marino and go fifth in the all-time list, a milestone he could esily reach in this game. The team ranks ninth in overall offence, with major contributions from the league's RB10, the second-round rookie Jonathan Taylor (842 yards, 7 TDs). Top wideout TY Hilton is also quietly effective but his 675 yards only just scrape him into the NFL's top 40.
The Colts have not committed a turnover in their last three but it's also noting that they relied on a last-minute fumble for the second time in three weeks to grab the W against Houston. This doesn't shout Super Bowl contender from the rooftops but nonetheless, Indy just keep on clearing one hurdle at a time and moving on to the next.
---
Writer's Pick – Sean Tyler (@Sean TylerUK)
A month ago, the Steelers looked locked in as AFC North champions elect and a bye in the Wild Card round was within their grasp. Now, it's all starting to slip through their fingers. Their postseason place is in the bank but their current form probably makes them the team others want to face. Having lost twice in recent weeks to teams below .500, the AFC's No.3 seed needs to end the slump – and fast – if they're to stay ahead of the Browns and Ravens.
Yet the Colts are no pushovers. They have enough going for them on both sides of the ball to bloody the collective Pittsburgh nose for a fourth straight week. But playing at Heinz Field, could the Steelers bounce back after a short week and stun Indy? Of course they could and in fact, the Steelers are slight favourites at the time of writing. But I sense another upset brewing here. Unlike their hosts, the Colts look solid at the moment so I'm expecting them to take care of business, leaving the Steelers with more questions than answers once again.
Colts 31-27 Steelers
Sunday 9.25 pm – Rams @ Seahawks
Without trying to launch straight into hyperbole, this is probably the most important game of the weekend, with the result all but determining who wins the highly competitive NFC West.
A week ago, we all would have assumed that these teams would be sitting level coming into this game. But, thanks to the historic loss to The Worst Team in Football, the 9-5 Rams unexpectedly find themselves a game behind the 10-4 Seahawks, making this a must-win contest. The Arizona Cardinals are just one game behind LA so it's all pretty tight. So close, in fact, that a win gives Seattle the title, as well as a shot at the top seed and home-field advantage in the play-offs; a defeat would put them behind the Rams on a tiebreaker, as they lost their Week 10 match-up.
Coming off the back of two straight wins, Seattle clinched a play-off spot with a 20-15 victory in Washington, although they did have to hang on a bit at the end after building a 20-3 lead. QB Russell Wilson finished with a season-low 121 passing yards, 1 TD and 1 INT – not exactly up to the standards he set in the first half of the season. He's now dropped to 7th in the league for passing yardage but he's still second only to Aaron Rodgers for TDs thrown (37), more than a quarter of which have landed in the arms of DK Metcalf (1,223 yards, 10 TDs).
The rushing game looked solid last week too, with Wilson's 52 rushing yards complementing the tally accrued by RB1 Chris Carson (63 yards on 15 attempts) and his backfield compadre Carlos Hyde (an impressive 55 yards and a TD on just two carries).
While their offence (ranked 9th in the league) hasn't been able to maintain its blistering start to the campaign, 'Hawks quarterback Russell Wilson has been sacked a worrying 41 times so this is where the game could be won or lost. Seattle's wobbly defence (ranked a lowly 26th) is actually playing a bit better of late, with DE Carlos Dunlap joining from Cincinnati a few weeks ago, and Jamal Adams bossing things in an improved secondary. They definitely stepped it up last week in the nation's capital, with four sacks and seven QB hits on Dwayne Haskins, and their pass rush has delivered at least two sacks in the last eight games, including three on Jared Goff in Week 10.
Coming into this one with a totally different vibe, the Rams' 23-20 home defeat to the winless New York Jets saw them become only the fifth team in 42 years to lose when favoured by at least 17 points by the bookies. At least they didn't have any fans in their shiny new stadium to share their views on proceedings.
Jared Goff led the fight-back as they cut the deficit to just three points with over six minutes left on the clock. But then LA went 4-and-out on their next possession, thanks to errors and penalties, and never got the ball back. Goff finished with 209 yards with 2 TDs and 1 INT. Whether his inconsistencies will affect his ability to connect with wideouts Cooper Kupp and Robert Woods, both hovering around 20th in the league with more than 800 receiving yards apiece, only time will tell.
The match-up on the ground will be less appealing for Los Angeles. Seattle have allowed the third-fewest rushing yards per game (94.6), which will pose a challenge for the league's ninth-best rushing attack, led by rookie Cam Akers and Darrell Henderson, two men with more than 500 yards to their names.
Despite Sam Darnold finding some success on Sunday, the Rams secondary plays at an elite level and is the primary reason for the team giving up the fewest passing yards per game (192.0) in the NFL. It was particularly impressive back in Week 10, when they held DK Metcalf to just two receptions and 28 yards. In short, the main difference between these two outfits is the relative strength of their defences. Aaron Donald and co. have mustered 44 sacks and twice as many QB hits in 14 games, making the Rams D the NFL's top unit.
---
Writer's Pick – Sean Tyler (@SeanTylerUK)
The Rams are Seattle's bogey side, having won five of the last six clashes while averaging more than 31 points per game. This current iteration of the Seahawks' defence is not the strongest, yet they are currently the -1.5 favourites, despite only posting 16 points against the Rams six weeks ago.
Maybe that demoralising defeat to the Jets is a factor. It could suck the Rams down into a pit of despair or alternatively, it might serve as the kick up the posterior they need to bounce back in the final two regular-season games against their two closest rivals, the Seahawks and the Cardinals. If they can win out, the Rams will be crowned NFC West champions, but that's a big if.
Those Seattle shootouts from earlier in the year – back when they scored at least 34 points in six of their first eight games – are now distant memories. Maybe Russ is done cooking now and has moved on to the washing-up? His 13 INTs put him behind only Carson Wentz, yet then again, Jared Goff has been intercepted a dozen times himself.
With two takeaway-prone QBs not at their best on show, I'm expecting an attritional, low-scoring affair. When they met in Week 12, the Rams won 23-16 and I think we'll be in the same ballpark again. However, I'm going to plump for Wilson to step it up and lead the Seahawks to a home win and a division title.
Rams 20-24 Seahawks
Sunday, 1:20am

, Titans @ Packers

The Tennessee Titans will look to knock off their second successive NFC North team in the space of a week when the travel to Lambeau Field to face the Green Bay Packers on Sunday Night Football.

The Titans had a huge day last week in every possible way when they beat the Detroit Lions into the ground 46-24, as they pursue an AFC South title of their own behind the legs of not just Derrick Henry, but quarterback Ryan Tannehill.

Tannehill put together potentially his finest game of the season in Week 15 as threw for 273 yards and three touchdowns, and also put two score on the board with his feet.

A huge 75-yard touchdown to Corey Davis and a generally wide open passing game showed the signs of the Derrick Henry affect, as defences struggle to stop both the freight train of a running back and the athletic receiving corps of Davis, AJ Brown and Jonnu Smith.

There was the customary 147 yards and a touchdown for the unstoppable Henry, who went over the 100 yard mark for the 10th time this season, and included a rather brutal, highlight reel stiff-arm – again.
The game puts him just 341 yards off of 2K as he continues his most successful season so far in his bright career – 1679 yards and 15 touchdowns in 14 games for this Titans team.
Defensively, there continues to be some concerns heading off to the playoffs, as the Lions scored 24 points and moved the ball freely for 430 yards of total offence, which pushed the Titans to 6th worst in yards allowed on the year and 11th worst in points allowed.
Coming up against Aaron Rodgers will further put this defence to the test, as the unit attempts to prove itself against a high powered group that it could potentially end up facing in the playoffs.
Speaking of Rodgers, the Packers will be looking to secure themselves the number one seed in the NFC this weekend in a season that has seen some of the best of their star QB in several years under Matt LeFleur.
The 37-year-old has completed a massive 69.6% of his passes and has done so for 3828 yards in just 14 games and all whilst providing an almost unbelievable 40-4 touchdown to interception ratio.
On Monday it was announced that he had been voted to the ninth Pro-Bowl of his career, which came as little surprise to anybody, as the Packers had a league-high seven players voted in.
While the scoreboard went their way last time out in a win over the Panthers, concern was high over a second-half performance where the offence produced just a single second half field goal after an electric start.
Rodgers referred to the drop off as leaving a "sour taste" in his mouth, a feeling that will only be doubled by knowing that they face far stiffer opponents this week in the Titans and their overpowered offence.
The danger is clear to LeFleur however, the young head-coach describing stopping the Titans as a "tremendous challenge" on Monday, as he tries to gauge the line between slowing down the Henry train and leaving the back end open to that play-action passing game of Tannehill.
The Packers defence has been much improved this year, ranking near the middle of the pack in most categories, and have given up fewer rushing yards on the season, 1541, than Derrick Henry has managed by himself.
Most teams are not the Titans however and the D-line of Green Bay will have their work thoroughly cut out for them if they want to prevent Tennessee from running the ball against them with ease.
---
Writer's Pick

– Alex Lewis (@alexlewis226)

Overall I don't know if I can see anything other than a Packers win this Sunday. Despite the issues that the offence had in the second half, I don't think its too much too worry about, especially since the Panthers defence has played well above its station on several occasions this season.

Rodgers will be buoyed by the opportunity to rack up the number one seed at home, and I expect him to show it against a defence who has struggled to hold down fast paced and meticulous offensive units like the Packers.

Packers 31-21 Titans
MNF – Tuesday, 1.15am

– Bills @ Patriots

The king is dead, long live the new king. After a quarter of a century wait the Buffalo Bills (11-3) can finally lay claim to the AFC East for the first time since 1995. Back then the Bills limped into the postseason with a 10-6 record. They did smash the Dolphins in the Wild Card game, but went on to lose in the Divisional round to the Steelers (who went on to lose to the Cowboys in the Super Bowl).

2020 also marks the first time the New England Patriots (6-8) have not punched a ticket into the playoffs, continuing the 'non Brady' streak of no postseason action. The last time the Pats failed to get into the business end of the season was 2008 when Matt Cassel led New England to an 11-5 record, pipped to the division by the Miami Dolphins who also finished 11-5 but won the points margin in the two head to head games.
Both teams met earlier in the season, with Buffalo escaping the clutches of Cam Newton's oak tree legs with a later Tyler Bass (pictured above) field goal. This time, with one team already eliminated, it's time for the Sith Lord to unwrap Jared Stidham. The 4th round pick in the 2019 draft has already seen the field four times this season, and has ever thrown a couple of touchdowns, replacing a woeful Bryan Hoyer to get a garbage time score, and then a little cameo in the Pats 45-0 steamrolling of the Chargers.
Stidham needs to be rolled out for the last two weeks of the season. With no expectations this is an ideal opportunity for Pats OC Josh McDaniels to see if he has somebody to work with in 2021.
New England have been wholeheartedly underwhelming all season, and at one point they were 2-5, so to still be mathematically alive before Week 15 was pretty remarkable. The Cam Newton experiment has been a failure. Yes he runs, and is a redzone td monster, but through the air #1 has been atrocious. 5 passing touchdowns in 13 games is not going to get you far. This has obviously had a huge knock-on effect regarding the WR production. No Julian Edelman for most of the season, and what has been left is the weakest unit in the league. What makes the Pats offense a laughing stock is the TE production. Ryan Izzo has managed 13 catches for under 200 yards and 0 scores.
When we turn to the Bills it is the complete opposite. The team have tied the NFL record for the most different players to catch a TD – a remarkable 13. Josh Allen has been wowing fans all season, and is full value for his 11 wins in 14 games. Allen is a Pro Bowler for the first time, albeit on the second team behind Patrick Mahomes in the AFC. The dual threat is one of a small handful of franchise studs to still be in the running for the 2020 NFL MVP award, going up against Mahomes and Aaron Rodgers to decide the winner.
Leading the Bills in catches is Stefon Diggs (pictured above), a 2020 Pro Bowl starter, who has 111 catches already and over 1,300 yards. Team mate Cole 'slot machine' Beasley needs just 50 to reach 1,000, which would mark the first time he has reached 1K in his 9 year career.
The only real weakness the Bills have is a rather pedestrian running game. The combination of Devin Singletary and Zack Moss do not scare anyone, and was it not for the rushing threat posed by Josh Allen this would be one of the worst rushing units in the league.
Buffalo's defense has been fantastic all year long. LB Tremaine Edmonds and CB Tre'Davious White are all deserving Pro Bowl selections, and even KR Andre Roberts has been recognised for his special teams qualities.
Unsurprisingly the Patriots have zero offensive players on the Pro Bowl team, and only Stephon Gilmore the CB made the Defensive squad, more by reputation and name recognition than actuations game play. The Patriots do value special teams very highly and were rewarded with Pro Bowl nods to the punter Jake Bailey (pictured above – who had a lot of work experience in 2020) and evergreen gunner Matthew Slater.
---
Writer's Pick

– Lawrence Vos (@F10YRetro)

With that highly significant Steelers loss to the Bengals on MNF in Week 14, the Bills have shimmied up the playoff pole to the #2 seed with just two regular season weeks left. Having sniffed that rarified air the Bills will not take anything for granted, and will be striving to win out against AFC East division rivals the Pats and then the Miami Dolphins.

Josh Allen can hoist up an NFL MVP trophy just like his fellow 2018 first round draft class buddy Lamar Jackson, and sweeping the Patriots would make the accolade that bit sweeter.

For the Bills D there is limited game film on Jared Stidham, including 0 starts or truly meaningful snaps, so the surprise element will favour the Patriots. This does not mean they will translate this into a victory. The empire has crumbled in New England, and it's time for Pats fans to look to the future now and not the present.

Josh Allen to have another big game, and Buffalo to put immense pressure on the Steelers who are melting faster than a snowman in a naan bread oven (inspired by watching Eddie Hall trying to eat the world's largest naan bread!!). Look to 21 year old Bills WR Gabriel Davis to add to his impressive 6 td total in this contest.

Buffalo 36 – 16 New England
If you haven't done so, then please enter our listeners' league competition by visiting here or clicking on the logo. There is a chance to win a weekly prize, so it's never too late to join!