We're officially making our way through the 'back nine' now (Masters reference for golf fans) and some HUGE games took place last weekend.
But what are we to make of all of the action? Here are the thoughts of the Full10Yards crew on what we have just seen.
Head over to NFL Shop Europe for the latest deals! Use code FULL10 on selected items at checkout
---
Cards pip Bills – Hail Murray!
In what could be one of the most crucial plays of the season, a 43-yard Hail Mary, or should we say Hail Murray, somehow found its way to DeAndre Hopkins' sticky gloves while being sandwiched in between Bills defenders. The catch saw the Cardinals win in spectacular fashion in the late game window on Sunday.
A back-and -forth game looked to be heading Buffalo's way after Josh Allen's own deep bomb found Stefon Diggs at the back of the end zone, sending the Bills sideline into raptures and putting Allen back into the MVP discussion. But it was not to be as Kyler Murray, himself now at the forefront of the end-of-season award conversation, guided them to victory after last week's loss to the Dolphins.
The game was a slow burner in the first half with the kickers taking centre stage, with the score 16-9 Bills at the half. Both QBs turned the ball over in the second half, giving each team chances to hang around and win the game. But it was ultimately the 2019 #1 overall pick coming out on top, with two rushing touchdowns to boot. He became the first QB in NFL history with both a pass TD and a rush TD in five straight games
He even turned his back on his final throw and watched it all go down on the big screen!
Expect more of the same on TNF in a tasty match-up against the Seahawks in a battle that could go a way in determining the NFC West winner.
---
Two-headed monster returns to carry the Browns
Ant and Dec. Kermit and Miss Piggy. Abbott and Costello. Nick Chubb and Kareem Hunt. Sometimes people just work better in pairs. For the first time since early in Week 4, the Browns were able to field both of their premier back together and the results were fantastic. In fact, they managed a feat not achieved in Cleveland for over 50 years: both runners topped 100 yards rushing to give the Browns the first such pair to achieve the feat since way back in 1966.
Hunt has performed well in the absence of Chubb but the overall production of the run game went from very good to average at best. The return of Chubb reignited the running game back to its previous levels of excellence. On a day of bad weather, it was more important than ever as wind and rain limited both quarterbacks in this game. The return of Wyatt Teller to the offensive line was also a key factor as he was involved on several pulling run plays, which helped to generate good yardage.
For me, Chubb is the best running back in the league. His combination of elusiveness, speed, strength, vision and intelligence have him at the top of the RB charts, as illustrated beautifully by two plays. On his touchdown run, he cut back against the grain of all of his blockers to exploit the hole created by the Texans over-pursuing. It was then rubber-stamped by the final meaningful play of the game where Chubb bounced outside, made a defender miss and scampered 59 yards to the end zone. Of course, he slammed on the breaks at the 1-yard line, allowing the Browns to kneel out the clock and remove any remote possibility of a Texans comeback.
The AFC Wild Card race is a packed field but with Hunt and Chubb firing, the Browns are right in the middle of the race. If a game is to be decided by a backfield, then the Orange and Brown will really like their chances with the two-headed juggernaut at their disposal.
---
Ranting and Raven
There aren't too many more wheels to fall off the Ravens bandwagon as they suffered their third defeat in 2020, which is already more than last season.
But what exactly is going wrong? Lack of confidence in the run game? Lack of personnel to execute? Too stubborn to admit who they are? Is the silent count due to no fans an issue?
The sign of a great team and a great run game is when the defence knows you are going to run it, defend accordingly and still can't stop you.
The conditions in New England on primetime were not the greatest, but when you have a team that is built to run, has run successfully over the past 18 months and against a poor run defence, the Ravens just couldn't muster much consistency in Week 10. Are they particularly focused on trying to be balanced, clouding their judgements for setting up offensive gameplans?
Granted, they have been behind for a bit more of games than they were last year, but the game on Sunday night at worst was fairly neutral throughout.
They are still second in rushing attempts on offence and second in yards gained on the ground, but you just get a sense that Greg Roman and John Harbaugh are trying to make a point of stuffing it in our faces that Lamar Jackson is a passer too.
I hate to break it to you, he just isn't, and by continuing to make Jackson throw the ball, you are hurting the team's chances of winning games.
Here's another stat that isn't going to help: Lamar Jackson is 0-9 in games where his team has trailed by 10 points or more. So just run the ball, control the clock and the scoreboard.
Exhibit A – Ravens first touchdown drive against New England involved nine rushes and four passes, and took 8+ minutes off the game clock.
You have four running backs (I'm including Lamar here) and have your offence built a certain way for a reason. Whether it was the loss of offensive lineman Ronnie Stanley last week or Nick Boyle this week – two huge pieces for setting up an effective run game – is a debate for the end of the season, but there is plenty of head-scratching going on in Baltimore.
You can argue that the defeats thus far this season have been to high-flying Kansas, the undefeated Steelers and Sunday night so maybe not all is looking dead in the Ravens' garden. But they are now three games back from the aforementioned Steelers, battling with the Browns for second place and the AFC Wild Card picture is looking muddier than a pig sty.
Looking at their SNF counterparts, Cam Newton, who has also had his critics surrounding his passing game, especially since his shoulder and foot injuries, threw the ball just 17 times and New England trusted the run game. Belichick and McDaniels have never been afraid to be proud of who they are and how they come out and play. Maybe the Ravens need to stick to who they are and do what they do best.
Use code FULL10 at checkout and get 10% off selected items.
Through Week 10, Jackson has had 90 rush attempts; compare that to 116 from the same time last year. He has three rushing TDs compared to six after Week 10 in 2019. Why be less effective at doing everything rather than be very effective at fewer things?
It remains to be seen how it plays out from here and whether there will be any adjustments going forward, but the Ravens' and Lamar Jackson's invincibility cloak is starting to wear off.
---
RoNo RoJo… RoYES!
Running backs have different lengths of leashes when it comes to mistakes, inefficiency and reliability throughout the 32 teams in the NFL. Tampa Bay RB Ronald Jones II, for the most part, has a short one.
In games past, the former USC runner has been given the cold shoulder after a fumble or lack of production, and faced running back battles with the likes of Peyton Barber, Dare Ogunbowale and Jacquizz Rodgers to get some playing time over the past few summers.
A similar story could've quite easily played out when fumbling in the first Bucs drive against the Panthers, but Bruce Arians has shown faith in Jones by letting him continue to get opportunities in this game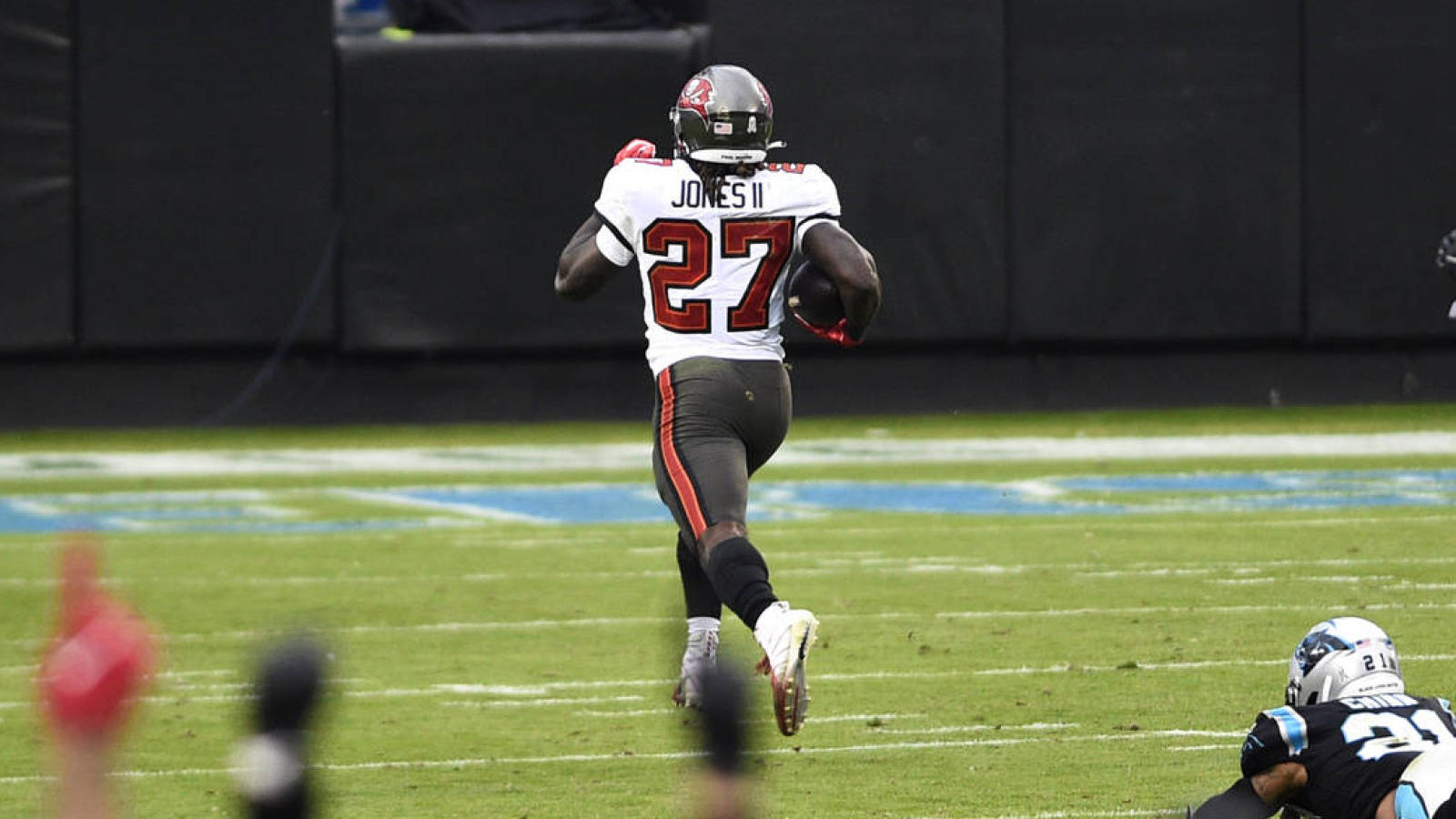 That faith was rewarded when Ronald Jones rumbled for a 98-yard TD run, which puts him history books and highlight reels come Week 10's end or even the season's end. Jones ended up with 192 yards on the ground from 23 carries, to the delight but expectation of Arians:
"I told him that's what I expect of him: 'You're our guy and that's what we expect of you all the time.' He ran great today. He feels terrible when he makes a mistake and the fumble in New York really upset him. This one, I wasn't going to let upset him and he bounced back really strong."

Bruce Arians post match interview
The writing seemed to be on the wall when former Jags first round pick RB Leonard Fournette joined the ranks this season, but Jones and Arians seem to be on the same wavelength. There is an element of trust to think that Jones is Tampa's guy, as long as the mistakes don't build up. Jones's efforts saw him post his fourth game of the season over the century mark rushing and snaps a three-game streak of less than 35 rush yards.
For the Buccaneers, the bounceback from MNF embarrassment was completed despite a spirited effort from Carolina. They will face a stout defence in the LA Rams next week and considering the defence the Rams have, Ronald Jones may be a key cog in the Buccaneers' machine in Week 11.
---
Brees has the wind knocked out of him
Future Hall of Famer Drew Brees was hit by 49ers Kentavius Street on a 3rd and 18 half way through the second quarter. Brees was slow to get up but he played the remainder of the quarter. He didn't play a snap in the second half.
It has come to light that Brees had rib injuries coming into this game and that hit from Street consequently sees Brees now nursing broken ribs and a collapsed lung.
Jameis Winston came in on mop-up duty and the Saints took home the W (and in Jameis's case, he ate it on the car ride home). But the bigger question is, what now for Brees?
Brees is 41 and could be missing for an extended period of time, which is something Saints fans endured last season when he was out multiple games with a thumb injury. But Brees, as optimistic as ever, posted on his Instagram that he'll be back "in no time soon":
You have to wonder if the word on the Street (sorry) becomes that this might actually be the last time we see Brees on the field.
---
The not-so-hateful eight
Cordarrelle Patterson may not cut the mustard as a hybrid running back and wideout, but give him the opportunity to return a kick-off and there is no finer athlete in the entire league.
During MNF, the Minnesota Vikings made the fatal error of presenting Patterson a rounded leather gift in the end zone, and the wily veteran returned 105 yards for the score. It was the only touchdown for the offensively inept Chicago Bears but for Patterson, it was the eighth kick-off return he has taken to the house.
He now stands at the pinnacle of this statistical table, alongside Josh Cribbs and Leon Washington. Both Cribbs and Washington are retired (both in 2014) so Patterson has a chance to set the all-time record with his next touch of a ball.
There must be something in the water in the Windy City, as standing joint second (with six) and joint third (five) are Bears legends Gale Sayers (RB) and arguably the greatest combined kick and punt returner in NFL history, Mr Devin Hester. Was a shame that Patterson's record-tying effort was in vain, but he does at least have a place in NFL folklore for now.
---
Giants starting to stand on shoulders
The NFC (L)East is still a joke, and nobody has more than three wins. In a world full of incompetence, bad play calling and even invisible snipers wreaking havoc from the bleachers, there seems to be a hand emerging from the swamp.
Yes, the fingernails are cracked and a used condom covered in pond scum dangles lifelessly from the index finger, but are we seeing the rise of the New York Giants?
Two consecutive wins over fellow division opponents (Washington and Philadelphia) and a quarterback who now realises that if you maintain an action of putting one foot in front of the other in a straight line, you can actually reach your destination in a vertical position, is adding up to some sort of momentum.
Nobody wants to see a six-win team take a division; it will be an embarrassment to the rich history of the NFL, and it will carve out a hideous scar on a season that is making the Red Wedding look like an episode of Junior Bake Off.
Somehow, the Giants could emulate the Bruce Willis character in Unbreakable and walk out of the train wreck that is the NFC East intact, with a divisional title.
Stranger things have happened. Look at the turnaround in Miami as evidence.
---
The defensive Sean McVay
The Rams have been mighty impressive on the defensive side of the ball this year, and they largely have their rookie Defensive Coordinator Brandon Staley to thank for their dominance.
Check out the latest deals over at Fanatics UK
When McVay opted for Staley back in January, it was a turn away from the Rams' previous direction with their defence. Wade Phillips was an experienced head, brought in to complement the youth and agility of McVay's dynamic offence. However, when his contract came up at the end of the 2019 season, the Rams promptly told him it wouldn't be renewed and they would be going in a new direction.
Boy, has that paid off…
Staley was handed a defensive unit that most assumed was on the decline. They had a sub-par pass rush, outside of Donald, and a poor LB unit, yet he has the Rams defence atop most of the defensive stats chart. They are averaging 296.4 YDS/G (2nd in NFL), allowing an average of 18.7 PTS/G (2nd) and have only allowed 19 TDs through nine games, which is the best in the league.
It cannot be understated how well the Rams D is playing. Years ago, the phrase 'Defence wins Championships' was coined and it certainly worked for divisional rivals Seattle in 2013 when they held the Broncos to only 8 points in Super Bowl XLVIII. I picked the 'Hawks as the NFC title winners for 2020, but could I have gone for the wrong team in the NFC West…?