By Sean Tyler (@SeanTylerUK)
With the franchise tag deadline and free agency looming, it's time for the @Full10Yards top 10 free agents list (five on each side of the ball) and some thoughts on where they might land ahead of the 2020 season. Thanks to Instagram, we know the 41-year-old Drew Brees is returning to the Superdome for at least another year with the Saints. So while he's technically still a free agent, he isn't on this list. So who is? Let's spin the wheel…
---
TOP OFFENSIVE FREE AGENTS
---
Image Credit: Paul Sancya/AP
1. Dak Prescott (QB) – Dallas Cowboys
---
He began his time at Dallas by winning Offensive Rookie of the Year and most recently, he led one of the league's top offenses, throwing for 4,902 yards and 30 touchdowns in his best campaign yet.
But the cheap deal has run out and someone has to pay the dude. Will it be the Cowboys? It seems they'll have to go north of $30 million a year, which begs the question "Is he actually worth that?" That's quite a pay-out but the Cowboys seem to want to build around him. Being the franchise poster-boy for the next few years comes at a price.
Safe bet: Dallas. To quote Jerry Jones, "He's our quarterback of the future" so it looks increasingly likely that the Cowboys will retain Prescott. He'll want to cash in on his potential and Jones will make him a happy camper.
Long shot: Dallas. Nope, it's still the Cowboys. Al three of the team's most valuable players have expiring contracts (that's Amari Cooper and Byron Jones too) and it'll be hard to keep all three. With contract talks back up and running again, Dak seems to be the one who's going nowhere.
---
Image credit: Tim Fuller-USA TODAY Sports
2. Amari Cooper (WR) – Dallas Cowboys
---
Oh boy, do the 'Boys have free agency headaches. The former Raider filled Dez Bryant's cleats well but well enough to get top dollar? He's not perfect but he's the best receiver available and by that score, he won't come cheap. If Dallas don't think he's worth $20 million a year, or think that paying Prescott, Cooper and corner Byron Jones will break the bank, he might walk.
Safe bet: Dallas. Theoretically, Jerry Jones could pay Dak and tag Cooper, keeping another star in the Lone Star State and giving Coach Mike McCarthy quite the toolkit in his first season.
Long shot: Washington. The Redskins have the cap space to pull the trigger. Imagine if their divisional rivals snaffled Cooper to go alongside rising stars Terry McLaurin and Dwayne Haskins.
---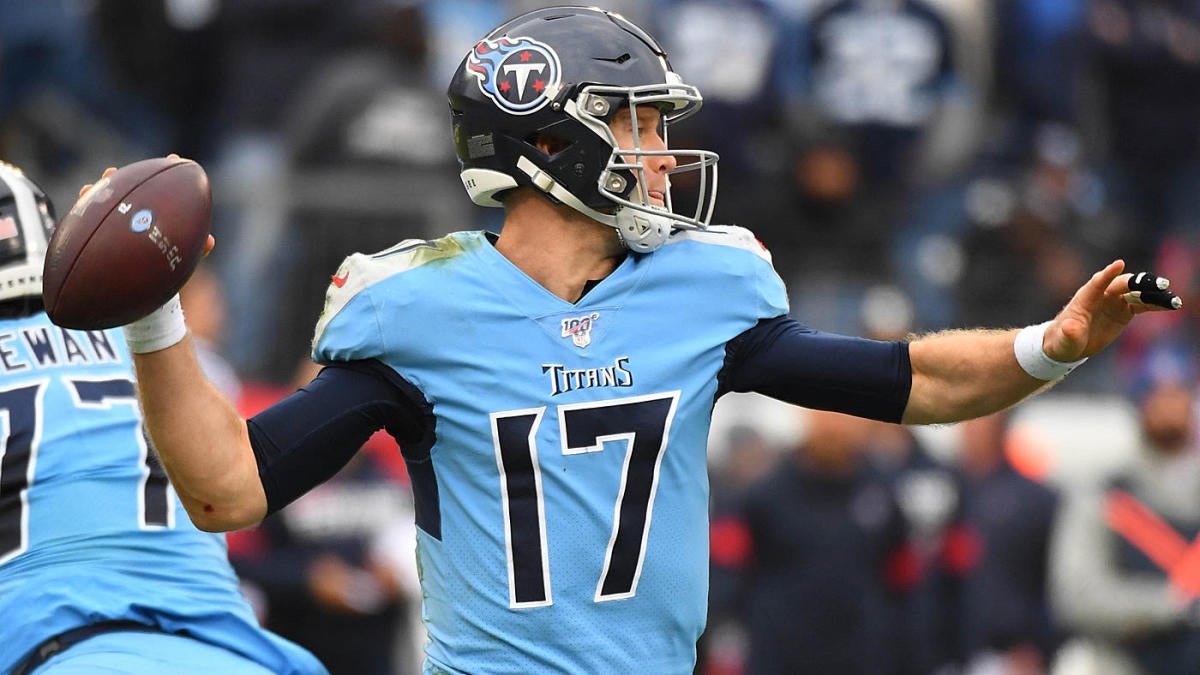 Image Credit: Christopher Hanewinckel
3. Ryan Tannehill (QB) – Tennessee Titans
I doubt any player boosted his reputation more in 2019 than Tannehill. His sensational second-half of the season, leading Tennessee well into the playoffs, suggests he may have more to offer than the waning old men, Brady and Rivers.
He resurrected his own career and the Titans' season, and will probably get a tag of some sort. He obviously benefitted from Derrick Henry's success, but he seemed pretty mobile in the pocket and kept making the throws asked of him.
Safe bet: Tennessee. The Titans shouldn't overpay a guy who had three good months and who might not hit the same dizzy heights again but the franchise tag buys them a year's grace.
Long shot: New England. Neither GM Jon Robinson nor HC Mike Vrabel seem that upbeat about him and the Brady-to-Nashville whispers just won't go away. With a straight swap, could the reincarnated Tannehill continue his renaissance under Bill Belichick?
---
Image Credit: Jim Brown-USA TODAY Sports
4. Derrick Henry (RB) – Tennessee Titans
---
Henry was the top rusher in the league last year, with 1,540 yards and 18 TDs. Going for over 180 yards in both his postseason games, there's no hint of him easing up or slowing down.
Despite helping the Titans ride their late-season wave of glory, Henry is a running back. And these days, they don't keep getting paid, especially if they're a non-factor in the receiving game (Henry had just 28 targets all year). Like Dallas, the Titans have two big contracts to sort out. They could pay Tannehill first and then see what they can offer Henry, or vice versa.
Safe bet: Tennessee. He's among the top RBs, on a resurgent team with a decent O-line, and in a system that clearly works for all concerned. Why leave Nashville?
Long shot: Houston. With Carlos Hyde unlikely to stay, adding a tank like Henry to the backfield could help the Texans take the next step in 2020.
---
Image Credit: Ian Johnson/Icon Sportswire
5. AJ Green (WR) – Cincinnati Bengals
---
Valuing AJ Green is a toughie. He was an elite wideout when we last saw him but thanks to toe and ankle injuries, that was 18 months ago. Despite being 31 and without any tape from last season, Green should still have some juice in the tank. We just don't know how much.
Green wants to stay if the price is right. If healthy, Green would be the ideal pro to help Joe Burrow ease into the NFL, having had 1,000-yard seasons in six of his eight years in the NFL. Cincy didn't trade him during the season so it's hard to see him going now.
Safe bet: Cincinnati. Just a few weeks ago, Green said he wanted to be a Bengal his whole career. The most likely scenario is that he stays for a prove-you've-still-got-it year.
Long shot: Las Vegas. If contract talks break down or Green is tagged-and-traded, the Raiders could do with a skill position upgrade. They are sorted for slot receiver, running back and tight end but a true outside track star would be the missing piece.
---
TOP DEFENSIVE FREE AGENTS
---
Image Credit: Jay Biggerstaff-USA TODAY Sports
1. Chris Jones (DT) – Kansas City Chiefs
If Jones hits the open market, he is primed to get paid. $18 million a year is the going rate for a wrecking ball of a defensive tackle who's notched 24.5 sacks in the last two seasons. Jones is a rare beast who can dominate games… even alongside Super Bowl MVP Patrick Mahomes.
An explosive pass rusher and Pro-Bowler who can stand shoulder to shoulder with Aaron Donald and JJ Watt, Jones could expect top whack. But can the Chiefs (available cap space: $13.7 million) afford him, having given something in that ballpark to Frank Clark already? A monster extension to Mahomes will also be needed when the time comes.
Safe bet: Kansas City: The Chiefs should keep Jones but may need to tag him for at least another year.
Long shot: Indianapolis. Maybe KC apply the tag but trade him for draft compensation. The Colts could be up for such a move, as they have draft picks to play with and need some pass-rush help.
---
Image Credit: Michael Reaves/Getty Images
2. Shaquil Barrett (EDGE) – Tampa Bay Buccaneers
---
As mentioned in a recent season in review piece, Bruce Arians said of Barrett: "He ain't going anywhere." Given his league-leading 19.5 sacks in 2019, they can't let him walk but there's still a chance that Barrett is a one-hit wonder. His four seasons in Denver were decent enough but in that time, he only got 14 sacks. That muddies the water somewhat.
Safe bet: Tampa Bay. He'll stay put, although it would be wise for the Bucs to use the franchise tag and check last year wasn't a fluke. Then, he will seriously reap the rewards down the line if he continues on his current trajectory.
Long shot: Tampa Bay. He's already talked of giving Tampa a "home-town discount" due to Florida's income tax arrangements so that's another tick in the "not going anywhere" column.
---
Image Credit: Chris Szagola/Associated Press
3. Jadeveon Clowney (EDGE) – Seattle Seahawks
---
Clowney is an enigma. His production doesn't live up to the billing – he had just three sacks last year and is yet to hit double figures – and he's had some niggly injuries. But he produces big, game-defining moments, and he's got the time and potential to grow as a pass rusher.
For a change, I'm not predicting a franchise tag scenario here because the Seahawks agreed not to use it when they acquired him from Houston. And they got him for a song in the first place. So despite non-elite production, Clowney can expect to become one of the highest-paid defenders in the NFL. We're talking something like $100 million over five years. Ouch.
Safe bet: Seattle. It's no secret that Russell Wilson wants him to stay and Head Coach Pete Carroll won't want to further weaken a defensive line that ranked 31st in pass rushing last year. We'll see him at CenturyLink Field next season for sure.
Long shot: Houston: I know, I know, but bringing Clowney back might not be as dumb as it sounds. The Texans' passing defence was porous and JJ Watt isn't getting any younger, so a newer model could give their edge rushing a timely boost.
---
Image Credit: Reinhold Matay-USA TODAY Sports
4. Yannick Ngakoue (Edge) – Jacksonville Jaguars
---
Think of him like those Velociraptors in the original Jurassic Park film, sneaking in – quickly and silently – hunting down quarterbacks and flaying them alive with their oversized talons… err, sorry, got a bit carried away there. It's actually more like rushing the passer, getting sacks and forcing errors.
He's clocked 37.5 sacks through his first four seasons but if he gets elite money now, he's getting overpaid.
Safe bet: Jacksonville. He's still young and even in an off-year like 2019, Ngakoue's eight sacks and 50 total pressures last season – his lowest since he was a rookie – was quite a nice floor.
Long shot: Buffalo. The Jags are strapped and it'll cost a cool $20 million to keep him. But the Bills have the dosh. They are also losing Lorenzo Alexander to retirement and Shaq Lawson is also hitting free agency, so could have a couple of major gaps to fill.
---
5. Justin Simmons (Safety) – Denver Broncos
---
Big, fast and springy, Simmons is a run-breaker and a ball hawk, with 94 tackles and four interceptions in 2019. Those stats made the 26-year-old Pro Football Focus' top safety last season, signalling a massive step up this year. But the teams sniffing around will need to kick the tyres to make sure he's not another one-year breakout player getting top dollar for one unrepresentative season.
Safe bet: Denver. Simmons has evolved from a third-round draft pick into an essential element of the Broncos D so I suspect keeping him in Mile High City is a priority for John Elway, even if it's via the franchise tag for now.
Long shot: San Francisco. If the Niners can't keep hold of Jimmie Ward, especially given his history with injuries, yer man Simmons could be a great fit in the Bay.
---
ALSO IN THE PICTURE
---
Tom Brady (QB), New England Patriots
I couldn't not mention Brady, could I? Time is catching up with TB12 after 20 seasons but given his stature in the game, he will still turn heads, even though he's on the wane – he was only the 11th-ranked quarterback in 2019. I doubt he'll want to up-sticks and start again at the ripe old age of 43 so staying in New England for one last hurrah with Uncle Bill Belichick before he sails off into the sunset doesn't seem unreasonable. But if you wanna gamble and put it all on red, the Las Vegas Raiders have a youthful core and the financial where-with-all to add weapons around him.
Philip Rivers (QB), Los Angeles Chargers
Although a relative spring chicken (a mere 38), Rivers' arm isn't what it was, what little mobility he had is long gone and he had 20 INTs last year. That said, he also threw for more than 4,600 yards and 23 touchdowns so all is not lost. Rivers won't be back in LA so again, Indianapolis would make a lot of sense. Their offensive line works and Rivers would be reunited with former Chargers QB assistant Frank Reich. Thinking more out of the box, he's just moved to his family to Florida. Tampa Bay anyone?
Jameis Winston (QB), Tampa Bay Buccaneers
Jameis is your guy if you want a bucketload of throws, thousands of yards, loads of touchdowns and a million interceptions. He's high risk, high stakes, high reward. The Buccaneers are considering living dangerously again by bringing back the all-and-nothing QB, using the franchise tag for damage limitation. Failing that, the Indianapolis Colts GM said the jury's still out on Jacoby Brissett.
Brandon Scherff (G), Washington Redskins
Scherff is a run-blocking guard who might have broken into the top 10 if he'd stayed healthy. Despite taking to the field only 19 times in two years, he's arguably the best interior lineman in this year's free agent class. The three-time Pro Bowler and former first round pick should stay with the Redskins under new HC Ron Rivera but if he doesn't, let's pretend for a moment the Cincinnati Bengals actually engaged in free agency. Scherff would help a terrible O-line protect some young whippersnapper called Burrow.
Byron Jones (CB), Dallas Cowboys
Despite hip surgery last offseason, Jones backed up his breakout 2018 campaign with another top year. Versatile enough to also play safety, Jones will be the top corner on the market which, according to the laws of supply and demand, means he'll get paid above and beyond his ability. Minnesota could improve at corner, with Xavier Rhodes' form falling away and Trae Waynes heading for free agency, while the Philadelphia Eagles could help their injury-ravaged secondary by poaching from a divisional rival.