And then there were eight. Just seven games remain in the 2020 NFL season as we are set for the Divisional Round this weekend. The number 1 seeds enter the fray as the competition ratchets up another notch in the quest to find the Lombardi Trophy winners. All the games are outlined below in order of kick-off time, or hit a link below if you want to jump to a preview of a particular game…
LAR/GB – BAL/BUF – CLE/KC – TAM/NO
---
Los Angeles Rams @ Green Bay Packers
SkySports/Gamepass – 9:35pm GMT – Saturday
It's Divisional Weekend folks, and the play-offs are well underway! The first game of four this weekend sees the #1 seed in the NFC, the Green Bay Packers, host Sean McVay's Los Angeles Rams in the Saturday afternoon slot.
Tasty doesn't even begin to describe it. The best QB in the league against the best defence in the league. Adams vs Ramsey, Donald vs Rodgers, Z. Smith vs Goff, Woods vs Alexander. It's going to be exciting, it's going to be a war of attrition and it's going to be dramatic. On one side of the ball, you have the best passing offence (and an extremely productive run offence) versus the best defensive unit in the league. On the other side of the ball, you have a very mediocre offence going up against a middle of the road defence. There's very little to separate these two teams.
Green Bay will benefit from having the Wild Card weekend off and all of their starters will be able to come into this game at 100%, ready to go. Los Angeles very much aren't rested. Jared Goff, who wasn't even supposed to play last week, ended up having to play nigh-on the entire game and it was evident for all to see that he wasn't healthy. With John Wolford under concussion protocol, LA is already at a disadvantage and the game hasn't even kicked off yet.
When Aaron Rodgers takes to the field this Saturday afternoon, he will be making his 10th appearance in the play-offs; his first was back in 2008. While his supporting cast looks very different now, he's still the same old Rodgers. He turned 37 this season and isn't showing any signs of slowing down. He led the league in passing TDs (48), passer rating (121.5) and pass completion (70.7%) during the regular season. Rodgers' ability to drag Green Bay through games is ever present and at times this season, they have leant on him to do that. Early wins against Minnesota and New Orleans reminded everyone that the ever-present Rodgers isn't done yet. If anything, he's getting better. He definitely has my vote for MVP this year.
However, he isn't the only reason for Green Bay's offensive successes this year. The stand-out WR, Davante Adams, had 1,374 receiving yards (T-5th in NFL) and led the league in receiving TDs (18). He terrorised secondaries all season and I expect him to do the same on Saturday. Marcus Valdes-Scantling also finished with 690 yards, 6 TDs and, perhaps most impressively, the third-year wideout led the league in average yards per reception with 20.9. Rodgers also favours the big man, TE Robert Tonyan. He had 11 receiving TDs this season, which was equal first with Travis Kelce among tight ends.
It isn't just the passing offence that will prove a challenge for Rams Defensive Coordinator Brandon Staley. Their run game is extremely productive and another Aaron (Jones) will want to give Staley a headache. He ended the regular season with 1,104 yards (4th), 9 TDs and averaged a monster 5.5 YPC (5th). The ball will be just as potent on the ground as it is in the air for Green Bay.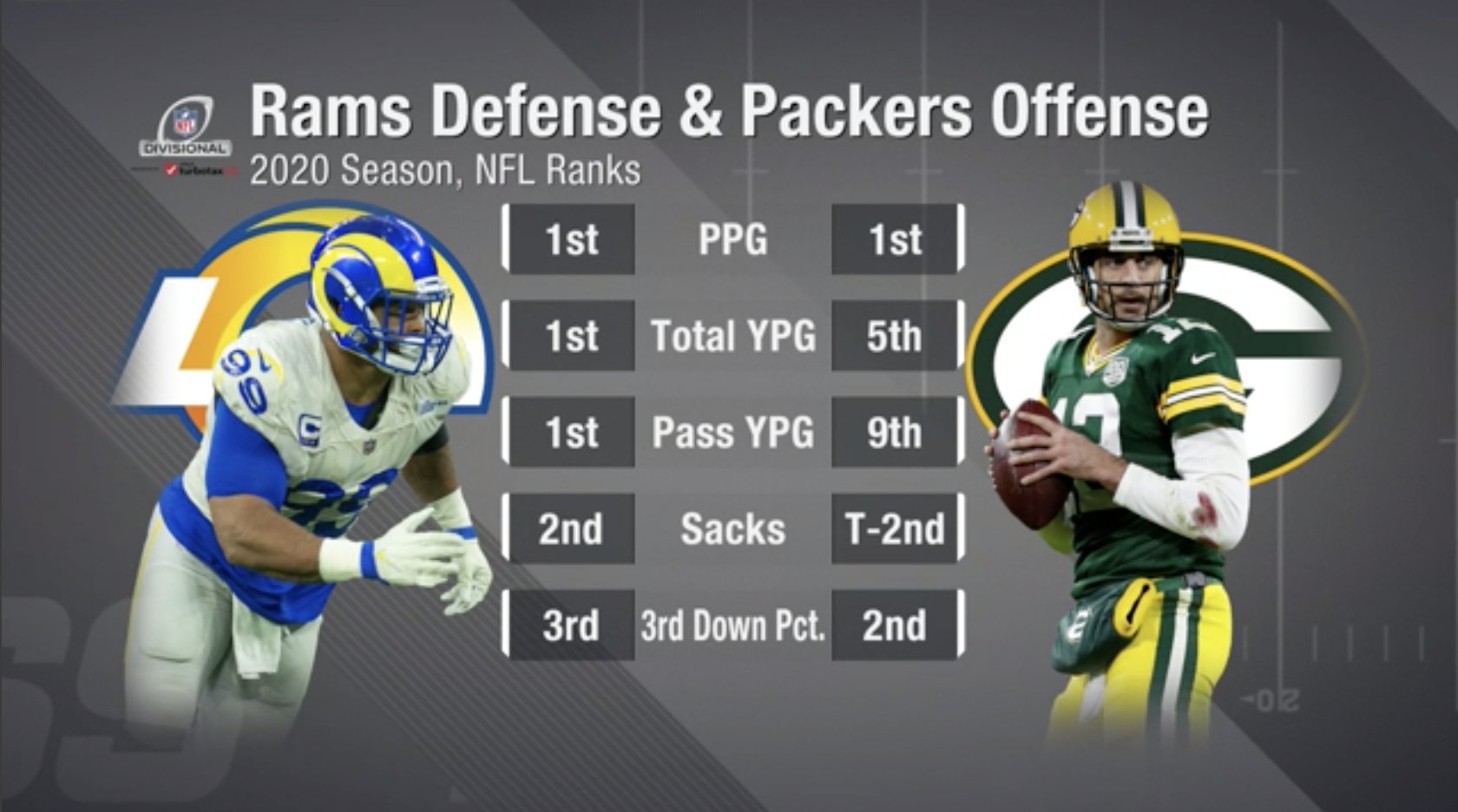 However, I can't wax lyrical about Aaron Rodgers without giving a very honourable mention to undoubtedly the toughest challenge he will face this season: the Rams defence. It cannot be understated how good the Rams have been defensively this year. The graphic above emphasizes just how good. First in PPG, Total YPG allowed and Pass YPG allowed. Second in sacks (having 'The Terminator' Aaron Donald helps). Green Bay losing Pro-Bowl OT David Bakhtiari is going to be a real issue for their O-line. While Donald doesn't line up against tackles all too much, Leonard Floyd does, and he had himself a day against Seattle with 2 sacks, 2 TFL and 2 tackles. Oh, and they have Aaron Donald with 13.5 sacks (T-2nd), 4 forced fumbles (T-3rd) and 14 TFL (T-6th). This Rams defensive line could really cause Rodgers some issues and if they can get to him and cause Green Bay to have to punt, things could get interesting.
Of course, even if Rodgers does get the ball out, he's facing one of the best, if not the best pass defence in the league, fresh off holding Russell Wilson to under 175 passing yards in Super Wild Card Weekend. They were first in the NFL in yards per game, as the only team to allow under 300 yards on average (281.9). When it came to passing yards allowed, they were even better, allowing an average of only 190.7 yards per game (again, 1st in the NFL). The addition of Jalen Ramsey has proved to be a masterstroke and even though he cost a king's ransom, he has been worth every cent. Named a First-Team All-Pro in 2020, he has only allowed a rating of 73.0 and although he only has 1 INT, it's because QBs just don't throw at him as he is just so good. Ramsey vs Adams is an eye-watering match-up.
Now, the underwhelming side of the ball for the Rams is their offence. Jared Goff has struggled almightily this season. With only 20 TDs (19th in the league) and 13 INTs (T-3rd), he has a QBR of only 90.0 (23rd of 35 QBs). The Rams offence only managed 23.3 points per game, a lowly 22nd in the league, mainly due to the poor play of their fifth-year signal caller. It's not even like he was under that much pressure either, as the Rams gave up only 25 sacks all year (T-6th). John Wolford has now officially been ruled out of Saturday's game, so it's not like they have another option. They do have a guys who can create plays though, so Goff will look to Cooper Kupp and Robert 'Bobby Trees' Woods to make plays downfield. Their run game is their strength: Cam Akers was excellent against Seattle last week (they had one of the best run defences in the league in 2020) – 131 yards from 28 carries, 4.7 YPC and a TD – so they'll look to him to get things rolling.
The Green Bay rush defence isn't anything to write home about either, allowing 4.5 YPC (21st in NFL) in the regular season. If the Rams can run the ball enough to set up their passing game and get Jared Goff some easy completions, it's a way that Los Angeles can put up some points on the board. However Green Bay's pass defence is much the same as their run defence, very middle of the road. They were 15th in NFL in rating allowed and 18th in yards per attempt. Green Bay will hope that pressure up front from Za'Darius Smith and co can help alleviate some of the pressure on their secondary. Jaire Alexander is going to need to have a big game, and I'd expect him to line up opposite Woods.
---
Writer's Pick – Steve Tough (@SteTough)
This game is the pick of the weekend in my opinion. If Rodgers does what we all know he can do, Green Bay will run up the score-line and the lacklustre Rams offence (especially their passing attack) just won't be able to keep up. However, if Donald and company can get to him, maybe bring him down or force a turnover or two in the backfield to give their offence good field position, this game isn't as one-sided as you may think. Although the Rams defence is very good, I think Aaron Rodgers is just that little bit better. I don't think they run away with it, but I do think they book their place in the NFC Championship next weekend. It's gonna be a cracker!
Rams 17 – 24 Packers
Baltimore Ravens @ Buffalo Bills
SkySports/Gamepass – 1:15am GMT – Sunday
Talk about contrasting dynamics in this unique Divisional Round of the 2020 NFL play-offs. In one conference, we have two quarterbacks with the scrambling ability of a three-legged hippo, whose ages add up to 85 (Saints vs Bucs). Meanwhile, in the AFC, we have a match-up between the two most explosive and dynamic quarterbacks in the entire league, who are resetting the definition of a 21st century signal-caller on a weekly basis.
The Baltimore Ravens, fresh off their own Red Wedding massacre of the Tennessee Titans' running game (holding King Derrick Henry to 40 yards), travel to the chilly, but unlikely to be blanketed in the white stuff, location of Buffalo to take on the Bills.
In the early hours of Sunday morning (in the UK), we will witness a match-up between the reigning MVP Lamar Jackson, and the man who will likely be the 2020-21 MVP runner-up, Josh Allen. As two quarterbacks who are dual threats on every snap, Lamar utilises the option play to exploit match-ups and Josh uses his big body to deliver chunk plays on very deliberate QB runs.
Allen has the bigger arm and the better set of wideouts, boasting the top pass catcher of the 2020 season, free agent signing Stefon Diggs. Diggs knows what it's like to be a play-off hero, after he famously scored a miracle post-season walk-off touchdown against the New Orleans Saints a few years ago when playing for the Minnesota Vikings.
Bills TE Dawson Knox is a little underrated: he has good hands and like any quality tight end, he is a legitimate red zone threat. Complimentary slot machine WR Cole Beasley is a blonde-maned beast who may be small in height but huge in stature, a scrapper who loves to be on the end of an awkward 3rd-and-8. Two other Bills pass catchers can be difference makers too, namely Gabriel Davis and return stud Isiah McKenzie. The latter ripped off three touchdowns a few weeks ago in less time than it takes to grab a double espresso.
Lamar still has work to do to truly develop his passing game. He does have a powerful arm, but his downfall is some of his decision making. This was shown early in the first quarter of last week's Wild Card game, when he threw an ugly deep ball interception against the Titans, hauled in by none other than former Patriots Super Bowl hero Malcolm Butler.
The Ravens wideouts, with the exception of Marquise 'Hollywood' Brown (pictured), are a pretty sorry bunch. Willie '5-yard buttonhook' Snead and the likes of Miles Boykin and rookie Devin Duvernay would not be on the field for some teams. Credit must be given to them for taking safeties out of the box when they run routes, as they essentially spend most of the game running up the field without gaining targets.
Baltimore's top receiving threat is TE Mark Andrews, who caught four balls in last week's Wild Card game in one of his more understated performances. Andrews spent more time supporting the offensive line than he did being a medium-range threat. Andrews tied Hollywood Brown with 58 catches to end as a joint leader on the team in the regular season, and his 7 touchdowns was only one behind Brown. While he missed two games, Andrews also led the Ravens in yards per game (50.1) and first downs (37), so look for the big and agile TE to have a big game on Sunday.
Where the two teams have the starkest contrast is the running game. The Ravens are the best overall rushing team in the league, aided by the first quarterback to ever have back-to-back 1,000-yard rushing seasons. Baltimore have produced gaudy rushing numbers for the past few years, peaking this season with a 400+ ground-and-pound game against the Bengals.
The Ravens are only the third team in NFL history to have three players rush for more than 700 yards, and they led the league in rushing (191 yards a game). The combination of Lamar, rookie JK Dobbins (pictured) and Gus 'the bus' Edwards has been near impossible to beat. The team even has veteran Mark Ingram and Justice Hill in the wings in case anyone gets banged up. To give some context, in 2020, both Edwards and LJax featured in the top 5 for backs with the most rushing first downs on 3rd or 4th and 3 (or less). Between them, they converted 39 of 45 attempts; Edwards alone was 23 of 24.
The Bills' running situation, if you discount Josh Allen and his 421 yards, is a pretty mediocre unit, one that is uninspiring enough that it added the underwhelming Devonata Freeman to the practice squad this week. Rookie Zack Moss has been up and down, and Devin Singletary, in his second year, is a complementary back and not a true workhorse. In the red zone, you are more likely to see Josh Allen scrambing as Singletary getting the carries up the gut. Allen's eight rushing touchdowns are mightily impressive, but eight from the entire rest of the team is not. In the win over the Colts, the Bills failed to collectively crack 100 yards, and their RBs managed just 41 combined yards.
We know both teams can move the ball and put up points, and the criticism that the Ravens are not built to come back from being behind was busted last week. So, the small margins between winning and losing will come down to which defence can contain which QB from delivering the game they want to deliver.
Buffalo has one defender, CB Tre'Davious White (pictured), on the second team All Pro squad, the only Ravens or Bills player to make a first or second All Pro team. Both defences are more 'bend but don't break' units. The Bills will have noted that the Ravens held Derrick Henry to his lowest rushing output for 15 months, and will be looking to avoid that stellar defensive front that features Pro Bowler Calais Campbell and the rock-solid Brandon Williams and Derek Wolfe.
The Bills have a good defence but not the best. Their pass rush is mediocre and they have allowed an average of just under 120 yards rushing a game. Buffalo need to keep the Ravens run offence off the field with energy-sapping drives of their own, but they simply don't have the running backs in their stable to do this.
---
Writer's Pick – Lawrence Vos (@F10YRetro)
This could be a shoot-out between two multi-skilled quarterbacks, each trying to out duel each other in the air and on the ground. Josh Allen has a city behind him that has been starved of meaningful play-off wins for a long time, so he will be desperate to show why he 'should' have been give the 2020 NFL MVP award. He faces the reigning MVP in the form of Lamar Jackson, who has now shed the 'can't win a play-off game' label.
Both teams have won their last six games (the Bills have won seven in fact) and thanks to the new seeding process, both have already wet their Gatorade-covered whistles, unlike the Chiefs, who will have had a three-week gap from their last meaningful game containing their top units.
It comes down to turnovers in most of these games, and I can't see it being any different on Sunday. Whichever QB commits the fewest turnovers will come out on top, in a game that neutrals must be looking forward to.
This will not be the last time these two stud QBs will meet in the play-offs. In this first round, I give the slight edge to the Ravens and their ability to run the ball as a team, mixing up Jackson's lighting moves, JK Dobbins' youthful dynamism and Gus Edwards' sheer will to get those tough yards when needed.
Ravens 30 – 27 Bills
---
Cleveland Browns @ Kansas City Chiefs
SkySports/Gamepass – 8:05pm GMT – Sunday
After their first playoff win in 26 years(!), Cleveland's long-overdue reward – if you can call it that – is a visit to reigning champions the Kansas City Chiefs. At least Browns fans based this side of the pond won't have to stay up till 4am to watch this one, as they've been given the Sunday evening slot.
The sixth-seeded Browns defeated AFC rivals the Pittsburgh Steelers by 48-37 in the Sunday night/Monday morning Wild Card game at Heinz Field, snapping a 17-game losing streak in Pittsburgh. It was the Browns' first play-off appearance since the 2002 season (when Baker Mayfield was just seven years old), their first play-off win since 1994 and their first away play-off victory since 1969 so let's start off by congratulating them, as well as applauding their loyal supporters for sticking with them through thick, thin and even thinner.
The fact that it came against a bitter rival who's been a playground bully for years made the taste of victory all the sweeter. And then there's the fact that they did it all with COVID-hit Head Coach/play-caller Kevin Stefanski watching from his basement, and without Pro Bowl left guard Joel Bitonio or starting cornerbacks Denzel Ward and Kevin Johnson. Not only that, they shot out to a 28-0 lead in the first quarter – insane! OK, there were miscued snaps, interceptions and all sorts to factor in, and Pittsburgh inevitably fought back to give the final score an air of respectability, but it was a dominant, thoroughly deserved win. Respect is due.
While all this was going on, the Chiefs were enjoying a well-earned week off. Having coasted to the No. 1 AFC spot, they last saw competitive action a fortnight ago with a 38-21 loss at home to the LA Chargers. However, because the bye had already been secured, they rested their stars in favour of a number of youngsters and back-ups. Four made their NFL debuts while other depth players – several O-linemen and stand-in quarterback Chad Henne – played the whole game. As far as gauging what to expect this weekend, that last outing is no help whatsoever, but expect Head Coach Andy Reid to get the band back together this weekend.
It must be said that the Chiefs haven't exactly dominated teams down the back nine this season. They've seemed a bit apathetic at times as they rolled inexorably towards their fifth successive AFC West title, yet still topped the pile for overall offence over the regular season. Despite a franchise-best 14-2 record and a run of 10 consecutive victories, they haven't won by more than six points since a Week 8 trouncing of the hapless Jets. Their most recent win, 17-14 over the Falcons in Week 16, is hardly going to put the fear of God into the Browns either.
Mahomes has eased off the gas too and won't win the MVP crown, despite his 38 touchdowns (4th in the NFL), six interceptions (but four in his last three appearances) and 4,470 passing yards (2nd in the league). Will he have lost more momentum in the 20-day gap since he last threw a ball in anger? Probably not, I'd wager, but I do think Sunday's game will tell us whether the Chiefs have been going through the motions or if that's all they've got in the locker this season. Their pass protection has been suspect too, with Mahomes getting sacked 12 times in his last six games. That has to give Cleveland's pass rush, and Myles Garrett in particular, some hope although pressuring the QB isn't really their strong suit.  
At the time of writing, the status of rookie running back Clyde Edwards-Helaire (high ankle sprain) isn't clear but let's face it, the team's mid-ranked running game, complemented by Le'Veon Bell, won't be making the headlines. It's all about the other weapons in the league's #1 overall offence. Travis Kelce (105 passes, 1,416 yards, 11 TDs) is having the best season by a tight end ever, while Tyreek Hill (87 catches, 1,276 yards, 15 TDs) is a superstar. Then there's Mecole Hardman, Demarcus Robinson, Sammy Watkins… truly an embarrassment of riches.
I don't doubt that the Browns' offence can move the chains and they'll present the Chiefs some problems, for sure: they have a very good offensive line and the NFL's third-best running unit. As rushers and receivers, Nick Chubb and (ex-Chief) Kareem Hunt logged a combined 206 total yards and three scores last week, and I expect every Dawg in the Pound will love the idea of the best 1-2 punch in the league (1,911 yards and 23 TDs between them) going up against KC's 31st-ranked run defence. Kansas' Chris Jones has the unenviable job of trying to shut at least one of them down.
That dual threat has also allowed Baker Mayfield (once Mahomes' back-up at Texas Tech) to enjoy some play-action success in his third and best NFL season (26 TDs and 8 INTs, but only one interception in the last nine games). Even though their passing offence ranked 24th in the regular season, Mayfield was quality in the Wild Card game, completing 21-of-34 for 263 yards and three touchdowns, while Jarvis Landry led the team with 92 receiving yards and a score. Tight end Austin Hooper is a decent end zone option too so KC edge rusher Frank Clark needs to get in Baker's face.
The Browns have the lowest-ranked defence left in the play-offs at 17th (albeit just a place below Kansas) so they need to keep Mahomes and company off the field. They can do that – while playing to their own strengths – by running the ball and dominating the clock. That would be a wise game plan, having given up 4 TD passes, 37 points and 553 yards of offence to a team with an immobile Ben Roethlisberger under centre. They also got no sacks, despite Big Ben's ridiculous 68 passing attempts. All that just goes to show that there are defensive weaknesses to exploit, especially in the secondary, and the likes of Kelce and Hill won't need to be asked twice. That said, Cleveland did force five takeaways in the Wild Card win and converted them into 24 points.
The current Super Bowl champions aren't 10-point favourites for nothing. They have Mahomes operating on a different level, while Kelce and Hill are probably the best players in their respective positions too. Despite the bye week, Sammy Watkins and Edwards-Helaire remain doubtful, while tackle Mitchell Schwartz is probably out for the duration. Off the COVID list now, Bitonio, Ward and Johnson should be back for Cleveland, as should Coach Stefanski, but OT Jack Conklin suffered a hamstring injury on Sunday and his absence could be a big miss.
For me, the big X factor in this game is any potential Chiefs' complacency. The Wild Card win showed how motivated the Browns are and while a road trip to Arrowhead will arguably present an even bigger challenge, they seem prepared to scale any obstacle thrown in their path. KC will underestimate them at their peril.
---
Writer's Pick – Sean Tyler (@SeanTylerUK)
I won't go as far as Steelers wideout/sore loser Chase Claypool, who took to TikTok to say that the Browns "are gonna get clapped" this week, but I do feel that a fully rested Chiefs will prove too much for Cleveland. Considering they had a 28-point lead against Pittsburgh yet didn't cruise home, the Browns going to have to be pretty much perfect on Sunday, while Kansas are gonna have to be below par. But what have they got left in the tank after such an emotional game just a week ago? Have they peaked too soon?
We've now learned never to say never with the 2020 Browns, but if Kansas City can feed Kelce and Hill, take an early lead and make Cleveland play from behind, they'll march on and continue defend their title. But I know who I'm rooting for (even as a Bengal…)
Browns 23 – 31 Chiefs
---
Use code FULL10 at checkout and get 10% off selected items.
Tampa Bay Buccaneers @ New Orleans Saints
SkySports/Gamepass – 11:40pm GMT – Sunday
It's all about Drew Brees and Tom Brady in the fourth and final game of the Divisional Round as the two icons of their era face up for an eighth, and potentially final, time when Tampa Bay travel down to the Superdome in New Orleans.
The Saints secured their ticket into the last four of the NFL season last week with a confident, assured 21-9 victory over the Chicago Bears, in which Brees threw for more than 260 yards and two scores while his defence managed to hold a second successive team to single-figure points.
Brees and Sean Payton's men will also enter the game safe in the knowledge that they have beaten Brady's lot from Florida twice already this season, in Week 1 and Week 9. However, it's important to note that Brady's team familiarity has grown exponentially since the last result.
What you can take serious stock of, however, is the involvement of Brees' two top weapons in Alvin Kamara, who managed 116 total yards and a touchdown, and receiver Michael Thomas, who managed 73 yards and a score from just five catches in his first game back for over five weeks.
Defensively for the Saints, it has been a masterful showing for much of the season, and they rank top five in almost of all the major categories, allowing just 4,974 total yards in the regular season and then following that up by allowing a measly 239 to the Bears last week.
Much of the media attention will of course focus on the oldest pair of quarterbacks to ever face off in a play-off game, but really the damage will be done by the Saints defence. They will look to force multiple picks out of Brady for the third time this season, something no team has done before.
As for the Wednesday injury report, the DNP status of Taysom Hill and Latavius Murray may concern some Saints fans, while Jared Cook and Trey Nickerson are both listed as limited. Brady, Bruce (Arians) and the Bucs are in even more risk of being affected by injury however, with running back Ronald Jones, receivers Mike Evans and Chris Godwin, and corner Carlton Davis all featured on the report.
For Tampa, the question will be not only can Brady beat Brees for just the third time in his career, but can the defence stand up and stop the Saints' play-makers, like they've failed to in the regular season match-ups?
Despite the defence being the top-ranked rushing defence in the league in the regular season, by allowing just 1,289 yards on the ground in 16 games, the concern in stopping the quick slants to Thomas and screens to Kamara will likely be playing on the mind of Defensive Co-ordinator Todd Bowles.
Bowles has managed to coach his way back into Head Coach interviews with both the Falcons and Eagles this week, as his scheme has drastically improved what was one of the lowest ranking and highest yardage allowed defences in all of football in 2019/20.
Offensively, the Bucs will be hoping to have their two receivers back in Godwin and Evans but with four touchdown grabs in four games for Antonio Brown at the end of the year, it looks as though the relationship between Brady and Brown is back underway just in time.
---
Writer's Pick – Alex Lewis (@alexlewis226)
Overall, I think this game is incredibly tough to call and it will definitely be far closer than either of the previous two match-ups in the regular season. Brady has continued to bond with the players in Tampa and get his head round Bruce Arians' offensive scheme.
Brees has made it clear that he might be out at the end of this year and he'd sure like to conclude more than a decade of dominance in New Orleans with a second Lombardi Trophy come February. I think that, with the defence as it is, he might just have a serious chance.
Buccaneers 20 – 27 Saints