K1 IS A1
---
Tim and the guys that make Full10Yards happen really need to stop giving me a soapbox for me to spread my pro-Arizona Cardinals agenda, but since I couldn't make the NFL review podcast this week, I have decided that the deep dive will be the place for this weeks Kyler Murray fan club post.
It seems pertinent to include at this stage, that the Cardinals 20:20 express train from worst to first was helped on Sunday, by poor tackling and lack of coverage from numerous members of the Washington defensive backs, but don't let it distract you from the fact that Kyler Murray was once again electric. The jump that the 2019 first overall pick has made since last year is terrific and dare I say he looks even quicker now he seems to be able to trust his eyes more in the passing game.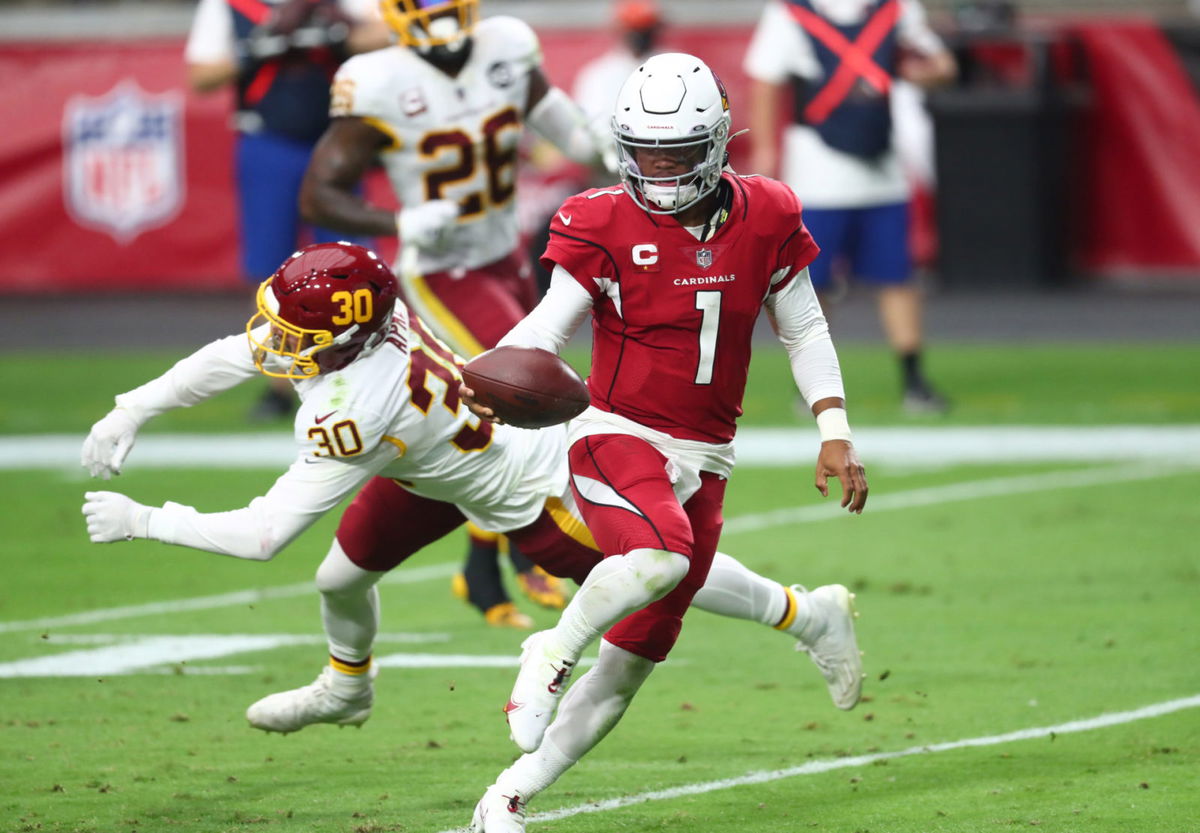 Cardinals head-coach Kliff Kingsbury highlighted the same thing in his post-match zoom interview yesterday:
"I've watched that since he was 15 years old, and that was a part of his game last year that he was feeling out," he said. "He's running more aggressively; he's getting vertical more. That was a point of emphasis for us because he is one of the most dangerous people, probably, in the league when he's in the open field like that."
We shouldn't be surprised; our last two NFL MVP's have both been Quarterbacks who provided an emphatic sophomore season as they marched their franchises to the playoffs and broke some records along the way. There is no reason why Murray can't provide a very similar result as both Lamar Jackson and Patrick Mahomes who came before him, especially if last week's opening day victory over the 49ers is anything to go by.
For context, in comparison to his largely successful rookie season, in which he started every single game, Murray notched a total of 544 rushing yards and four touchdowns with his feet, but after just two weeks of 2020, he's already rushed for 150+ yards and three touchdowns. The former-Oklahoma Sooner has also been aided by the genius trade that saw head coach Kingsbury bring in wide-receiving master, DeAndre Hopkins.
"Nuke" Hopkins broke most of the Cardinals debut records last week with a 150-yard receiving performance, before another strong outing against Washington that saw him grab eight balls for 68 yards and a wide-open touchdown. The trade was not just ideal for Murray because Hopkins is such a consistently great player, but Nuke also packs arguably the single largest catch radius of any receiver, which makes him a fantastic option for Murray while he scrambles around looking for an open player.
The perhaps overlooked aspect to Kyler Murray's game that we've seen in the first two weeks is his versatility as a passer. See below for the passing grids for Kyler in Week 1 vs San Francisco and in Week 2 vs Washington. The gameplan is clearly different between these two games but as you'll see from Next Gen stats that the completions are at a high %.
Having that in the locker for an offence like the one they deploy is crucial to making this offence click (having Nuke also helps). Murray is currently 52/78 (66% completion) for 516 yards, 2 TDs and 2 interceptions. Add to that 158 yards on the ground with 3 rushing TDs is why Kyler has the X factor and why he is so hard to defend, especially the more he grows as a Quarterback.
The defensive side of the ball for the Cardinals is something I have spoken about several times on the podcast already this year, and they once again lived up to expectations against Washington with four sacks as they held Dwayne Haskins and co. to just 15 points. This upturn under Vance Joseph only strengthens an argument for Kyler Murray as a potential MVP
in my mind, look no further than Chandler Jones fumble recovery to keep Washington off the scoreboard despite starting the drive in the red-zone following an interception by K1.
Still in doubt as to whether Kyler Murray has MVP potential? You shouldn't be.
---
Jerry, it's time to pay Dak & not for the reason you might think
---
As a self-confessed Dallas Cowboys fan, I understand that this particular conversation may be considered a little close to home, especially given the manner of Week 2's enthralling victory over the Atlanta Falcons and the Dak Prescott-hype that is bound to rightly follow. The stats sheets were lit up by Prescott while his team recovered from a first-quarter collapse to beat the NFL's premiere choke-artist team, as they made use of their offensive prowess and an onside kick to get themselves a game-winning field-goal from Greg "The Leg" Zuerlein.
Everything that people questioned about Dak before the season was shown to a top standard on their perilous route to recovery, having stared 0-2 in the face when the Falcons opened the gap up to 20 points in the first half alone. The accuracy outside the numbers, the poise, the pocket presence, and the decision making. Prescott had it all on show at the best level he could manage, and what we saw as a result was a performance that not many could argue wasn't that of a $40 million-a-year signal-caller.
Dak currently lies 3rd in passing yards (716), completing 68% of his passes, 108.5 QBR and has account for 5 TDs (3 rushing, 2 passing) and 1 INT. Top 5 in 20+ yd plays. This is without Tyron Smith, La'el Collins and the recently retired Travis Frederick.
But let's give Daks play over recent years some context. To document Dak's continued improvement as a Quarterback, here are Dak Prescott's passer rating charts from the last 2 years. 2019 (left) shows a marked improvement from 2018 (right) where he was below league average on 6 out of the 12 grids. Compare that to just 3 below average grids in 2019 and a lot more way above average, just shows you what Dak achieved last year.
But sometimes, Dak Prescott, even with enough stats to make a lottery number, still manages to impress you more with his helmet off than on.
A number of the Cowboys players including Zeke Elliot, have described since the game, how positive and resilient Prescott had ensured players remained from start to finish, the very belief that the players feasted off to stop the Falcons on defence and make the clutch plays at the end. His level of leadership, something that Dak has excelled in from college and into the pros, has been prominent from the very moment that he stepped into the team for Tony Romo as a fourth-round rookie out of Mississippi State.
In tough times under the previous head-coach Jason Garrett, the leadership was placed almost entirely on Prescott's shoulders, trying to keep a young but exciting team in line and protected from the media when things went wrong or the players messed up (which Ezekiel Elliot was often the subject of). When the news began to break in the summer that conversations had begun between Prescott and Jerry Jones once more about getting a contract done, you assumed that the announcement was always round the corner, but it never seemed to come. And then it got worse, there wouldn't be a big, long-term deal for Prescott to play under, and instead, he was placed under the franchise tag like nothing more than a Cowboy Kirk Cousins.
---
---

The regular questions pursued the decision, and the social media and TV commentators began their usual spiel about how Dak was a trailer rather than a truck, and how he needed a good team around him and how the offense needed him far less than it required Zeke. But what wasn't considered, was how much all the other stuff away from the pitch made a
difference to the results, how Dak's personality and actions could carry this team well further than someone with all the skills and no communication (we can call him um, Joy Catler).

They should have paid Dak what he was asking for, simple as that. The accuracy and the touch will come, as he works at it and trains hard, but what you can't learn is the very art that Prescott performs so articulately, with his perfectly worded answers in interviews, and his up-front, emotional style, Prescott becomes so easily likeable.

Really and truly Jerry Jones probably knows that he should have paid Dak when he had the chance rather than letting a bunch of other top quarterbacks to get paid first, but he probably wouldn't admit it.
So, instead its finally time for Jerry to eat some humble pie and get the deal done because this team can only go as far as Dak goes, and we all want to be aboard the rollercoaster in the post-season.
Want more takeaways from the NFL action? Be sure to check out our weekly Full10Takeaways article which posts every Tuesday