We often see people asking "Which NFL team should I support?" With no geographical reasoning to go by in the UK my answer is always the same, "Your team will find you".
I had happily been an NFL fan for a number of years. A Sunday evening lying on my bed watching Kevin Cadle and Nick Halling taking us through the action was entertaining and without an allegiance at this point, a stress free way to close out the week. I would admire the likes of Brett Favre, Ladanian Tomlinson and Randy Moss without a care in the World as to who was playing who and what the score meant in the bigger picture. I would marvel at the athleticism, gasp at the big hits and bang my head against the wall trying to understand the rules. The good old days.
That all changed however on the eve of the 2006 NFL season. Randy Lerner, the then Browns owner, purchased my other sports team, Aston Villa. I now had a connection to an NFL franchise through association. If I was going to support a English football team that just so happened to be owned by an NFL owner I almost felt obliged to follow the Cleveland Browns in return. Charlie Frye, Braylon Edwards, D'Qwell Jackson and Willie McGinest were the names on my lips and my fandom had begun. We didn't have the type of coverage in 2006 that we do now so games were few and far between but I'd track the box scores and catch what I could. A 4-12 season gave the Browns pick number 3 in the 2007 draft. My first ever draft I was really interested in and the Browns went with an offensive lineman by the name of Joe Thomas (sir Joe as us British fans would have you know). A 10-6 season followed and the decision to plump for Cleveland felt like a good choice. Then the next 13 years happened.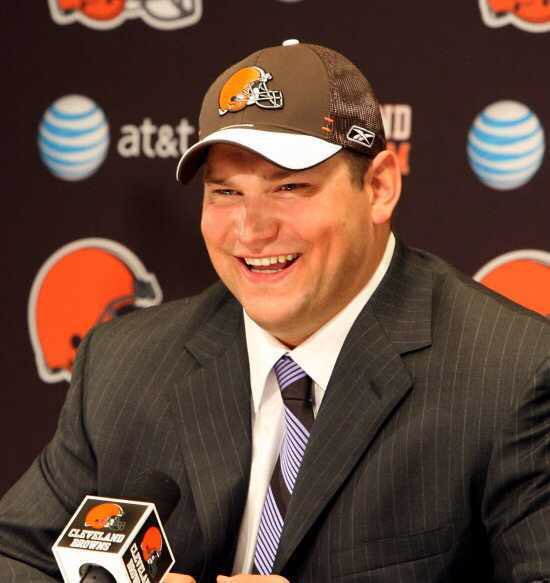 13 years without as much as a winning season. 13 years with 6 different head coaches given an opportunity to put it right, and not 1 of them winning more than 10 games during this span. From Eric Mangini to Freddie Kitchens coaches came and coaches went whenever "Black Monday" rolled around. It was a similar picture in the background as 7 different general managers had a go. George Kokinis, Ray Farmer and John Dorsey are a few of the names to hold the position, and all were failures for different reasons. Throw into the mix a new owner that has flapped his way through several key issues it has been an unpanelled disaster. Hell the Browns even messed up their uniforms such has been the abject failure.
As for the players, Barkevious Mingo, Trent Richardson, Corey Coleman and Justin Gilbert were all 1st round picks that never got to a 2nd Browns contract. Brady Quinn, Seneca Wallace, Jake Delhomme, Colt McCoy, Johnny Manziel, Brandon Weeden and so on and so on have suited up and started games at quarterback. All ended with a sub .500 record, with only Brian Hoyer actually registering above that mark before external pressures forced Johnny Manziel into the starting role which lead to further disappointment. The record reads a shocking 51-156-1. A spell between December 13th 2015 and September 20th 2018 with only 1 win during that near 3 year window. A winless season was even followed by a parade to "celebrate" just how awful this team had been.
When your team is that bad, you take the small mercies that are on offer and cherish them more than fans of a successful franchise could ever imagine. I remember Colt McCoy tossing a game winner to Mohammed Massaquai against the Miami Dolphins and celebrating like crazy. I remember David Bowens picking of Drew Brees twice in the Superdome as the Browns hung 30 on the Saints. I remember a Thursday night football demolition of the Cincinatti Bengals when we thought Brian Hoyer was going to be the franchise saviour. I remember jumping up and down like crazy as Jamie Meder blocked a field goal on Christmas eve 2016 to give the Browns their solitary victory of the season. And more recently I remember Bud Light fridges being cracked open on a Thursday night when a certain Baker Mayfield on debut guided the Browns to their first win in forever. There have certainly been more lows and false dawns than there have been positives following the orange and brown.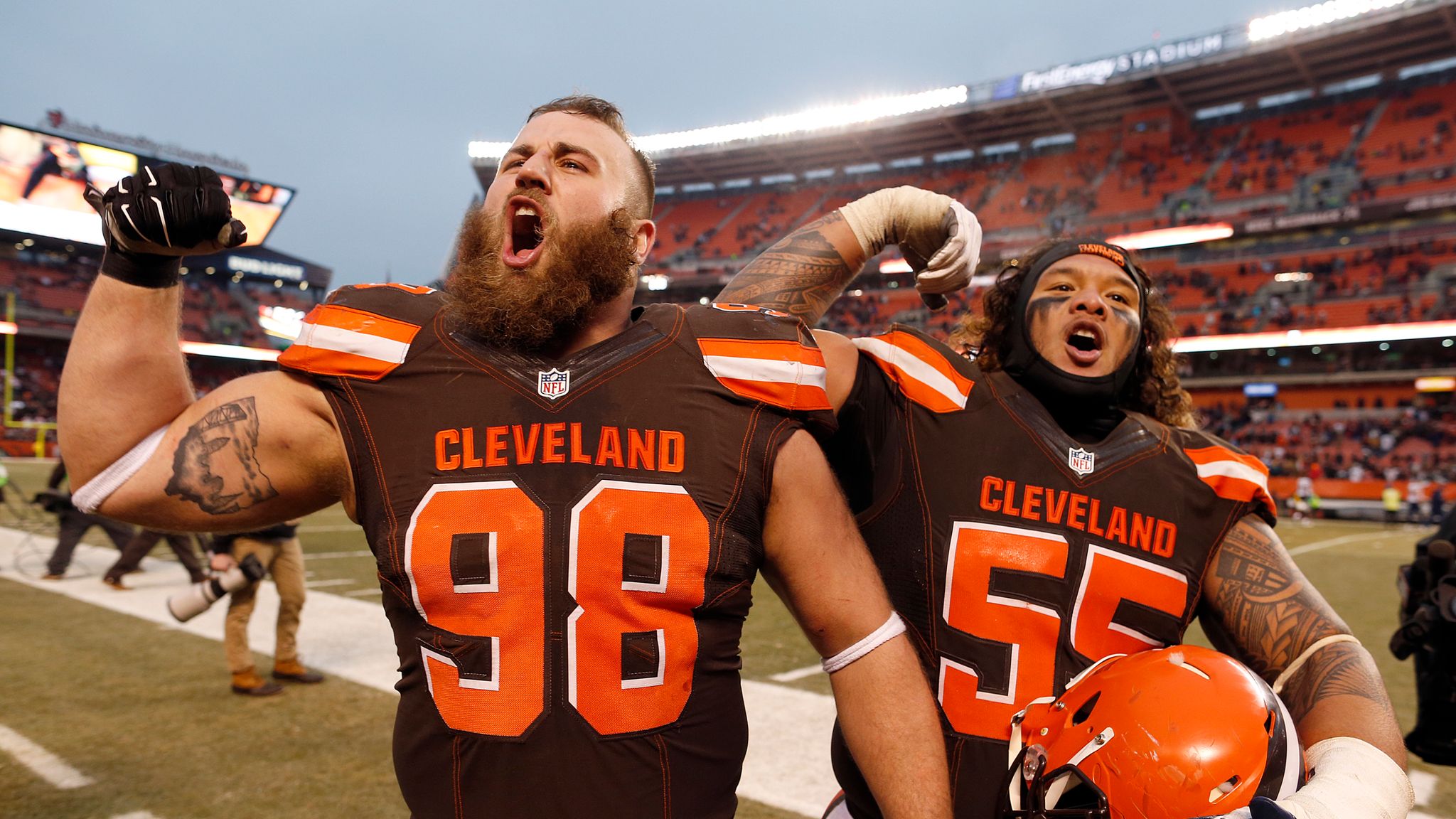 Fast forward to this season. This version of the Browns has real talent. I am Nick Chubb's biggest supporter, that guy is phenomenal. Myles Garrett is an absolute man mountain of an individual and possibly the best edge rusher in the league. Jarvis Landry has changed the culture of the organisation and is as tough as they come and seems to come up huge when the Browns need him. The offensive line has played lights out all year with Wyatt Teller an unsung hero. Hell we even have the league's only British punter to get behind in the "Scottish hammer" Jamie Gillan. Talent gets you nowhere though unless it is harnessed in the right direction.
2020 has been a god awful year for a whole heap of reasons, but it will go down as the year that things started to go right in Cleveland. The hiring of Kevin Stefanski to the head coach role and partnering him up with the leagues youngest GM in Andrew Berry finally seems to be the correct tonic. Stefanski has also hired a brilliant backroom team with the likes of Joe Woods, Alex Van Pelt and Bill Callahan having a major impact. No more in fighting, no more battling of philosophy, everyone is on the same page and pulling in the same direction. A draft that delivered the heir to Sir Joe with big Alabama tackle Jedrick Wills Jr selected to protect the quarterback. So much focus is placed on the Browns first round selections as history has shown that they simply do not develop talent taken later in the draft. Not this year however with the likes of Donovan Peoples-Jones, Harrison Bryant and Jacob Phillips growing as the season has gone on. And with smart free agency additions and trades for Jack Conklin, Austin Hooper and Ronnie Harrison to name a few, the Browns have depth.
---
*****5 STAR IMPORTS*****
Get your American Sports merchandise and memorabilia direct from US with low shipping! Join their FB group or follow @5_Star_Imports on Twitter
---
For 15 weeks the season was unbelievably brilliant. 10 wins on the board, the first winning season since 2007. Control of their own playoff destiny and a game against the lowly New York Jets on the schedule. Enter COVID-19. The wheels were threatening to come off. All of the receivers had to miss the Jets game and the team had to organise their run through in a New York parking garage as practice had been cancelled all week long. They couldn't get the job done and other results went against them to a large extent. "Same old Browns", "The Browns are going to Brown". We heard it all week on social media that despite 15 weeks of promise, it was all going to end in heartache. Ironically a Steelers win against the Colts however still gave Cleveland control of their destiny. Win and you are in.
The COVID issues continued to plague the team and another week of disrupted preparation culminated in a home game against their biggest rivals to punch the playoff ticket. Pittsburgh decided to rest a number of their starters as was their prerogative but the pressure was on Cleveland to get the job done. They did, just. It wasn't pretty, it took a quarterback scramble for 2 yards to seal the deal in a game they had been up big in, but the box score reads Browns win and that is all that matters. Despite being confidemt throughout I confess to shedding a tear as the feeling of pride and relief overwhelmed me when the result was confirmed.
Cue a week of "They will lose in the 1st round anyway", "They are only there because the Steelers rested all of their players". The Browns still didn't get the credit they deserved and the deck that was stacked against them was only going to get worse.
Head coach Kevin Stefanski tested positive for COVID and he had to isolate from the team. More players found their way onto the COVID reserve list throughout the week and for the 3rd straight week, the Browns hardly got to practice. It wasn't just rotation players that the Browns were losing, top cornerback Denzel Ward and top offensive lineman Joel Bitonio would have to sit this one out. Preparation was further disrupted as the usually routine journey to Pittsburgh was overhauled to include commercial aeroplanes to keep players as distanced as possible from each other on the flights, private cars for coaches and players deemed as high risk and the basement of the head coach converted to a cinema so he could watch the game in isolation.
The glorious season was about to be brought to an end in a crushing defeat, against their biggest rivals who have made a habit of humiliating them year after year after year. 17 years since a win at Heinz field, Big Ben was perfect at home against them and the Steelers were rested up. After all as JuJu Smith Schuster pointed out, "The Browns is the Browns, faceless grey players that I have played against every year".
14 seconds. 14 little ticks of the game clock was all that it took for 13 years of personal pain and suffering to begin to fade away for me and the long suffering fans of the NFL's most ridiculed franchise. The team that seemingly changes its GM and head coach with as much regularly as an I Phone screen cracks finally had their moment. This wasn't just a win, this wasn't just a playoff win, this was the Browns exorcising demons they have carried around for far too long. This one simply meant more.
A botched snap over his head left Ben Roethlisberger on all fours as Karl Joseph pounced for a touchdown. An MJ Stewart interception followed by a quick strike to Jarvis Landry and the Browns were up 14-0 with only 5 minutes gone. I was screaming at my TV in disbelief regardless of the fact it was now 1:30am UK time. Before the quarter was through the Browns had scored more points than any other team in NFL history had managed in the 1st quarter of a playoff game. They did not let up, forcing 5 turnovers on the day and managing to stick 48 points up on the scoreboard. They ended the game with "A guy named Blake" playing at left guard who Baker Mayfield had met just that day and Kevin Stefanski has still yet to meet! Hollywood would have struggled to write the script this team has been on for the past few weeks and even as a fan I find myself pinching myself.
This game alone made up for 13 years of misery. This game alone made up for all of the times we have witnessed the Steelers handle the Browns with distain. This game alone made up for all of those late nights and early mornings tuning in to watch a sub-standard performance. This game alone made up for all of those misses at the top of the draft, the head coaching hires and fires and GM shuffles. This game alone erased the painful memory of a "perfect" losing season. All of the demons were exercised in the most perfect of ways. It had to be the Steelers. It had to be Heinz Field. It had to be Big Ben. The ghosts of 13 years plus were all put to bed on Sunday night. The biggest of all is quite simple, we are no longer "The same old browns". Browns fans up and down the UK and across the world, enjoy it, embrace it and let's hope we can get used to it.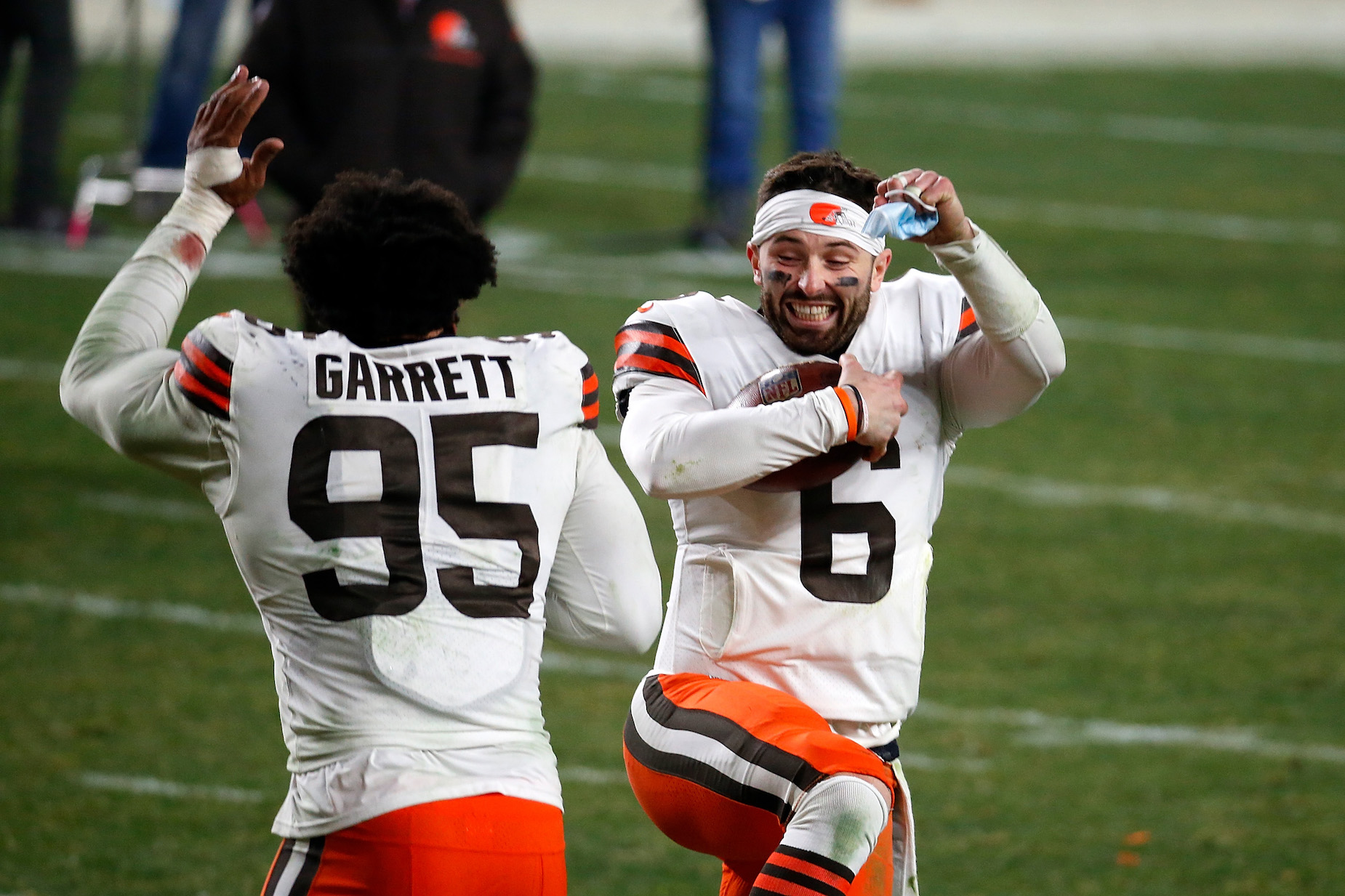 Chase Claypool may want to tell his Tiktok following that the Browns will get "clapped" next weekend but I can guarantee you 1 thing Chase, the Browns have more chance of winning the Superbowl than you do this year! I'm not here to bash on the Steelers, if anything I want the rivalry to be just that, a rivalry. For too long it has been 1 sided and hopefully moving forward it becomes a real contest. That game should always feel different and mean more to both fan bases.
The best part of this story however for the Browns is that they are not done yet. The Chiefs are obviously favourites for this weekend, and rightfully so. Are they beatable? Sure. Can the Browns do it? Why the hell not! Win or lose, 2020 is the start of a new chapter in my Browns fandom and to any new members joining the dawg pound, welcome along for the ride. I don't regret any of the last 13 years, if anything its making this experience taste even sweeter.
#WeWantMore – Go Browns!
---
---