It's just about the half way point in the NFL regular season. Depending on your outlook on such things, that's good or bad.
In this series of articles, we take a look back over those 8 glorious weeks of pigskin action and also project how the 2nd half of the season will play out.
---
AFC West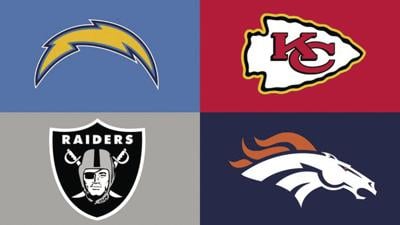 ---
Current Standings
Kansas City Chiefs 5-3
Oakland Raiders 3-4
LA Chargers 3-5
Denver Broncos 2-6

---
---
Midseason Grade: B
How has it gone so far?
The offensive juggernaut picked up where they left off. Patrick Mahomes has spread the ball around with ease despite missing Tyreek Hill for most of the 1st half of the season. A trade on the eve of the season for LeSean McCoy had solidified the backfield and Travis Kelce remains the league's best tight end.
However the achilies heel is once again the defence. In particular it has been the Chiefs inability to defend the run. Only the winless Bengals have given up more yards on the ground and teams have found a formula to beat the Chiefs.
Having tasted defeat in 3 of the past 4 contests the Chiefs will be anxious to get Mahomes back from injury to allow the offence the greatest opportunity to make up for the defensive deficiencies.
Rest of Season Outlook:
The Chiefs are comfortable within the division and the 3 losses they have tasted were against quality opponents. They take care of business in the games that you would expect them to do so. They will not be concerned with regular season record however as they will be concentrating on what they want to achieve in January.

Fixing the run defence will have to be a top priority as the ground game becomes more of a factor as we get towards playoff time. The offence will continue to cause problems for anyone and outside of games with the Vikings and Patriots, the Chiefs will be big favourites in the other contests they have left to play.

Regular Season Record Prediction – 11-5 – Division Winners
---
---
Midseason Grade: C
How has it gone so far?
The team of hard knocks has very quickly moved on from Antonio Brown to post some decent performances in the first half of the season.
Losses to the Chiefs, Vikings, Packers and Texans are nothing to be ashamed of. Derek Carr has been very accurate, completing over 72% of his passes as he has found himself 2 new best friends. Darren Waller has been a revelation at tight end, he leads the team with 46 receptions,over twice the amount of the next leading receiver.
Josh Jacobs is arguably one of the leading candidates for offensive rookie of the year honours with 620 rushing yards from the 7 games played.
Rest of Season Outlook:
Winnable looking games against the Jets, Bengals and Chargers provide plenty of optimism for the Raiders in the second half of the season.
The impending move to Vegas should hopefully mean plenty of motivation to give the fans over in the Bay area a good send off.
Look out for the continued development of the 2 young playmakers mentioned as the Raiders may have stumbled across a nice young core to develop with.
Regular Season Record Prediction: 7-9
---
---
Midseason Grade: D+
How has it gone so far?
In the conversation for the most underwhelming team of the 2020 season, the Chargers have fallen off massively from where they were last year. The offensive line has been a problem throughout and what feels like the standard injury curse has once again struck. Melvin Gordon backed himself in a contract hold out in a move that appears to have backfired having been outperformed by Austin Ekeler during the campaign.
Mike Williams found the endzone on 10 occasions last campaign but has yet to find pay dirt this time around. In fact Keenan Allen and Hunter Henry are the only 2 skill positions outside of the running backs that have scored a touchdown for the Bolts so far.
Rest of Season Outlook:
Looking for consistency, the Chargers need to stop beating themselves. 2 games against the Chiefs along with difficult looking matchups against the Vikings and Packers make the road ahead look difficult. WIth 5 divisional games still ahead though, with a heavy fair wind the Chargers aren't quite out of things just yet.
Getting Michael Badgeley back on the field will help also as even if the Chargers get into winning positions the find a way to lose.
Regular Season Record Prediction: 7-9
---
---
Midseason Grade: D
How has it gone so far?
As you would expect a Joe Flacco led offence to look, a little pedestrian. Ranked just 28th in points scored at just 15.6 per game the defence is keeping the Broncos competitive. That unit ranks 8th in terms of points against so its clear to see where the issues are in Mile High. An 0-4 start has been followed by a 2-2 stretch for a team struggling to establish an identity.
Philip Lindsay is still the most valuable offensive piece but despite his superior production he is stuck in a timeshare with Royce Freeman. Von Miller is having a relatively quiet season with only 4 sacks so far on the campaign.
Rest of Season Outlook:
After criticizing the defensiveness of offensive play calling Joe Flacco has miraculously picked up an injury so Brandon Allen is in at QB. The schedule does not look kind with Vikings, Texans and Chiefs all still to come. The Broncos would have been hoping for more of a boost from Vic Fangio than they have received and this has a feeling of a 1 and done season.
Development of the young wide receiving core will be crucial as the Broncos will hope that Drew Lock will be able to take over this offence in the non to distant future.
Regular Season Record Prediction: 3-13
---
---
NFC West
---
Current Standings
San Francisco 49ers – 7-0
Seattle Seahawks – 6-2
Los Angeles Rams – 5-3
Arizona Cardinals – 3-4-1
---
---
Midseason Grade: A
How has it gone so far?
Without doubt the surprise package of the season, the 49ers are not so much dark horses, but sparkly rainbow unicorns, with the only undefeated record in the NFC. How are they racking up the W's?
A perfect blend of creative and consistent running and a tough tackling defense led by rookie Nick Bosa and wily veteran CB Richard Sherman. Jimmy Garoppolo has been upright all season and only sacked 11 times. He needs to cut down interceptions (7) but at a nearly 70% completion rate Garoppolo is just fine. The strong running game is led by a three-headed monster of Matt Breida, Tevin Coleman and Raheem Mostert who have combined for over 1000 ground yards already and 10 combined touchdowns.
The receiving unit has been a big letdown, with the exception of All-Pro TE George Kittle, so a mid-season trade for Emmanuel Sanders from Denver was a welcome boost.
Rest of Season Outlook:
The remaining part of the 49ers schedule is much harder than the first half. Two matchups against the Seahawks, plus the Ravens, Saints and Packers. The 49ers will not go 16-0 regardless of however hard they run or tackle.
The two Seahawks games will define the season, and will provide the difference between a division win and a wild-card. Emmanuel Sanders will need to strike up immediate rapport with Jimmy G, as ridiculously his nine touchdown passes this season have gone to nine different team-mates. The return of versatile FB Kyle Juszczyk in the final third of the season will be a big boost.
Regular season record prediction: – 12-4 (and a wild card)
---
---
Midseason Grade: B+
How has it gone so far?
The Seahawks have not been convincing in 2019, winning their six games by a combined 32 points, including two one point wins. Regardless Russell Wilson is having a spectacular season, 2,127 yards, 17 touchdowns and just the one int in 8 full games.
Elsewhere the offence has been performing admirably, RB Chris Carson is on track for 1,200-1,300 yards and the mix of veteran WR Tyler Lockett and rookie WR DK Metcalf is providing a winning combination.
LBs Bobby Wagner and K.J Wright continue to play at a Pro-Bowl level and the addition of DE Jadeveon Clowney may not have yielded gaudy sack totals, but he leads the team in tackles for loss and forced fumbles.
Rest of Season Outlook:
The Seahawks have the 49ers clearly in their line of sight, and the two games they face against each other will be box office television both times. It's all NFC games for Seattle for the rest of the season and six more wins is a realistic target. Seattle and San Francisco should have safely punched their ticket to the post-season by Week 16, so the Seahawks hosting the 49ers in Week 17 will likely determine who wins the division.
CenturyLink Field is no longer a fortress for the Seahawks, but they will use the wet-weather to squeak a W17 win and with it a division title.
Regular season record prediction: – 12-4 (and a division win)
---
---
Midseason Grade: B-
How has it gone so far?
It's been a bit of a rollercoaster for the Rams so far, starting with a three game win streak, followed by a three game crash, before crushing two awful teams.
In the space of three weeks (2-4) L.A. put a beat down on the Saints, scraped past the Browns and then leaked 55 against Tampa. Jared Goff is on pace for 5,000 yards and WR Cooper Kupp is looking like an All-Pro. Kupp's 220 yard outing at Wembley will take a long time to forget.
Todd Gurley has flattered to deceive, his 7 touchdowns hiding a rather unimpressive season so far. LBs Dante Fowler and Clay Matthews are on pace for double digit sacks. The biggest impact on defense is CB Jalen Ramsey who was traded in from the Jaguars in October. Ramsey is currently undefeated as a Rams star.
Rest of Season Outlook:
The Super Bowl hangover is for real.
A tough run of games against Seattle, Dallas and San Francisco are sandwiched between two contests against the Cardinals. There have been five receiving yardage leaders on the team in eight games, and Todd Gurley has not had a single 100 yard rushing game this year.
Two home MNF games (Chicago and Seattle) will put the Rams in the spotlight, but they are not going to make the playoffs because their offensive line is their weak link, that will cost them dearly in the Winter months.
Regular season record prediction: 9-7
---
---
Midseason Grade: C+
How has it gone so far?
Three wins and a tie in half a season is above expectation for a Cardinals team expected to be near the foot of the conference whilst they let rookie QB Kyler Murray settle in to the team.
The three wins were against weak opponents by a combined 10 points. Murray has shown improvement from his first four games, but he has been let down by a poor running game, which now has former Dolphins RB Kenyan Drake moving to Arizona from Miami.
The immortal WR Larry Fitzgerald is still churning away, and with an upsurge in targets could get another 1,000 season under his belt. David Johnson is still underperforming and he has more touchdowns catching than he does rushing.
Rest of Season Outlook:
There are not a lot of winnable games left for the Cardinals in the second half of the season, ending in two tough road-trips to Seattle and L.A. Kyler Murray is going to see better days as the Cardinals move into a new era.
The youth movement will soon takeover throughout the roster, with WRs Christian Kirk, KeeSean Johnson and Andy Isabella making competition healthy of offense. Arizona still need help on the defense and offensive line, but another impactful draft could see them competitive as early as 2020.
One small shoutout to LB Terrell Suggs, coming up to his 38th birthday, as he is still performing at a high level – five sacks, four forced fumbles and 9.5 tackles for loss. Oh and he can act too if you have seen Ballers.
Regular season record prediction: 5-10-1