Time to head east for the last 2 sets of Half-Term reports. Quite a few teams in these divisions have underwhelmed and then there's the Patriots. At the very least the NFC equivalent should be a bit more exciting, but that wouldn't be hard to do when you are comparing against the AFC East.
Nonetheless, Let's give them some grades:
---
AFC East 
---
Current Standings 
New England Patriots – 8-0
Buffalo Bills – 5-2
New York Jets – 1-6
Miami Dolphins – 0-7
---
Midseason Grade: A+
How has it gone so far? 
At some point the never ending story of Patriots success has to end, but the 2019 season still has the tale without an end in sight.
The AFC's only undefeated team at the half-way point Sith Lord Belichick and his cyborg QB Tom Brady are continuing to excel, but the offense is being out-shadowed by a defense that is looking like the 1985 Bears on some old-school steroids. A remarkable statistic to come to the fore after 7 games was that the Patriots would have been 4-2-1 if they had all of their offensive touchdowns removed.
Current Super Bowl MVP Julian Edelman is still the heartbeat of the offense, catching more balls than a set of snooker table pockets, and the recent acquisition of sure-handed WR Mohammed Sanu from the Falcons will immediately compensate for the loss of Josh Gordon to injury. 
Rest of Season Outlook:
The Pats go up against the Ravens, Eagles, Cowboys, Texans and Chiefs to open up the second half of the season, and you read it here first they WILL lose one of this handful of high-profile games. You can run on the Patriots, just don't turn the ball over.
Ever since the Patriots shut down the Rams in the Super Bowl they flicked on a switch of defensive dominance and 61 points allowed in 8 games is quite simply amazing. The Patriots are a bit of Mahomes magic from yet another trip to the Big Dance. Just give up betting against them.
Regular season record prediction : 15-1 and trip to Super Bowl. 
---
---
Midseason Grade: B+
How has it gone so far? 
One of the genuine surprise units of the NFL, aside from a rather lacklustre loss to the Eagles the Bills have played solid defense to help them to five wins in their first six games. Josh Allen has not exactly lit it up so far but he is now completing 60% of his passes.
Free agent WR John 'Smoky' Brown is on target for over 1k and the Peter Pan of the NFL RB Frank Gore is leading the team in rushing with 422 yards.
On their defence, the strongest part of their setup, CB Tre'Davious White and S Jordan Power lead a top 10 secondary. The Bills allowed a maximum 21 points against them in the first six weeks.
Rest of Season Outlook: 
Buffalo's next four are all winnable, before a tougher ending that includes trips to Dallas, New England and Pittsburgh and home against the Ravens.
The Bills could have a rather shiny 9-2 record heading into Week 12 if they continue their brand of bend but don't break football. Josh Allen does need to reduce the turnovers and rookie RB Devin Singletary needs to get back on the field.
At some point in the next three weeks Frank Gore will remarkably pass Barry Sanders in the all-time rushing table, with just Walter Payton and Emmitt Smith ahead of him.
This is a team on the rise but likely another one and done in the playoffs.

Regular season record prediction: 10-6
---
---
Midseason Grade: E
How has it gone so far? 
The Jets have won six games so far, oops that's the NHL's Winnipeg Jets. The New York Jets unfortunately kissed goodbye to a winning season when their QB Sam Darnold went down with mono. The combination of backups Trevor Siemian and Luke Falk were atrocious.
Mega signing RB Le'Veon Bell has been disappointing, and was even allegedly in the shop window at the trade deadline. His 536 total yards in 7 games is not what was expected and his two scores is pitiful.
With the exception of a bizarre upset win over the Cowboys in Week 6 this is a team heading in the wrong direction fast. Trading away DE Leonard Williams (to the same stadium) will not help matters, but the Jets must love namesake DT Quinnen Williams. 
Rest of Season Outlook:
The Jets have perhaps the softest schedule in the entire league over the next six weeks, including two contests agains the Dolphins and trips to Cincy and Washington.
They should come away with two wins at least in this tea cake of a period. The Jets came into 2019 with a new uniform, a new superstar RB and even a wild-card buzz, but this is clearly not a playoff team, and its back to the drawing board already for Adam Gase, who may not be in post when St Nick comes down your chimney.
Trying to shop your top assets, such as Jamal Adams S and Roby Anderson WR is hardly inspiring confidence and will only serve to further fracture an already shattered locker room.
Regular season record prediction: 3-13
---
---
Midseason Grade: E
How has it gone so far?
The entire Dolphins team were given a lovely present just before the start of the 2019 season, a one year digital subscription to 'The World of Tanks'.
With QB Ryan Fitzmagic at the helm Miami are surprisingly competing in games but the feeling is they are told to pump the brakes if there is any danger of actually winning a game. QB Josh Rosen was clearly not the answer, and judging by the trade of RB Kenyan Drake for little more than a handful of conkers, the team is not serious about winning football games.
The 'Fins trade at the deadline for CB Aqib Talib was merely to get better pick status, and losing CB Xavien Howard to injury is a blow. The tiny ray of offensive light is resurrection project RB Mark Walton who will look for 700 yards rushing.
Anything is better than RB Kalen Ballage, who is averaging less yards per carry than the team's punter Matt Haack. 
Rest of Season Outlook: 
This is a team capable of going 0-16, having scored less than anyone else to this point, and only behind the Falcons (who have played one more game) in terms of points conceded. Fitzmagic has shown up in patches, and it's not beyond belief that the bearded wizard pulls off one or two wins against the Jets (two games) or Giants or Bengals.
Problem is Miami will be desperate to get the number one draft pick. The ultimate irony would be to beat a 15-0 Patriots team in Week 17 if they rest their starters and their backups. It won't happen, but it would put a cap on a historically Sherman-styled season. 
Regular season record prediction: 0-16
---
---
NFC EAST
---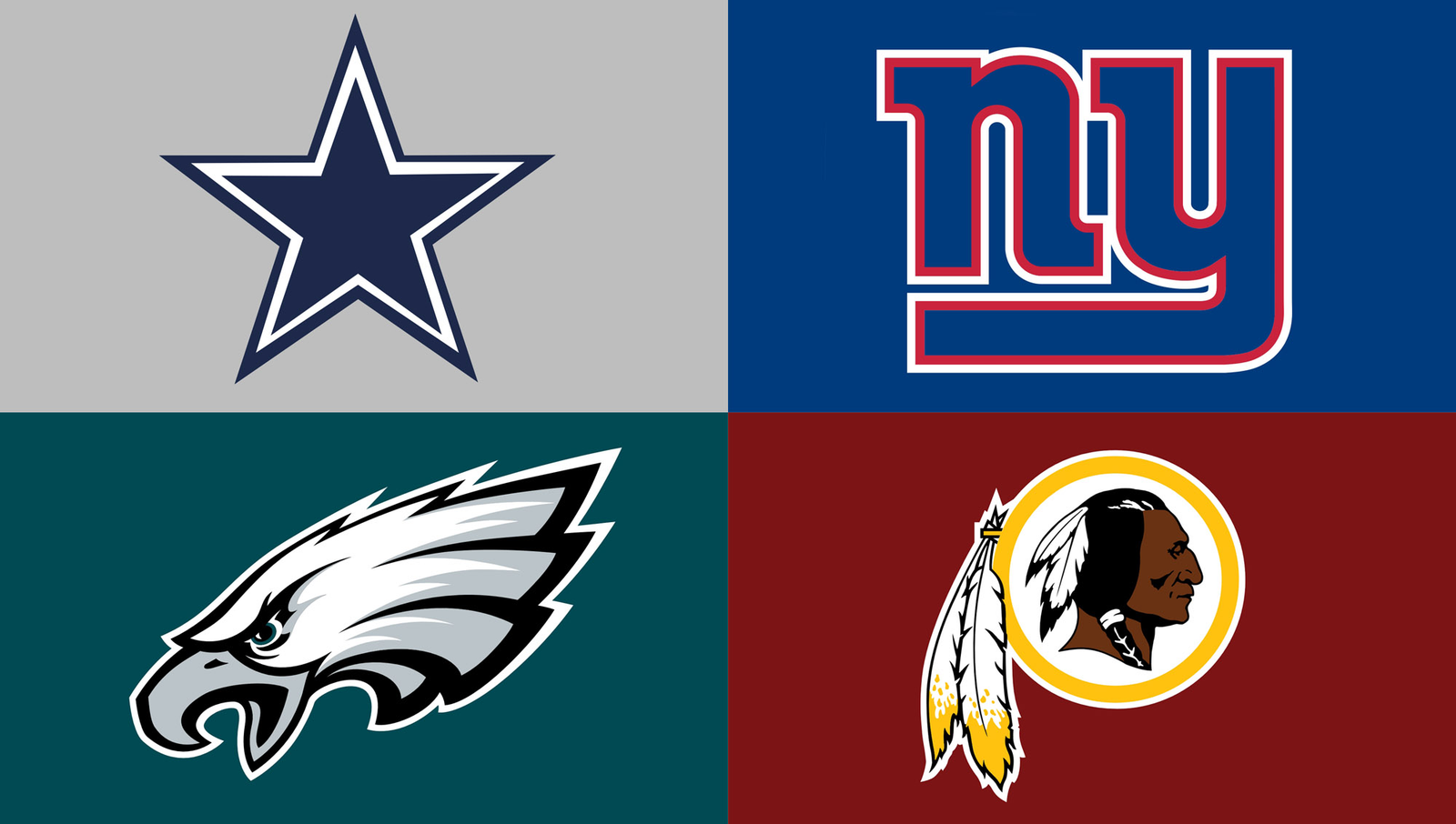 Current Standings 
Dallas Cowboys – 4-3
Philadelphia Eagles – 4-4
New York Giants – 2-6
Washington Redskins – 1-7
---
---
Midseason Grade: B-
How has it gone so far? 
Despite a horrendous three-game losing streak the Cowboys are still the class of the NFC East and are atop the division, albeit due to having had a bye week.
The Cowboys had a marshmallow schedule to start, and when they had quality opponents (Saints, Packers) Day and Zeke couldn't get the W, but a monster 27 point win over the Eagles will have Jerry Jones smiling in the executive box.
Ezekiel Elliot is gunning for a third rushing title, with 602 and 6 scores in 7 weeks. WRs Amari Cooper and Michael Gallup are stretching the field – 65 catches, over 1,000 yards and just under 16 yards a catch between them. 
Rest of Season Outlook :
HC Jason Garrett has been in the corner quite a lot this season, clapping to himself as no-one will even give him a high-five. Somehow Garrett is still in post, but this is an appearance in the NFC Championship (most likely as the road team) or bust for the guy who has been in Dallas for 10 seasons.
The Cowboys have a quality roster on both sides of the ball, but they cannot afford to fall asleep at the wheel again for the rest of the season as they did in the shocking loss to the Jets in Week 6.
Look for Zeke to get fed more than Eddie Hall did on his tour of American eateries. 
Regular season record prediction: 11-5 and trip to NFC Championship. 
---
---
Midseason Grade: B-
How has it gone so far? 
The Eagles are a hard team to gauge, so can the real team please stand up.
Losses to the Lions and Falcons and wins over Buffalo and Green Bay is a clear sign that there is a lack of consistency.
QB Carson Wentz has been OK (1,821 yards and 14 touchdowns) and he has sorely missed the deep threat of DeSean Jackson, who returned to Philly after five seasons away. Jackson hasn't suited up since Week 2 leaving WRs Alshon Jeffery and Nelson Agholor to average under 10 yards a catch combined.
Rookie RB Miles Sanders has played second fiddle to Jordan Howard who leads the team with six scores.
Rest of Season Outlook: 
Philadelphia's second half has five very winnable games including three in-division contests, but New England and Seattle games will be season defining matchups. The Eagles defense has regressed and their secondary is their weakness so they will struggle against superior passers like Russell Wilson and an evergreen Tom Brady. Just two seasons away from lifting a Vince Lombardi Trophy this Eagles team is arguably underperforming, and judging by the 4-4 record to date its not clear which team is coming out of the locker room each week. 
Regular season record prediction: 9-7
---
---
Midseason Grade: D-
How has it gone so far? 
This season will go down in New York history as the end of the Eli Manning era and the start of the Daniel Jones one.
The Giants made a bold move to draft Jones early and doubled up when they inserted his in the starting lineup in Week 3. Jones did come out the gate on fire gaining the Giants two wins on the bounce, but that has been followed by four consecutive losses. Jones is on target for around 3,000 yards and 20 touchdowns.
Stud RB Saquon Barkley has already missed three games and only has three touchdowns in the five contests he has played in.
The only other half-decent offensive performer is TE Even Engram who has 38 catches to lead the team.
Rest of Season Outlook: 
With the Jets, Dolphins and Redskins on their second-half slate the Giants should equal their first half win total. Daniel Jones is growing in confidence week by week and the recent return of WR Golden Tate from a suspension will be a big boost.
The Giants need to improve pretty much everywhere on defense and also they need to get better performances from their offensive line. It is a real shame that Saquon is on such a poor team as he has All-World potential.
Another season of frustration in the Big Apple and an emotional farewell to double Super Bowl winning QB Eli Manning in December.
Regular season record prediction: 4-12
---
---
Midseason Grade: E
How has it gone so far? 
It's no surprise the Redskins are cellar dwellers;
Their best offensive piece T Trent Williams has held out to this point and the team only announced this week that they are willing to trade him.
Veteran QB Case Keenum has been serviceable as a bridge passer, and will likely see more snaps than expected as rookie Dwayne Haskins has been the proverbial 'deer in the headlights' in his limited appearances.
The biggest surprise has been rookie WR Terry McLaurin who leads the team in anything meaningful. The biggest move of the season in Washington was the removal of head coach Jay Gruden, who failed to win a game before the locks were changed.
Interim replacement Bill Callahan won (barely) in his first outing, and has changed the mentality of the team on both sides of the ball. In his three games in charge the Redskins have fed Adrian Peterson the ball and played solid defense, only allowing three touchdowns in three games. 
Rest of Season Outlook: 
The season was a lost cause from Week 1 when the Redskins had Coach Gruden in charge. With 8 games left the Redskins will play tough, but their lack of offensive weapons will cost them dearly.
The only achievable target will be trying to finish above the equally woeful Giants in the NFC East. There are two potential Pro Bowl candidates, rookie WR McLaurin and a very under the radar CB Quinton Dunbar, who has shone on a defense that has underperformed considering the early round picks they have spent trying to build a competitive unit.
If they do trade Trent Williams that could at least bring a good pick in the 2020 draft. 
Regular season record prediction: 2-14