By Tim Monk (Tim_MonkF10Y)
Week 7 is in the books. 2 teams going into the weekend undefeated remained so and a future hall of fame QB had himself a career day.
Lot's of stories, lots of stats, so let's get them injected in to your eyeballs.
---
Rodger that
---
If I said to you that Aaron Rodgers had a career day, you have to think of some pretty big numbers considering how glittering it has been thus far.
As a Cowboys fan, I have seen plenty of stellar performances from the Packers' #12.
Sunday against the Raiders, Rodgers lit up the Black Hole for 25/31 429yds, 5 TDs and an extra one on the ground. It was the first time ever, a QB for the Packers posted a perfect passer rating and was the first time Rodgers had posted a 400+ yard passing game and 5TD combination.
For fantasy owners, he posted his 2nd highest score and the most since 2011 with a score of 43.76pts.
We mentioned last week that this Packers team looks pretty decent and Rodgers had not even really got going yet.
Now he's gotten going, the league best be on notice.
---
There may be Trub-les ahead
---
This Bears offence…yikes.
Prior to garbage time yesterday, Cordarelle Patterson's 102yd kick off return was more yards than the offence had been able to muster.
There boos were deafening inside soldier field, the fans have no confidence at all in their franchise QB.
The Bears have yet to put up 300 yards of offence in ANY game this season and it's not hard to see why.
What was probably the cherry on top for the Bears, Sean Payton on the other sideline put on yet another clinic on how to use all the tools at your disposal to go and win a game. No Cook, no Kamara, no Brees, no problem.
The problems are all with Matt Nagy and the Chicago Bears offence.
---
---
Hush by Rush
---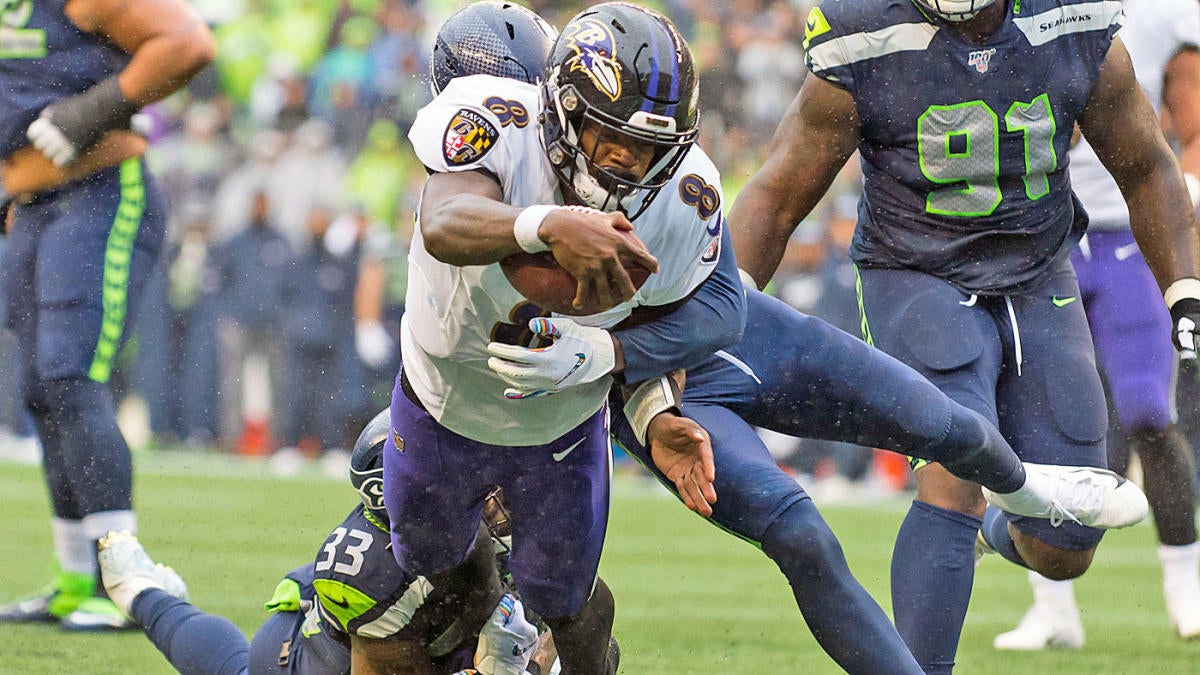 Lamar Jackson once again finds himself in our articles, in the spotlight of the NFL highlight reel and at the forefront of defensive co-ordinator's nightmares.
Whilst you can try and account for his designed run plays, Lamar Jackson was like Harry Houdini in Seattle, scrambling for 86 yards, the most by any QB this season and a record high for Jackson.
Multiple times, the Seahawks defenders thought they had him pinned down for a loss, only for Jackson to get loose from the straightjacket and speed down the field for big chunk plays.
Century Link field is not an easy place to go to with the #12 screaming down on to the field but Lamar Jackson had long drives, which caused the stadium to hush somewhat.
Lamar Jackson is now 6th in rushing yards in the NFL amongst all players this season. 6th and is well on course to smash the 1000 yard mark.
Michael Vick's record of 1039 is not looking like a difficult ask either.
I think his body though will appreciate the Week 8 bye. Rest up, champ.
---
Melvin Gor-done?
---
Melvin Gordon bet on himself, and it seems to be a losing bet.
If you asked Melvin Gordon or even the Chargers "what would be the worst case scenario this year with the holdout?", how it has played out so far wouldn't be far off.
As per Evan Silva (@evansilva),  75% of Melvin Gordon's carries (27/36) have gained 3 yards or less and had 2 fumbles. 11 of his 14 targets have gained 3 yards or fewer. All of Melvin Gordon's plays since his return have averaged a gain of just 2.3 yards and only 4 plays where he has gained a first down.
This has culminated in a 0-3 record since his return and you have to wonder whether or not Melvin Gordon is a trade candidate in the next few weeks. On his current showing, there is no way the Charger's pay him anything close to the going rate, especially with Austin Ekeler, who is making just over $550,000 this season.
---
Moore woes for KC?
---
Matt Moore will be the QB for Kansas City for at least the next few weeks.
On a fateful quarterback sneak on TNF against the Broncos, Patrick Mahomes dislocated his patella and thankfully that's all that happened. Whilst it was a freak occurrence and is desperately unlucky (Madden curse continues!), Andy Reid now has to prepare for a few games with the 2007 undrafted rookie out of Oregon State.
To date, Moore has less than 1000 pass attempts, a rating of 81.2 and a 46-36 TD-INT ratio. It's fair to say the 35 year old will not be what Patrick Mahomes is, but Andy Reid is a master at getting QBs to do what they need to with a bit of time and prep. This is a HC that made Alex Smith look like a world beater.
The red hot Packers come to town on Sunday Night Football so it will be a baptism of fire. Andy Reid will have his work cut out to try and devise a plan to take the W here. Luckily for the Chiefs, their divisional rivals are (knee) capped.
---
Don't go Chase-ing my heart
---
If you fielded Arizona Cardinals backup RB Chase Edmonds in fantasy this week, chances are it was probably because you had to or it was in a bestball format. His 3 touchdowns, all over 20 yards in length was just the 5th time that this has occurred.
David Johnson played just 3 snaps against the Giants and apparently was never intending to see the field despite being made active on Sunday. It's hard enough to get any appreciation in the NFL in any sphere, but annoying fantasy players isn't a recommended approach.
---
---
How very patriotic
---
This Patriots' defence….oh boy.
Before we get in to the details of what can only be described as a suffocating defence, let's take a moment to commiserate those that would have lost their fantasy matchup despite being in a winning position when playing Sam Darnold at QB…
Right, there we go.
This was the 2nd occassion THIS SEASON that New England scored 30+ points and shut out their opponent after their thrashing of the Jets 33-0 on Monday Night Football. New England have now outscored opponents 223-48 (both lead league by the way), allowed only 1 passing TD Allowed and are 1st in YPG Allowed (223.1) and PPG Allowed (6.9) this season.
If you have them in fantasy, they are currently the 4th highest scoring player in the god damn game, posting double digit scores in every game this season.
They currently have 18 INT so far this season, a mark not bettered since the Packers in 1996. Why do i bring this up? The Packers beat the Patriots that year in the Super Bowl.
Yes they have had one of the easiest schedules (looking at you, AFC East) and it does get a bit harder, but this defence was epitomised when cameras cut to Belichick huddling in and laying the law down with the defence….24-0 up before halftime.
Oh, and they just traded for Mohammed Sanu.
Good luck, everyone else.
---
Maher-ful kicking display
---
Brett Maher became the first Kicker in NFL Super Bowl era to kick 3+ 60 yard Field goals and the first ever to do it in back to back games.
The ups and downs of a kicker are well documented (another doink this weekend too!) and Brett Maher certainly has more thrills than a creeky rollercoaster. One thing that isn't in doubt though, is his mentality and his self belief. The 63 yarder against the Eagles on SNF would have been good from 66 yards and I have a funny feeling that Maher is going to eclipse Matt Prater's current record of 64 yards.
A lot was made in Cowboys Nation when he took over from Dan Bailey, hopefully his leash will be just a tad longer, which is always nice for a kicker.
---
San Fran-6-and-0
---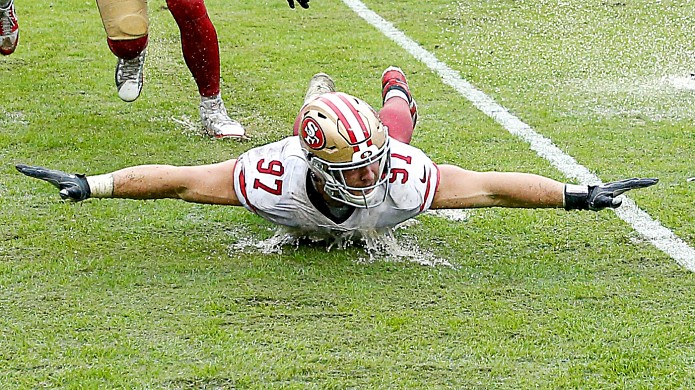 If you go back and watch the game in 40 or the highlight, make sure to wear waterproof attire, because this one was wetter than a 10year old goldfish.
It wasn't pretty and it's one of those games that only come round every couple of years, but the 9ers did what they had to do. Win, and win ugly.
This game was only 2hrs 36 mins in duration, the shortest game since week 16 in 2009 when the Patriots smashed the Jags in the same amount of time.
Whilst this will help fuel some skewed stats that sound impressive, even the most stubborn have to doth their cap to the 49ers start. The pick of them being (as per @NFLReasearch) that the 49ers have allowed 98 pass yards in their last 2 games combined, which is the 3rd-fewest pass yds allowed by the 49ers in a 2-game span in the Super Bowl era & the fewest in a 2-game span by the 49ers since Weeks 8-9, 1977 (62 pass yds).
---
Cousins and Vikings
---
It's amazing what an apology and a bit of play action passing can do to your team.
Captain Kirk makes yet another appearance in the takeaways after another stellar performance (with the assist of some lovely catches, tipped cap to Adam Thielen).
The $84m guaranteed signal caller:
Leads NFL in yards per pass attempt (9.1)
Leads NFL in passer rating (114.3)
Ranks 5th in TD passes (13) and 4th in completion rate (69.8%)
In his last 3 games, he became the first QB in NFL history to have over 300 passing yards and a QB rating of over 130 and also became the first Vikings QB since Dante Culpepper to throw for 4TDs in consecutive games.
With the defence playing how it is, this team SHOULD be going deep in January, unless normal service either with paly calling or Captain Kirk himself resumes.
Until then, he has a revenge game on Thursday Night football againast the hapless Redskins.