By Tim Monk and Lawrence Vos
Week 8 sees the 3rd of the London games take place between the Bengals and the Rams, the Bears, Chargers and Eagles fighting to save their seasons and lot's of revenge on Thursday Night. Let's get our binoculars out and look ahead to week 8!
---
The last time the Redskins and Vikings squared off in Week 10 of 2017, Kirk Cousins was Washington's QB and Case Keenum was Minnesota's.
The last time a starting QB faced each other for both teams in same match-up was Norm Snead and Sonny Jurgensen for Eagles and Redskins in 1963-64.
Add into the melting pot that Washington's Adrian Peterson is a Minnesota Vikings legend.
He'll look to somehow overcome a high and low ankle sprain to try and stick it to his former team but will have his work cut out to get anything against a Kirk Cousins led team that has found their groove in the last few weeks through the air.
Lot's of revenge for Thursday Night Football which is apt for the time of year and it remains to be seen which players are in scary movies and which players escape unscathed. You have to feel the Kirk Cousins and the Vikings will be the killers, with Peterson and the Redskins the victims.
MWAHAHAHA
---
---
Sanu and Sanders slip away from the slop
---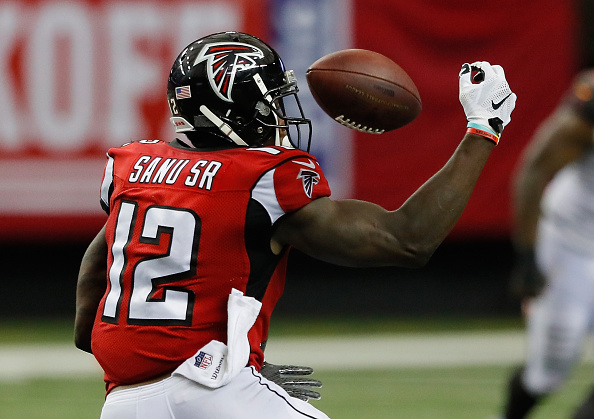 What a difference a day makes for two veteran wide receivers Mohammed Sanu and Emmanuel Sanders. Both are swapping conferences, and far more importantly they are moving from cellar dwellers to a 30th floor VIP champagne bar.
For Sanu, who was a genuinely nice guy when he came to Birmingham recently as part of an NFL tour party, he moves from a septic Falcons team to the only undefeated AFC team the Patriots. For Sanders he escapes the Flacco floundering Broncos for the only team in the NFC that has not lost a game, the 49ers.
Sanu will look to be the recipient of the targets that were going to Josh Gordon, who sadly went onto I/R on Wednesday. Sanu has excellent hands and will be able to support Brady by running routes that would have been made by the likes of Rob Gronkowski in the past.
Sanders has been signed to immediately move into the number one spot, to improve a rather eclectic bunch of WRs, none of whom were anywhere near as good as their top catcher – TE George Kittle.
The Patriots wanted Sanu before the start of the season, so they will be happy the Falcons form has been that bad that Atlanta has started jettisoning players before the half-way point in the season.
Both the Patriots and the 49ers play in the second game window this weekend, so expect to see Sanu and Sanders in some RedZone highlights on Sunday.
---
Ty goes to the runner
---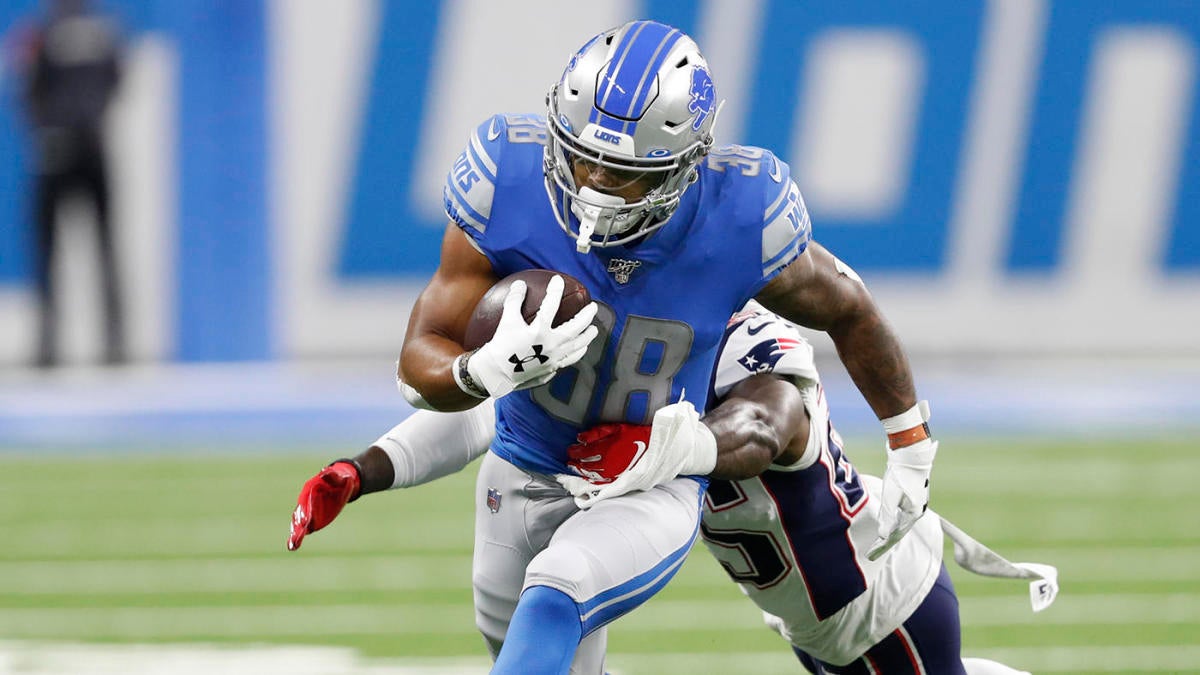 If you are a Detroit Lions fan and you bought a replica shirt with second-year RB Kerryon Johnson's surname on the back then you can arguably save a few quid after yet another high-profile injury claimed an NFL star.
Kerryon Johnson went down in the first half of his Week 7 contest against Minnesota and was yesterday put on I/R. Johnson was leading the Lions in rushing with over 300 on the ground. Next man up in the Motor City is rookie Ty Johnson who has shown some burst in his limited appearances so far this season.
Former Maryland Terrapin Ty had a stellar college career, racking up 4,196 all purpose yards, third highest in team history. Ty is a dual threat, as he impressed as a kick return specialist too, going to the house against Ohio State and Michigan. The Lions had high hopes for Kerryon Johnson before his injury, but apart from a 125 yard outing against Kansas City he has been underwhelming.
Ty was drafted in the sixth round by the Lions after a trade with the Falcons, with little expectation as a rookie. That has all changed now and Ty will be under the spotlight at home to the dreadful Giants defensive unit.
This is another situation to watch out for on Sunday if you tune into RedZone, as Ty makes his first start. Expect 70-80 yards rushing and 3-5 catches in a winning effort.
---
Is it now Gumbo and cheese instead of Texas BBQ and California Rolls?
---
At the start of the 2019 season the NFC 'on-paper' favourites looked to be the Rams and the Cowboys, just as Zeke signed his new contract.
Almost at the half-way point and one surprise package, the Green Bay Packers, are now heading the NFC power rankings with the New Orleans Saints just a smidge behind.
Teddy Bridgewater has performed admirably whilst future Hall of Fame enshrinee Drew Brees recovers from his injury, guiding New Orleans to five wins on the bounce and an overall 6-1 record. The age old adage of 'offense wins games but defense wins championships' has never rung truer than this season as the Packer and Saints would not both be 6-1 if their defense wasn't performing at such a high level.
After being robbed of a potential trip to the Super Bowl thanks to a horrendous non-call the Saints have rallied around the injustice and come back fighting even harder. The Packers have got the 'real' Aaron Rodgers back, after a few seasons filled with injury and underperformance.
The 49ers may be the conference's only undefeated team heading into Week 8 but anyone sensible knows the true class of the NFC at this point in time is the Saints and the Packers.
Both teams have very winnable games, the Saints play a rather hot Cardinals team, and the Packers travel to KC, to face Matt Moore and not Patrick Mahomes.
Bungling back to Wembley
The last time the Cincinnati Bengals travelled to London to play a regular season NFL contest they came away undefeated, but because they are the Bungles they didn't come away with a win, they in fact tied a contest against the Washington Redskins.
The Bengals (0-7) travel over this week to face the Los Angeles Rams (4-3) in the third English game of the season.
Andy Dalton is looking frustrated, the Cincy running game is looking non-existant and their defense is looking raggedy with nine games left to play. You only have to look at their 'star' running back Joe Mixon's stat line last week – 10 rushes for 2 yards and 2 catches for 1 yard (ok yes one did go for a touchdown). That's 3 yards of offence in a game. Mixon's stats have been historically awful – in four out of seven games his ground output has been 35 carries for 39 yards. That can't be all his fault, this ineptitude has to be shared with the offensive line and the play calling.
The Rams are fresh of a monster win over the equally poor Falcons, and will take this game as another walkover. For Bengals fans this season of woes brings back memories of Akili Smith the Bengals biggest bust at QB ever. Head Coach Zac Taylor could be out the door at the end of the season if he can't show some sort of backbone.
Maybe Wembley is time to unleash rookie passer Ryan Finley. If this does happen remember you read it here first.
---
Eagles got Bills to pay?
---
Interesting matchup this weekend up in Buffalo as the Eagles travel over to New Era Stadium.
The Bills are an impressive 5-1 after victory over the lowly Dolphins last week whilst the Eagles are in all sorts of trouble after being embarrassed by Dallas on primetime. Philadelphia can't lick their wounds for too long considering this is the start of a fairly difficult schedule and if they aren't careful, could slip in to the "No football in January" quicksand.
The Bills matchup pretty well on both sides of the ball, with Josh Allen and John Brown having that exposed Eagles Secondary and the Bills pass defence being one of the best in the league.
On paper, not the most eagerly anticipated matchup of the year, but there is actually quite a lot on the line.
---
brees-y does it
---
Drew Brees is practising this week and hoping to play in the week 8 clash at home to the Cardinals. I, for one hope that he sits this one out and uses this and the bye week to get back to 100%.
The future hall of famer obviously knows his time is up soon and wants to savour every possible second on the pitch, but it is surprisingly short sighted in my opinion from #9 if he want's to continue playing in to next season. A thumb injury is hardly the most likely to end a career but even putting yourself in a position to reinjure a less than 100% body part is not something that should be recommended. His backup and potentially next Saints starting QB Teddy Bridgewater has done more than enough in his absence, leading them to 5 straight wins against some decent opponents. OK, maybe the defence can take more than the fair share of credit for that run, but why risk Brees against Arizona on Sunday? I'm sure Teddy B can take care of business once more and hand the reins back to Brees in Week 10.
---
Cleveland and Carolina try and take the 0
---
San Francisco and New England remain undefeated as we head into week 8 so undoubtedly everyone now looks at the teams trying to be the first to score a victory over those teams.
Out of the two teams this week, you have to feel that Carolina (+5.5 currently on the handicap) are the more likely to kill the streak as they travel to Levi's Stadium to face the 49ers after a bye with the hapless Baker Mayfield and his Browns (+13) tackling the red hot Patriots in Foxborough.
Whilst both New England and San Francisco will start to see their schedule get that little bit tougher, the bullseye on their backs will also get that little bit bigger.
---
if at first you don't succeed, trade, trade again
---
If you don't know by now, the trade deadline shuts next week. Don't worry, the USA doesn't have an equivalent of Jim White in a yellow tie, but there'll certainly be more deals going through on deadline day.
Look for veterans (AJ Green) or guys on rookie deals (Kenyan Drake) to keep the rumour-mill busy over the next few days as teams try and jostle around their rosters to help give them the best chance at not only January football and the Super Bowl but also more picks as those planning rebuilds can start to get a handle on the picks they have for the next NFL Draft. Like Free Agency, some may overpay, whilst some may get players at bargain basement prices. With Sanders, Sanu and Quandre Diggs already heading to their new teams, there'll be plenty of movement to come before the trade deadline slams shut.
---
Dan Quinn bye bye?
---
We've mentioned it a few times already, but keep an eye out on how the Falcons get on this weekend. Once again embarrassed at home against the Rams, they face a Seahawks team smarting from a defeat at home against the Ravens. If the Falcons lose considerably once more in their own back yard, you can fully expect Arthur Blank to fire HC Dan Quinn during their bye week and look to rebuild.
It's somewhat telling that they allowed Mohammed Sanu to go to New England for a 2nd round draft pick (which is pretty much a 3rd, let's face it) and the other usual life saving technique of firing their co-ordinators already happened last offseason. So the are not many lives left at all for Dan Quinn and it'll be interesting to see the fight the players show on the field this Sunday.