By Shaun Blundell (@Shaun_F10Y)
April 2019, the team picking 2nd in the NFL draft? The San Francisco 49ers.
February 2020, the team competing in the Superbowl? The San Francisco 49ers.
That's the beauty of the NFL, a league designed with parity in mind allows a struggling franchise the opportunity to quickly turn things around. It may be the impact of the new draft class having a positive influence, just look at the contributions of Nick Bosa, Deebo Samuel and Dre Greenlaw with the said 49ers as evidence of what an infusion of new talent can provide. It may also be the return from injury of a superstar or the team's starting quarterback. The 49ers again benefitted here with the return, behind center, of Jimmy Garoppolo. Think what you will about Jimmy G but I think it's safe to assume most of us rate him higher than CJ Beathard and Nick Mullens.
The 49ers are just the most recent example, and as I'm sure Mr Retro (Lawrence) will attest to, it's a pretty common phenomenon in NFL history. The phrase can be traced back to the 1979 Tampa Bay Buccaneers who went 0-26 in their first 2 years of existence before reaching the playoffs in year 4 after just 5 wins in year 3.
Image Credit – thegruellingtruth.com
The 1999 Indianapolis Colts turned a disappointing rookie season of Peyton Manning completely on its head, finishing 13-3 just a year after Manning debuted in a 3-13 season. The 2003 Carolina Panthers went all the way to the big dance after back to back seasons in the NFC South doldrums. The Eagles went 1 better in 2017 turning last place into Superbowl champs within 12 months. And it was the worst to first seasons for the Rams and Patriots that introduced us to Kurt Warner and Tom Brady respectively. 
With that being said let's have a look at the 8 sides in the conversation for going from worst to first in the 2020 season.
No Chance!
Jacksonville Jaguars 
I had already predicted the Jags as taking the number 1 overall selection in the 2021 draft prior to the inevitable release of Yannick Ngakoue and the more surprising release of Leonard Fournette. The AFC South hosts 3 other competitive franchises and as much as Minshew mania may have been a thing, I fully expect the Trevor Lawrence talk to get progressively louder as the season rolls along. I'm not going all in on any 0-16 predictions as I believe as with the Dolphins last year the players and coaches will use that as a big motivator for themselves. The 3 early picks of C.J Henderson, K'Lavon Chaisson and Laviska Shenault jr. provide hope for the future but I expect another season in the division basement for the Jags this time around.
Image Credit – associated press
Carolina Panthers
When a team spends all of its draft picks on 1 side of the ball, that ladies and gents is the definition of a rebuild. That's exactly what the Panthers chose to do on defense to try and fill a big Luke Keuchly sized hole. Yes of course there is Run CMC, fresh of his new pay day and there is some potential in a receiving corps of DJ Moore, Curtis Samuel and Robby Anderson but its a tough ask to turn this around in a single off season. Teddy Bridgewater deserves his opportunity to reignite his career after a couple of years rebuilding himself in New Orleans following his devastating knee injury. As just 1 of 2 teams finishing last in their division to change head coaches you have to feel for Matt Rhule who more than anyone needed a proper off season to start making his mark on this franchise. Mega tough division also doesn't help.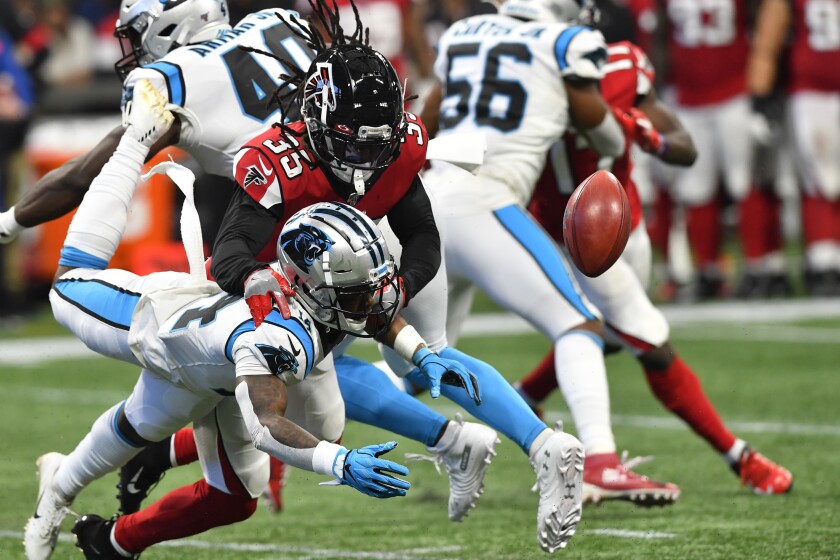 Image Credit – John Amis
Chance of Progression
Washington Football Team
Read everything I wrote about Carolina and almost reverse it. I love the hire of Ron Rivera. Experienced, disciplined and ruthless he will turn around the culture in the building. (As a side note, kudos for pretty much everything the team has done off the field this offseason) The defence has plenty of weapons and I'm looking forward to seeing Chase Young make a major impact on a line already containing 3 former first round picks. All of the questions in DC surround the offensive side of the ball. Dwayne Haskins convinced nobody he was NFL ready or worthy last year, Adrian Peterson has yet more tread on his already pretty worn wheels and the starting tight end is a converted quarterback who has just 53 catches in his career. Terry McLaurin showed promise in his rookie season but on paper at least, this team is a long way away from competing for the playoffs. There are certainly chances however to get out of the NFC East cellar with coaching changes also in New York this offseason.
Image Credit – Geoff Burke
LA Chargers
Remember when I said players returning from injury can have a big impact? Well unfortunately the reverse is also feasible where a teams stud goes down and with him go the hopes of the franchise. It's maybe a little dramatic to go that far but the season ending injury to all pro safety Derwin James is a massive blow for the bolts. The defence will be looking to Chris Harris jr and pass rushing tandem of Melvin Ingram and the NFL's highest paid defender, Joey Bosa, to offset the impact. It will be interesting to see how much playing time Justin Herbet ends up getting and will obviously be linked to if Tyrod Taylor has the Chargers competitive. Mike Williams and Keenan Allen are a nice receiving combo and the middle of the field looks good with Austin Ekeler and Hunter Henry. The chances of going worst to first are obviously hampered by the Chiefs residing in the division but the Chargers will certainly be in the mix for 2nd spot along with the Raiders and Broncos. Personally I have the Broncos pinned as 2nd best in that division but it will certainly be competitive.
Image Credit – Robert Hanashiro
Cincinnati Bengals
I remember the buzz of 3 years ago when the Browns drafted Baker Mayfield. A new signal caller gives a franchise hope and that's exactly what the Bengals fan base have in number 1 overall pick Joe Burrow. If you listen to our NFL podcast you will hear tales of fans gathering on bridges to get a glimpse of their guy in action and off the back of an historic college campaign you can understand the hype. Joe Mixon is an under appreciated talent in the backfield and had a very nice end to the 2019 campaign. AJ Green missed all of last season but will hopefully be back alongside Tyler Boyd, Auden Tate and newly acquired Tee Higgins. All in all the offence looks pretty good although as usual with the Bengals some extra help on the offensive line would help. Defensively they spent big money in free agency with the signings of Von Bell and DJ Reader in particular providing big upgrades. Most expect the Ravens to take the AFC North crown again but there are definite possibilities to see Cincy moving up within the division in what will be an important year for Zac Taylor who surely can't afford another season as disappointing as his first.
Definite Possibilities
Miami Dolphins
Sign me up as a member of the Brian Flores fan appreciation society. He did an incredible job last season and has seen his roster receive a massive influx of talent to push on in year 2. Byron Jones was the free agency coup to pair with Xavien Howard as possibly the best cornerback combo in the league. Kyle Van Noy is a smart signing not only for his play and leadership but he also weakens a divisional rival in New England. They obviously scored big in the NFL draft and nabbed the player everyone assumed they were supposedly "tanking for" in Tua Tagovailoa. I'd love to see him play week 1 and see if he can carry this franchise in a similar way to what I described above with Joe Burrow. I also really like the backfield duo of Breida and Howard. They compliment each other very well and will both be playing with chips on their shoulder after being discarded by their previous employers. I'm not in the group that thinks the Patriots will completely fall from grace without Tom Brady but I also think it is perfectly legitimate to think there will be some regression. I simply can't trust the Jets because of Adam Gase and although on paper the Bills are rightly favourites it's been a long time since that has been the case. If they fail to live with the expectations the Dolphins will have every chance to swoop.
Image Credit – Al Diaz
Arizona Cardinals
If this list was on talent alone this team would be the pick of the crop for me. However you have to consider all factors and the fact this division contains the Rams (don't sleep on them), the Seahawks and the 49ers it's tough to see a clear path for the divisional crown to head to the desert. Kyler Murray in year 2, DeAndre Hopkins, Christian Kirk and Larry Fitz out wide, with Kenyan Drake in the backfield and it's a big thumbs up from an offensive skill position perspective. On the other side of the ball the forever under appreciated Chandler Jones continues to be a beast. Patrick Peterson can be a difference maker on the back end, and add Isaiah Simmons into the mix then you can see potential in that unit also. Along with the Bucs, the Cardinals have received the most pre-season hype which doesn't necessarily translate to on field production (see Cleveland Browns 2019). It would be great to see Larry Fitz go out with a bang in what must surely be his last season?
Image Credit – Ralph Freso
My Pick
Detroit Lions
Considering you have to go all of the way back to 1993 to find the last divisional win for this team I almost can't believe I am choosing the Detroit Lions as my worst to first pick of 2020. As with the Cardinals above I'm factoring everything into this selection and not just the talent on the roster. Green Bay won the NFC North last season but are probably one of the most unconvincing and vulnerable division winners of 12 months ago, particularly considering their own puzzling off season. The Vikings have lost Stefon Diggs amongst a few veteran players and the Bears are difficult to read after a disappointing 2019 campaign. 
So the division is open and the Lions have talent at their disposal. Kenny Golladay had a breakout campaign last year and partnered with Marvin Jones and the useful Danny Amendola its a nice receiving group. TJ Hockenson also has plenty of upside from the tight end position to add to the receiving threat. D'Andre Swift was the number 1 running back on many draft boards in April and he himself provides a dual threat out of the backfield catching 73 passes in his college career. Jeff Okudah was the number 3 overall selection in the draft to lock down 1 side of the field from a coverage perspective and with some savvy veteran additions the defence looks like a solid unit. 
The biggest reason however is Matthew Stafford. In an injury hit campaign of just 8 games he had stacked up 19 touchdowns against just 5 interceptions, over 310 yards per game and a passer rating over 100. He doesn't enter the conversation of many people's top 10 quarterbacks, but if he can stay healthy he can be the real difference maker for this team.
Image Credit – Ralph Freso
In Summary
It happens almost every year, so you can be pretty sure at least one of these franchises will indeed turn it around in 2020. This time 12 months ago you would have likely been ridiculed for thinking the 49ers would be lining up in the big game at season end, it's one of the reasons we all love the NFL. It's week 1, we are all 0-0 and tied for the divisional lead, over the next 17 weeks nothing would surprise us. Detroit vs Cleveland Superbowl anyone?