By Dave Moore (@davieremixed)
Now the draft's done, we are truly into doldrums of the off-season.
We even have the worry that football won't return on time in September but let's shut our eyes, cover our ears and ignore all those worries and focus on your next draft.
There's more of a buzz around this year's quarterback class with Joe Burrow being selected #1 overall by the Bengals, another two taken in the top ten and a fourth in the first round.
Compare this to 2019 where the only real notable signal-caller selections were Kyler Murray, Daniel Jones and Dwayne Haskins.
Obviously we weren't to know that sixth-rounder Gardner Minshew was to become a brief moustachioed sensation in Jacksonville or that Drew Lock's promising end to the season for the Broncos – if you listen to Denver fans – would actually turn out to be the Second Coming of Our Lord and Saviour John Elway.
So to the forthcoming Fantasy Drafts. Are you looking at picking a rookie QB? If so, who? Let's find out…
---
Jalen Hurts – Philadelphia Eagles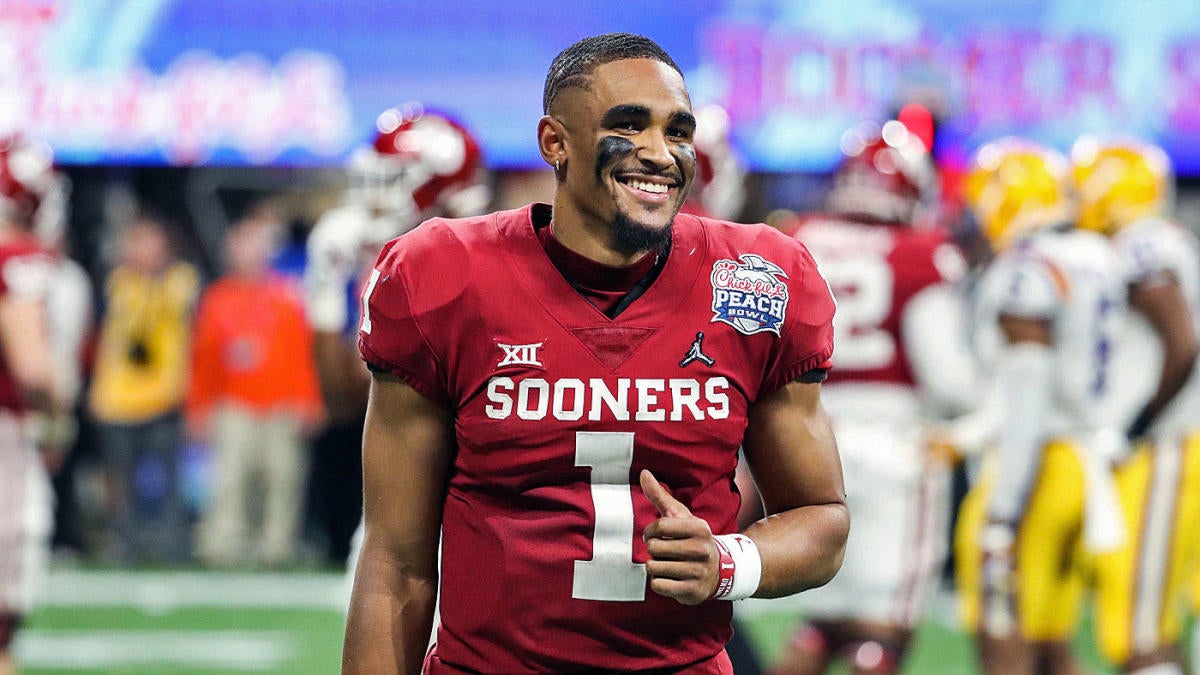 ---
This was, initially, a surprise pick from The Iggles as they already have a franchise Quarterback in Carson Wentz but this is a player who can't stay healthy for a whole season and as we saw in the playoffs against Seattle, their current backup of Nate Sudfeld just won't cut the mustard.
So this 'Bama/Oklahoma prospect taken 53rd overall had 32 passing touchdowns to go with 20 rushing touchdowns in the 2019 season and the instant comparisons are to Taysom Hill in terms of being a 'dual-threat' quarterback.
Will he see many snaps under centre this season? It all depends on Wentz's health, frankly. A torn ACL and a lower back injury curtailed his 2017 and 2018 seasons respectively before carrying the Eagles to the playoffs last year only to be knocked out of the game after nine snaps by Jadeveon Clowney.
However, as the season goes on I'd not be surprised to see Hurts' usage increase primarily in the backfield like the aforementioned Hill. In my opinion Hurts will be a good pickup this year for Dynasty leagues. I suspect he'll be a starter before too long, be it with the Eagles or another team down the line.
---
Jordan Love – Green Bay Packers
---
If Eagles fans were stunned by their team picking up a Quarterback rather than a receiver, then imagine how Cheeseheads felt when the Packers – with their first round pick – didn't select a receiver to give Aaron Rodgers a target other than Davante Adams but picked his replacement instead!
Make no mistake, the clock is ticking close to midnight on Rodgers and Green Bay's relationship and if Green Bay find themselves below .500 come December will it be time for Wisconsin to feel the Love Generation?
---
Tua Tagovailoa – Miami Dolphins
---
Much like the actual draft, Tua could be someone who could go anywhere in Fantasy Dynasty Drafts. Will he be the great leap forward for the Dolphins who showed signs of life in December under Brian Flores' supreme coaching?
I'm not so sure we'll see as much of Tua as we'd like this year, the injury record is obviously much discussed and whilst it isn't something that concerns me as much as it does others, I do think that Ryan Fitzpatrick will be the starting QB in September.

However…Looking into the future I like what Tua will bring to the Dolphins and the increasing amount of weapons available to him – combined with his running threat – intrigues me.
I'm not saying he's going to put up Lamar Jackson style numbers but with a lot of investment in the offensive line through the draft and also some free agent additions from the Dolphins is giving the 'Bama alumnus the best possible chance to succeed. It may not be instantaneous but I expect Tua to be a reliable Fantasy player from 2021 onwards.
---
Justin Herbert – LA Chargers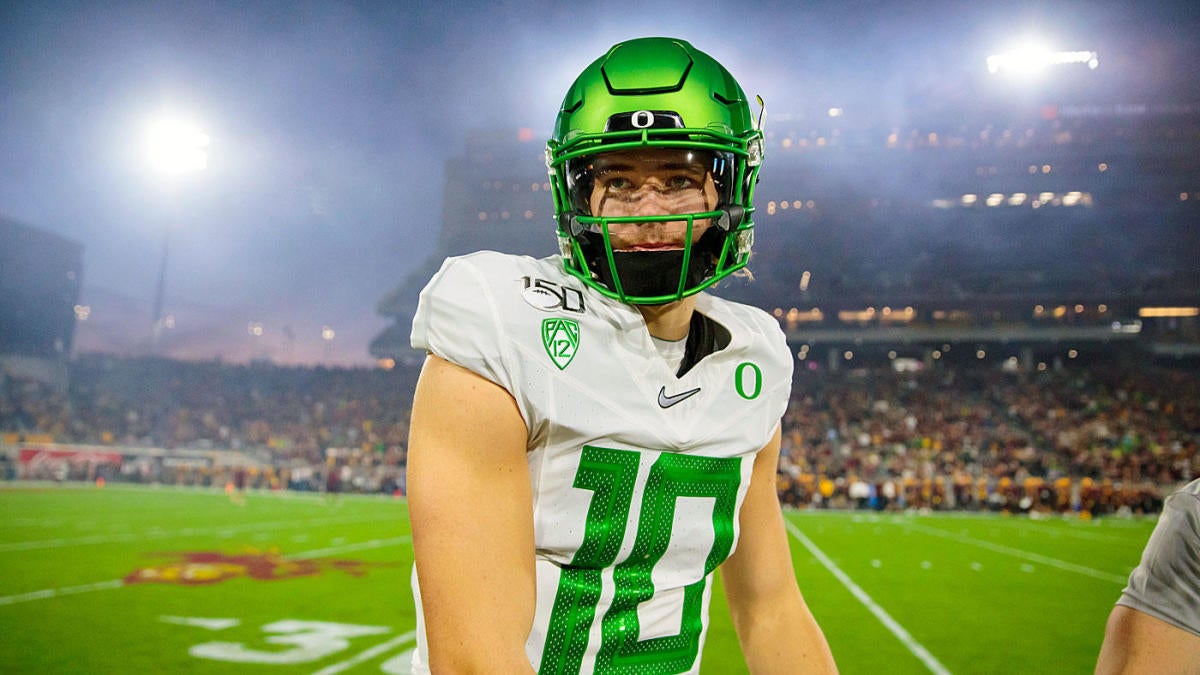 ---
I view Tua as having more upside than Herbert but his higher ranking here is down to being an immediate starter in LA, I don't feasibly see Tyrod Taylor being the starter unless Herbert suffers a pre-season injury.
On the theme of injuries, this is another reason why I have Herbert above Tua. Whilst I would not be scared to draft Tua, I would err on the side of caution between Herbert and Tua in a draft this summer and pick the Oregon signal-caller.
Additionally, the fact that Herbert will be throwing to Keenan Allen, Hunter Henry and screens to Austin Ekeler means he's going to be putting up good numbers on a weekly basis from the opening weekend.
With the Chargers sharing a division with the Chiefs, Broncos and Raiders they are going to need to score and score quickly to keep up. This should be enough for Herbert to not only be one of the better Fantasy Rookie QBs this year but I think he could be threatening the top ten of all QB scoring.
---
Joe Burrow – Cincinnati Bengals
---
The Bengals are going to be a lot better than 2019 and not just because Joe Burrow is going to be the quarterback although it certainly helps.
The LSU man is going to be throwing to AJ Green, Tyler Boyd, Tee Higgins, John Ross and Auden Tate. Admittedly the last two are a stretch but are promising receivers, especially if Green ends up being traded.
The consensus is that Joey Small Hands (trademark pending) will be the star of the Bengals for the next 10+ years and good for them, finally getting a quarterback that gives them hope.
On the fantasy side of things, the five receivers mentioned above are going to be a goldmine for Burrow who will no doubt find success with them. He threw for sixty touchdowns last year, an NCAA record. If he gets half of those for the Bengals in 2020 he will not only be a success in Cincinnati but also a success in fantasy.