By Tim Monk (@Tim_MonkF10Y)
Welcome back to part 2 of the Fantasy Nightmares series. If you are one that enjoys having sleepless nights and are good mates with Freddy Krueger, this article is going to suit you down to the ground. You can find the first installment of this article here, where I took a look at some other examples of Running Back rooms or Wide Receiver groups that are going to cause more than their fair share of sweats in 2020.
Be sure to let us know on Social Media Channels what your Fantasy Football nightmares are for 2020 and maybe i'll put together a part 3 of this horrifying series. @Tim_MonkF10Y or @F10YFantasy is where you can find us.
---
Denver Running Backs
---
Why cant simple things be left simple?
Phillip Lindsay, their undrafted FA running back who has shot to fame in the NFL with back to back 1,000+ rushing seasons, looked to have a stronghold on the backfield going in to 2020. With him in said backfield was Royce Freeman, who totalled 752 all purpose yards on 175 touches of the rock. We knew the roles, we knew the production levels…everything was as Hear'say once sung, "pure and simple".
In 2020 however, it's going to get a bit murkier in the backfield.
Enter Melvin Gordon, last year's running back holdout perpetrator. The 27 year old running back out of Wisconsin comes in to the fray with a chip on his shoulder and out to prove his worth. Melvin Gordon is a talented running back held in high regard throughout the league, but if you look at his impact in the league since being drafted #15 overall in 2015, it doesn't make for pleasant reading and is yet another reason why running backs find themselves in relative contract poverty.
https://widgets.sports-reference.com/wg.fcgi?css=1&site=pfr&url=%2Fplayers%2FG%2FGordMe00.htm&div=div_rushing_and_receiving&del_col=3,4,5,11,12,13,14,15,19,21,23,24,25,26,30,32&del_row=1
For a variety of reasons as shown above in his career stats, Gordon has only completed 1 full season in which he totalled over 1,000 yards on the ground, the only time he's been able to accomplish that feat thus far in his career. Only once (2018) was Gordon able to muster over 4 yards per carry (not great bob) and got completely cast into the shadows with Austin Ekeler's breakout year in 2019, even when he came back with his tail between his legs during the middle of last season. Despite all these underwhelming achievements on his CV, the Broncos decided to hand Gordon a 2 year $16m deal. So what do we do with this backfield?
Looking at the contracts of the backfield between the top 2 on the depth chart in greater detail helps unravel some clues. The contract for Gordon is a bit more team friendly in year 2 in terms of dead cap ($6.5m), which indicates to me that the Broncos could ride with Gordon this season to their heart's content meaning Gordon gets the biggest slice of the pie and Lindsay getting sloppy seconds and Royce Freeman potentially being the 2020 version of the 2019 Devontae Booker.
I doubt that using Rookie QB Drew Lock's contract to help pay for Melvin Gordon over the next 2 years will be awarded most shrewd investment in building a Super Bowl winning team, but seeing as though their 2019 star Lindsay is on just $755,000, I can see why they might want to try out the Melvin Gordon experiment. Keep your eyes peeled for any new deal that may come Lindsay's way (don't bank on it), but it is telling that the Broncos decided to go out and pay Gordon the money they did, instead of giving it to Lindsay who's been there and done it twice since getting on the field.
The conundrum we have to try and unpick here is who fills what role; Gordon is capable both on the ground and through the air. Lindsay is excellent on the ground and Royce Freeman is more of the pass catcher tasked back.
Putting numbers in to the equation, Denver amassed 1662 yards on the ground (ranked 20th in the NFL). Drew Lock came in for the last 5 games as a rookie and ranked 22nd in the league in terms of total rushing TDs (11). The team were inconsistent at best and finished 7-9. You'd have to think that you can extend the ceiling of the teams rushing stats with a step forward from Drew Lock and better O-Line play. Only 7/16 games in 2019 did the Broncos manage to surpass 100 yards on the ground, despite being ranked 14th in the league for rush attempts
On the face of it this looks to be a fantasy nightmare, and it could still prove to be considering draft prices (Melvin Gordon currently being drafted as RB12 at the back of the 2nd, Lindsay much cheaper in the 8th), the contracts and the current ADP tell you what you need to know for this backfield. Investing that draft capital on Gordon as the RB12 though is as risky as it gets.
The good news for those at the 2/3 turn though is that you will already have a stud RB from your first round pick. If Gordon falls to those at the 3/4 turn, where WR or possibly TEs have been taken, it could potentially be a shrewd investment if the contracts are the biggest indicator on who will get the lion's share of work in this backfield. If the contracts lie, this is where your nightmares will come to haunt you.
---
Pittsburgh Steelers Wide Receivers
---
This is a nightmare that even Freddy Krueger wouldn't want a part of. Firstly you have the question at Quarterback: Is Super Bowl winning stalwart Ben Roethlisberger going to be fit and is it going to last for 16 games. The nightmare starts before the season starts here because you have to decide whether or not you trust Big Ben to start and complete the season. I have my doubts but let's assume that he does, there is a chance that the nightmare becomes the stuff dreams are made of.
In seasons that Big Ben completed at least 15 games from 2012, his fantasy finishes have been #3, #9 (15 games), #6 and #9. He has averaged 305 fantasy points over the course of those 4 seasons and was the reason behind Antonio Brown being a top 4 WR between 2013-2018 and current WR JuJu Smith-Schuster a top 16 QB in each of his first two seasons.
We know it's in the locker, but is the locker there to be opened?
Part 2 of the nightmare are the Wide Receivers themselves.
Gone are the days of guaranteed production from Antonio Brown and his successor JuJu Smith-Schuster has had a tough go of it sans "AB" throughout his shot at being "the guy" in 2019. I appreciate that he had Mason Rudolph and a professional Duck caller at QB, but "elite" WR find ways to get it done, no matter the signal caller is under Center. JuJu ended up as WR66 (!), mainly due to his 4 games on the sidelines at the back end of the season. Even so, he was a top 10 WR just once (vs Miami) and a WR2 on 2 further occasions. This after finishing the WR8 in 2018. Looking at Matt Harmon's Reception Perception, this further illustrates JuJu's struggles. He fell below the 24th percentile in success rate vs. man coverage and the 12th percentile in success rate vs. press for the third-straight year.
Simply put, JuJu is not your go to WR1 on the outside who will just dominate. He needs a certain type of role, preferably from the slot, where he lined up for 63% of snaps in 2019. The good news for JuJu fans is that there are plenty of candidates in the WR room with him to allow him to move there on a more regular basis.
Dionate Johnson, their 2019 3rd round pick showed flashes in his rookie year with 59 receptions, 680 yards and 5 touchdowns with the aforementioned below average QBs (good enough for a WR41 finish in half ppr leagues where he would have been a waiver wire pickup and had 5/16 games as a WR2 or better, 2 of which were in the last 4 games of the season).
Chase Claypool is this year's shiny new toy. As a 2nd round selection you'd have to figure he is battling to be James Washington's replacement. Washington, a previous 2nd pick himself in 2018 probably wont be a threat to the other guys mentioned and likely to be no more than a bit part player despite tripling his output from year 1 to year 2, but he and Claypool have a role to play.
So you get 2 nightmares for the price of one with the Pittsburgh WR with the QB being the collapsing floor on the noose block for all of these guys. If Big Ben stays healthy you can expect perhaps up to 2 WRs returning a healthy profit from their potential ADPs as it stands. However, if Big Ben goes down once more (and maybe for the final time) and the trap door lever gets pulled, all of these WRs are going to hung from a fantasy perspective.
Current prices for the WR show JuJu at a heavily discounted 6th round price, though I'd expect that to rise come drafting in redraft leagues in August. Diontae Johnson is next best in the 10th round – again, expect that to rise a tad as the months pass and we get some conductors selling tickets for carriages on his hype train. You'll also have James Washington and 2020 2nd round draft pick Chase Claypool in the mix, with the latter likely getting more than a few darts thrown at him if camp shows potential promise.
---
Carolina Panthers Wide Receivers
---
If you thought Pittsburgh was difficult and 2 nightmares for the price of 1 was bad enough, let's take a trip to Charlotte, North Carolina. We have 3 variables coming into effect for 2020.
First up change in the Head Coach and coaching setup. Matt Rhule comes over from Baylor where he spent the last 3 years and is coming off an impressive 11-1 final season in College ball, falling to Oklahoma in the Big 12 Championship game. Matt Rhule, the 5th Carolina HC in Panthers history taking over from Ron Rivera brings a experience in turning teams around. Baylor went from a team with a bad reputation both on and off the field and change the entire culture, culminating in a championship appearance.
A change in HC generally means a change in offensive co-ordinator and that Rhule (sorry) applies here. Joe Brady, passing game co-ordinator also jumps the CFB ship from National Championship winners LSU, no less. It's well documented how impressive the 2019 LSU season was when winning it all and is a fundamental reason why joe burrow went from mid round pick to #1 overall in this year's draft. It's an intriguing mesh Rhule and the Panthers have put together but change is hard to overcome in year 1 of any scheme in any level of this sport.
Part 2 of the nightmare is the change in quarterback. Teddy Bridgewater was much maligned during 2019 when deputising for Drew Brees when he sat on the sidelines with a thumb injury, this despite going 5-0 in the games he started. The Panthers organisation opted to sign Bridgewater to a 3 year $63m deal which in today's quarterback salaries is peanuts. Bridgewater is known as a dink and dunk quarterback who will not push the ball down field. However his yards per attempt (7.1) are around the middle in terms of league rank, but does average outside the top 32 with an average of 6.2 yards on depth of target (Brees around the same mark with 6.4yds).
Teddy Bridgewater has only completed one full season as a starter, which was back in 2015 and threw for 3,231. That's not a lot of yardage to go around. However, if you extrapolate Bridgewater's 5 games out over the course of last season with the Saints though, you get to well over 4,000 yards. That eases the pain somewhat.
The nightmare you have to try and erase from your mind is whether Teddy Bridgewater will have enough production to return the value for these Wide Receivers. I have my doubts.
Next comes the real nightmare though, the Wide Receivers themselves. Let's start off with the easy bit;
Most people will be envisioning a pack of wolves trying to live off of Teddy Bridgewater's yardage and targets. That being said, you only have to look back at last season and see that DJ Moore is going to get his no matter what. Carolina trotted out Kyle Allen and Will Grier last season with Cam Newton down yet DJ Moore still managed to record 87 receptions for 1,175 yards and 4TDs. It's safe to say that the upgrade at QB for this year will see DJ Moore easily surpass the century milestone and notch a few more scratches on the endzone goalpost. Averaging at just shy of 6 receptions per game, it's safe to say that DJ Moore could be bulletproof and well worth the 4th round investment for those that have gone RB heavy. Dare I say it you COULD trot him out as your WR1. He is currently going around the Calvin Ridley/Allen Robinson/Robert Woods area of drafts. Lock DJ Moore in for 100-110 receptions, 1,200 yards and around 7TDs plus some small rushing shrapnel. This is good enough for a WR1 return and would've nabbed WR 4.
But what to do with the others?
Curtis Samuel, their other main protagonist last season didn't fare so well in a struggling offence. 54 receptions for 627 yards and 7 TDs (1 rushing) when many were particularly high on him. He is now competing with Robby Anderson, who interestingly, Matt Rhule coached in college at Temple in 2016.
Robby Anderson is another whom we are all waiting for monster numbers. Let's face it, he was never going to get what we all wanted in New York because Todd Bowles and Adam Gase were not good Head Coaches and the teams they ordered out on to the field every Sunday were way below average. Anderson has never reached the 1,000 yard season landmark in his 4 years in the league and is unlikely too here change that record in 2020. Yes these 2 guys are cheap as chips, but you are going to continually be pulling your hair out when they will let you down more often than not in roster management leagues.
To tie the knot on the Panthers' fantasy options, Christian McCaffrey will ciphen a heavy % of the targets and Tight End Ian Thomas could make a bit of a step forward this season with no Greg Olsen.
It has all the hallmarks of chasing points with these two WR so Bestball may be the best route to go with these guys. In a team where, as Keane put it "Everybody's changing", back DJ Moore and leave the rest of the headaches to someone else.
---
LA Rams Tight Ends
---
As soon as you see the word Tight End, you know there is a nightmare attached to it. We have 3 to contend with here in the Rams half of Los Angeles. Their uniforms may be "bone" ugly and so is trying to unravel this position group for fantasy purposes.
We have Tyler Higbee, Gerald Everett and 2020 4th round pick Brycen Hopkins. We can readily push Hopkins aside but don't be surprised if you hear his name a couple of times out of the gate. Hopkins found the redzone regularly, especially in his final college season at Purdue and totalled 61 receptions for 830 yards and 7 celebrations in the endzone. He was named to the first team All-Big 10 and was named Kwalick–Clark Tight End of the Year, the one they all want to win. He could be the classic case of you think your guy has scored a touchdown for fantasy to win you the week, only for Scott Hanson to call out Brycen Hopkins name. We've all been there.
So let's focus on the 2 names we are more familiar with and probably helped you win some titles last season. The Rams started homing in on their Tight Ends as the season wore on and between weeks 5-10 Gerald Everett produced 4 top 10 finishes at the positions. As Higbee went down with injury missing 3 games from week 13, Higbee stepped up and produced weeks of TE1, TE5, TE3, TE9 and TE1, averaging 17.1pts in half PPR leagues.
Now that they'll both (assumedly) be healthy heading in to 2020, is there room for both to succeed?
The short answer is no, so which one is more likely to be more reliable next season?
Looking at some datapoints when both were healthy in 2019, Gerald Everett got the nod (or at the very least the best of it) in terms of targets and snap %. However, looking at off-season actions, Tyler Higbee (27 years old) was rewarded with a 4year $29m deal with over half in guarantees whilst Gerald Everett (25 years old), is on the last year of his rookie deal. It's not to say that Everett won't re-sign , but indications are that they like what they have in Higbee, perhaps drafted Hopkins to replace Everett once the season is up.
Cost wise, Tyler Higbee will cost you a late 7th round pick, which screams recency bias, whilst Everett is looking like he'll be undrafted in most startups/redraft leagues.
The 7th round also sees TEs Evan Engram, Hayden Hurst and Hunter Henry in the vicinity so you have to weigh up whether Higbee is worth that investment. Me personally, I'll take Hurst and Henry or just wait until later on a punt the position. One saving grace though for Higbee buyers is that Jared Goff tied for the most attempts in 2019 with 626. He managed to get 4,638 yards out of those attempts and 22 TDs.
With no more Todd Gurley catching dumps offs and perhaps more of an allegiance to 12 personnel formations, you could see the Tight Ends contributing on a fairly regular basis for a position that doesn't need much production to help you win any given fantasy week.
---
Baltimore Ravens Running Backs
---
I know what you are shouting at me; How can one of the most dominant rushing attacks be a nightmare to choose from. Well let me tell you.
Let's get the running back Quarterback out of the way first.
Lamar Jackson had an historic year with his legs accounting for 1,206 yards or 36% of his teams rushing yards in 2019. 36%! He finished 6th in the season total rushing yards leaderboard, yes that's including Running Backs. You'd think that the guys in the backfield would be in production poverty but the 30year old former Alabama and Saints RB Mark Ingram finished 14th on that same leaderboard and had himself yet another 1,000+ yard season along with 15 total touchdowns despite edging ever more closer to the running back production cliff. Gus continued his bus tour to the tune of 711 yards and 2019 rookie Justice Hill played a small part too.
The headache this year comes in the form of 2nd round pick JK Dobbins. Clearly, he is the successor to Mark Ingram when he hangs up his battered cleats, but what is his impact in year 1? Does he come in a devour a big chunk of Mark Ingram's production and push him off the cliff? Or does he get eased in more as the season wears on?
Running backs not named Frank Gore or Adrian Peterson (and Mark Ingram I guess you could add) don't have a long shelf life so there is a big question mark about what these guy's stats will look like come the end of week 17. JK Dobbins will have the rookie hype train with carriages packed to the brim and that's baked into the current 7th round ADP price you are currently paying.
If the status quo remains, that price is only going to increase, or as Status Quo fans may say "Down Down". Mark Ingram is currently going around the end of the 4th/start of the 5th round at the moment and again will be a target for those who have gone Zero RB or have not been looked upon by the RB gods in drafts as they try and squeeze the lat bit of juice out of the former Heisman trophy winner.
You could assume that Lamar Jackson's watermark for rushing yards will not be surpassed in any of his future years, meaning that there are some ceded yards to go to the backfield but it will most likely be a full committee as Dobbins takes over the reins from Mark Ingram (you can leave Gus and his bus at the station and he will likely fizzle out and be decommissioned).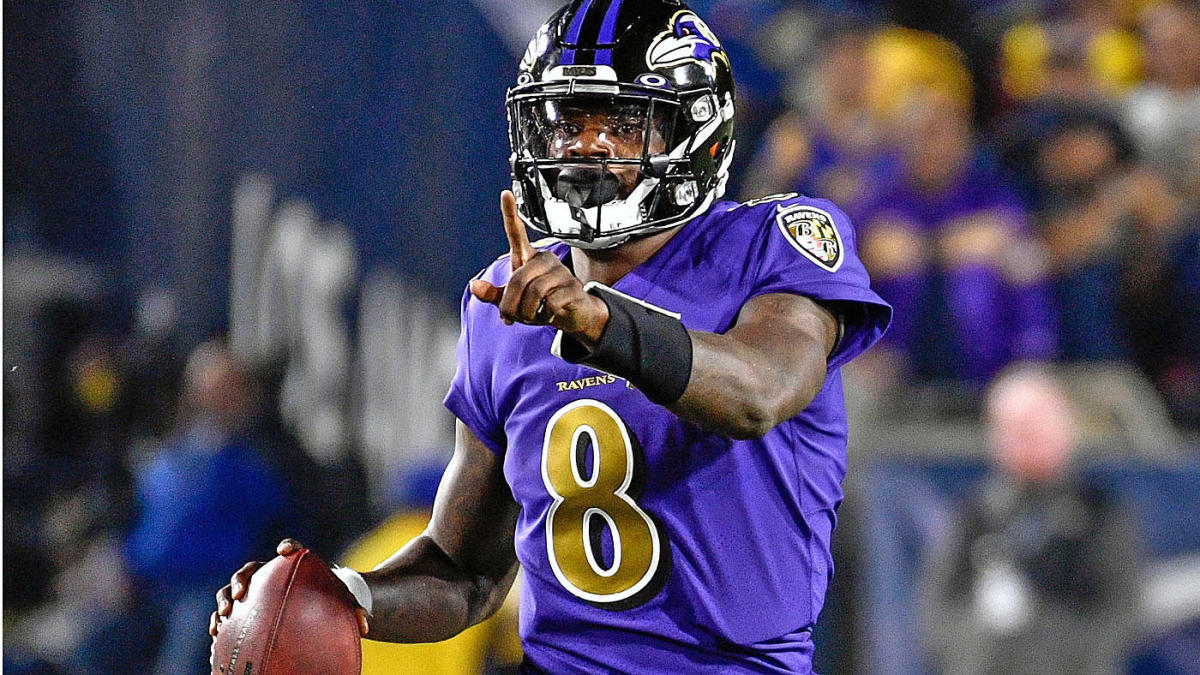 I envision a smaller pie to eat from in this rushing attacked and I'll go and stick my neck out and say that it's not beyond the realms of possibility that NO Ravens RB achieves 1,000 yards on the ground this season (I think Lamar will make it back to back seasons barring injury), meaning that I'd rather take the upside of JK Dobbins taking over earlier than the Ravens may want him to a few rounds later than Mark Ingram and especially a few more rounds earlier than Lamar Jackson will be going this year.
One extra thought before I leave this backfield – If Lamar Jackson gets injured, perhaps both Ingram and Dobbins could go over 1,000 yards so you could argue there is a bit of a bittersweet scenario there.