By Andy Moore (@AJMoore21)
A few days ago you were treated to a fantastic Sells equivalent which you can check out here. Today we take a look at those you should be trying to acquire. Let us know your thoughts, let us know YOUR OPINION. Because that's what it is all about! Let's see who can get these guys the cheapest!
---
The Denver Post, MediaNews Group.
Courtland Sutton – Denver Broncos
---
There's a feel-good factor around Denver's offense at the moment. After finishing the season 4-1 with Drew Lock under centre, John Elway has added Pat Shurmur to his coaching staff and signed Melvin Gordon, Graham Glasgow and Nick Vannett in free agency.
All this looks good for third year receiver Courtland Sutton. Coming off a 1,112 yard, 125 target, 72 reception season, the former SMU man has firmly established himself as the Broncos WR1.
The addition of Shurmur looks set to only help Sutton's development, with his track record as an Offensive Co-ordinator unquestionably good for young QBs and the passing game. If Shurmur can recreate this in Denver, then look for more fireworks from Lock and Sutton as they look to navigate a difficult AFC West.
In your Dynasty League, the time to buy Sutton might not be now. There are plenty of rumours linking the Broncos to a high quality deep threat receiver in the draft, with CeeDee Lamb and Henry Ruggs both regularly mocked their way. This shouldn't harm Sutton's production, in fact it should help minimise double coverage. Others may disagree, getting caught up with the inevitable post draft-fever, make your offer then!
---
The Associated Press
Miles Sanders – Philadelphia Eagles
---
Another young player that finished the season well, Miles Sanders was a game changer during the Eagles' late drive to secure a play-off spot.
The 3rd round pick out of Penn State had an up and down start to 2019, with Jordan Howard forcing him out of the starting role for a string of games before going down injured in week 9. Sanders capitalised on this, increasing his playing time and yardage increase until he peaked against the Redskins in week 14.
Howard is now completely out of the picture, having joined the Dolphins, leaving Sanders in competition with Boston Scott as the Eagles' presumptive week 1 starter. It's a battle he should win, considering his potential as a dual threat back and the relative draft capital invested in both.
---
Dale Zanine-USA TODAY Sports
Calvin Ridley – Atlanta Falcons
---
You've all seen the stat doing the rounds at the moment, the Atlanta Falcons have a starting offense built solely from first round picks. Calvin Ridley is amongst those, with the third year receiver currently occupying the WR2 designation behind Julio Jones.
Jones is contracted through 2024 and given the huge salary the Falcons have invested in him, it doesn't look like he'll be going anywhere soon. So why Ridley?
It's all about consistency. In both his years in the league so far, Ridley has locked up 92 and 93 targets respectively, catching 64 of those in 2018 and 63 in 2019, those catches have gone for 821 and 866 yards, with 10 TDs in his rookie year, compared to 7 last year.
He's the perfect flex player for your line ups, averaging above 10 points per game and providing the perfect complement to Julio it Atlanta's offense. With such a stacked WR class this year, chances are he's available relatively cheap in your league, and with Julio entering a period in which some players decline, Ridley could be set to ease in the other direction.
---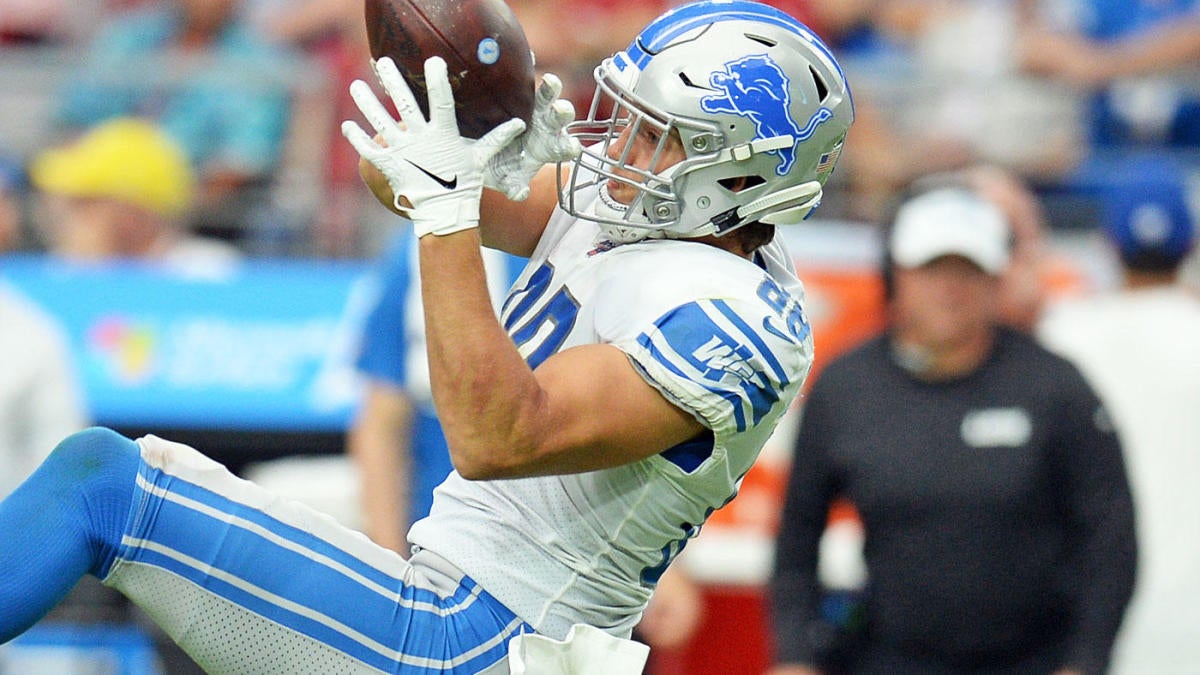 Joe Camporeale
TJ Hockenson – Detroit Lions
---
After week one of the 2019 season, Hockenson was cleared off waiver wires everywhere. The first rounder caught six passes from Matthew Stafford, going for 131 yards and a TD. Huge numbers for a rookie Tight End.
From there, things went downhill, with Hockenson only adding another 230 yards across the whole season. When you look at the cards dealt to the Iowa product, it's not hard to see why his form trailed off, when Stafford went down injured, a combination of Jeff Driskel and David Blough stepped into uninspiringly fill the void and the Lions only managed one win after week three.
So, why trade for him now? Everyone knows that rookie Tight Ends are to be avoided in fantasy, so that shouldn't put you off when looking at Hockenson's rookie production. Instead look at the upside, this year's TE class is poor, he was a top 10 NFL pick for obvious reasons last year, and when fit, his QB is one of the most reliable in the game. Pick him up cheap where you can, and watch him develop into one of the league's elite TE options.
---
Marcus Mariota – Las Vegas Raiders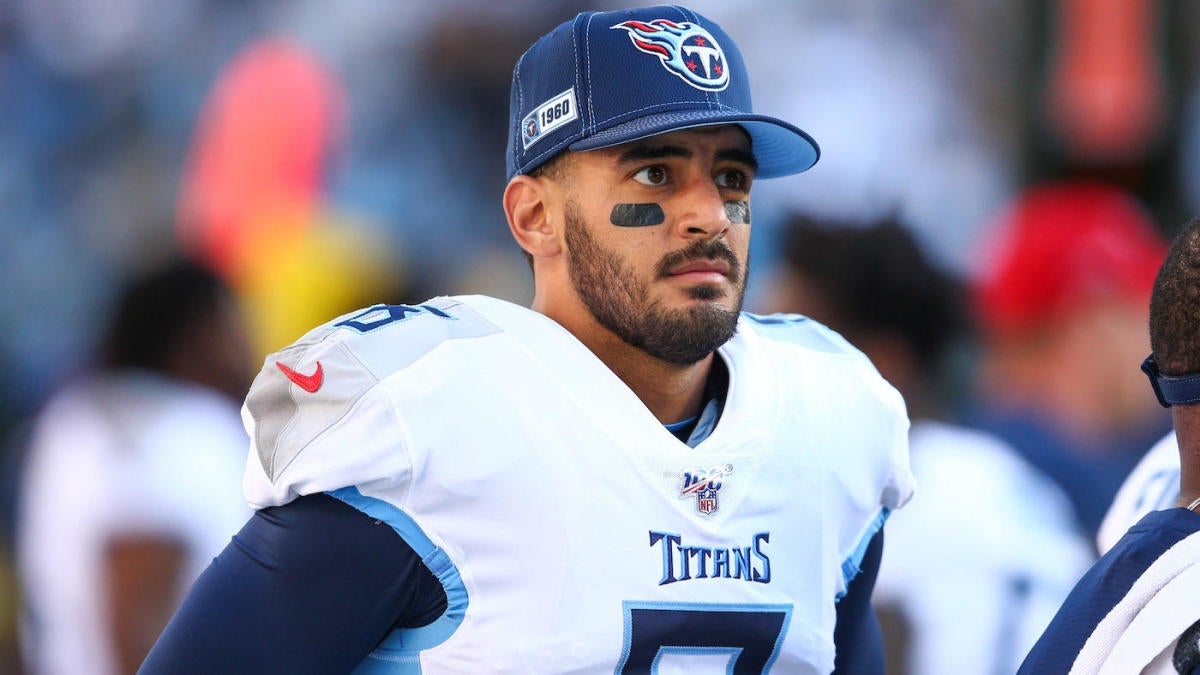 Jeremy Brevard-USA TODAY Sports
Marcus Mariota – Las Vegas Raiders
---
This time last year I picked up Ryan Tannehill in 3 leagues, I didn't get a complete bargain in all cases, but he was cheap for a QB in superflex leagues. The things I liked about Tannehill were, his work ethic, his commitment to his team, his experience as a starter and the precarious nature of the QB he was backing up.
Fast forward 12 months and the irony is there for all to see that we could say the exact same of that QB, Marcus Mariota. The new Raiders QB has always been the model of professionalism, he's got a ton of starts (including playoff games) under his belt and he's backing up Derek Carr, who just doesn't seem to fit the Jon Gruden school of thought.
So, I'm picking up Mariota where I can this year, half the league had him down as QB1 in the 2015 draft class, and in places he has flashed exactly why they believed that. With a bit of encouragement and the freedom to use his legs, Mariota can certainly be a starter in the NFL, if Carr slips you can bet Mariota will be straight in. Buy low, and buy now!