by Rob Grimwood – @FFBritBaller
As much as I love to try and brainwash you all into drafting players that could potentially help you win your fantasy leagues, I also love nothing more than to highlight the players that could lead to your team into fantasy peril.
Twelve months ago in an article not too dissimilar to this one, I told you for various reasons that Phillip Lindsay and A.J Green were players to avoid in your drafts. This year I'm back with a bigger list and I'm diving deeper into why these players are best left alone come draft season.
This is the first of a mini-series I will be releasing over the next couple of weeks as we get into the thick of fantasy draft season, so keep those eyes peeled for some mid-round must draft players and some sleeper picks you have to own coming soon.
---
Undesirable Number 1
---
Kenyan Drake, RB – Arizona Cardinals
---
The hype for Drake this off-season is unprecedented. In fact it's over-hype.. in a major way. A lot of industry analysts have him ranked as an RB1, and some even have him as a top 10 at the position. And quite honesty, I have little reason to see why…
Sure, Drake had a pretty good second half of the season after he moved from Miami to Arizona in week 9 of 2019. In fact, it was very impressive – too impressive.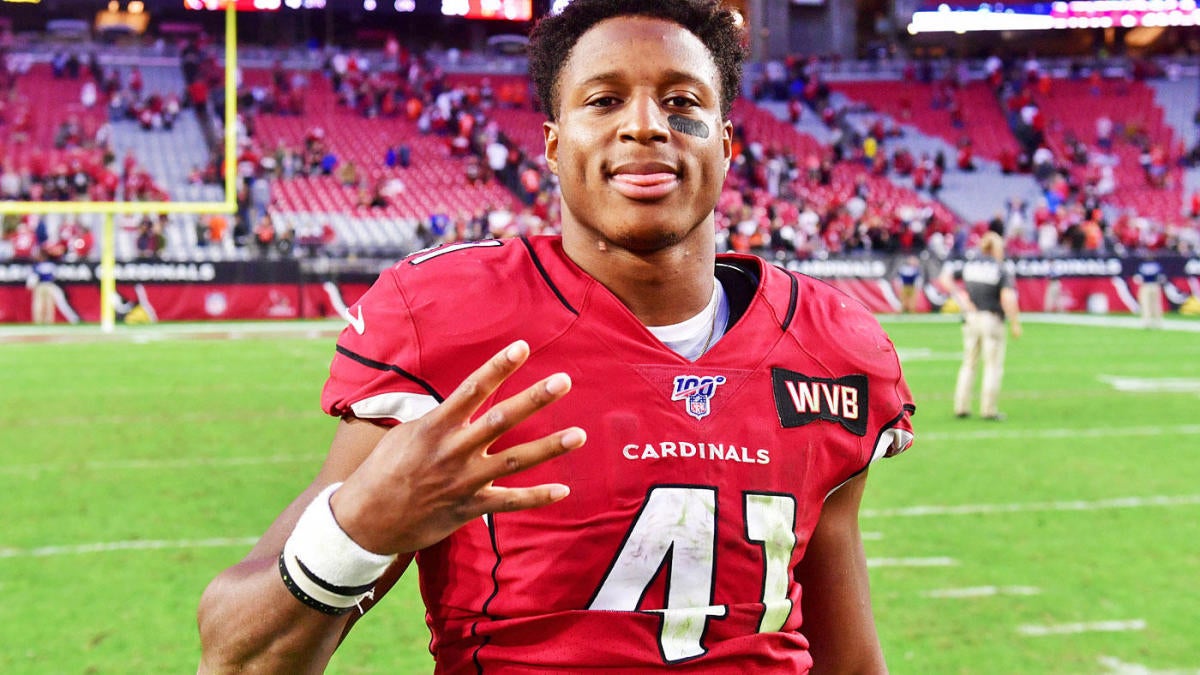 I'm calling it an 'outlier half season'. A direct result of being a new player trying to impress in a new offense. There's even 3 1/2 years of mediocre statistics from his time in Miami to back me up.
During his time as a Dolphin, Drake played in 54 games and had a total of 45.7 total scrimmage yards per game average. Even when you add his his whirlwind end to the 2019 season, his career game averages read; 35.1 rush yards per game and 17.9 receiving yards per game with one touchdown every 3 games.
Hardly statistics that jump off the page. For context, a career average of 53 scrimmage yards per game is the same tier as the likes of Duke Johnson (53.5), Matt Breida (57.2) and Tevin Coleman (58.2).
So why, all of a sudden, is Kenyan Drake this locked in RB1 for fantasy owners? 8 good games in his career isn't enough to cement that notion for me i'm afraid, especially with his current 3rd round ADP price.
For those who also believe that there is no competition for him in that backfield need to think again too. Chase Edmonds progressed last season to become a reliable 2nd option as he churned out 5.1 yards per carry and as mentioned in my last article, Also, fresh rookie pocket rocket Eno Benjamin has got bags of talent who comes with an impressive college resume (102.7 scrimmmage yards per game average with 31 total touchdowns) and isn't to be slept on deep into the latter rounds in fantasy drafts.
Historical data doesn't favour Drake to repeat last seasons' success either. Before him, only one running back managed to put up over a 3.7 yards per carry average for the Cards since 2015, and that was David Johnson in his lights out 2016 season.
Whilst the Cardinals' offensive line got better in 2019, it still wasn't considered a 'top-half' defense and that has been backed up by PFF grading them to be the 21st best offensive line heading into 2020.
To summarise – Kenyan Drake's (over) hype this off-season is stemming from 8 good games last season, né, his whole career. He's behind a mediocre o-line, in a running back room consisting of young, hungry talent and has a mobile QB that will likely see the best part of 100 carries. All of this whilst in an 'air-raid' offense. Stop overhyping, overdrafting and overpaying for Kenyan Drake this draft season.
---
Undesirable Number 2
---
TY Hilton, WR – Indianapolis Colts
---
I hate having to downplay anyone from my Colts. Especially when it's a fan favourite. But 'The Ghost' might finally become just that on fantasy rosters this season.
Despite having a relatively injury-free career (he'd only missed 4 games in 7 seasons before last season), his 2019 campaign was intermittent thanks to a calf injury sustained in late October where he then subsequently missed 6 games. Before he went down, he was on pace for 72 receptions for 802 yards and 8 TD's which would have worked out to be WR27 in half PPR scoring formats, outside of his top 20 ADP during draft season.
Even though Indy had temporary fill in Jacoby Brissett under centre, Hilton was really the only wide receiver of note throughout the season. Devin Funchess went down for the season during pre-season and newly acquired Parris Campbell couldnt make the halfway point of the season before ending up on the IR.
Although he was statistically the best receiver for the Colts last year with a 50.1 yard per game average, he certainly caused fantasy owners more downs than ups and was on more waiver wires than owned teams by the end of the season. 7 receptions for 69 receiving yards with 0 TD's from weeks 9 to 16 will do that to a man!
So why is Hilton a bust for me despite having a better QB under centre this year? Well I suppose it's down to the direction i think Chris Ballard and Frank Reich want to start going this season with this team. Ironically, despite acquiring 38 year-old Philip Rivers, I think they want to develop this young corps of skill players as they prepare for the future.
Parris Campbell and Michael Pittman Jr could be Marvin Harrison and Reggie Wayne 2.0 for this newly shaped Colts dynasty, and I think they will want Rivers to focus on developing their skill-sets straight from week 1 this season. T.Y is now entering the last year of his contract which I will be surprised if it gets renewed, so this season could end up seeing him sent to pasture to just live off the fatta the lan from week to week.
I'm not necessarily suggesting T.Y will repeat the miserable last half of the seasons' figures, but I am saying he won't be living up to his current WR14, 4th round current draft price. You'd be better off waiting until the later rounds and picking up the aforementioned dart throws of Campbell or Pittman
---
Undesirable Number 3
---
Tyler Boyd, WR – Cincinnati Bengals
---
I doth my cap to Boyd. After all, he's coming off back to back 1,000+ yard seasons. Fair play to him, he's managed to capitalise on a difficult couple of seasons in Cincinnati.
However, i believe the good run is going to come to and end this season. With A.J Green seemingly back from missing the entirety of the 2019 season and 33rd pick Tee Higgins joining the ranks as the exciting young rookie, I can't see Boyd getting the volume required to repeat his featured role.
As well as AJ Green and Tee Higgins, don't forget speedster John Ross will have a role in the offense which was seen when he returned from missing the middle part of 2019. Ross finished the season with a surprising 1,012 yard 16 game pace.
It's hard to call Boyd a bust for this upcoming season considering he's currently being drafted as the WR34, but he's certainly on my "do not draft list". I'd rather gamble on Jerry Jeudy, WIll Fuller or Diontae Johnson who are going around the same spot for my WR3, or even wait until the last pick of the draft and pick up teammate John Ross.
---
Undesirable Number 4
---
Jared Cook, TE – New Orleans Saints
---
I was surprised when I saw Cook had finished as the TE 6 in standard and TE 7 in PPR formats last season. He wasn't particularly flashy, there wasn't an endless reel of highlight tape – but there was plenty of redzone work.
He finished 2019 with a touch over 700 yards receiving with 9 TD's, the latter being second to only Mark Andrews amongst tight ends.
Unfortunately I think this is the end of the line for Cook though. The 33-year-old enters his twelfth season with more competition vying for Drew Brees' targets than he's probably ever had.
Michael Thomas will resume his target hog duties, Kamara will get his licks out of the backfield and now Emmanuel Sanders enters the fray as the reliable veteran. Not only this, but the Saints also added to receiving ensemble in the draft by taking FCS standout tight end, Adam Trautman out of Dayton college.
Rookie tight ends don't usually end up seeing a lot of receiving reps – but Trautman seems to have all the intangibles many rookie TE's don't. I think it's fair to assume Sean Payton will get Trautman involved at some point in 2020, and his targets will be leeched from Cook's no doubt.
---
Undesirable Number 5
---
James Conner, RB – Pittsburgh Steelers
---
James Conner is an incredible human being. Not only has he overcome cancer, he's cemented his position in an NFL team as a key member during that process. I doth my cap to he young man playing for his hometown(ish) team, i really do.
I hate to be the guy that points the next point out too, as it feels like a bit of a dick move – but during these terrible times with the world currently amidst a pandemic, someone that has a weakened immune system due to cancer treatments in the past is surely regarded as a high risk individual?
Well, he hasn't opted out of the season when he had the chance which may have surprised a few, but if this horrid virus inevitably does start affecting teams within the NFL, surely players like Conner with previous health issues are going to be amongst the first to stop playing?
Not only do fantasy owners have to worry about this, there is also the other injury worries surrounding Conner. He's yet to play a full 16 games despite being in the league 3 seasons, and last year saw him only play in 10 as he suffered shoulder and quad injuries.
I want to reiterate though that I don't think Conner is a bust. If he manages to play 14-16 games this season then he's likely going to have a very productive year considering he's the best RB in a good Steelers' offense. He could well be a solid pick for fantasy owners at his current 3.11 half ppr ADP.
BUT, I can't justify drafting a player that hasn't yet completed a full season and is going to have to be extra cautious with the current covid-related global situation. Let someone else worry about his 2020 fantasy campaign.