When Lions HC Matt Patricia was fired from Detroit a few weeks back, it got me thinking about Matthew Stafford. The former #1 overall pick from the University of Georgia will be entering his 13th season in 2021. But will it be with the Lions?
With Patricia and GM Bob Quinn out of the exit door, I fully expect Stafford to be in a new uniform come next season. No more meaningless Thanksgiving day games for him (perhaps).
Then it got me thinking about the potential quarterback carousel in 2021 when you include some of the talented QBs that will be coming in from the draft: Trevor Lawrence, Trey Lance, Justin Field, Kyle Trask to name but a few. So let's take a little gaze into my crystal ball and see who could end up where and why?
---
2021 Draft
Let's start with the teams likely filling their QB holes with a pick in the 2021 draft.
---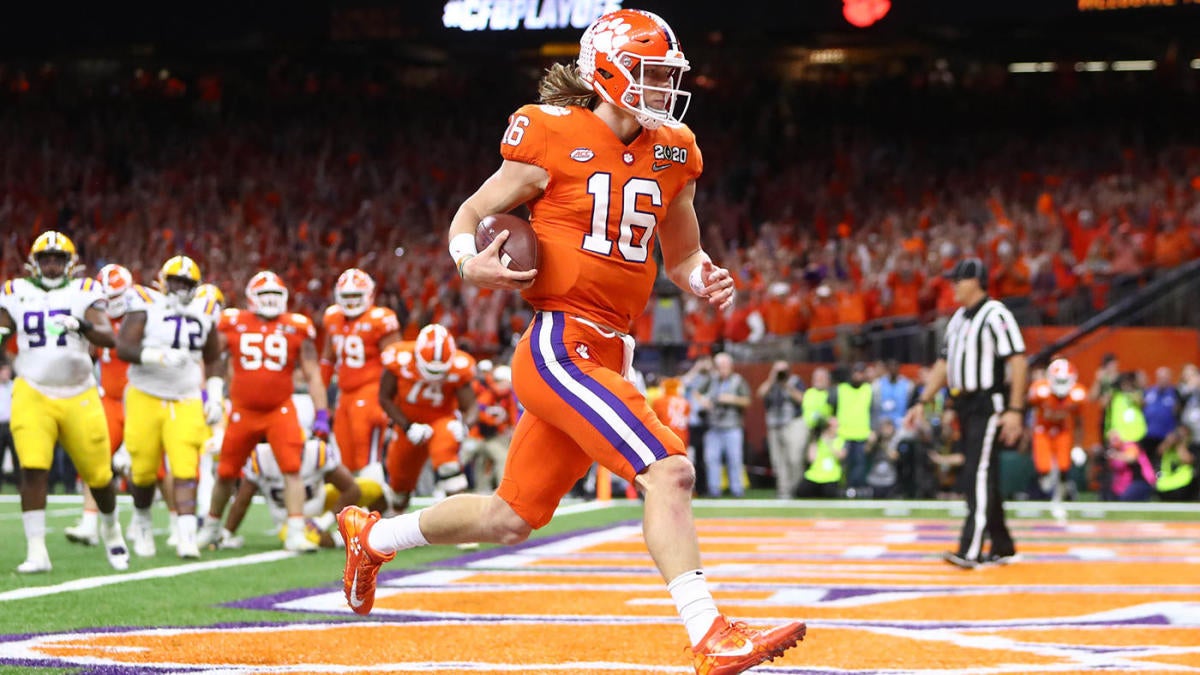 – New York Jets –
Trevor Lawrence
---
The first pick is more than likely going to fall to the New York Jets. We all hate to see it but Trevor Lawrence is pretty much nailed on to be their next QB. I feel so awful for him if Adam Gase keeps his role going into the 2021 season. While all the top rookie QBs usually find homes with bad teams purely because of the mess the teams are in, consequently giving them said picks, surely Lawrence and Gase is not a match-up any of us want to see. For the record, I feel Gase will be shown the door once the #1 pick is cemented into the record books.
The ripple effect:
Sam Darnold will be the odd person out here. I cannot fathom why the Jets would keep both of these guys and for all intents and purposes, you should expect Lawrence to be the 2021 Week 1 starter. So what for Darnold? He is entering year 4 on his contract (5th year option not picked up at this point), which would make some teams interested. We all know the edge in the NFL is to take full advantage of QBs in their rookie deal. The Jets could do away with Darnold in exchange for a decent pick with the deal working for both sides.
The Jets get 4-5 years of Lawrence to build around (they have Mims and Crowder already there) as well as Seattle's 2021 1st round pick (which could be i nthe middle of the round as things stand) meaning they have six top 100 picks in 2021.
Darnold's new team get two years of Darnold who, under Gase, has not been put in a position to succeed. At still only 23, there is plenty of learning and progression Darnold has to go through and the ceiling I feel is still there.
As for destinations, a perfect landing spot would be the Indianapolis Colts or the San Francisco 49ers. Philip Rivers can surely only have 2021 until he hangs up his cleats. But he is a guy the Colts can move on from as he signed a one-year deal prior to the 2020 season. Similarly in San Francisco, Jimmy Garoppolo, despite taking his team to the Super Bowl last season, has had injury trouble and caps the ceiling of this team where he isn't asked to do very much. If Kyle Shanahan says enough is enough and moves on from him, his dead cap is less than $3m.
Other suitors could include the Carolina Panthers ,who know that Bridgewater isn't the answer and they are in a bit of a bind with cap space in 2021. They have the weapons and the run game to help support Darnold and Matt Rhule's offence seems to be chugging along quite nicely in his first year as a HC. Washington would send Haskins away somewhere while other shots in the dark could be New Orleans (if it wasn't supposed to be Jameis, we wouldn't be getting Taysom Hill shoved down our throats) or Pittsburgh if Big Ben finally follows through with his retirement threats.
The price for Darnold come draft time should be around a late 1st rounder or a 2nd (with maybe a later round) pick. So anyone who's anyone can feel like they'd have a shot at Darnold, if they see fit.
---
– Jacksonville Jaguars –
Justin Fields
---
Justin Fields has gone from strength to strength with Ohio state, earning him third place in Heismann voting. Having a 16-1 record through his last 17 games, with 52 TDs and 3 INTs, has him shooting up to jostle with Lawrence for #1 overall consideration. As things stand, he'll more than likely be a Jacksonville Jaguar in 2021 (lucky him).
Fields does have a few weapons at his disposal and it'll only need a plug here and there on the offensive line. The Jaguars currently have two 1st rounders, as they have the Rams pick as part of the Jalen Ramsey deal. They also have six picks in the top 100 to reload that franchise.
The ripple effect:
Minshew Mania has died without a trace in Duval and like Lawrence, I don't see how Fields isn't the starter come Week 1 in 2021. So what does this mean for Minshew?
Well, a very plausible spot for Minshew to continue his Mania tour would be to travel north to Ohio and Cincinnati. Joe Burrow is recovering from that gruesome knee injury suffered against Washington and his recovery is likely to take 9-12 months. That means no training camp and, at the very best, being just about ready for Week 1 in 2021 (if at all!). We have no clue as to how Burrow will bounce back from the injury and if he'll ever be the same player. Until Zac Taylor and the Bengals can figure that out, Minshew can provide a cheap alternative to be the bridge until Burrow returns.
---
– Carolina Panthers –
Zach Wilson
---
It would be hard to argue that the Panthers have overachieved this season considering the tumult in the franchise. They've moved on from Cam to Teddy, and Rivera to Rhule, but this Panthers team could be contenders sooner rather than later. Despite Rhule handpicking Teddy Bridgewater on a decent deal, to me he isn't the answer as stated with the Darnold ripple effect with Lawrence. Matt Rhule and the coaching staff may not get a better opportunity to draft a franchise QB. Wilson can come in and sit behind Teddy for a number of weeks, if not the season, and the transition will be complete.
The ripple effect:
Not a huge one as Teddy would still start in Week 1 of 2021 but when he gets put on the shelf in 2022 or beyond, it's anyone's guess. Maybe a return to New Orleans?
---
– Washington Football Team –
Trey Lance
---
There could be a huge ripple effect, depending on how the appalling NFC East turns out, as a team with a losing record is likely to have a late 1st round pick, whereas the second-placed team in that division could end up with a pick around the #10 mark. Washington currently sit at the said #10 overall and Ron Rivera will get the chance to pick his franchise QB of the players left: Trey Lance, Kyle Trask and possibly Mac Wilson will be the guys he gets to choose from. Trey Lance is able to make NFL throws and the transition could be less bumpy for him. If needed, he could sit behind Alex Smith for a few weeks (should Smith still be there) before coming in and taking the team forward.
The ripple effect:
The knock-ons are minimal here as Alex Smith isn't far away from hanging up his cleats but Dwayne Haskins could go and be a back-up somewhere else, knowing that he is not in the plans of the Football Team (or whatever their name is come 2021). Maybe even the XFL…
---
– Detroit Lions – Kyle Trask
---
The Detroit Lions, clearing house with Patricia and Quinn already gone, could see the acquiring of a new flashy toy in the 2021 draft. They currently hold a top 15 pick and Kyle Trask could fit the bill. A big-armed quarterback and a traditional pocket passer, he could be a younger and cheaper version of Matt Stafford.
The ripple effect:
Stafford could possibly stay for another year while a rookie QB sits behind him. That being said, it makes a hell of a lot of sense for Stafford to be traded for a pick or a player. See below forthe current veterans where I talk about Stafford a bit more.
Other teams of note that may go for a QB in the draft: New Orleans (Mac Jones), Chicago (Kyle Trask), Las Vegas (Mac Jones)
---
Current veterans
Now let's look at a few quarterbacks who could be dispensable or out of contract (or with an easy out) come 2021.
---
Matthew Stafford – Detroit Lions
As I said above, and what started this whole article, with Patricia fired and Bob Quinn following close behind, it makes total sense for the Lions to move on from Stafford. There is a possible out in 2021 and his cap number is pretty team-friendly considering what you would be getting in return.
Possible suitors:
As much as I think he would be great in Tampa Bay, Tom Brady is likely there in 2021 so unless we skip forward 12 months and talk about 2022, I don't see this happening unless Brady retires. Stafford suits the Bruce Arians vertical offence a lot better, he gets decent weapons to throw to and this team would be pretty fun to watch. I'm sure Stafford wouldn't mind going from a dome in the north to a warm climate in Florida.
Other possible destinations for Stafford?
Could we see Broncos GM John Elway pull the plug on Drew Lock, which would make for an interesting trade? Drew Lock has shown flashes and is on a rookie deal, something that may be of interest to the Lions. You have to feel though by doing this trade, Elway is committing suicide as the Broncos GM.
One spot that could make sense for Stafford is Indianapolis. Stafford would be on similar money to what Rivers is this year in 2021 and there aren't many other holes left to fill except for the defence. Stafford would be an upgrade on Rivers, for the same price, and you get another four or five years out of him (injury dependant).
Outside of that, the Las Vegas Raiders or San Francisco could sniff around the former Georgia QB. Or maybe New Orleans?
---
Jimmy Garoppolo – San Francisco 49ers
I would personally be surprised to see Garoppolo as the 49ers QB come Week 1 of 2021. San Francisco could have a draft pick that allows them to take a QB or they could draft in a veteran such as Matt Stafford or Matt Ryan. The only thing against it is the players that need to be paid on the 49ers roster, with a plethora of hosuehold names due for negotiations.
Jimmy G is only a smidge off $2m in dead cap for the 49ers and has a mid-$20m base salary in 2021. Yes, he has gotten them to the play-offs, but you'd be hard pressed to say with confidence than more than a quarter of that was down to his play. They are a YAC team and a run-the-football team, which makes them far less multi-dimensional than Shanahan would like, but for the cost currently being associated with him, it works. If they are able to acquire someone in free agency with a higher ceiling who can make plays, this team could have a decent bounce-back in 2021.
Possible suitors:
The New England Patriots could continue the back and forth love (and hate) affair with Jimmy G, which would answer the question of who's decision it was to get rid of him in the first place. The Patriots don't like paying too much for QBs (see Cam Newton) and you feel Jimmy G has unfinished business with the NFL and could have a renaissance back in Foxboro'. That being said, Billy B has said that Cam Newton is likely to be with the Patriots in 2021. How many games can Cam lose for this team until Bill loses his patience with the former MVP and former #1 overall out of Auburn?
A long shot could be Las Vegas Raiders if they move on from the next guy on our list, Derek Carr…
---
Derek Carr – Las Vegas Raiders
Despite Carr's ups and downs this season, one thing is clear. He isn't going to drive the Raiders that far, if at all in January, on any given year.
While the relationship between him and Gruden has smoothed out over the past year or two, I wouldn't be surprised to see the Raiders make a change at QB.
Possible suitors:
I wouldn't have thought there would be a big market for Carr as he isn't a guy that is going to win you a Super Bowl. That being said, you would get Carr at a discount as his cap hit is around the low $20m's in base salary and his dead cap for the Raiders is a bit of change over $2m. While a move for Carr would likely trigger contract talks and extensions, a possible fit could be the Chicago Bears, who love drafting and acquiring average to below-average quarterbacks. While the location possibly isn't what Carr is looking for, there could be a new HC in town if Nagy gets the boot, but there is enough to work with there for Chicago. The Detroit Lions could be another destination, with a dome and a few weapons on offence. With the Lions rebuilding, I'd possibly expect a draft pick but Carr could be a good bridge guy to have if selecting someone like Kyle Trask or Mac Jones from the draft in 2021.
---
Aaron Rodgers – Green Bay Packers
Aaron looks as surprised as you probably are. But should we be thinking about Aaron Rodgers' home in 2021?
The Packers picked up quarterback Jordan Love with their first round draft pick in 2020, leading to a media circus on the ramifications that went on for months. Aaron Rodgers has played at an MVP level in 2020, leading to the Packers jostling with New Orleans for the all important #1 seed in the NFC. Whether that's due to him having a chip on his back or trying to prove that he still "has it" is anybody's guess. But what if it's for Rodgers putting himself in the shop window to his potential suitors?
The Packers in recent history have been fine with their quarterbacks sitting for multiple years and this was the case with Rodgers himself sitting behind Brett Favre.
Possible suitors:
Rodgers doesn't really have an out on his contract in 2021 ($31m dead cap and $14m base salary) but surely when a QB to the calibre of Rodgers comes around, there would be a lot of teams wanting to enquire about his services.
The Las Vegas Raiders have the profile of a team that could pull the trigger. Outside of that, there isn't really any team that seems a suitable landing spot nor can I find any avenues of reasoning.
It's unlikely that Rodgers moves on from Packers but what's the point in doing these if you can't have a bit of fun?!