By Andy Moore (@Ajmoore21)
With the post rookie excitement dying down and the off-season lull now in full effect, it's time for a deep dive into those dynasty rosters.
After a league chat about fantasy wastelands, we got thinking that surely every team has at least one fantasy relevant player. Looking back at 2019, this could mean a Joe Mixon, a Kenny Golladay, a Terry McLaurin – all players who put up points for fantasy owners on a fairly consistent basis, despite being on pretty rough NFL offenses.
The one criteria for these players is quite simple; they must have multiple seasons of fantasy relevance ahead of them.
We'll be looking at each division individually, starting with the AFC East.
---
Buffalo Bills
---
Player: Stefon Diggs
Position: WR
Age: 26
2019 Fantasy Points (PPR): 212.1
The Bills sit as arguably the best team in a bad division at present, they've got a signal-caller whose big arm and escapability propelled them to the playoffs last season and a coaching staff that isn't afraid to let loose on offense.
A seemingly underwhelming group of wide receivers stepped up to the plate in 2019, with John Brown and Cole Beasley both positing fantasy relevant numbers. But, as they look to make the jump to Division Champions, the Bills' front office have decided to add another weapon to the arsenal.
Step forward Stefon Diggs. In 2019 with the Vikings, Diggs finished as WR20, posting 212.1 PPR points off just 63 receptions. And it's easy to see why there were constant reports that the former 5th round pick was unhappy with target volume, as he was the only receiver in the top 20 of PPR ranking with less than 100 targets, despite playing in all but one game.
The move to the Bills has produced mixed views in the fantasy community, with some seeing less accurate quarterback play and the often-bleak conditions in Buffalo as a hinderance on Diggs' upside.
Despite this, there's a clear path to prolonged fantasy relevance for the Maryland product.
Firstly, Diggs comes into the Bills' locker room as the clear WR1. Despite John Brown's 1000 yard season in 2019, you simply don't invest a first round pick in a 26 year old receiver to target him sporadically, especially a receiver who has a record for publicly demanding the football as often as possible.
Then there's the rocket arm possessed by the franchise quarterback. Diggs is a master at tracking the football as a downfield threat, it therefore makes perfect sense that Buffalo will marry Allen's arm prowess with this ability as often as possible.
Finally, as previously noted, the Bills are a team on the up, they're in win now mode, with their divisional rivals in rebuild mode or coached by Adam Gase and they're putting everything in to winning with Allen, whilst he's on his rookie contract. If they're to do this then they need a player that they can rely on to drag them to narrow wins on occasion, with the capital invested in Diggs and his prior pedigree, it's clear they see him as 'the guy'.
You should too.
---
New England Patriots
---
Player: N'Keal Harry
Position: WR
Age: 22
2019 Fantasy Points (PPR): 39.4
Well, for the first time in more than a decade we're looking to Foxborough with a real question mark in mind. The messiah is gone, there was no 'star' QB signed to replace him and it's not an exaggeration to say the dynasty hangs in the brink.
Fantasy-wise, outside of Brady, the Pats have only really had Rob Gronkowski as a consistent weapon in recent years. Sony Michel has flashed in spells, but he finished as RB31 last year, James White is a good flex option in PPR leagues (RB18 last year) but outside of that, it's been slim pickings for fantasy players.
The struggle at receiver was all too publicised last season, with multiple reports suggest that Brady was desperate for better weapons in the passing game. That struggle came despite the drafting of N'Keal Harry out of Arizona State in the first round of the draft.
Harry was the first receiver drafted in the opening round by the Pats since 1996 and understandably the hype around him picked up early. Hopes of early chemistry with Brady were dashed when an ankle injury sent the former Sun Devil to the injured reserve prior to the season.
A late return was fairly unproductive, with seven appearances only turning into 12 receptions, 105 yards and 2 TDs. That unproductivity limited Harry to just 39.4 PPR points, with a high score of 9.7 points against the woeful Bengals in week 15.
So why is he on this list?
Well for starters, there's a complete lack of competition surrounding Harry other than aging star Julian Edelman, and he is facing a fight to stay relevant without TB12. Mohammed Sanu is the only other competition of note on the Pats roster, and he didn't exactly shine last year.
Then there's the physical tools that Harry possesses, at 6ft 2", 228 pounds, the 2nd year pro has the height and build synonymous with the traditional X receiver. As a college player he specialised at high pointing the ball and dominated in contested catch situations, add to that a tendency to add yards after the catch and it's not hard to see why Belichick and co invested high draft capital in Harry. They're not giving up on him easily.
The coaching situation, player age and division strength all go some way to balancing the concerns that some hold because of the Pats' QB situation, and it's clear that there's a path for Harry to become fantasy relevant this year and for many more to come.
---
New York Jets
---
Player: Sam Darnold
Position: QB
Age: 22
2019 Fantasy Points (PPR): 189.16
I think the Jets might be one of the hardest teams to scour for fantasy talent in this series, and I think this lies squarely with the coach.
Adam Gase's offenses since he stopped working with Peyton Manning have ranked, 21st, 24th, 25th, 31st and 32nd. In other words, they haven't been very good.
That being said, it's not like this Jets roster lacks talent. At running back they've got a player who was once viewed as the best in the league in Le'Veon Bell, and believe it or not he's still on 28. And, despite rarely dominating games in the way we've become accustomed to, Bell still managed a respectable RB16 finish last season.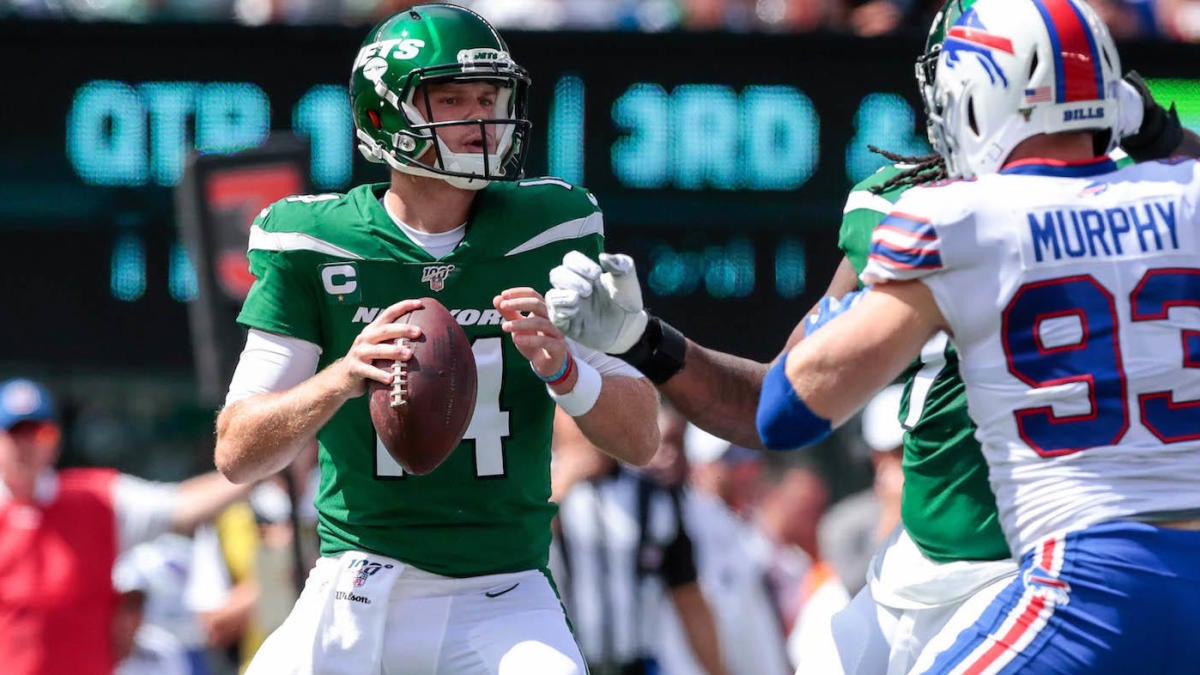 In the pass catching department there's probably more concerns. Jamison Crowder, Breshad Perriman and Denzel Mims are the most likely to see the most snaps in 2020 , with Gase and Jets fans praying that Mims can develop into the out and out WR1 that is desperately needed.
However, despite the mess, it feels like the Jets have got their franchise QB under centre already. Sam Darnold has had a pretty rough start to his pro-career, the infamous 'seeing ghosts' moment against a dominant Patriots defense perhaps best demonstrates that.
That being said, there's reason to be hopeful for the former USC star. In both his seasons in the league so far Darnold has started 13 games, and last year he saw improvements in total yardage, total TDs, interceptions thrown and QB rating, as well as the all-important fantasy points, up from 168 to 189.
With Gase seemingly on his last chance as a Head Coach, a Super Bowl winning QB as backup and an improved running game with the addition of Frank Gore, there is no reason why Darnold can't continue that progress this year.
For me his real fantasy value comes in Super Flex leagues where the more flashy 2018, '19 and '20 QBs are demanding far higher start up picks. Darnold is sat there at ADP75 which is ridiculous value in SF for a QB who looks set to the be the Jets' QB for many years to come.
Buy low now!
---
Miami Dolphins
---
Player: Devante Parker
Position: WR
Age: 27
2019 Fantasy Points (PPR): 246.2
If we're scraping the barrel with the Jets' fantasy options, then those in Miami are only slightly better at this stage. The difference however, is the upward trajectory of the team when compared to their rivals in New York.
The arrival of Tua Tagovailoa means it would have been easy to stick the Dolphins' new franchise QB in this slot, but with criteria of 'must be fantasy relevant in this and future years', it feels like it's slightly too soon. Despite reports to the contrary, it's not clear cut as to who the starter will be in week one, with Ryan Fitzpatrick enjoying a strong end to last season that propelled him to QB17 overall.
At running back, the Fins have had a complete makeover with last season's trio of Kalen Ballage, Patrick Laird and Myles Gaskin all being eclipsed by the running yardage of their 37-year-old QB. Ballage in particular was a dumpster fire both on the pitch and for those who picked him in fantasy.
Jordan Howard and Matt Breida have been added to Miami's roster in the off-season, in what appears to be a significant upgrade. Howard brings a consistency to the run game, with two 1000 yard seasons and a 4.4ypc average under his belt in the four years he's been in the league. Breida looks set primarily to feature as the third down specialist, with his explosive speed set to complement an offense which already has two of the quickest players in the league in Jakeem Grant and Albert Wilson.
Somewhat surprisingly Brian Flores and Chris Grier opted not to add another receiver to the mix in this year's draft, perhaps paying testament to the fact that this is indeed a multi-year rebuild and the need was bigger on defense. That leaves the aforementioned Grant and Wilson alongside Preston Williams, who enjoyed a good rookie year after going undrafted, Isiah Ford and Devante Parker.
Those who have been playing fantasy football for some time will be familiar with the term 'break-out year' and how Parker was about to have one every year since 2016. However, in 2019 it finally arrived! The former Louisville star caught 72 passes for 1202 yards and 9 TDs, by far his best season in the league (thanks Adam Gase).
A four-year contract was the reward, and as with Diggs in Buffalo, there's nothing standing in the way of Parker being a fantasy WR1 this year and for the next couple at least. He's only 27, the clear WR1 on the team this season and coming off a year in which he put up 246.2 PPR points, finishing as WR11 overall.
The only concern I have with Parker is that this year's draft has made it quite obvious that the Dolphins might go shopping at both WR and RB next year. With some high-quality talent in the WR class of 2021, there is the possibility that a big name comes in to take the WR1 spot. However, this shouldn't impact Parker's usage until at least 2022, so he's still a safe buy now.